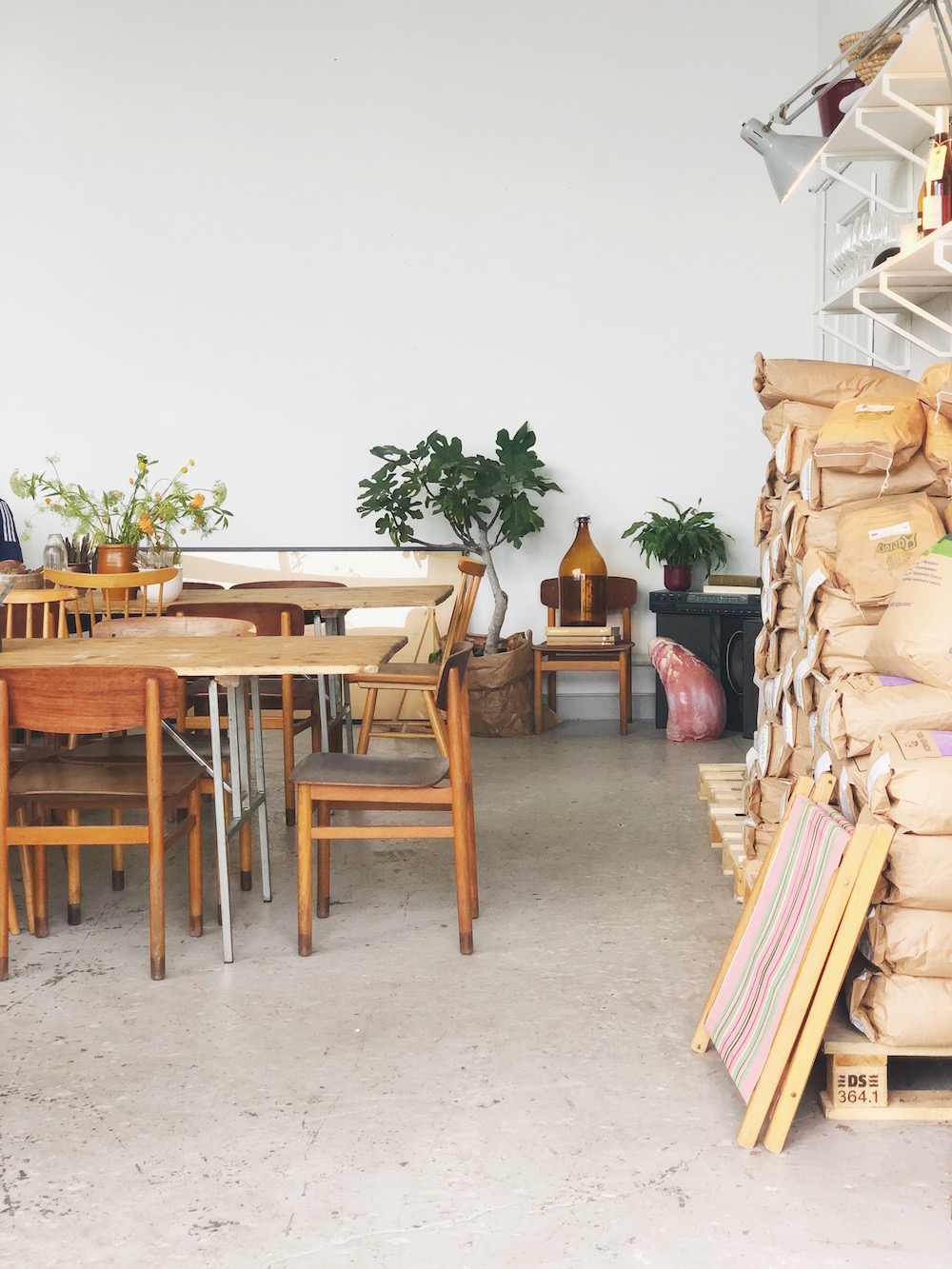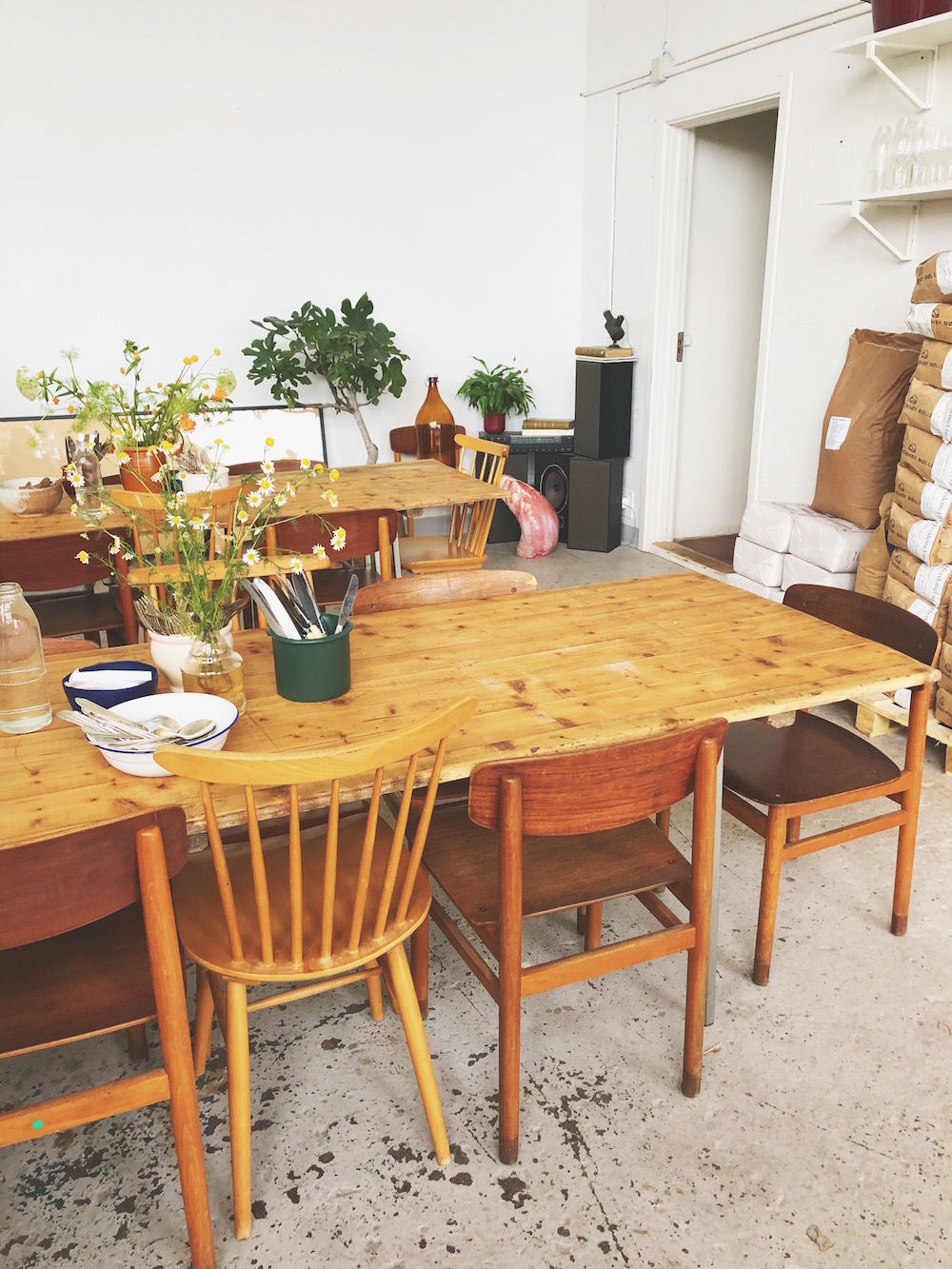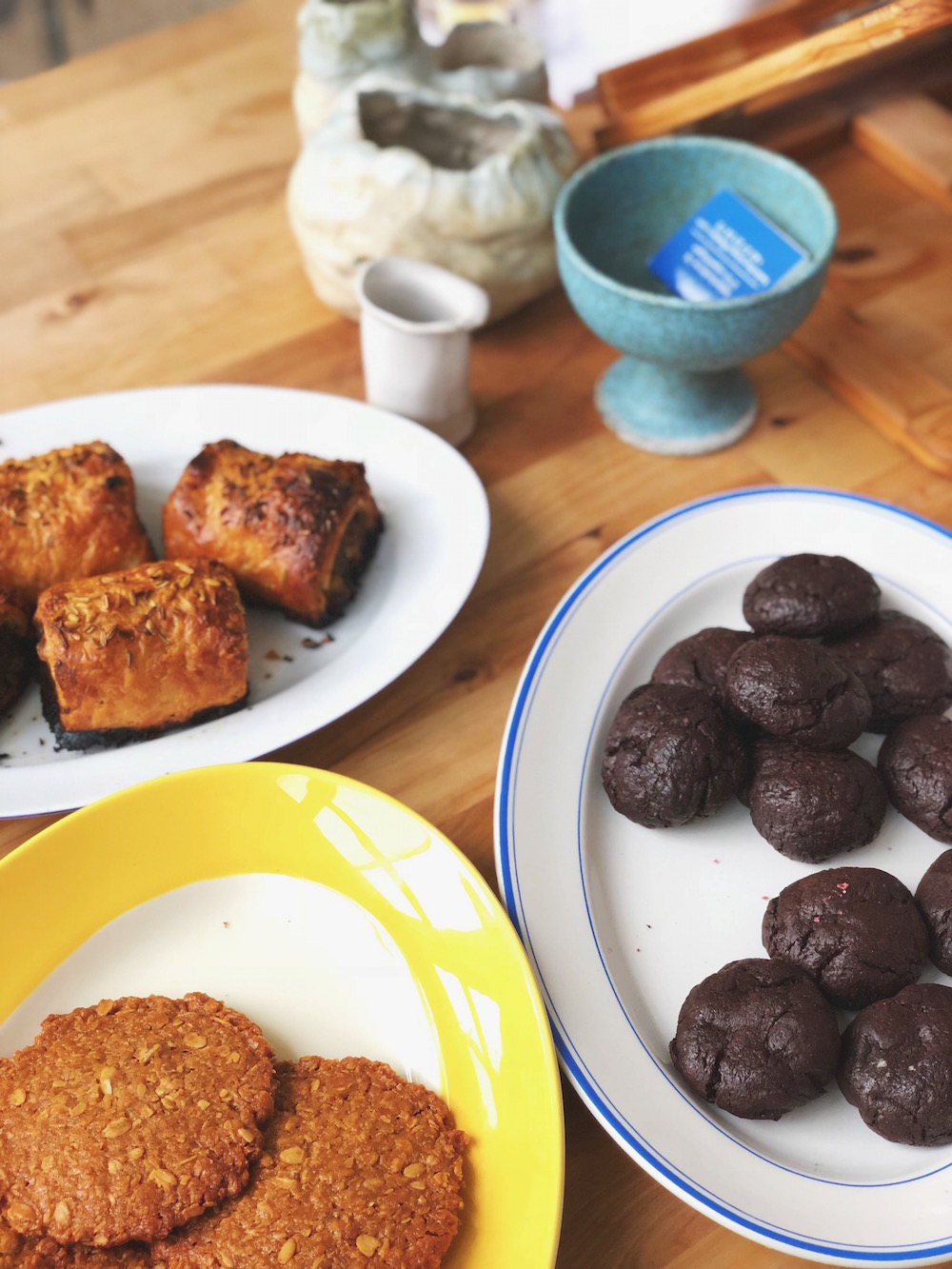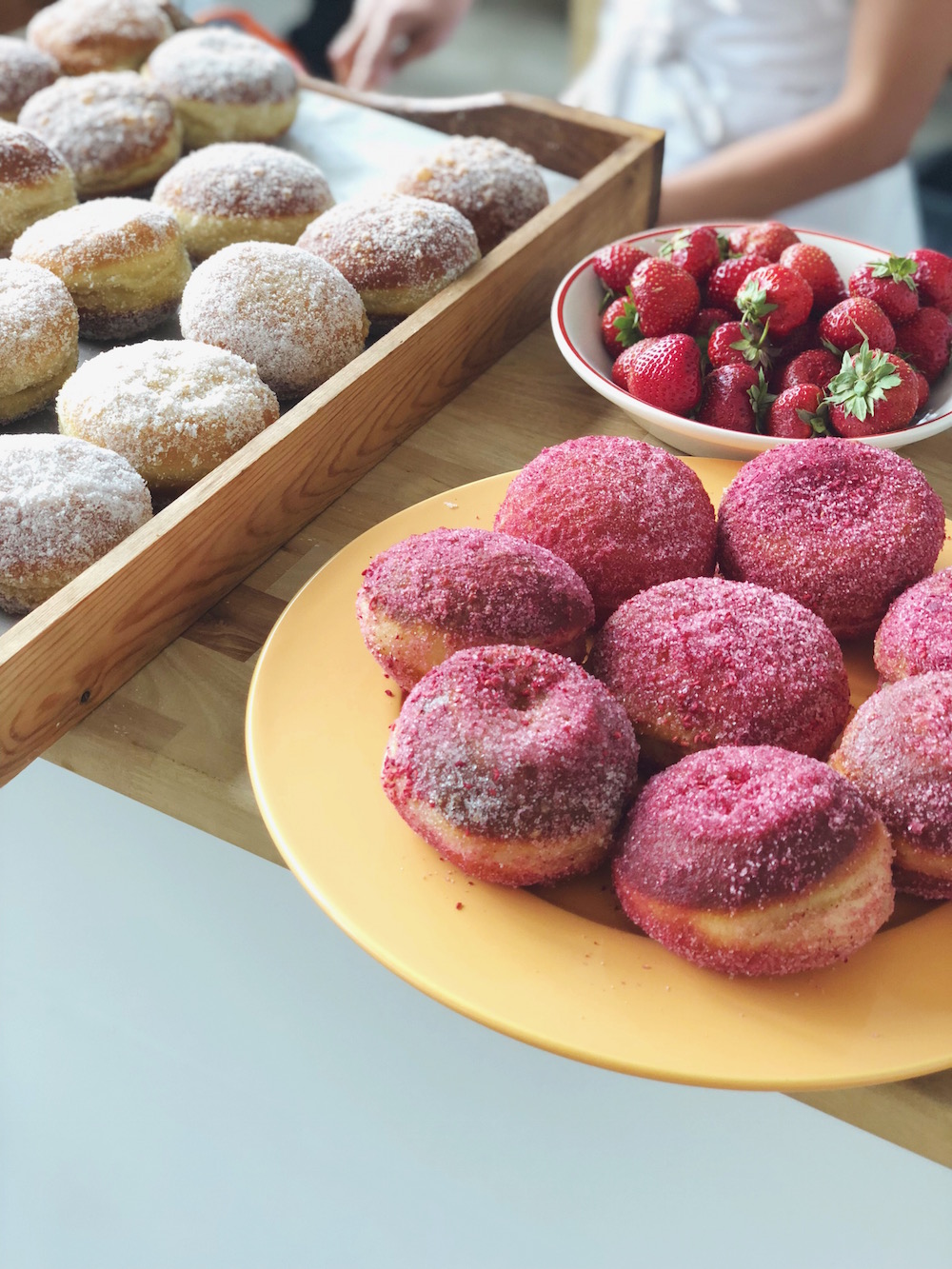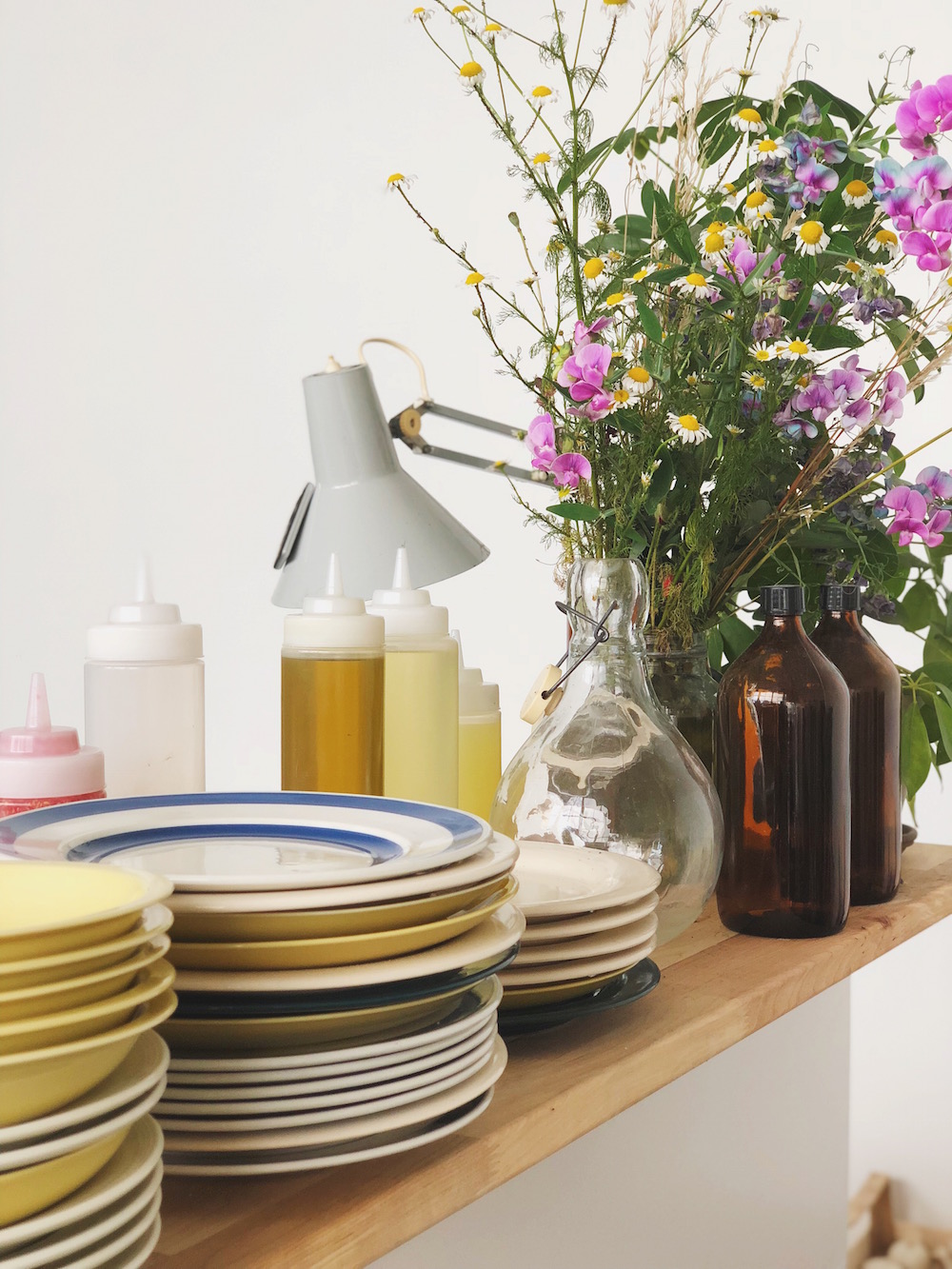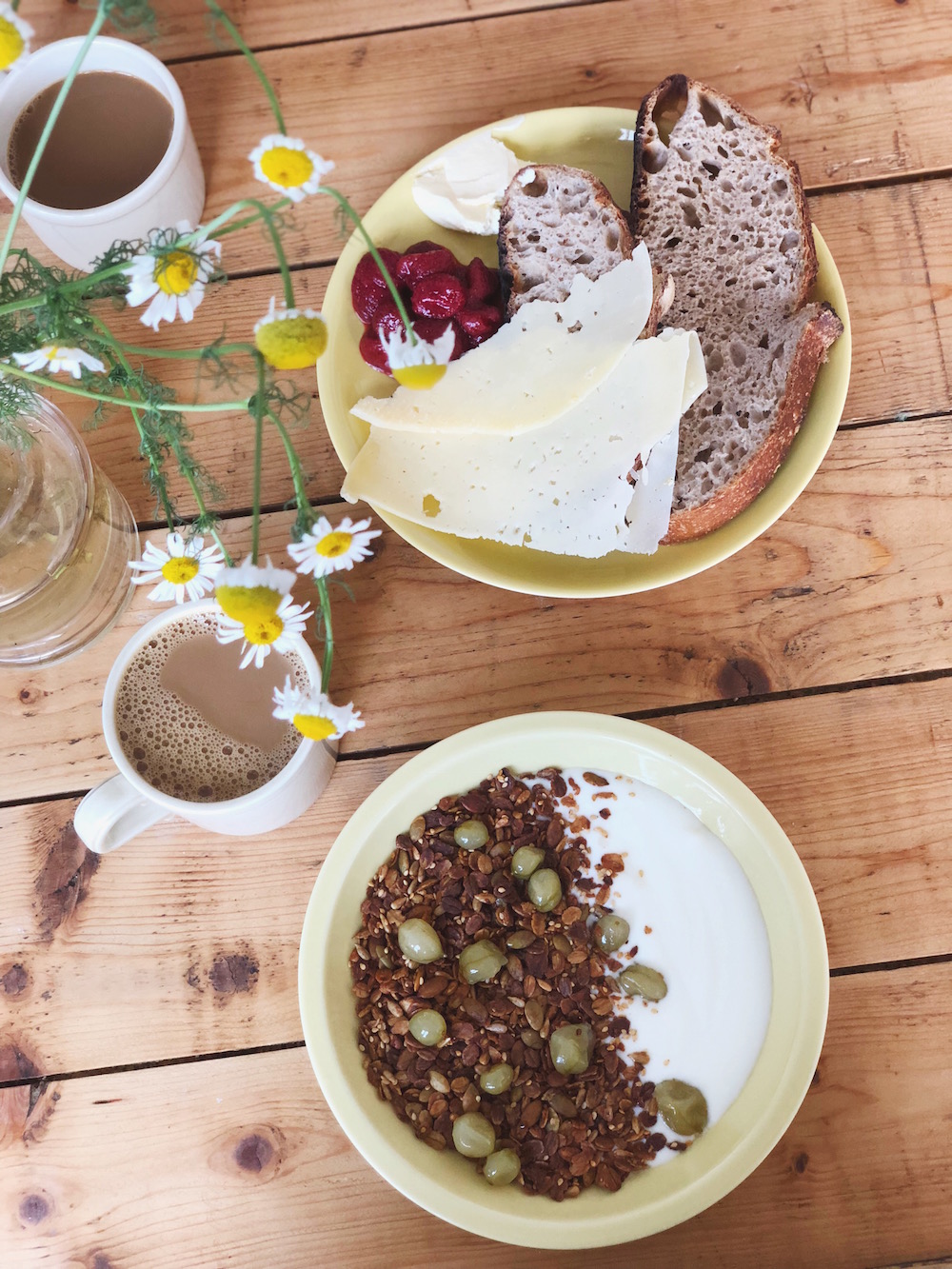 Whenever there is a new cafe serving good bread and breakfast, I am there! Right away! A visit to the newly opened Lille Bakery in Refshaleøen was no exception. And actually, it turned out so good and delicious, that I went twice; on Friday morning and on Sunday afternoon.
First of all, the location is awesome. The last year, Refshaleøen which has previously been sort of a forgotten, abandoned place a little outside Christianshavn, a popular district of Copenhagen, the blossoming of the Refshaleøen area has begun. And that means that little, hip, special places are popping up on a weekly basis. Right next to Lille Bakery, you'll also find the lovely La Banchina, Reffen, a new street food market and Mikkeller, the popular beer bar.
Well, back to Lille Bakery. The cafe and bakery is located inside an industrial building, and there is no door. Instead, there is a gate that opens, just as if you were to drive your car inside. Very hip!
And for the bread, food and baked goods at Lille Bakery. They are delicious. Lille Bakery is opened by a former chef at NOMA which is definitely reflected in the quality and taste of the bread and food served at the bakery. It is so good!
I'll let the photos speak for themselves and recommend that you pay Lille Bakery a visit sooner than later. And that you order their bread with cheese and ham and whipped butter. It is perfect to share as you get two pretty huge slices of bread, and that leaves you with the perfect option of getting more dishes to taste as a supplement.
Lille Bakery
Refshalevej 213a
1432 København K
Opening hours: Wednesday-Sunday 8 am – 6 pm.

Så snart jeg opsnuser nyheden om et nyt bageri eller en sej café i København, så er jeg på pletten! Og et besøg til Lille Bakery var ingen undtagelse. Og faktisk endte det med at være så god en oplevelse, at jeg kom tilbage to dage senere. Således spiste jeg morgenmad hos Lille Bakery i fredags og kom igen til eftermiddagskaffe og mere brød om søndagen.
Nu skal I høre: Lille Bakery er for nyligt åbnet på Refshaleøen. Et sted, der virkelig er sjovt, specielt og ret fantastisk. På mange måder er Refshaleøen i fuld udvikling, men der er stadig plads til det skæve, det sjove, det anderledes og mindre strømlignede – her er plads til at tegne uden for stregerne. Og det må man sige, at der bliver gjort herude. Lige ved siden af Lille Bakery, ligger La Banchina, et andet yndlingssted, og lidt længere nede er Reffen netop åbnet. Den nye udgave af Papirøen, hvor du kan få street food fra hele verden serveret fra containere, der er blevet renoveret. Refshaleøen er altså oplagt til udforskning, især nu hvor udviklingen i den grad stryger af sted derude.
Lille Bakery er indrettet yderst hipt. I sand berliner-stil, interimistisk på den fede måde. Loppefund, der komplementerer hinanden, et virvar af forskellige stole, forskellige tallerkener og bestik, og så markblomster over det hele, der gør det yndligt at se på. Intet passer sammen, og det er det smukke.
Og hvad så med maden? Lille Bakery er både et bageri, hvor du kan købe lækkert brød og bagværk med hjem, men det er også en café, hvor du kan slå dig ned. Enten udenfor på græspletten i solen med havudsigt eller indenfor i det lyse, lækre lokale med højt til loftet. Du kan få klassikeren – en tallerken med to enorme skiver fantastisk surdejsbrød, ost, pisket smør (en drøm!) og skinke eller hjemmelavet marmelade. Portionen er oplagt til deling, især som undskyldning til at supplere med en af de andre retter på menuen. Måske en omgang yogurt med granola og stikkelsbær? En kage? En cookie? Eller en frokostret, der også bliver serveret med det skønne brød. Og så må man jo som dansker sige, at der er intet som et godt stykke brød, og det beviser Lille Bakery! Af sted, af sted, af sted, her er skønt og fint. Til min ærgelse, har Lille Bakery ingen kaffemaskine, heldigvis serverer de god, sort kaffe, hvor man selv kan tilføje mælk. Dog til 30 kroner. Heldigvis er priserne på maden og brødet rigtig gode!
Lille Bakery
Refshalevej 213a
1432 København K
Åbningstider: onsdag-søndag klokken 8-18.