Stor guide til Upstate New York
Den har været længe undervejs denne guide. I New York er det blevet mere end trendy at tage "Upstate" på weekend. Det svarer på mange måder til, at man bor i København og tager i sommerhus, og gerne nordpå mod Tisvilde og Liseleje. Upstate New York er nemlig ret hipt og trendy. I december 2018 var jeg af sted for første gang. Det var på en kort juletur, og jeg forelskede mig hurtigt i de oplevelser vi havde. Natur, bjerge, sne, frosne vandfald og små, skønne byer med lækre caféer, restauranter og butikker. Det fortjente en guide.
Nu har jeg netop været af sted for anden gang og oplevet nok til, at jeg kunne blande det hele sammen i en guide. Dette er således resultatet. Jeg har fokuseret på byerne Kingston, Woodstock og Hudson og guider til lækre hoteller og steder, du skal besøge og spise. God fornøjelse!
Tip! Jeg skriver hippe rejseguides til en masse destinationer rundt i verden,
der giver dig de bedste tips til hvor du skal spise,
hvad du skal opleve, og hvor du skal drikke kaffe. Find dem her.
Her skal du overnatte i Upstate New York
Jeg nævner nedenfor fire skønne hoteller. Falder ingen af dem i smag, kan du finde en oversigt over andre dejlige overnatningsmuligheder her. (reklamelink)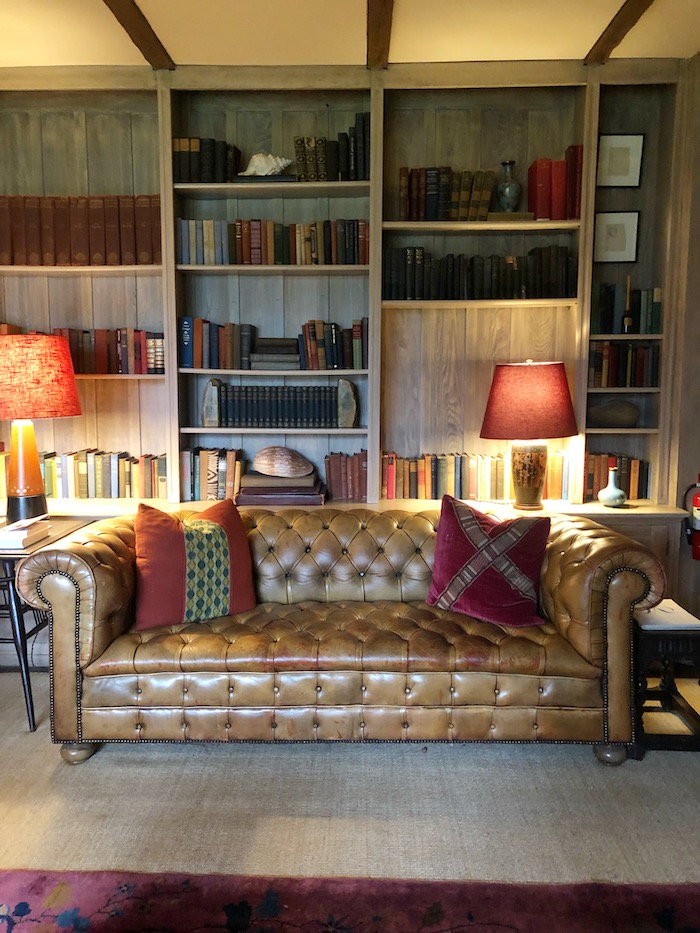 Dette hotel er så illydisk (og luksus!), som det kan blive. Troutbeck har fungeret som hotel i årtier og fik i 2017 en renoveringsoverhaling, så det står ultra skarpt. Hyg dig i deres bibliotek, hvor pejsen er tændt, Chesterfield-sofaerne er bløde og indbydende. Spis lækker morgenmad og middag på deres lækre restaurant og nyd naturen i Troutbecks store have, der huser en flod, broer og en pool, der er åben om sommere.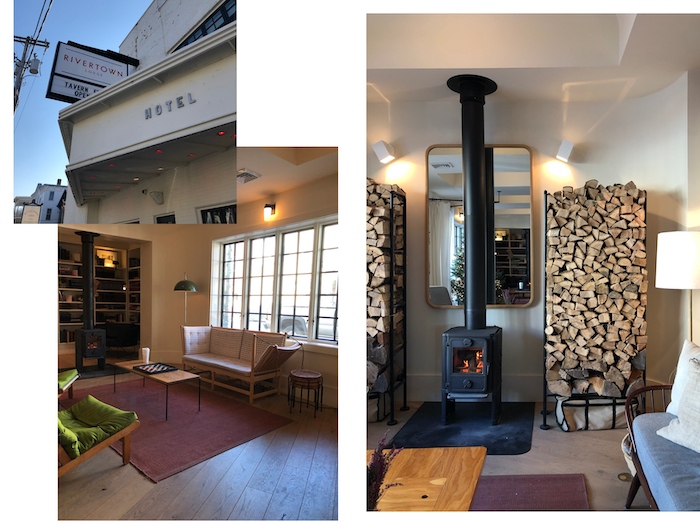 Dette hotel ligger i en fantastisk og ikonisk bygning, der startede som biograf helt tilbage i 1928. Nu er biografen lavet om til et skønt hotel med fantastisk design og møbler. Dog er de gamle biografkendetegn vedligeholdt, og det giver ekstra charme til hotellet. Her kan du nyde et par dages ro og small town-byliv i skønne Hudson. Du er også velkommen forbi til middag eller chill i hotellets lounge, selv hvis du ikke overnatter her.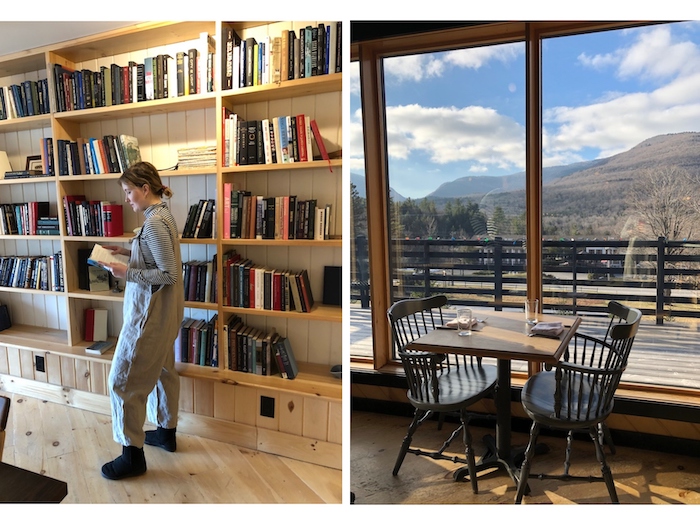 Scribner's Catskill Lodge har eksisteret siden 60'erne og er et fantastisk sted. Til dels grundet hotellets unikke udsigt til Hunter, et bjerg højt nok til, at du kan stå på ski her om vinteren. At vågne op til denne bjergtagende (hehe) udsigt er helt vidunderligt. Værelserne er skønt indrettet i ægte hygge-stil og indeholder små pejse, du kan tænde. Udover skønne værelser, fantastisk udsigt og fede opholdssteder såsom det store bibliotek-loungeområde (hvor der findes endnu en pejs!), byder Scribner's også på både morgenmad og middag på den lækre restaurant, Prospect. Om sommeren kan du nyde poolen, og om vinteren kan du stå på ski.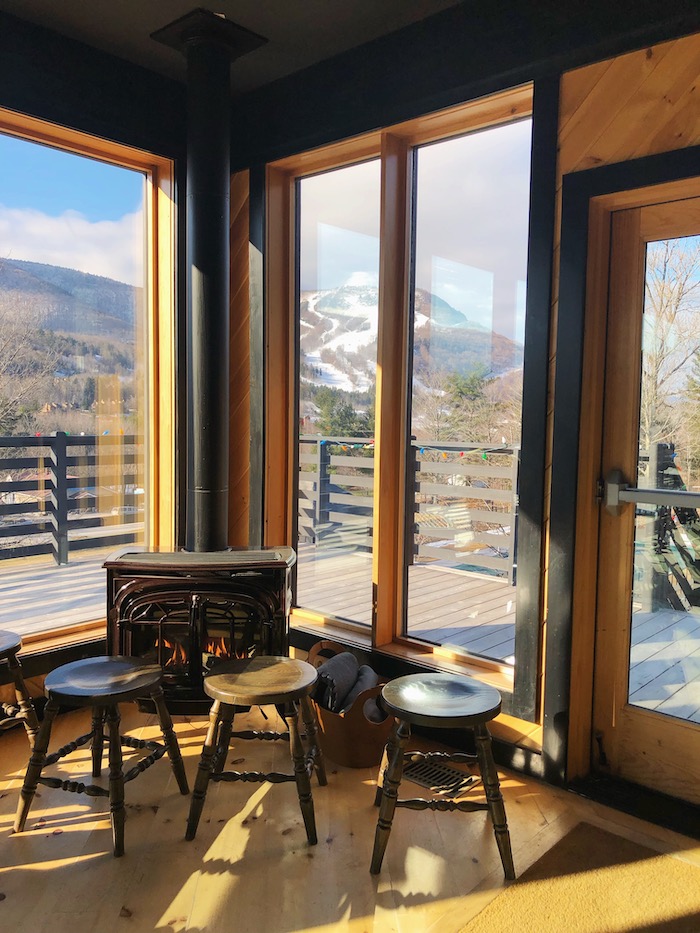 Dette hotel ligger midt i den smukke, historiske del af byen Kingston. Og som en selvfølge er hotellet også historisk. Hovedbygningen er nemlig en tidligere bank, og check-in-området ligger i den gamle, originale bankboks. Pengesedlerne er blot skiftet ud med en computer og et bord. Hotellet er smukt indrettet og de 43 forskellige hotelværelser ligger i fire forskellige byhuse nær hinanden. Hotellet har også en skøn restaurant, som du med fordel kan besøge, selv hvis du ikke er gæst på hotellet.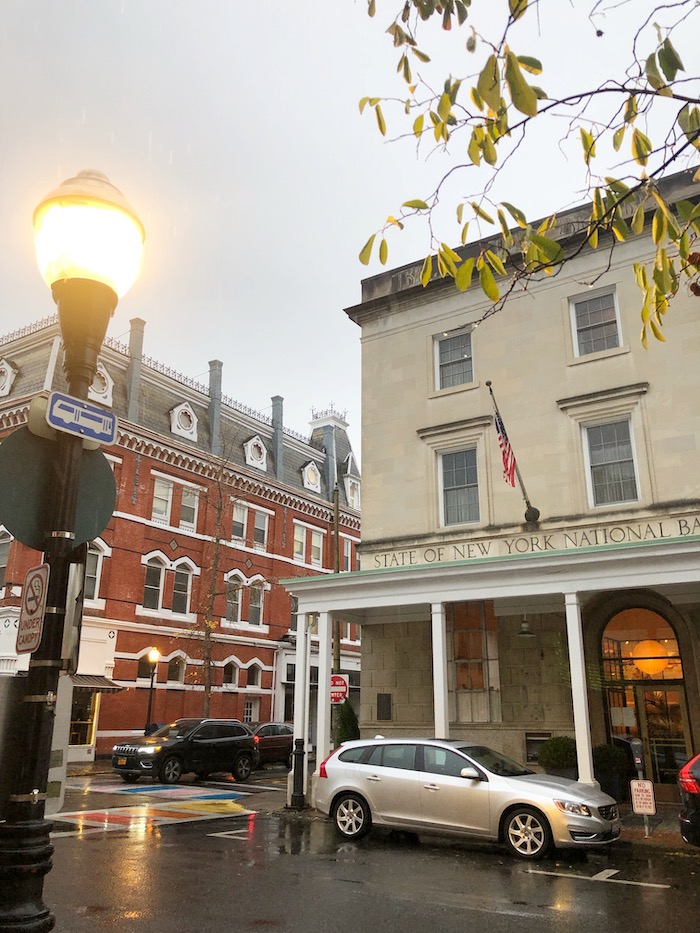 Kingston
Kingston er en helt igennem vidunderlig by. På trods af at Kingston kun ligger knap 150 kilometer og cirka to timers køretur fra NYC, så er byen en komplet modsætning til The Big Apple. Byen har et historisk centrum, der huser de smukkeste, gamle huse og bygninger. Desuden er byen et nirvana for kunstnere, så er du kunstinteresseret kan du med fordel gå på sightseeing blandt byens mange gallerier. Snyd forresten ikke dig selv for en gåtur rundt i det historiske distrikt, hvis du er på Kingstons kanter.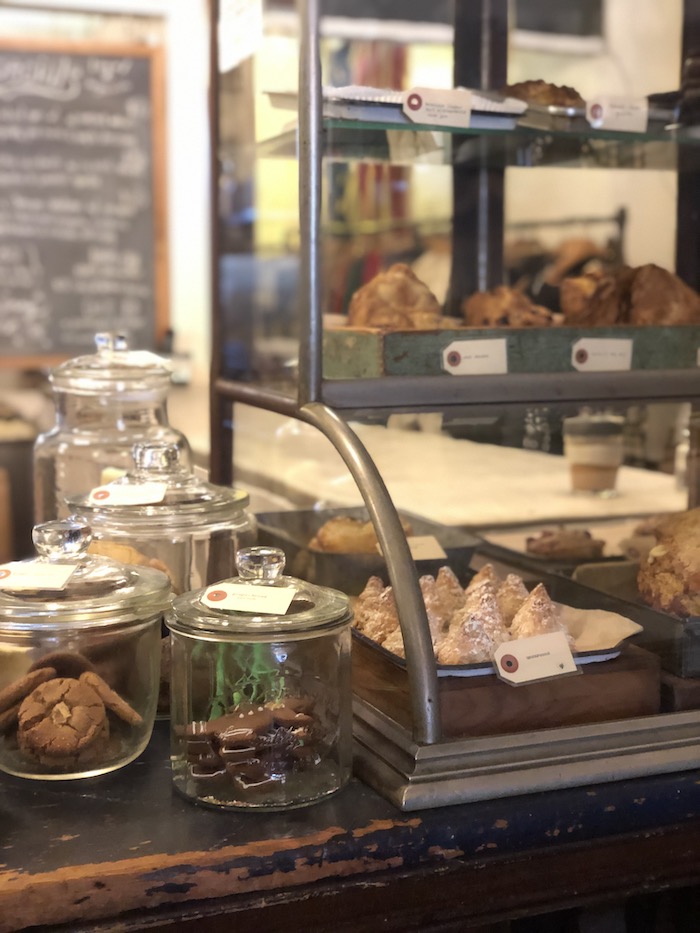 Vintage tøj, vintage møbler og en skøn kaffebar – i et. Så bliver det næsten ikke bedre. Slå dig ned, nyd en god kop kaffe og kage og når du har samlet kræfter, så gå på jagt i butikkens fine udvalg af vintage.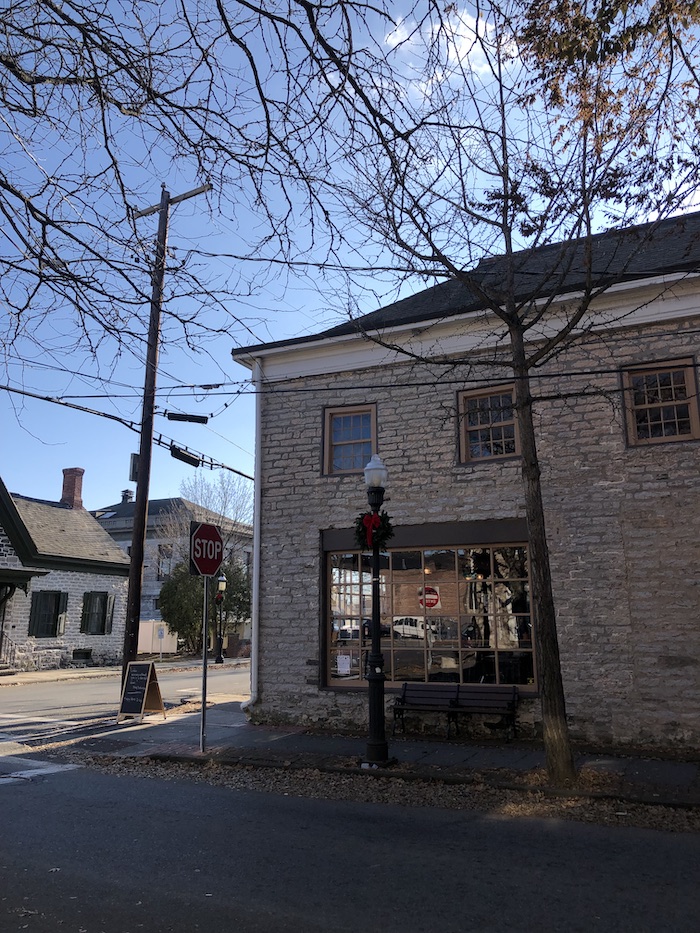 Endnu en skøn kombination – her får du boghandel, café og bar i et. Boghandlen har et skønt udvalg af gode bøger, og baristaen brygger skøn kaffe. Har du computer med under armen med formålet om at få noget arbejde fra hånden, så er caféen også oplagt til det formål.
Det bugner med fine, små butikker i Kingston. Især perfekt vintageshopping er der meget af. Besøg Lovely Vintage, Good Old Vintage og Vintage Clothing & Antiques. Besøg også Clove & Creek der både serverer kaffe og har skønne ting til hjemmet.
Når du træder inden for hos Brunette, er det næsten som om, at du er tilbage i Williamsburg. Her er ultra hipt på Brooklyn-måden. På menuen finder du lækker naturvin, barsnacks og større retter.
Hos Wilde Beest er der fokus på lokale råvarer i sæson. Restauranten kører konceptet farm-to-table, hvilket betyder at menuen indeholder friske, lokale varer, der er i sæson. Derfor skifter menuen også efter sæson.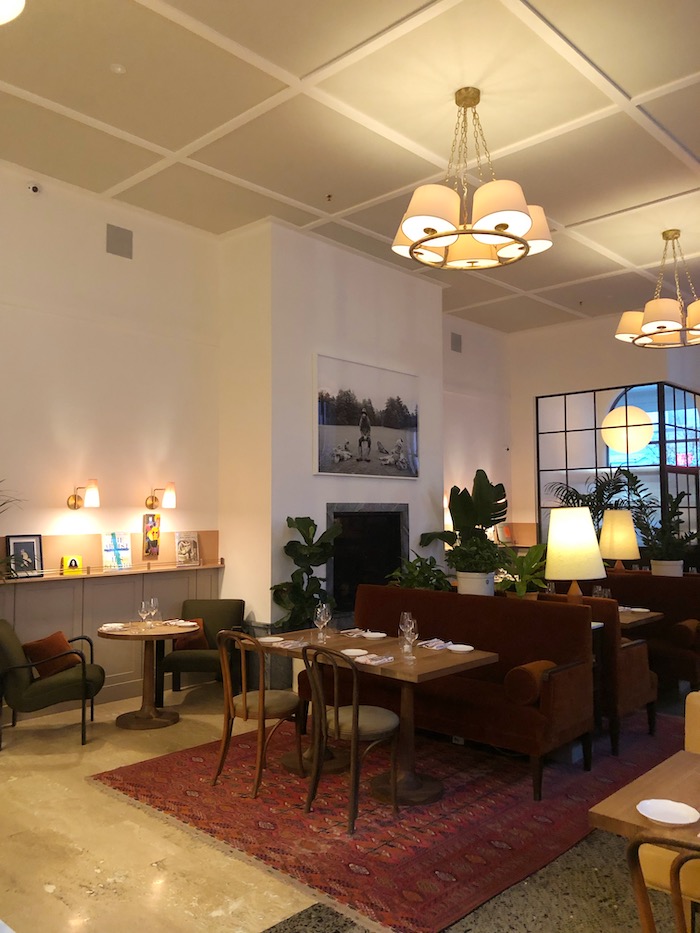 Denne restaurant der er en del af Hotel Kinsley serverer skøn, sæsonpræget moderne retter alle med en smule italiensk DNA.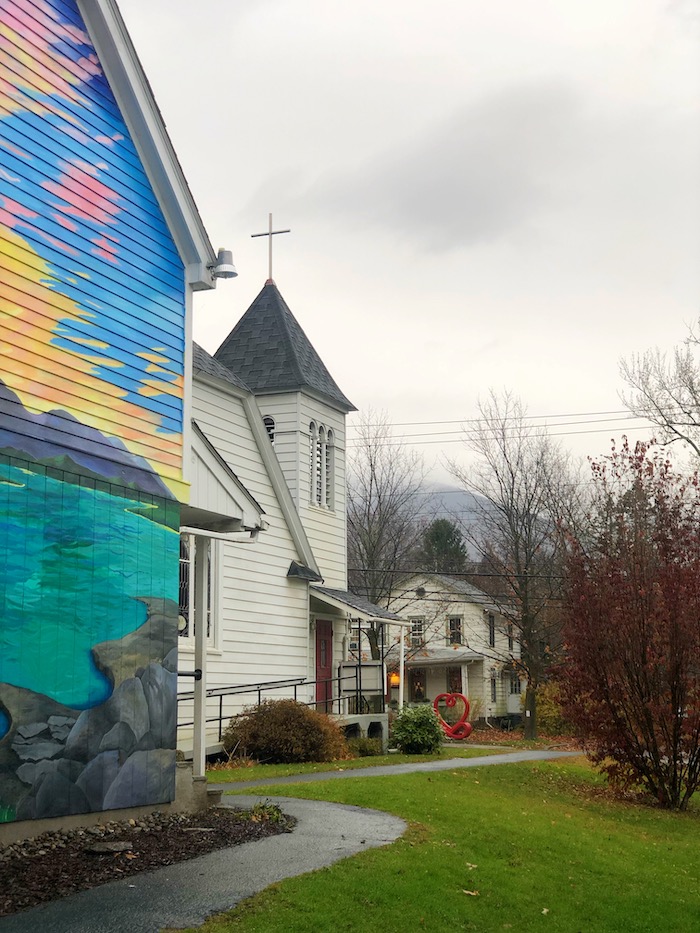 Woodstock
Udover at være kendt som kulisse til den legendariske hippie-festival, Woodstock Festival, så er Woodstock meget mere end det. Den byder nemlig på en skøn, lille, meget lokal by. Alt findes på den lille hovedgade, der huser fine caféer, søde butikker og gode restauranter. Byen ligger smukt placeret med bjerge som baggrund.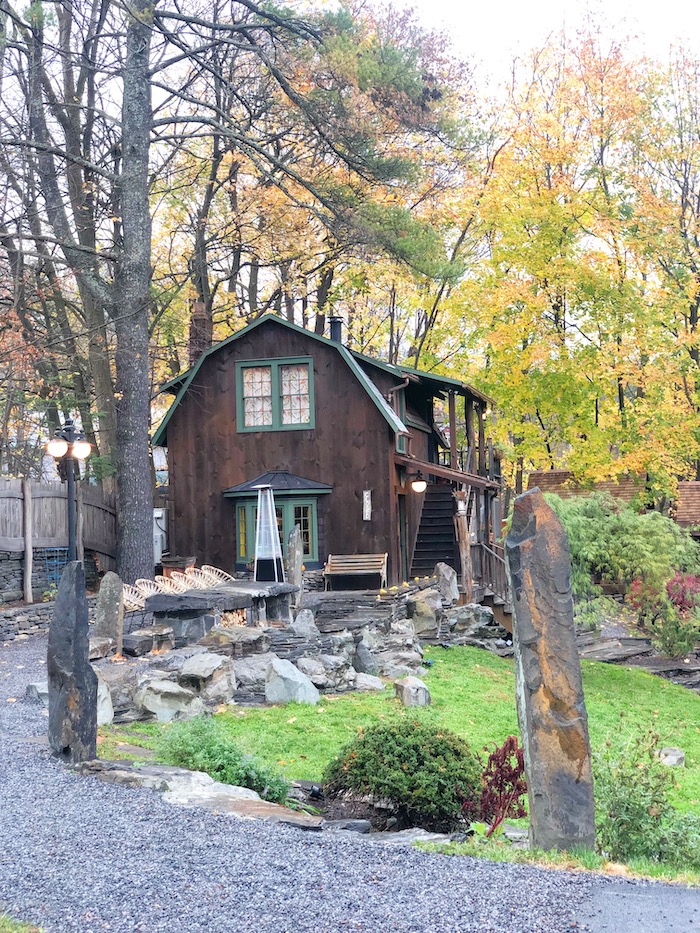 Mit absolutte yndlingsspot, som er første stop på min dag, når jeg er i Woodstock. The Mud Club ligger i et yndigt træhus, hvor drengene bag baren bager bagels i gammel stenovn. De smager som en lille bid af himlen. Stedets kaffe er også on fleek. Er vejret til det, kan du nyde din kaffe og bagel i træhusets have, siddende på et stykke klipper, mens du indånder den friske bjergluft.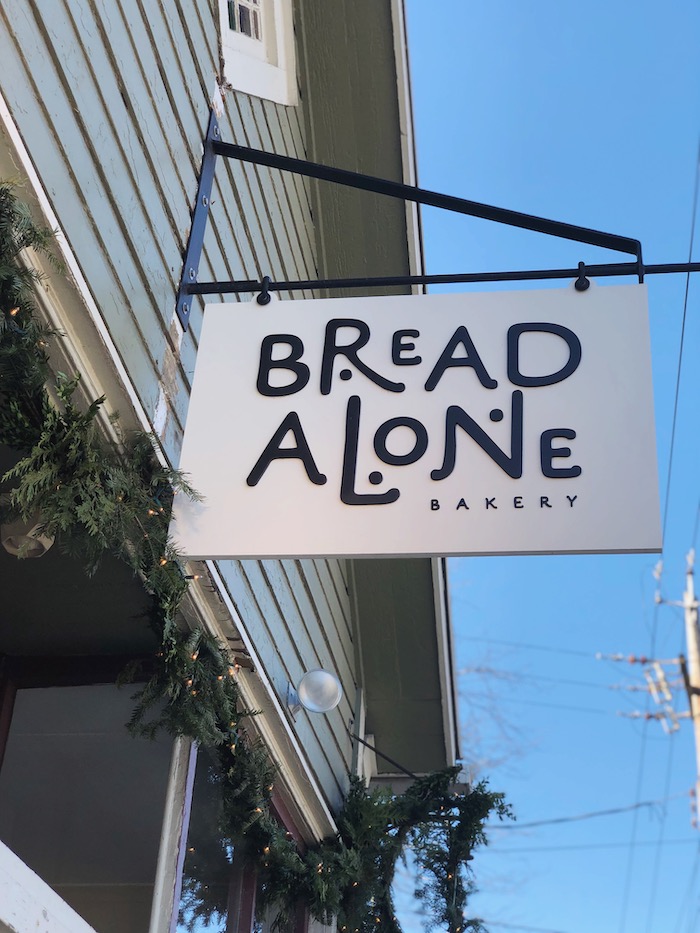 Bageri, café og restaurant i et. Du kan slå dig ned og nyde velsmagende morgenmads- og frokostretter eller forkæle din søde tand med kaffe og kage. Du kan også købe lækkert brød, herunder rugbrød, kage og tærter med.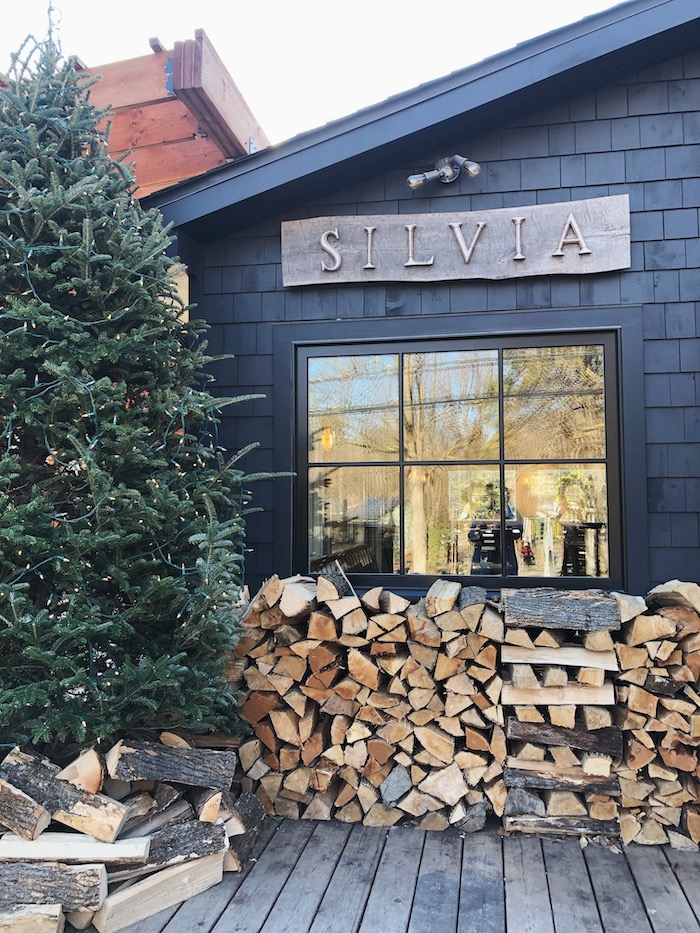 Silvias ejer boede i New York. En dag blev han træt af byens tempo og besluttede sig for at udskifte NYC med frisk luft, bjerge og den lille by Woodstock. Her åbnede han Silvia, en skøn restaurant med smuk indretning og lækker mad, der bliver kokkeret for øjnene af dig i restaurantens åbne køkken.
I et helt unikt, gult Woodstock-hus ligger restauranten Cucina. Som navnet antyder, er restauranten italiensk og desuden baseret på lokale råvarer i sæson.
Amerikansk 'no fuss' restaurant. De serverer amerikanske klassikere, og den vegetarburger jeg fik smagte skønt.
Denne diner ligger ikke i Woodstock men et kvarters kørsel væk og er uden tvivl et besøg værd. Phoenicia er en mini-by der ligger smukt blandt bjerge. På dineren får du klassiske amerikanske retter såsom french toast, omelet og pandekager lavet af lokale, bæredygtige råvarer.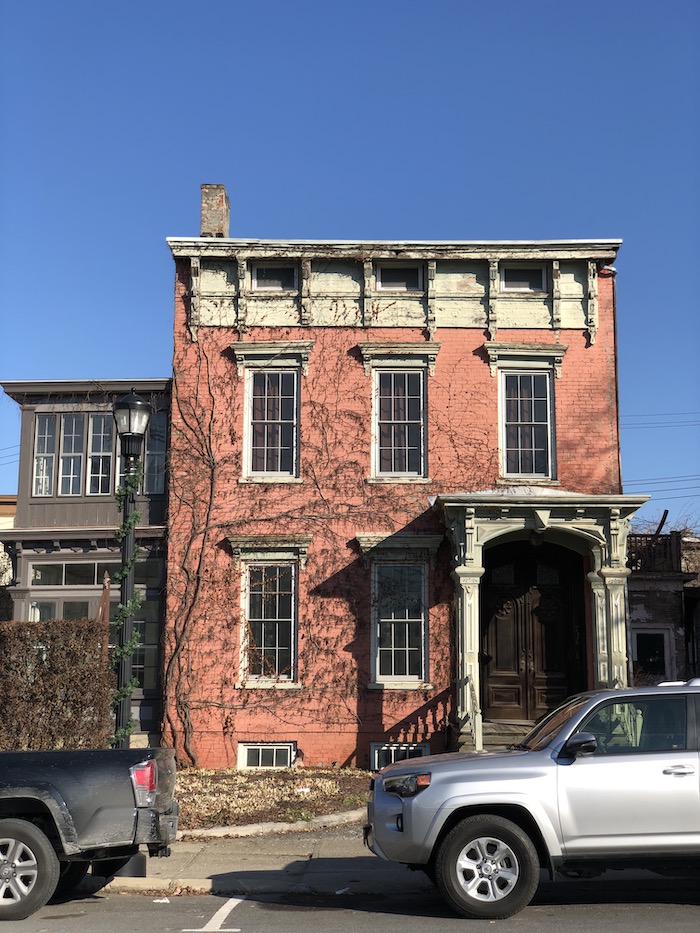 Hudson
Hudson er en af de større byer i området, og på mange måder minder byen om en land-udgave af Brooklyn. Her er nemlig fyldt med hippe butikker, cafeer, og flere af dem er åbnede af folk fra Brooklyn, der udskiftede det travle byliv med mere ro nordpå. Du kan hurtigt få en hel dag til at gå i Hudson med at shoppe, spise og nyde det store udvalg af gode spots.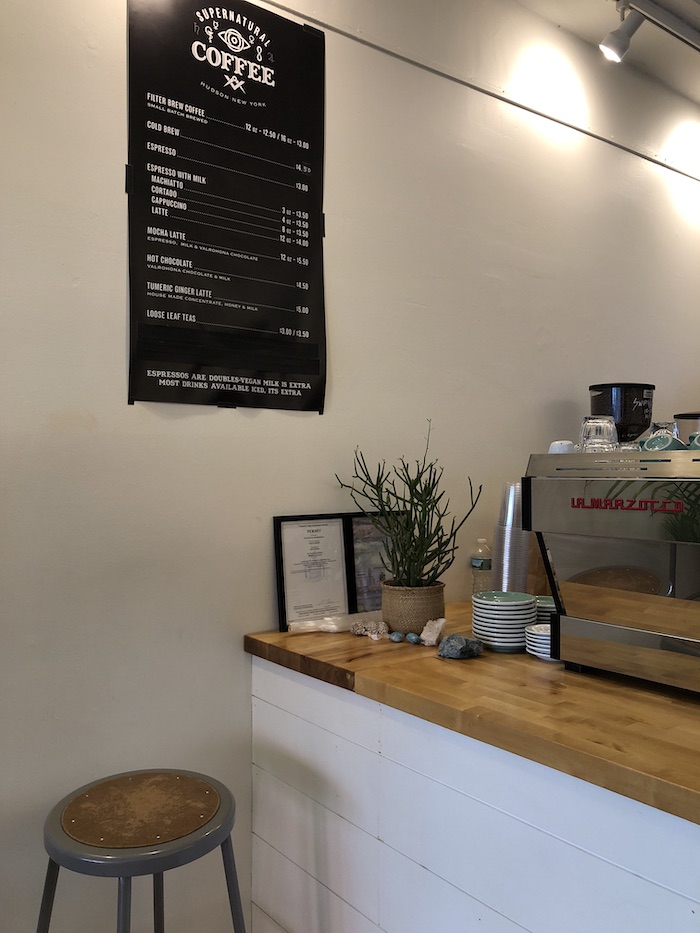 Her kan du få stillet kaffetørsten, mens du people-watcher. Her kommer de lokale hipstere, nogle med deres computere, andre med deres hunde.
Warren Street er hovedgaden i Hudson. Her ligger små, selvstændige mode- og møbelbutikker side om side med fede vintageforretninger. Her finder du også en række gode cafeer, barer og restauranter.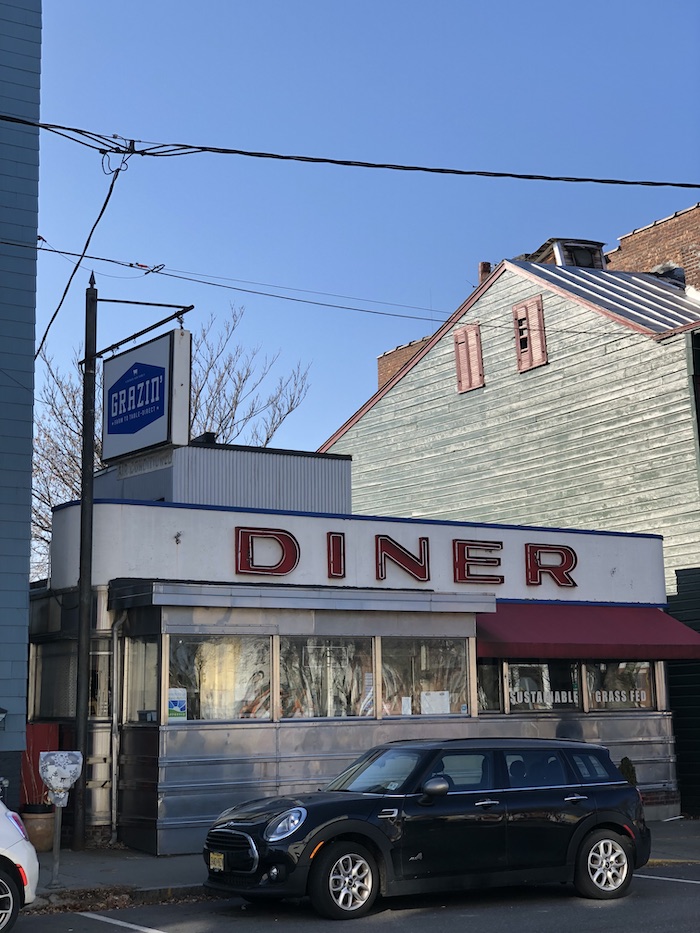 Grazin ligger i en vaskeægte retro diner-trailer. Her bliver der serveret verdens første 100% dyrevelfærds-godkendte burgere. De smager bare lidt bedre. Burgerne fås i et hav af forskellige afskygninger, så du kan altså få din burger lige som du vil have den.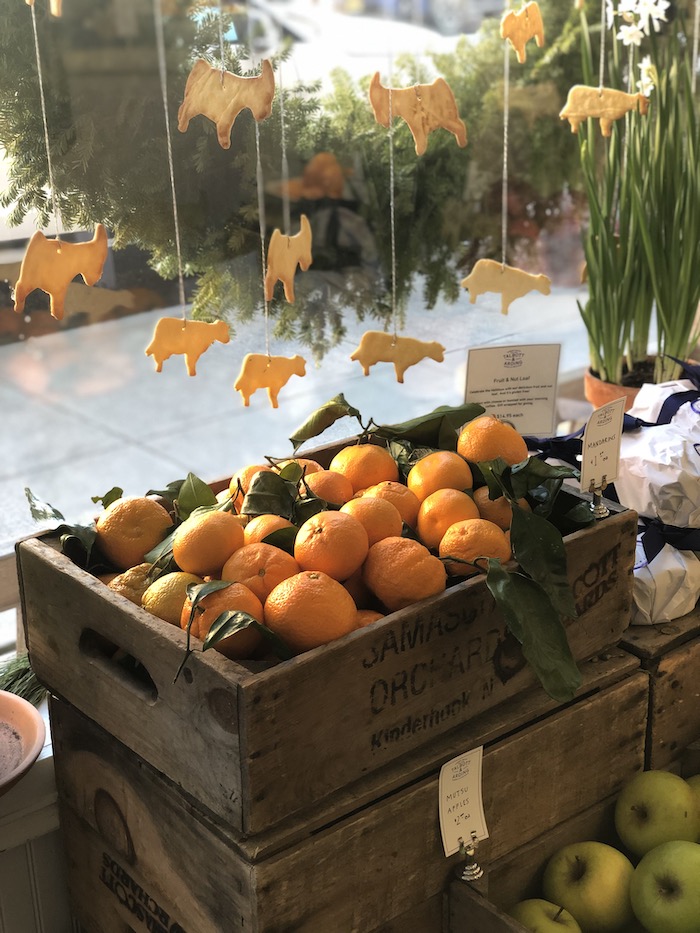 Dette sted fungerer som minisupermarked og café. Her finder du nemlig forskellige produkter produceret lokalt i Hudson-området, fra grøntsager og frugt til kød, ost og andre mejeriprodukter. Kvaliteten er høj og varerne er i den lækre, eksklusive ende. Udover at købe ind kan du også nyde bagværk og frokostretter i stedets café.
En tændt pejs, nedblændet lys og bløde, brune lædermøbler. Denne restaurant emmer af hygge. WM. Farmers & Sons serves both brunch, lunch and dinner.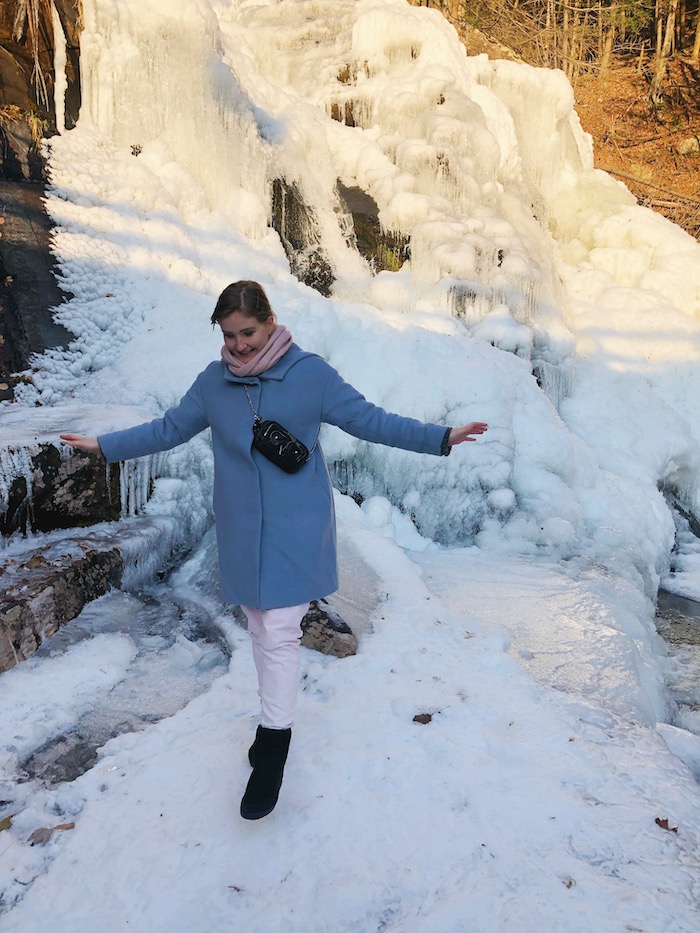 Natur, bondegårde og frugtplantager
Udover ovenstående skønne byer, er naturen også en oplagt grund til at tage Upstate. Her er bjerge, vandfald, vandreture og udsigtsposter. Gode ideer er Kaaterskill Falls, Hunter, Overlook Mountain og Bear Mountain.
Derudover kan du også smutte forbi en af de mange bondegårde, vingårde og frugtplantager. Er du afsted i efteråret, kan du opleve græskarfarme og æbleplantager og i sommeren smukke vingårde.
Jeg ønsker dig en skøn tur Upstate og håber, at du nyder mine anbefalinger. Jeg vil fortsætte med at opdatere denne guide, når jeg vender tilbage og oplever flere steder.


Last year I went to Upstate NEw York for the first time on a cute Christmas trip. I fell in love with the area, the nature, the mountain views, waterfalls and the quaint cities with great selections of restaurants and stores. The whole Upstate in general. And ever since, it's been on my blog post list to do an Upstate New York guide. Now, I went back Upstate for the second time and got to experience even more. Finally, I had enough content to compile for this guide. I hope you like it. Enjoy!
Stay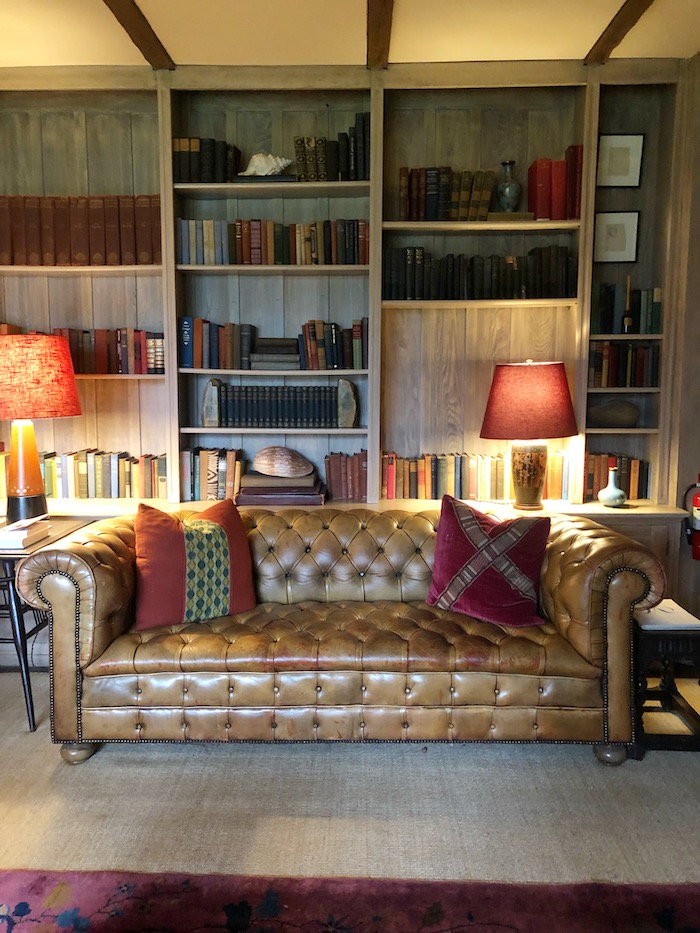 This country house estate has been a popular Upstate New York stay for centuries. In 2017, the whole estate underwent renovations and is now more beautiful than ever. Chill in the estate's library in the soft Chesterfield couches while the fireplace is on, enjoy breakfast and dinners in the hotel restaurant which is acclaimed by critics and take a stroll on the idyllic garden property that includes a river, bridges and a pool for the summertime.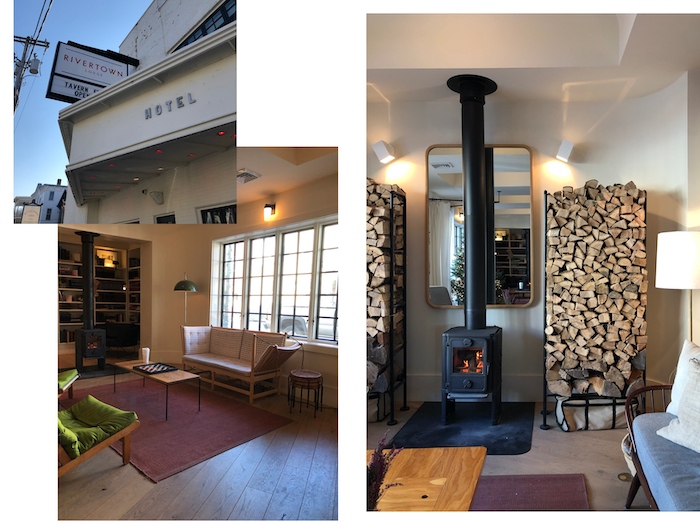 In a former movie theater, this hotel is all about great design. The old signature movie theater features are still well-kept, paying homage to the old building. Enjoy a small-town city stay in lovely Hudson or simply come by the hotel for dinner or some chill in the lounge area.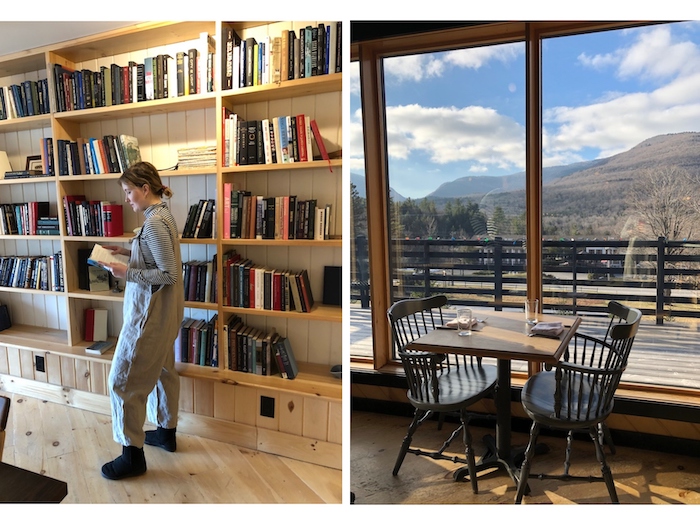 Scribner's Catskill Lodge has existed since the 1960s. It's is located with a perfect view of the Hunter Mountains. Waking up to this view is absolutely magical. The rooms are beautiful and many of them even have their own gas fireplace. Besides nice rooms, a stunning view and communal spaces like the big reading and lounge room with another fireplace, the Lodge's restaurant, Prospect, serves delicious food both day and night. It's fun to go here both all year round. In the summertime, you can enjoy the pool and explore the rivers and lakes in the area. In the wintertime, you can chill inside and even go skiing. Every night, an outdoor fire is set for guests to enjoy and do s' mores. Yum.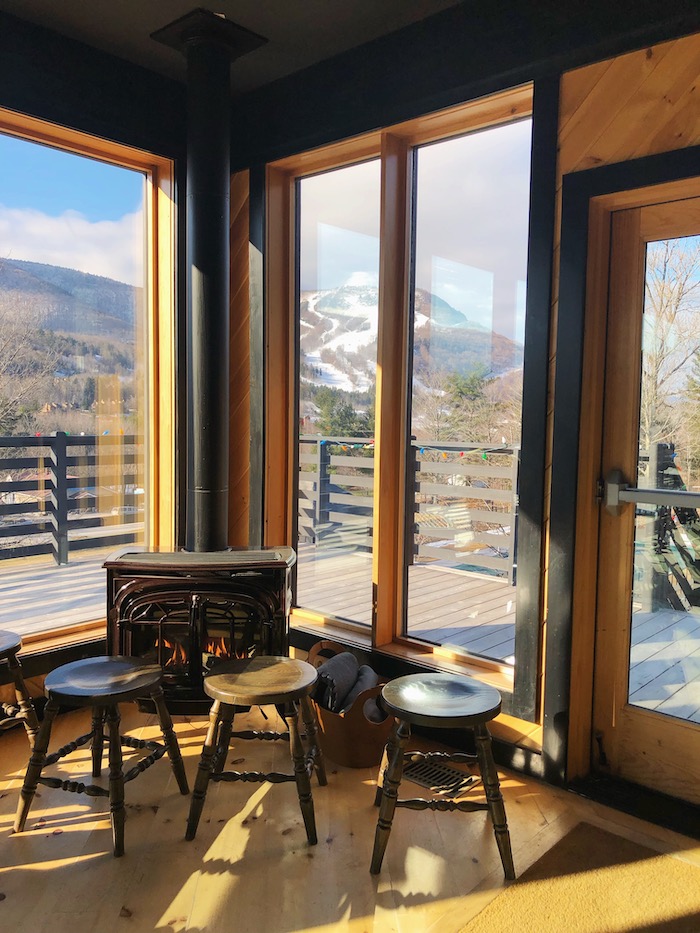 Located in a former bank and with a check-in area set in the former vault, this newly-opened hotel is something else. The total of 43 rooms is located in one of the four classical townhouses that make the Hotel Kinsley. Needless to say, the rooms are decorated beautifully. In the main building, you'll find the Restaurant Kinsley that serves delicious, contemporary food with an Italian touch.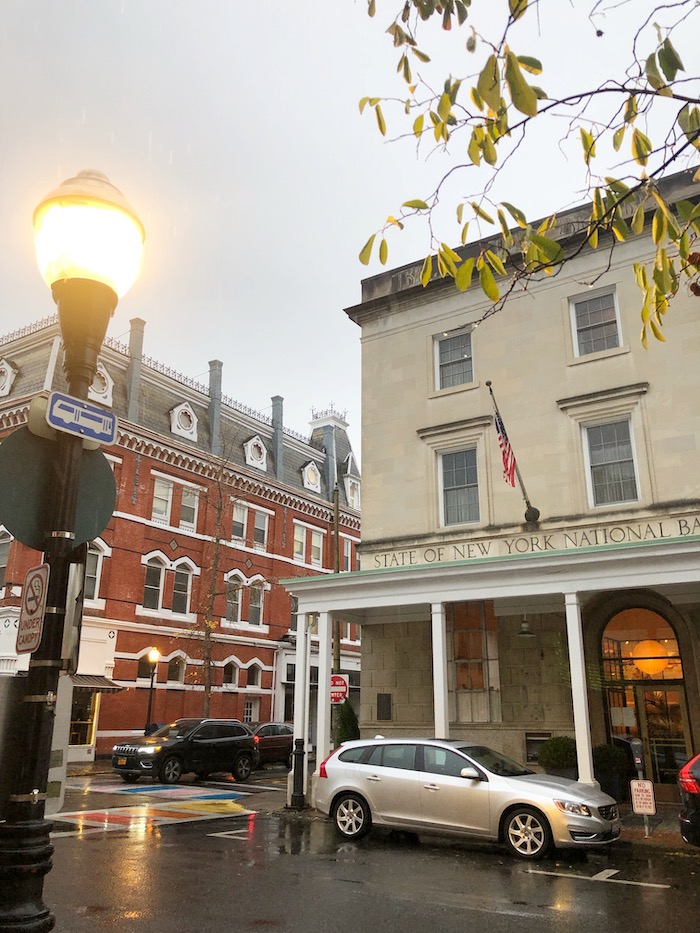 Kingston
Kingston is a wonderful town. Located just 91 miles or approximately two hours drive from NYC, it's like you're in a completely different world. Besides the gorgeous historical district of the city, where you'll find beautiful, classical buildings, Kingston is also known for being a hub for artists. That means that you can dive into art at some of the city's many galleries. Also, make sure you stroll the Historic District of the city.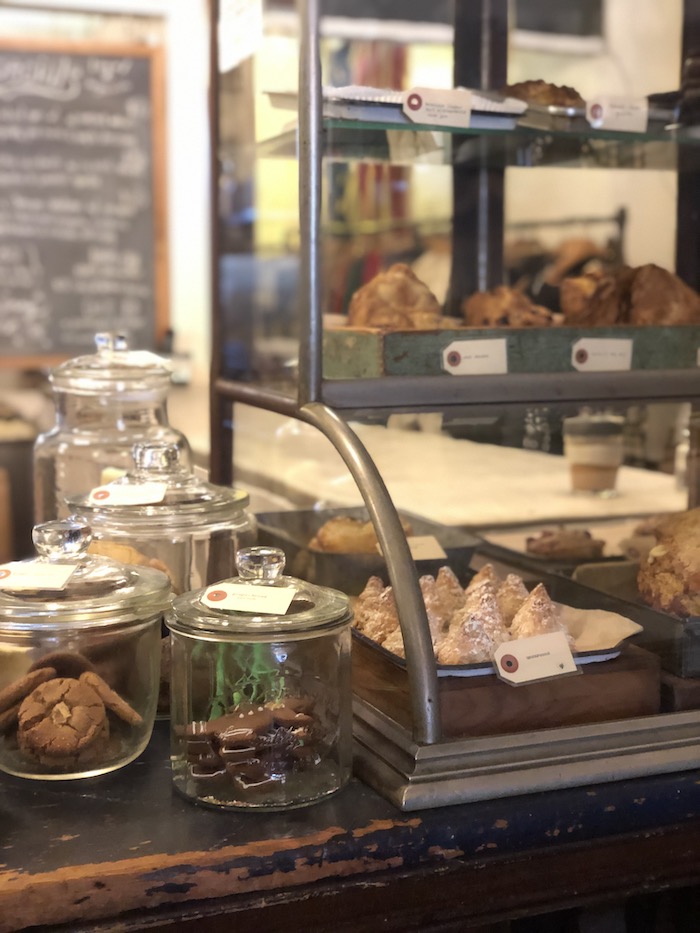 Vintage clothes, vintage furniture and a cafe all in one. The perfect combination! Treat yourself to a cup of coffee, a slice of cake. And when you've digested, dig into the great selection of vintage.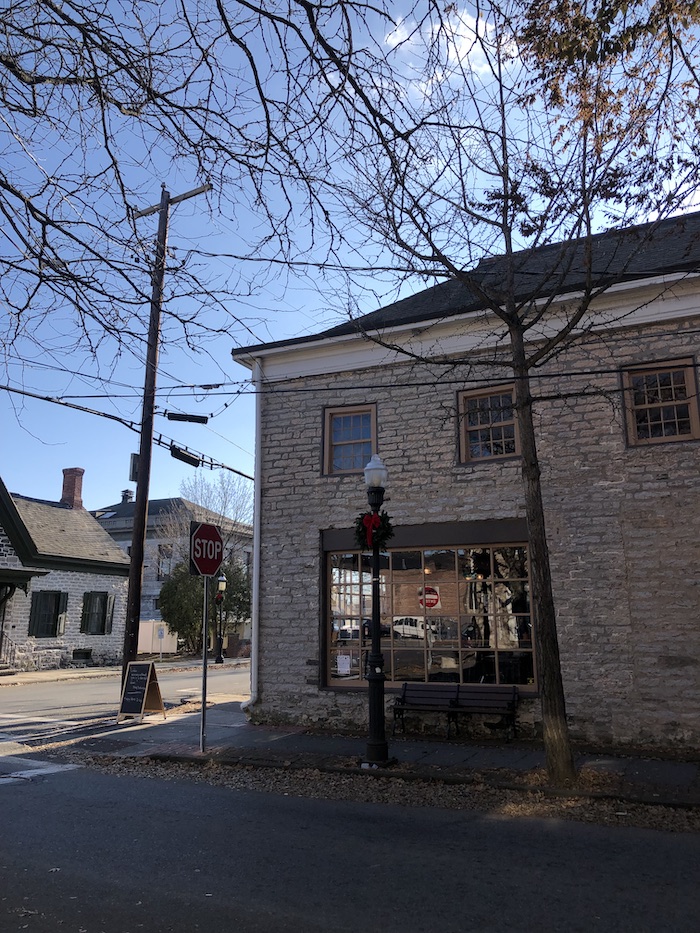 Another perfect combination – book store, cafe, and bar all in one. If you need to get work done, this place is also spot on to bring your laptop and get some work off the to-do list.
There is lot of great shopping opportunities in Kingston. Go vintage hunting in Also Lovely Vintage, Good Old Vintage, and Vintage Clothing & Antiques. Pay a visit to Clove & Creek that offers cute stuff for your home as well as good coffee.
When you enter Brunette, it's almost like being back in Williamsburg. The winebar + restaurant is ultra-hip and serves natural wine accompanied by bar snacks or larger plates.
A modern farm-to-table restaurant serving the best produce of the season in a seasonal, rotating menu. The focus is on tasty vegetables featuring both fish and meat. Needless to say, it's delicious.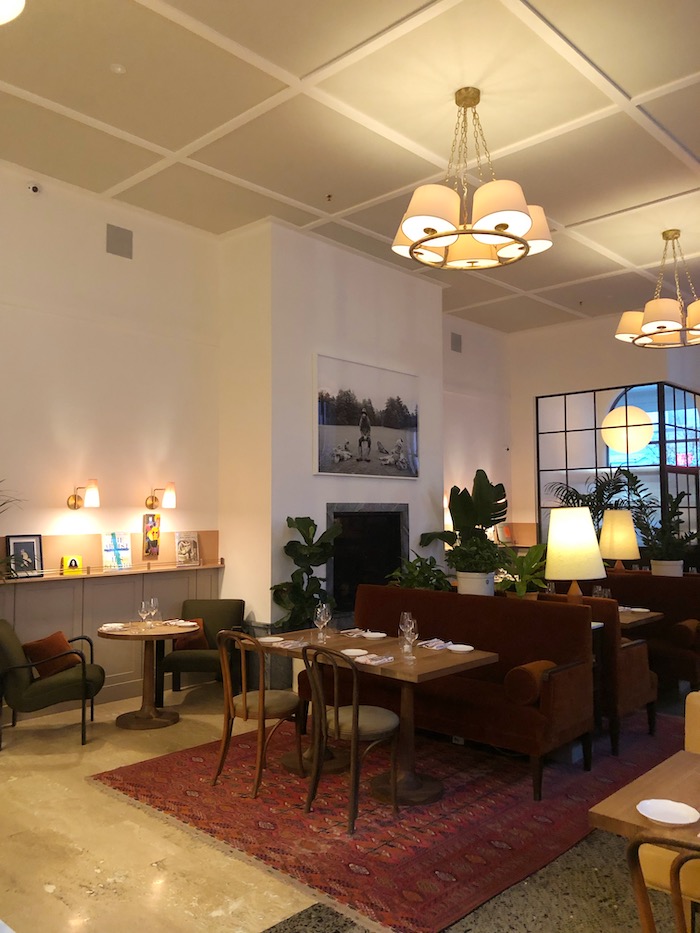 Part of the newly-opened Kinsley Hotel, this restaurant serves delicious, contemporary food with an Italian touch.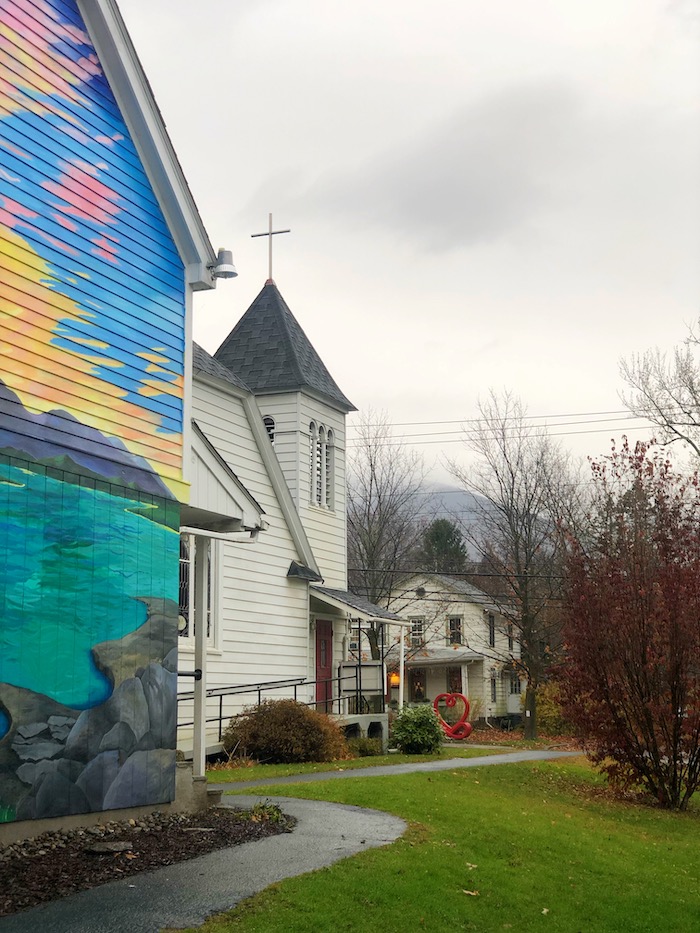 Woodstock
Besides being known as the background for the infamous, legendary festival from the 70s, Woodstock Festival, this little town is also worth a visit! It's based around one main street which houses small cafes, independent shops, and great restaurants. Behind the main street, you see the mountains.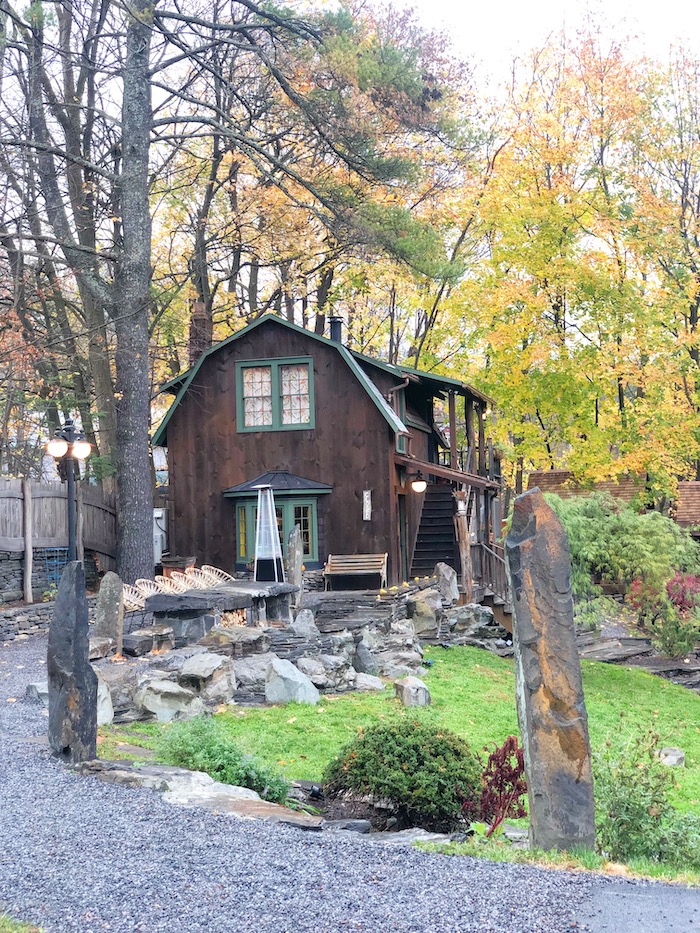 My first stop when I'm in Woodstock! This little woodhouse offers woodfired bagels, pastries and their coffee are on fleek. As the fire oven is on, you get this cozy, countryside feeling. The vibe is great and so is both the coffee and bagels. In the summertime, you can enjoy your bagels in the garden while sitting on a rock and breathe in the fresh mountain air.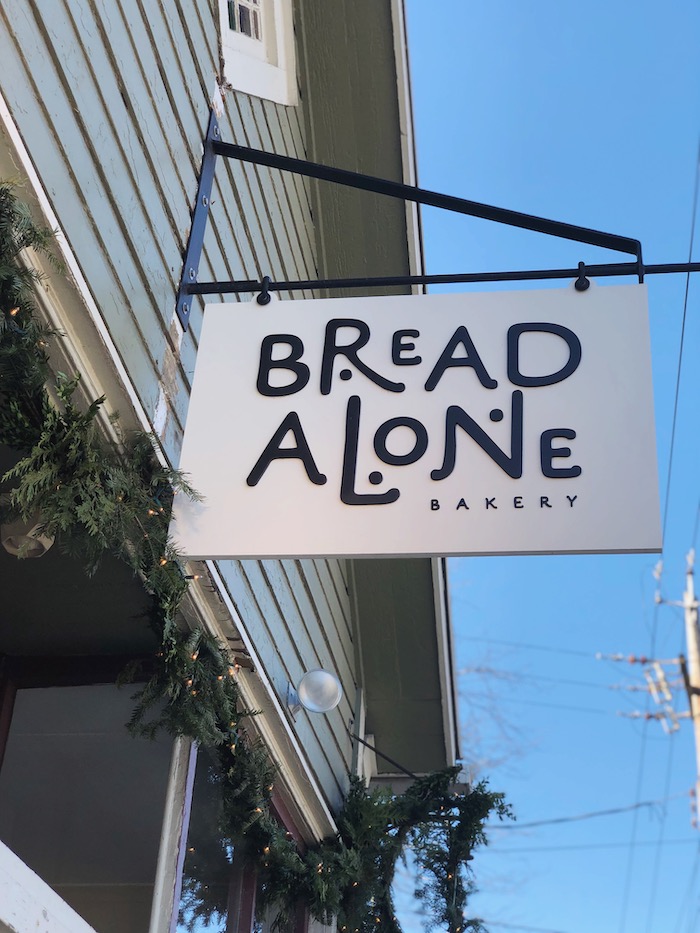 Coffee, cake, and bread. Bread Alone is the ultimate bakery. You can hang inside the bakery, enjoy breakfast and lunch plates or simply do coffee and cake. You can also purchase pies and bread loaves to take home.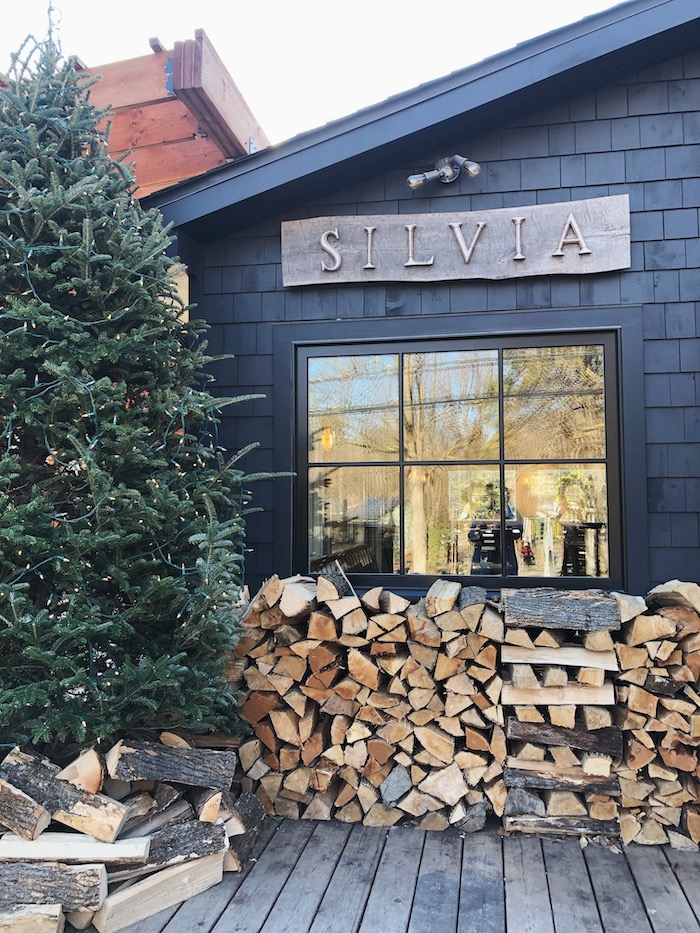 A restaurant owner grew tired of NYC's constant hustle and bustle and decided to move to Upstate New York. Silvia is a result of this. The restaurant features gorgeous interior, and the open kitchen lets you enjoy the view of the chefs cooking your delicious meal.
This restaurant lets you dine in a beautiful, yellow Woodstock house. The menu is Italian and is based on sustainable, local produce in season.
Good American fare from a turkey sandwich with waffle fries, soup of the day and a great veggie burger. Nice local vibes.
This diner isn't located in Woodstock but a 15-minute drive away. In the tiny, but gorgeously located town Phoenicia that lies within mountains, this classic diner serves all your favorite dishes; from pancakes to french toast and omelets. All dished are based on local, sustainable produce.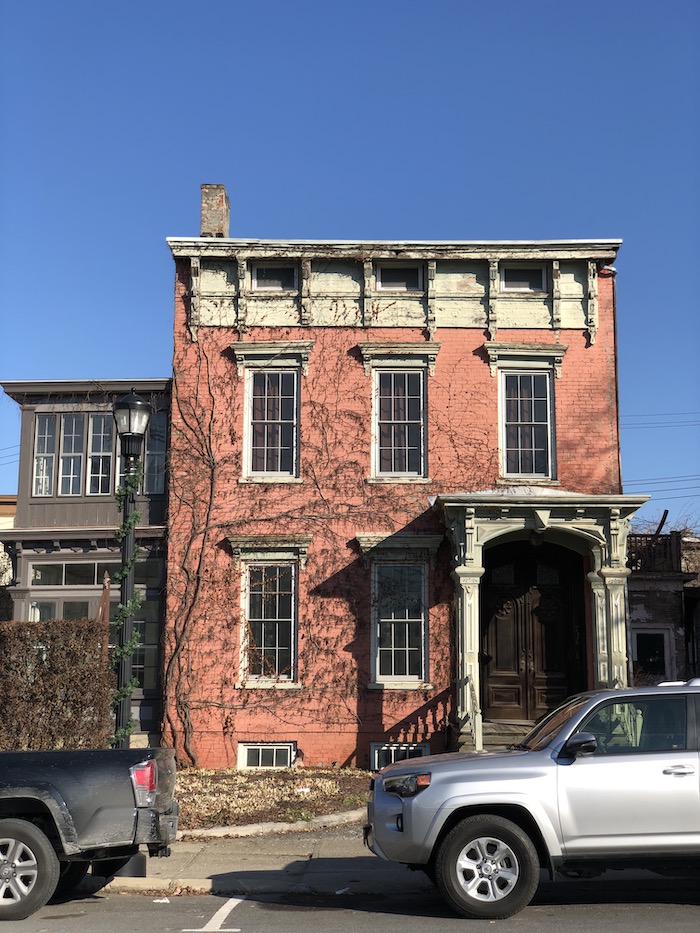 Hudson
Hudson is one of the bigger cities in the area. In many ways, Hudson reminds me of a country-side version of Brooklyn. Everything here is tasteful, hip and cool. Which makes sense, because many of the spots in the city are opened by former Brooklynites who exchanged the busy city life with a quieter Upstate New York life. You can easily spend a whole day in Hudson as there are a multitude of great things to do.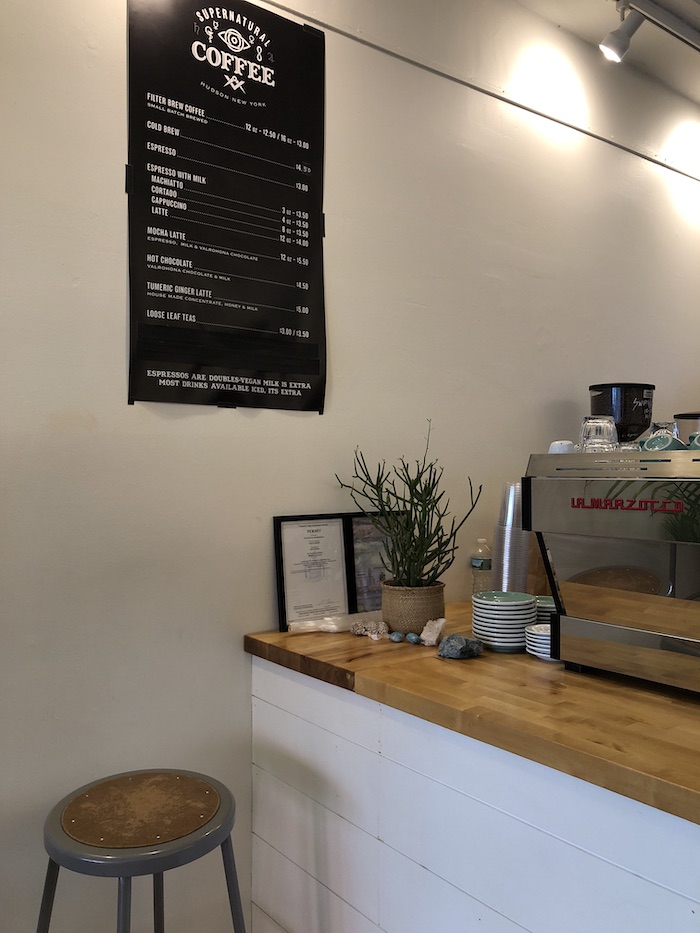 Need your coffee fix? This is a great spot to get it! Here, local hipsters hang out with their laptops, and some even bring their dogs (yes, please!)
Warren Street is the main shopping street. Here, you'll find cool vintage stores such as Hudson River Exchange and Second Show, as well as small, cute independent fashion and interior stores. Here's also a great variety of restaurants, bars, and cafes.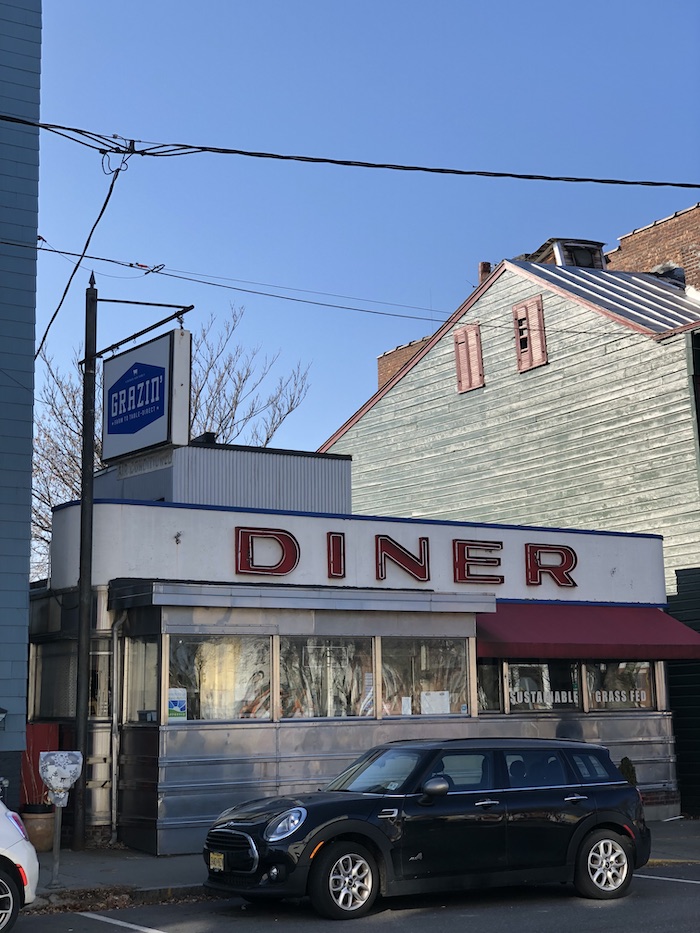 In a retro diner trailer, Grazin is the first place in the world to serve farm-to-table 100% animal-welfare approved burgers. They taste damn good. The menu features a long list of different burgers with different toppings meaning that you can get your burger exactly the way you want it.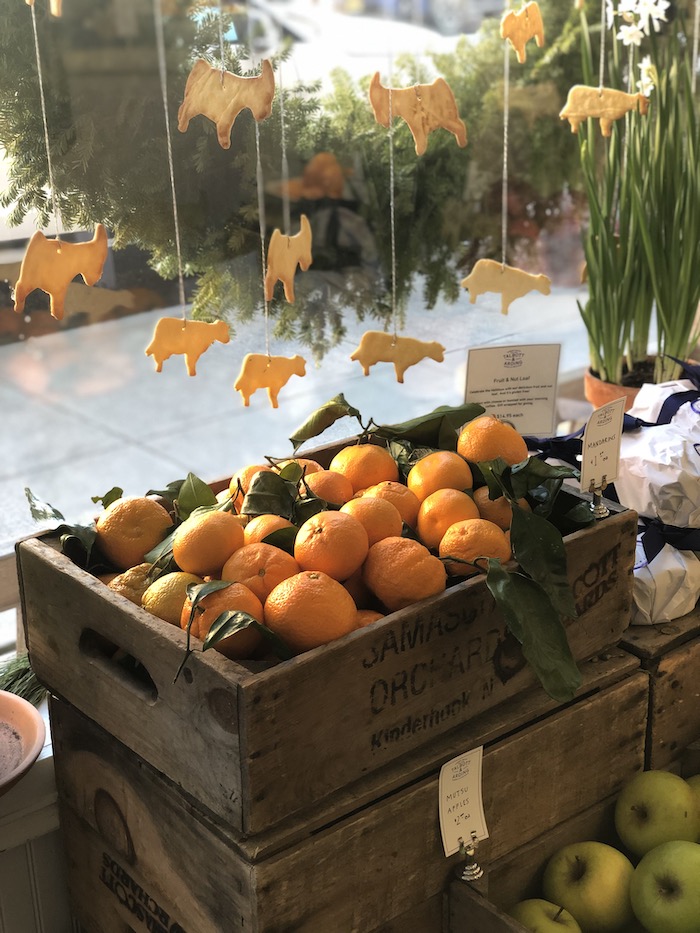 This place serves as a tiny supermarket as well as a cafe. In the market, you'll find all sorts of local produce from fruits and veggies to meats, cheese, and other dairy products. In the café, you'll get to indulge in fresh pastries, soups, and salads.
A fireplace, dimmed lights and brown-colored furniture. This place is all about country-side coziness. The place serves brunch, lunch, and dinner as well as great cocktails.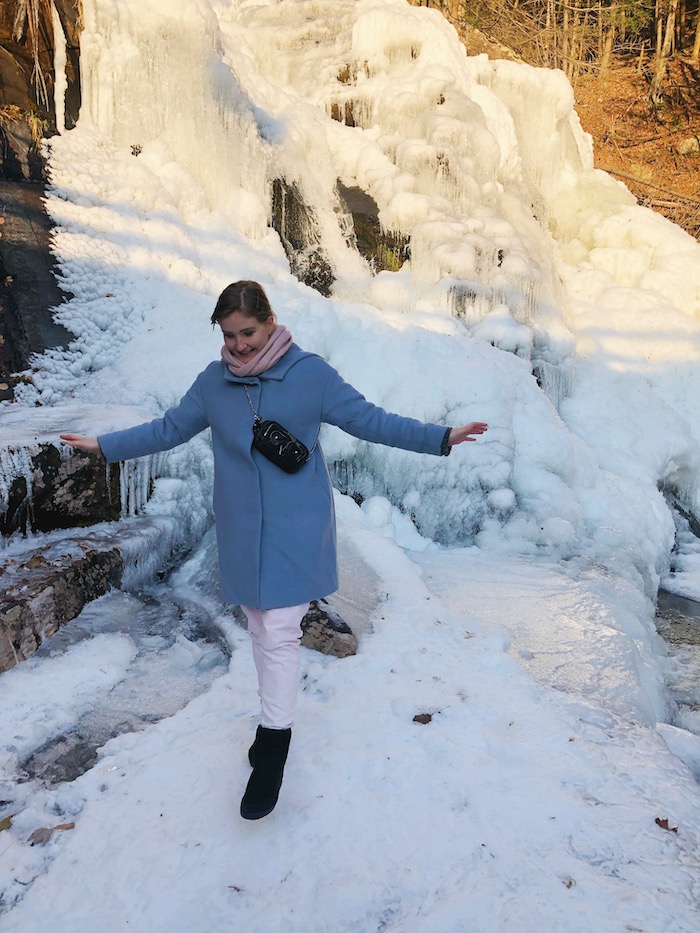 Nature
One of the main reasons to go to Upstate New York is to enjoy the breathtaking nature. Around these cities, you'll find impressive views, mountains, woods, and waterfalls. Do your research and find a suitable hike that will give you the ultimate Upstate feeling.
Good ideas are Kaaterskill Falls, Hunter, Overlook Mountain, Bear Mountain
Besides enjoying the wild nature, you should also visit a farm, vineyard or an orchard. Depending on what season we're in, pick your farm. In the fall, you'll want to go to an apple or pumpkin farm.
Have fun and enjoy my guide to Upstate New York and enjoy my recommendations. As I'll continue to take trips Upstate, I'll make sure to update this guide with new additions.