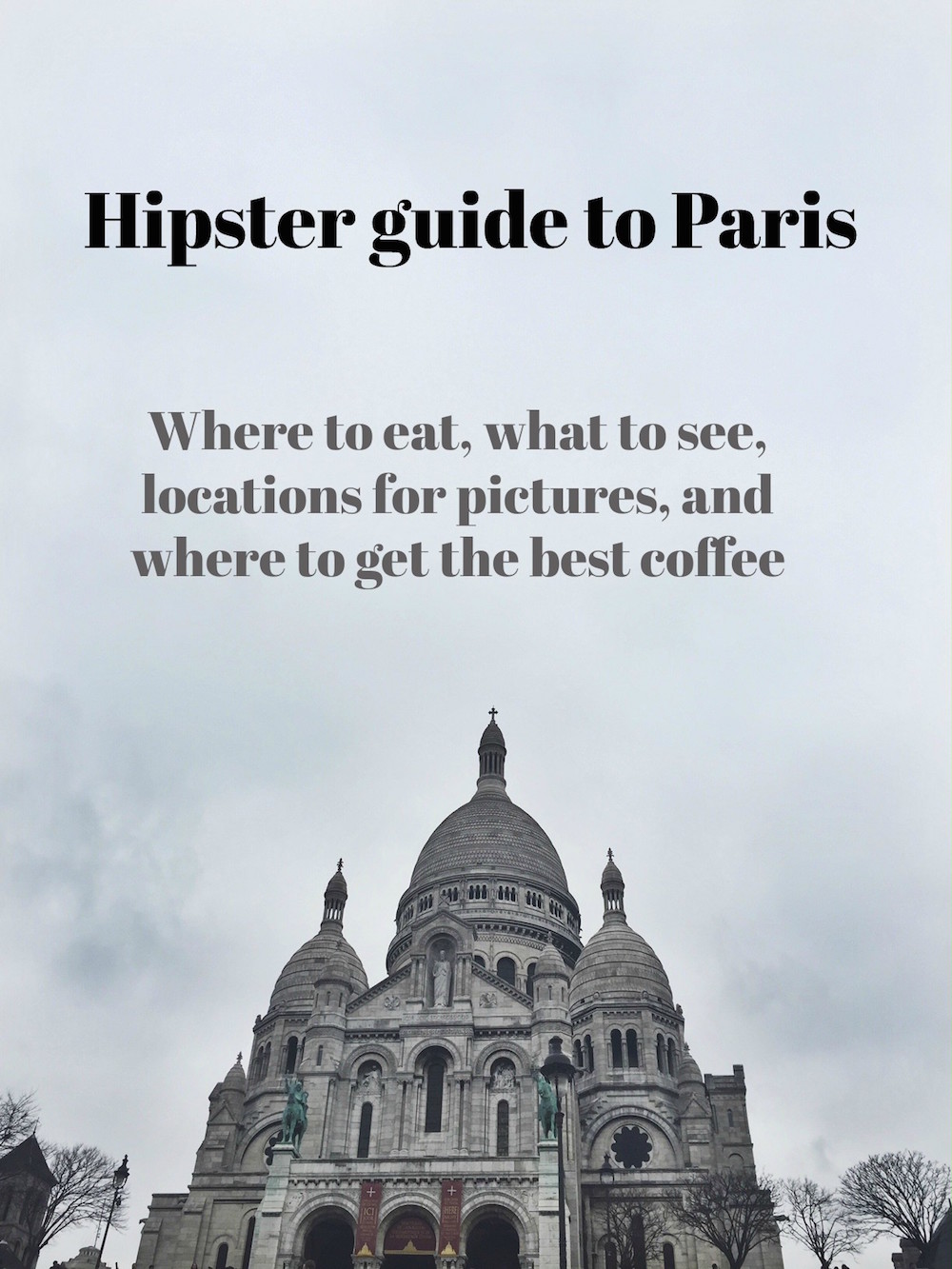 ENGLISH – DANISH VERSION BELOW – The hipster guide to Paris: Having visited Paris four times within the last three years, I would say that I have gotten to known the city quite well by now. In that connection, a friend of mine told me that she was going to Paris for three days and wanted to get as much out of her time in the city as possible. Therefore, I have decided to do this hipster guide to Paris. The guide is for the kind of traveler who is looking to experience as much as possible in three days including both classic Paris attractions, must do's when in Paris as well as the hippest spots in the city. I hope you like it!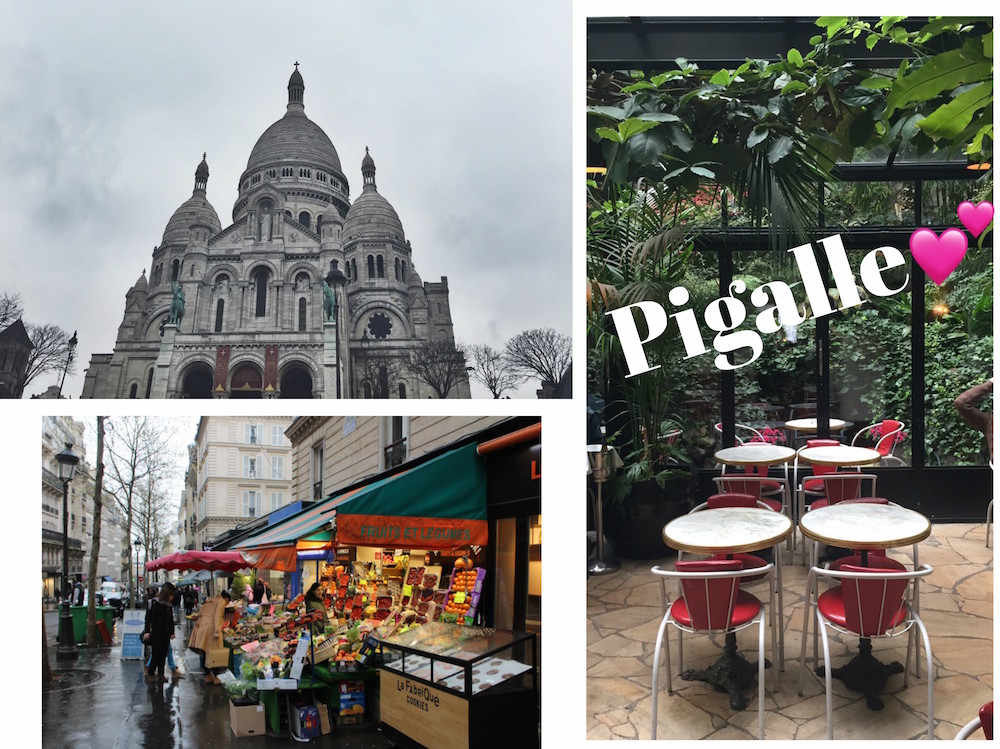 FIRST DAY IN PIGALLE: This area shows you the authentic Paris. Start the day by walking by Lé Petrin Médiéval (31 Rue Henry Monnier) to grab bread and cakes for a breakfast picnic. This is a bakery where everything is just delicious. Head to Sacre-Cæur afterward. It is only about a 10-minute walk from the bakery. From here, you can indulge in both the beautiful view that the hilltop church offers of Paris as well as the baked goods that you brought from Lé Petrin Médiéval and do your own little breakfast picnic. If you are more interested in having brunch, Pigalle offers some seriously good brunch places such as Marlette, La Bossue, and Hotel Amour (only serves brunch on weekends).
Coffee: Now, walk around to enjoy the Parisian lifestyle of Pigalle. The street Rue des Martyrs is great for lots of reasons. It is filled with little, artisanal, French stores that sell everything from handmade soap to French specialties and bakeries selling macarons and other French goodies. If you are thirsty for coffee and your legs need a break, go to KB Coffee, Hotel Amour or Le Pigalle. Make sure to stop by and check out the cool basketball court (22, Rue Duperré).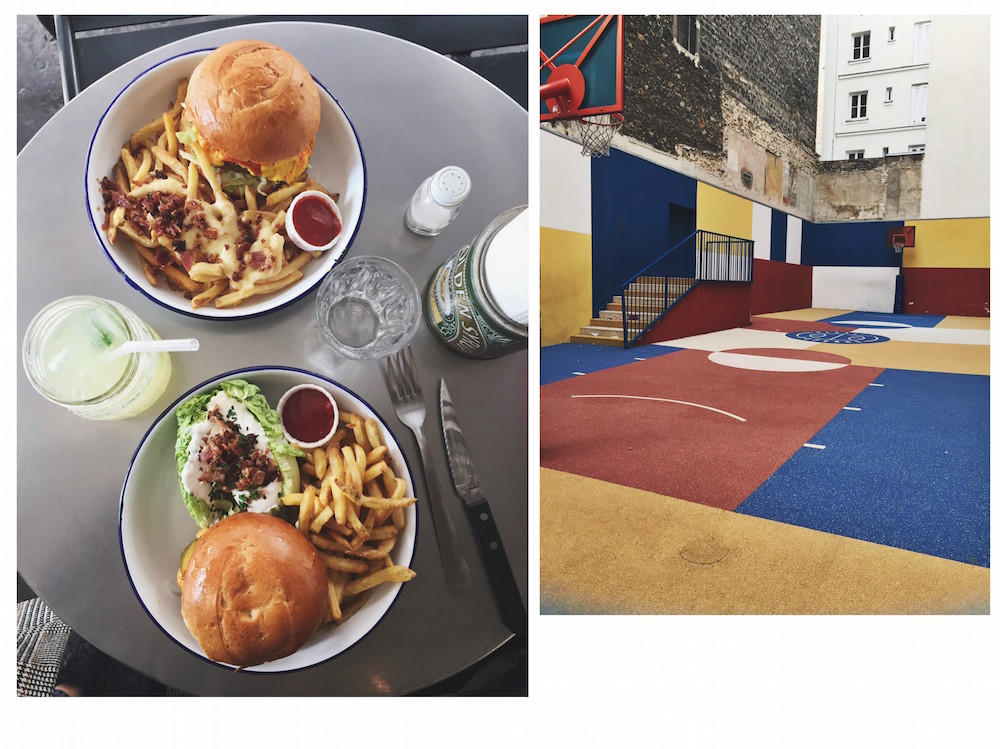 Lunch: It is time for lunch and for a burger that is renowned as Paris' best. It is called Paris New York (50, Rue Faubourg Saint-Dennis). It is technically not located in Pigalle, but a 20-minute walk away. If you want to try it, you gotta work for it. I can only recommend it, though.
Dinner: After having the burger for lunch, you might be quite full for dinner time. I suggest you go for a charcuterie plate and a glass of wine. A good place to do so is at Les Apôtres in Pigalle (2 Rue Germain Pilon). After dinner, head over to see Le Moulin Rouge and the rather crazy nightlife in Pigalle. Drinks are amazing at FLESH (25 Rue de Douai).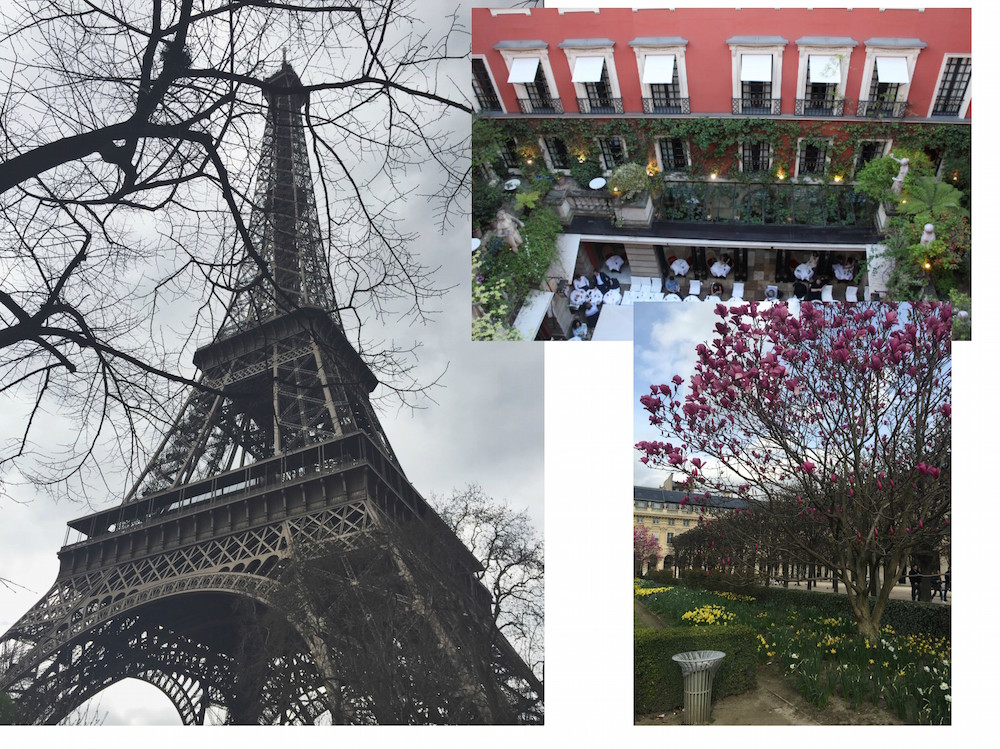 SECOND DAY IN THE 1st and 8th ARRONDISSEMENT: On your second day in Paris, it is time to be a more serious tourist. Start off by the Eiffel Tower. If you are not staying in walking distance from it, take the metro to the Bir Hakeim stop. If the park is open, grab a croissant and a coffee and sit on the lawn and enjoy the view. After eyeing the masterpiece of a tower, head toward the water for a beautiful walk through Paris. Cross the stunning, golden bridge also known as Pont Alexandre IIII.
Lunch: Go through Jardin des Tuileries, and if you feel like you have the time, stop by the Musee de L'Orangerie, where some of the gorgeous Claude Monet paintings are showcased. If you are looking for a luxurious, French experience, head to Hotel Costes (239-241 Rue Saint Honoré) for lunch. They have a beautiful garden and you might see the Kardashians or other famous people while having lunch here. If you are looking for a more budget-friendly but still good lunch place, go to Télescope or Frenchie to Go.
Shopping: But first! When you are already at Rue Saint Honoré, you have to do some shopping. Or at least some window shopping. All the exclusive shops are lined side by side on this street and it doesn't get anymore Parisian. Another most visit is the concept store Colette (213 Rue Saint Honoré) where you will find sneakers, clothing, perfume, art and little fun gimmicks.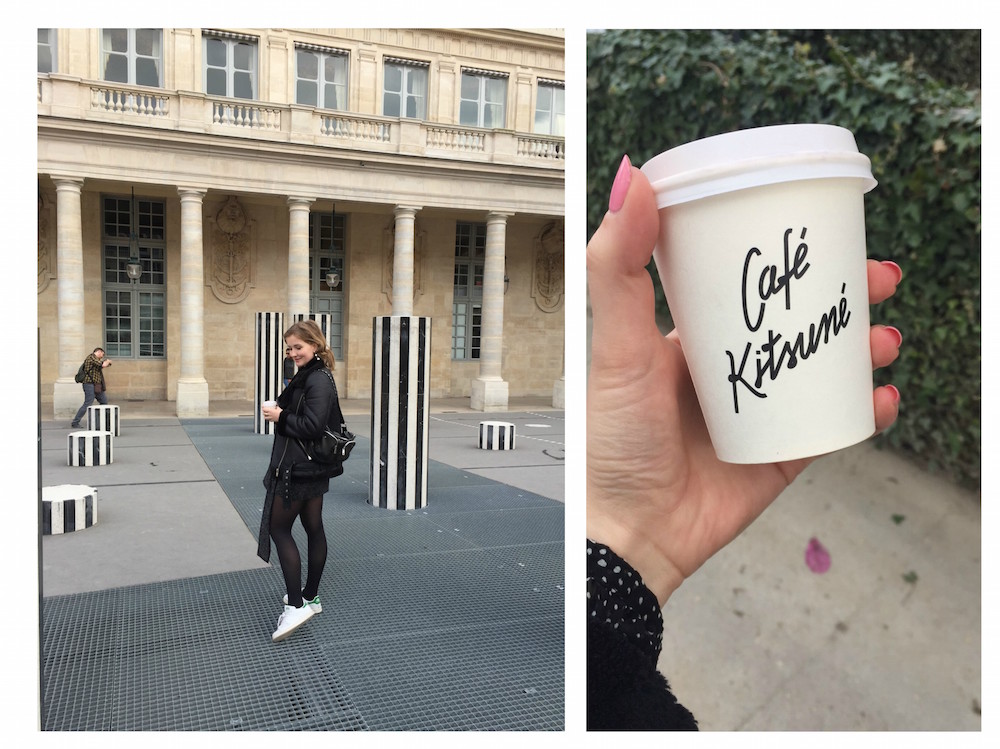 Coffee and Instagram pictures: You've walked a lot by now, so I am sure you will be needing a break and of course, coffee. Luckily, at this point you will find the best coffee in Paris. Café Kitsune (51 Galerie de Montpensier), which is located within the park area of Le Palais Royal, brews you an amazing cup of coffee. Have it to-go and bring it to the park where you can enjoy a little fountain, flowers and greenery. When your legs are rested, walk to the other end of the park to see the striped columns in front of Palais Royal. I am 99% sure that you have already seen them on Instagram. 1-2-3, and it is your turn to shoot that cool picture for Instagram.
The burger macaron: Time to walk some more to find the famous, amazing macaron that is made like a burger. It is from Gosselin (123-125 Rue Saint Honoré), and you have to try it!
Dinner: If you are a fan of Sex and the City, you will love this! Remember the scene in Paris where Carrie meets Alexandr's ex-wife at a restaurant in Paris? This is it. The restaurant is called KONG (1 Rue du Pont Neuf). It is a more upscale dining spot, so again, if you are traveling on a budget, you might want to check out another spot such as Le Fumoir.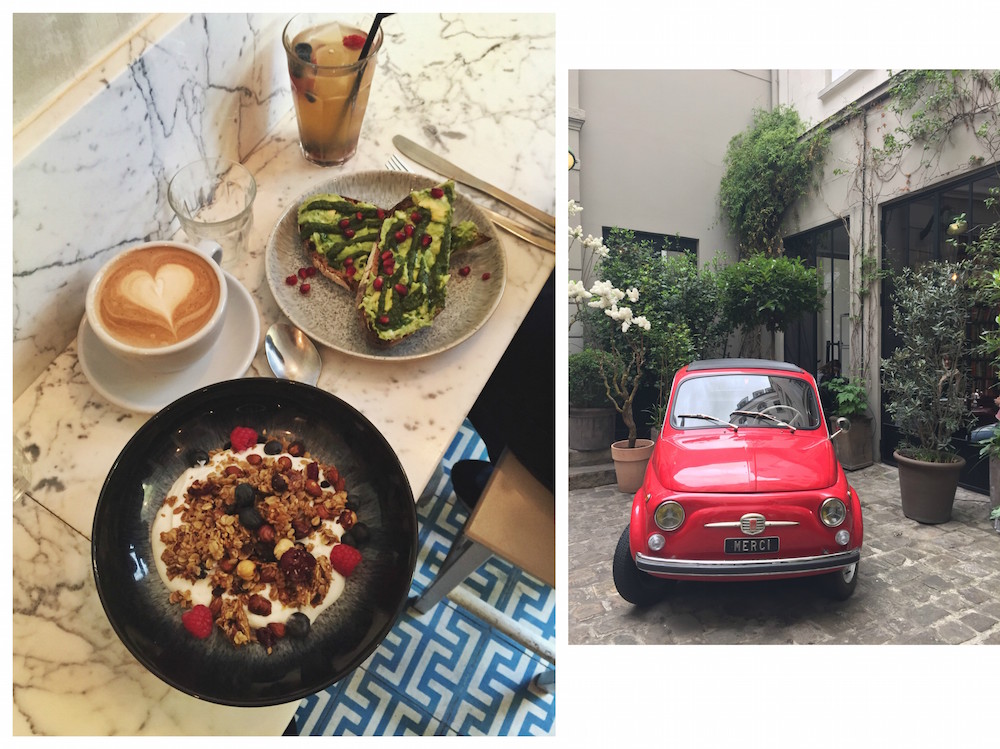 THIRD DAY IN LE MARAIS: On the third day in Paris, it is time to explore another favorite neighborhood, Le Marais. Le Marais is known for good cafes and shopping, so what is not to like?
Brunch: Is there a better way to start the day than with brunch? I think not. Ob-La-Di (54 Rue de Saintonge) serves a great and very Instagram-friendly one. You might have to wait for a little to get a table, though. If you are not willing to do so, Marais luckily has many other brunch spots such as La Petite Table, Café Oberkampf, Season and Paperboy.
Shopping: Time for some shopping! Le Marais has all the good, French stores such as Iro and Isabel Marant. There is also another concept store that you have to check out in Le Marais. It is called Merci (111 Boulevard Beaumarchais) and they literally have everything your shopping heart desires. There is also a Supreme in Le Marais, if you like that kind of stuff 😉
Museums: If you are a fan of art, Le Marais is the place to be. The area offers a vast amount of museums, such as Musée Picasso or Centré Pompidou, where you can find modern art.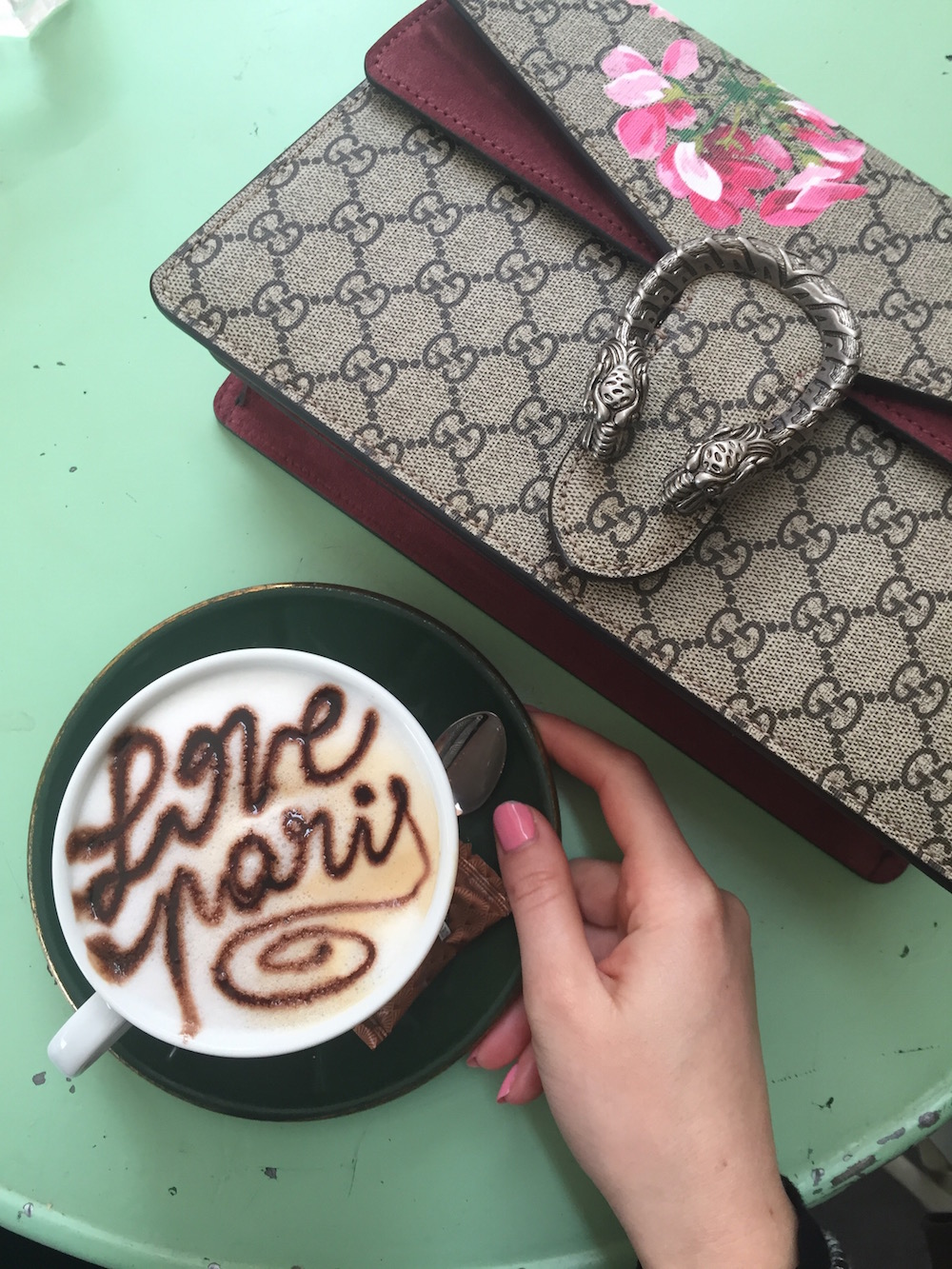 Coffee: After shopping and walking, coffee is up. Le Voltigeur (45 Rue des Francs Bourgeois), serves you a very Instagrammable cup of coffee, and if you are lucky, you might even get a little word or quote on your coffee. If you are a serious coffee lover, try out Fragments, Le Peloton Café or Boot Café.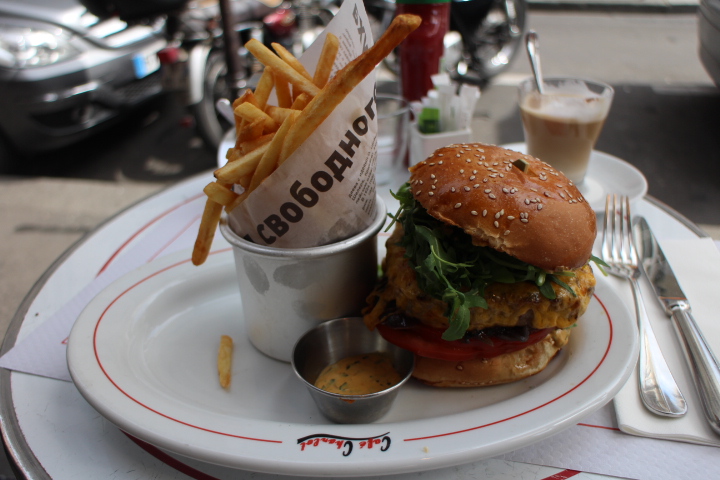 Dinner: Dinner awaits, and in Le Marais you won't be disappointed. Try the very popular falafel spot, L'as Du Falafel (34 Rue des Rosiers). If the line is too long for your taste, head to one of the two other Parisian favorites, Chez Janou or Café Charlot for classic, French foods such as steak tartare, French fries (they're French, lol!) and chocolate mousse.
And that's a wrap! Three highly productive days in Paris exploring three very different neighborhoods. I hope you can use my guide <3
_________________________________
DANSK: Jeg kender efterhånden Paris ret godt, da jeg har besøgt byen fire gange de sidste tre år. En bekendt skrev til mig og fortalte, at hun skal tre dage til Paris og gerne ville udnytte de dage til at opleve så meget som muligt, både klassiske turistattraktioner og seje steder i byen. Det inspirerede mig til at skrive denne Paris-guide, der foregår med undgangspunkt i tre dage i Paris. Den første dag foregår i Pigalle, anden dag med turistattraktioner og kaffe og den trejde dag udspiller sig i Le Marais. Man kan selvfølgelig bytte om på rækkefølgen. Jeg håber, I kan bruge min guide.
Tip! Jeg skriver hippe rejseguides til en masse destinationer rundt i verden
fra Bornholm til Berlin og New York,
der giver dig de bedste tips til hvor du skal spise,
hvad du skal opleve, og hvor du skal drikke kaffe. Find dem her.
DAG ET I PIGALLE: Pigalle er et skønt, og knap så turistet område i Paris, der helt klart er værd at bruge en dag på at opleve. Start dagen med et smut hos bageren, Lé Petrin Médiéval (31 Rue Henry Monnier), der bager alle de bedste og ulovlige carbs, såsom pastel de nata, flan med kokos og lækkert baguette-brød. Køb alle dine yndlingskager, brød og croissanter, for du skal på en lille picnic. Fra bageren er der nemlig kun en 10 minuters gågang op af bakke til smukke Sacre-Cæur. Når du er nået til tops, kan du nyde udsigten med kaffe og croissanter, og hvad du ellers har købt fra bageren. Hvis du hellere vil have brunch, så er Pigalle også god til dette. Prøv Marlette, La Bossue eller Hotel Amour (Amour har kun brunch i weekenden). 
Kaffe og shopping i Pigalle: gå rundt og opdag Pigalle. Især Rue Des Martyrs er en skøn gade, der er spækket med lokale blomsterhandlere, fromage-butikker (franskmændende elsker deres ost!), det ene konditori efter det andet samt butikker, der forhandler alt fra fine sæber til LP-plader.  Når du har brug for en pause og er blevet kaffetørstig, er der også råd for dette. Prøv KB Coffee, Hotel Amour eller Le Pigalle. 
Frokost: Du skal prøve burgeren, der af flere er kåret som Paris' bedste. Teknisk set, befinder den sig ikke i Pigalle, så før du kan nyde burgeren, kræver det altså, at du lige får rørt benene på en tyve minutters gåtur. Stedet hedder Paris New York (50, Rue Faubourg Saint-Dennis). Burgeren er fantastisk, og den kan også serveres med salat i stedet for pomfritter eller halv-halv.
Middag og drinks: Hvis du er til byliv, så er Pigalle the place to be. Her kan du både finde Paris' svar på red light district, men også nogle rigtig fede barer. Du er sikkert mæt efter burgeren, så for at få en rigtig parisisk oplevelse, skal du spise charcuterie og drikke et glas vin til aftensmad. Det kan du for eksempel gøre hos Les Apôtres in Pigalle (2 Rue Germain Pilon). Når du er færdig med at spise, så skal du drikke drinks hos FLESH (25 Rue de Douai). 
DAG TO I 1. OG 8. ARRONDISSEMENT: Det er tid til dag nr. to i Paris. Nu skal du være en pligtopfyldende turist, men i en by så smuk som Paris, gør det vel ikke noget. Start dagen med et Bonjour til Eiffeltårnet. Bor du ikke i nærheden, kan du tage metroen til stoppet Bir Hakeim og gå. Køb en kop kaffe og endnu en croissant (kan man nogensinde få for mange?!), sæt dig på græsplænen foran tårnet og nyd udsigten. Du skal nu ud på en gåtur. Gå langs vandet og kryds Seinen ved guldbroen også kendt som Pont Alexandre IIII. Slå et smut igennem Jardin de Tuileries. Hvis du har lyst, kan du besøge Musée de L'Orangerie, der er pyntet med overdådige og smukke kunstværker af Claude Monet.
Frokost: Hvis du har spender-bukserne på, så spiser du frokost hos Hotel Costes (239-241 Rue Saint Honoré). Hvis du er heldig, er det her, at du støder ind i et Kardashian-familiemedlem eller et andet kendt ansigt. Hotel Costes har en skøn have, og det er en gennem-parisisk oplevelse at være her. Skal det være lidt mere low-key, får du også en skøn frokost hos Télescope eller Frenchie To Go.
Shopping: Når du er i Rue Saint-Honore området, betyder det en ting. Shopping. Eller i det mindste window-shopping. Side om side ligger Gucci, Chanel, Goyard og Givenchy. Et must her er et besøg i den anerkendte concept-store, Colette (213 Rue Saint Honoré).
Kaffe & Instagram-billeder: Det er tid til en kaffe-opfyldning, og det skal ske hos Café Kitsuné (51 Galerie de Montpensier), der ifølge mange kunder brygger den bedste kaffe i Paris. Tag kaffen med til den smukke have, der hører til Palais Royal, der ligger lige foran caféen. Her kan du sætte dig foran springvandet og nyde blomsterne og træerne og den klassiske arkitektur, der omringer parken. Når du har drukket ud, er det tid til et Instagram-billede. For enden af parken finder du de Insta-famous stripede søjler, og selvfølgelig skal du da have et billede her… 😉
Burger-macaron: Den her har du helt sikkert også set på Instagram. Chokolademacaronen, der ligner en burger. Den fås hos Gosselin, der har et konditori på Rue Saint-Honoré.
Middag: Er du fan af Sex and the City, vil du helt sikkert være henrykt over dette. Kan du huske scenen, hvor Carrie mødes med Alexandrs eks-kone på en restaurant i Paris? Restauranten hedder KONG (1 Rue du Pont Neuf). Restauranten er lidt up-scale, så rejser du på budget, kan du i stedet prøve Le Fumoir. 
DAG TRE I LE MARAIS: Det er tid til endnu en dag, hvor der skal spises, shoppes, drikkes kaffe og spises noget mere. Hvor gør man det bedre end i Le Marais?
Brunch: Hvordan starter man en dag bedre, end med brunch? Prøv Ob-La-Di (54 Rue de Saintonge), der serverer en skøn en af slagsen, der både er god til dine smagsløg og din Instagram. Køen kan være lang. Er det tilfældet, så er Marais heldigvis spækket med brunch-cafeer. Prøv i stedet La Petite Table, Café Oberkampf, Season eller Paperboy. 
Shopping: Marais gør det også virkelig godt, når det kommer til shopping. Du kan finde alle de fede butikker såsom Isabel Marant, Iro, Sandro og Muji i Marais. Alle steder der gør lidt mindre ondt i pengepungen end hos gårsdagens Rue Saint Honoré. Èt er dog helt sikkert. Du skal forbi Merci (111 Boulevard Beaumarchais), en anden concept-store, der sælger alle seje ting, du kan kommei tanke om. Både smykker, indretning, møbler og tøj.
Museer: Er du til kunst og gallerier, så er Marais også lige stedet for dig. Gå på galleri-walk eller på museum. Jeg kan anbefale Musée Picasso eller Centré Pompidou.
Kaffe: En kaffepause skal der til! Især i Le Marais, hvor udvalget af god kaffe er tårnhøjt. Prøv Le Voltigeur (45 Rue des Francs Bourgeois) der serverer en kaffe med en lille overraskelse på toppen. Skal det være rigtig craft coffee, så gå forbi Fragments, Le Peloton Café eller Boot Café. Er du rigtig vild med kaffe og ikke i farezonen for at blive høj af koffeinen, så prøv da dem alle sammen. 
Middag: Sidste middag i Paris skal fejres med en oplevelse, du sent glemmer. Er du til falafel, skal du prøve den berømte L'as Du Falafel (34 Rue des Rosiers). Du skal dog være forberedt på, at der kan være lang kø. Er du mere til franske oplevelser, så er Chez Janou eller Café Charlot gode bud. Begge steder serverer klassisk fransk bistro-mad, og Chez Janou er desuden kendt for deres formidable chocolademousse, der bliver serveret i overdrevede mængder.
Jeg håber, at du kan bruge min guide til Paris. En ting er sikkert – følger du denne guide på dine tre dage i Paris, vil du opleve en hel del af den skønne by.