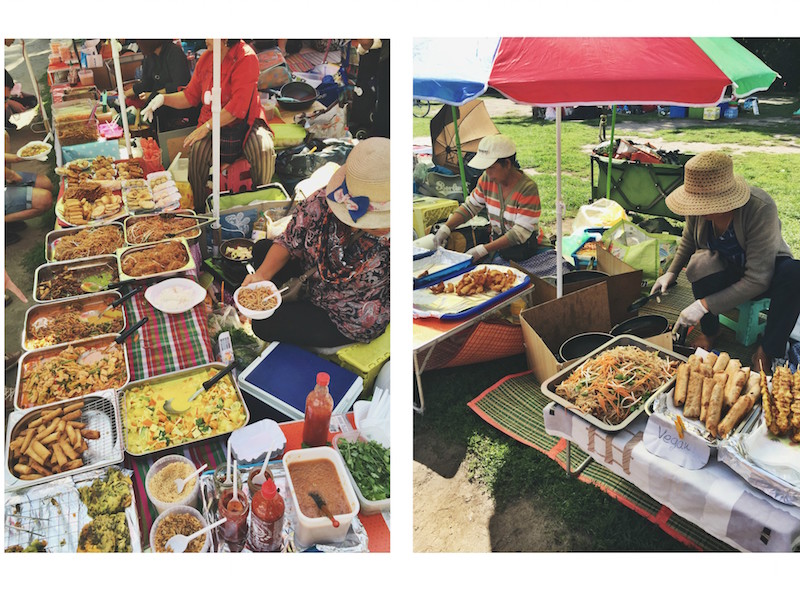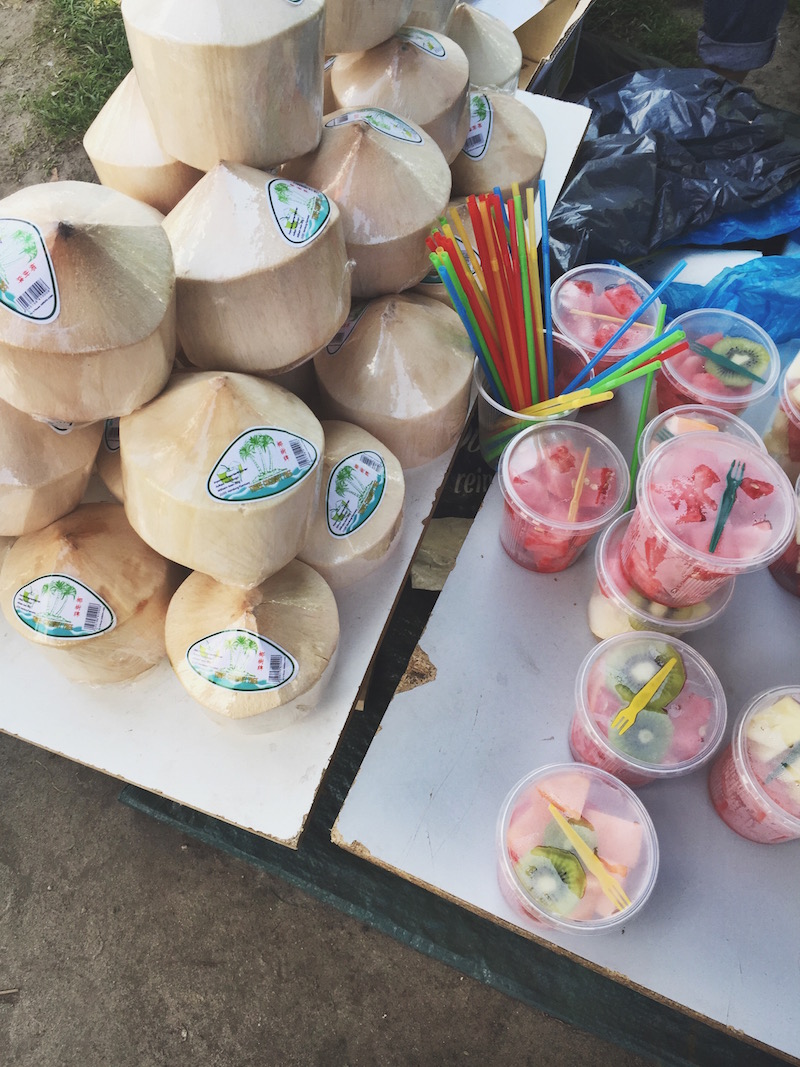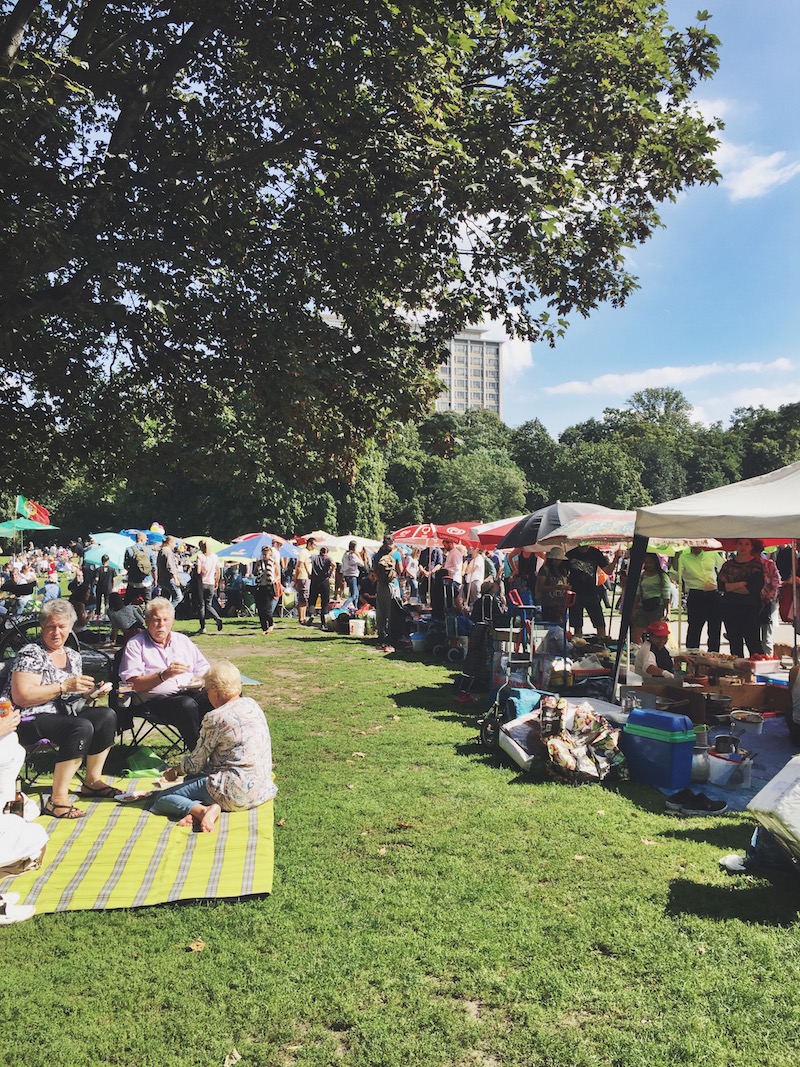 ENGLISH (DANISH VERSION BELOW): 
As I was writing about my trip to the Botanical Garden in Berlin and how amazed I was that there is always something new to see and explore in Berlin, I got a phone call. It was my parents. They asked if I had any plans for the weekend because if not, they would get in the car and drive from Copenhagen to Berlin. If there are three things I love, it is my parents, Berlin, and the weekend. A combination is just great!
So, my parents arrived on Friday night after an 8-hour long drive. Like me, they have spent a great amount of time in Berlin and seen a lot of things. We decided to try something none of us had done before. A visit to the Thai Park in Preußen Park in Wilmersdorf.
We were all astonished at the Thai Park. Every weekend when the weather allows it, Thai people from all over Berlin gather in the park, sitting under umbrellas and cook food that they sell at very low prices all day long Saturday and Sunday from 12pm-9pm.
I had a mango lasso (or two) for 2 euro. Most foods are under 10 euro, and they are delicious and served on big plates. What you should do is gather a group of loved ones. Bring a few blankets and take a bike ride or u-bahn ride to the park. Find a spot on the green lawn, sit down and take turns to the market and try out all the delicacies that the Thai Park offers. Really, this place is just another great example of how amazing and different Berlin is. There are no licenses here, people simply just come here and cook and serve alcohol. I am sure the authorities just turn their blind side to this, and I love it. Something like this wouldn't happen in Copenhagen nor New York City.
The Thai Park is a unique experience and you should definitely allow yourself to experience it.
Thai Park
Saturday and Sunday from 12-9pm, when the weather allows it
Brandenburgische Strasse,
10707 Berlin
(U-bahn: Fehrbelliner Platz)
______________________________
DANSK: 
Og netop som jeg sad og skrev mit indlæg om min tur til den Botaniske Have i fredags, og hvor vildt jeg synes, det er, at der er uendelige at spændende ting at opleve i Berlin, ringede min telefon. Det var min mor. Hun spurgte, om hende og min far skulle tage bilen og køre til Berlin, for de havde egentlig ikke nogle planer over weekenden. Hvis der er tre ting, jeg holder af, er det mine forældre, weekend og Berlin. En kombination er altså noget af det bedste, jeg kan forestille mig!
Mine forældre ankom om natten til lørdag. Færgen var udsolgt, så de måtte den lange tur over Jylland. De har været i Berlin rigtig mange gange, og de har også deres yndlingscaféer, restauranter og steder, som vi besøger, når de er her. Det er næsten en rutine, der kører på automatgear. Søndag besluttede vi os dog for, at vi skulle prøve noget nyt fra min liste – noget ingen af os havde prøvet før.
Valget falgt på Thai Park i Preußen Park i Wilmersdorf. Et område jeg meget sjældent kommer i, også fordi det er en cykeltur, der overstiger 25 minutter. Altså, et projekt 😉
Vi var alle forbløffede over Thai Park. På en græsplæne er der hundrevis af farvede parasoller sat op, og under dem sidder berliner-bosatte thailændere på jorden og laver mad, der både dufter og ser fantastisk ud. Maden sælger de til meget lave priser. Jeg drak blandt andet ikke bare en, men to mango lassi til to euro stykket.
Det meste af maden koster under 10 euro og er serveret i ordentlige portioner. Markedet finder sted hver lørdag og søndag, når vejret er til det  fra klokken 12-21. Det minder en om, hvor fantastisk Berlin er. Hvor ellers i en europæisk hovedstad findes der et marked, hvor folk sidder på græsplænen, medbringer deres egen mad, som de laver til dem, der vil købe det? Jeg ved, at der i New York eller København lynhurtigt ville være tale om, at der manglede et hav af bevillinger og tilladelser til at udføre et sådan projekt. I Berlin lader det til, at myndighederne vænder det blinde øje til.
Næste gang du er i Berlin og vejret er til det, skal du samle en håndfuld gode mennesker, pakke et par tæpper under armen, tage turen til Preußen Park. Find et grønt spot, slå dig ned i græsset og skift om at tage ture på markedet og købe alt, hvad der ser godt ud. Slap af i græsset, nyd livet og smag dig igennem Thailand. Det er en fantastisk og unik oplevelse.
Thai Park
hver lørdag og søndag fra klokken 12-21, når vejret er til det.
Brandenburgische Strasse,
10707 Berlin
(U-bahn: Fehrbelliner Platz)