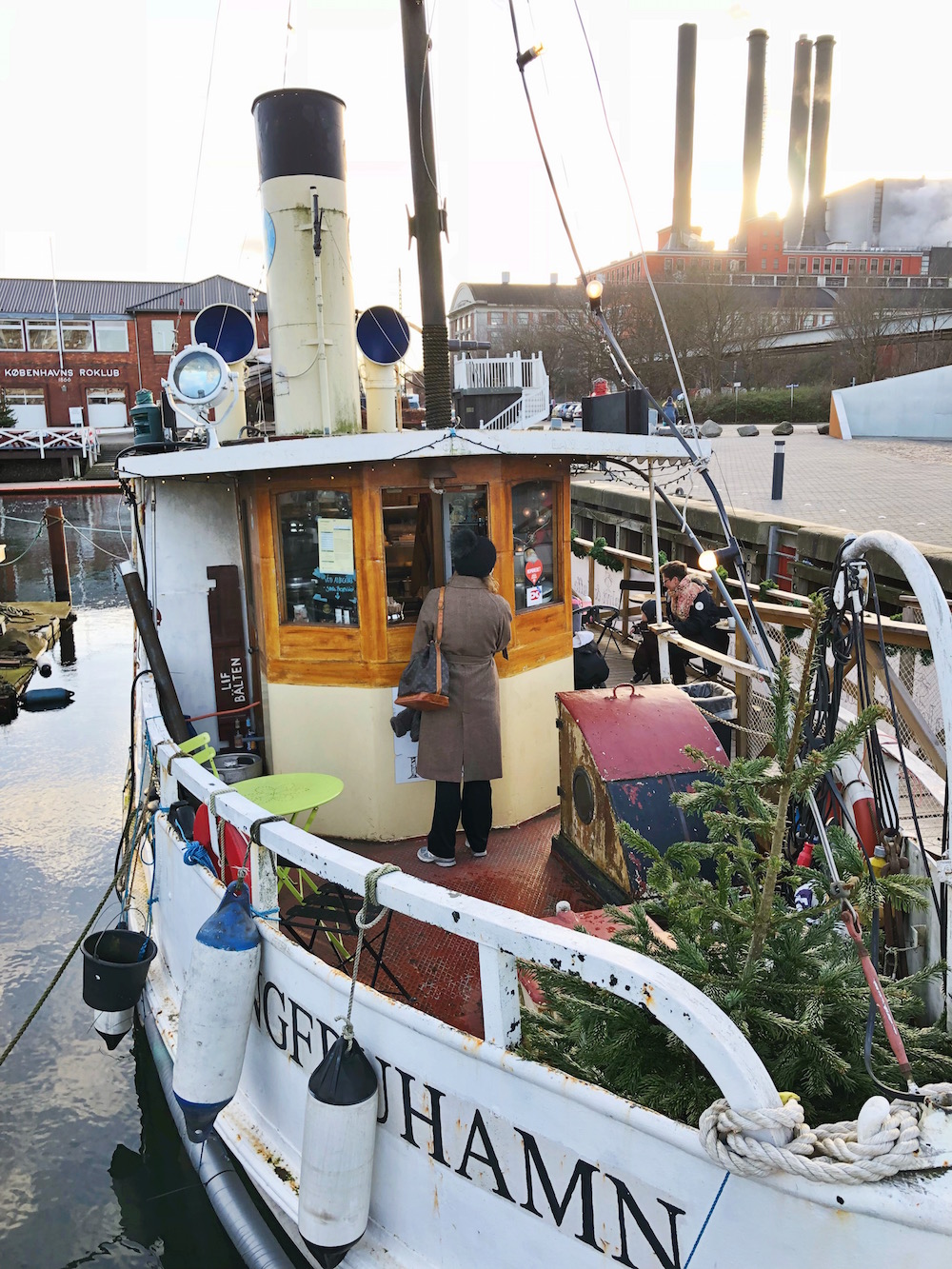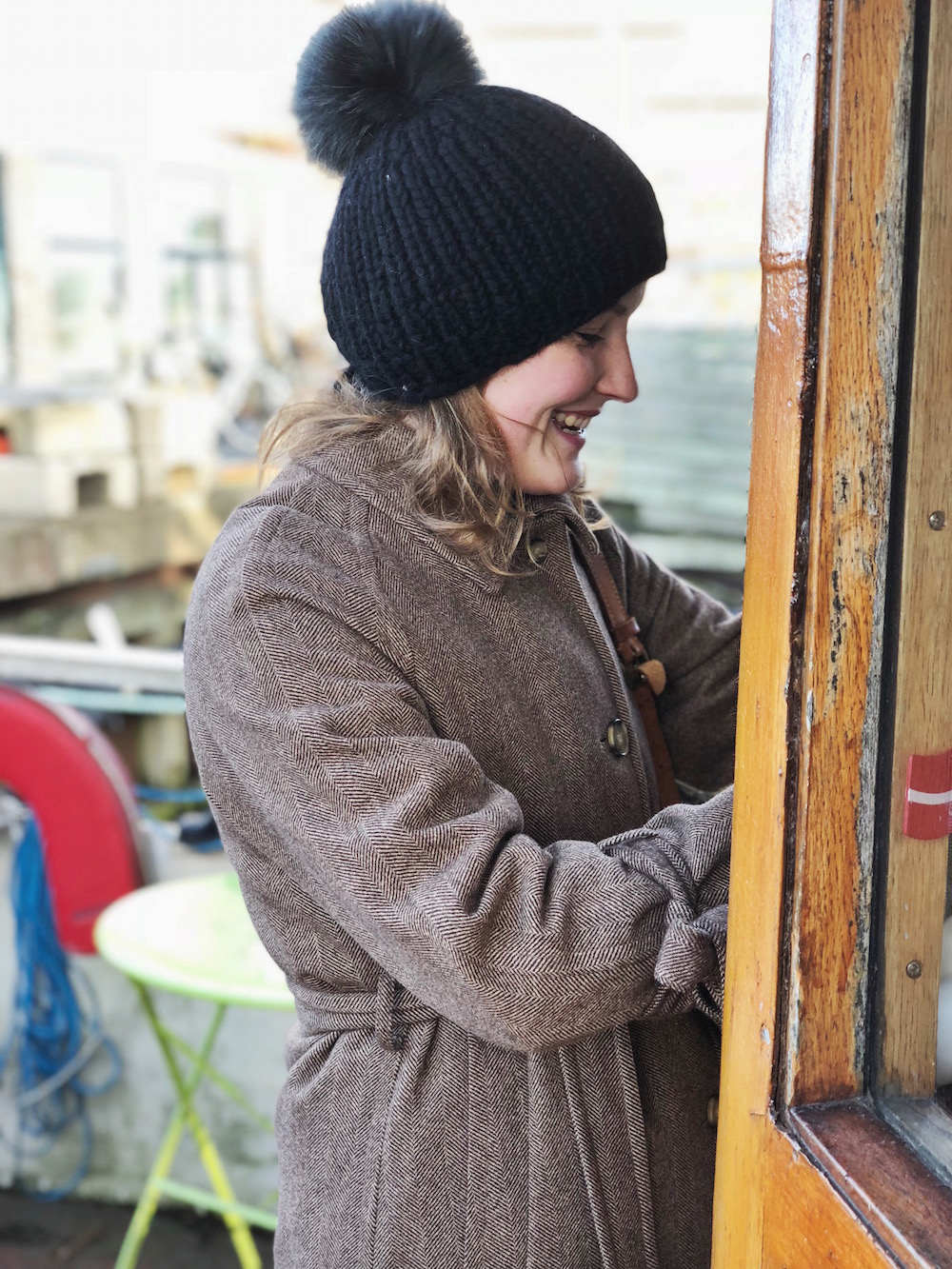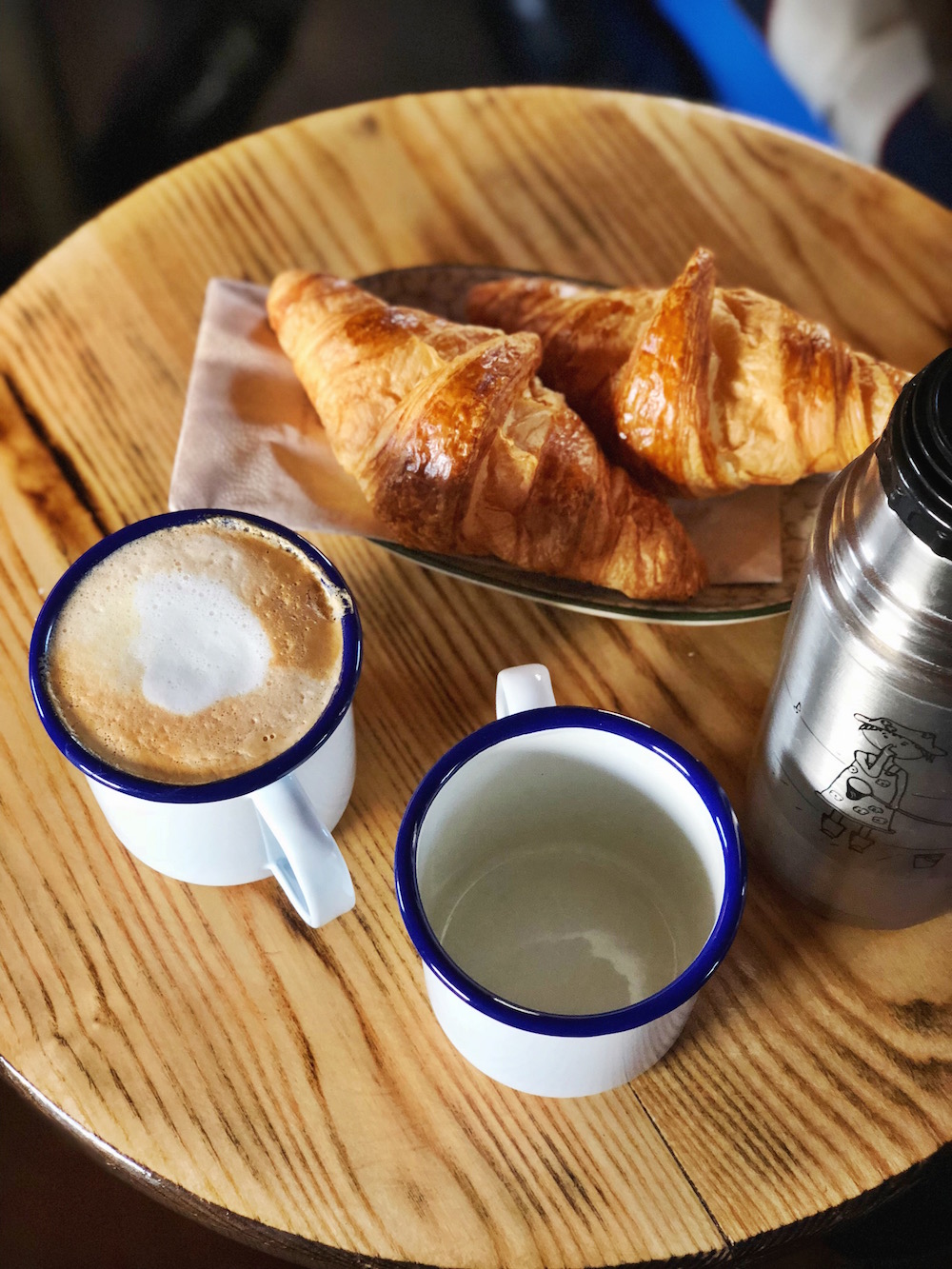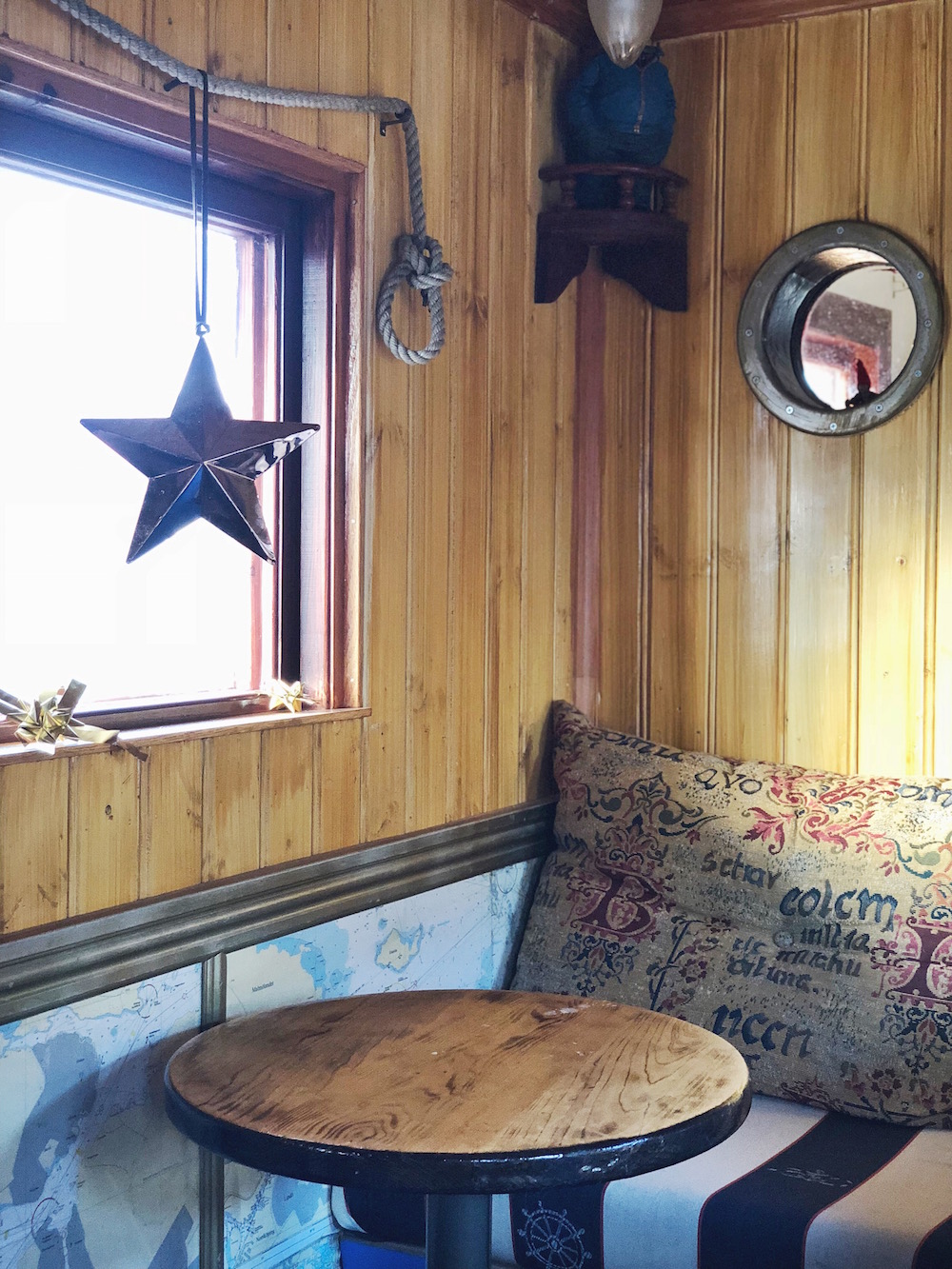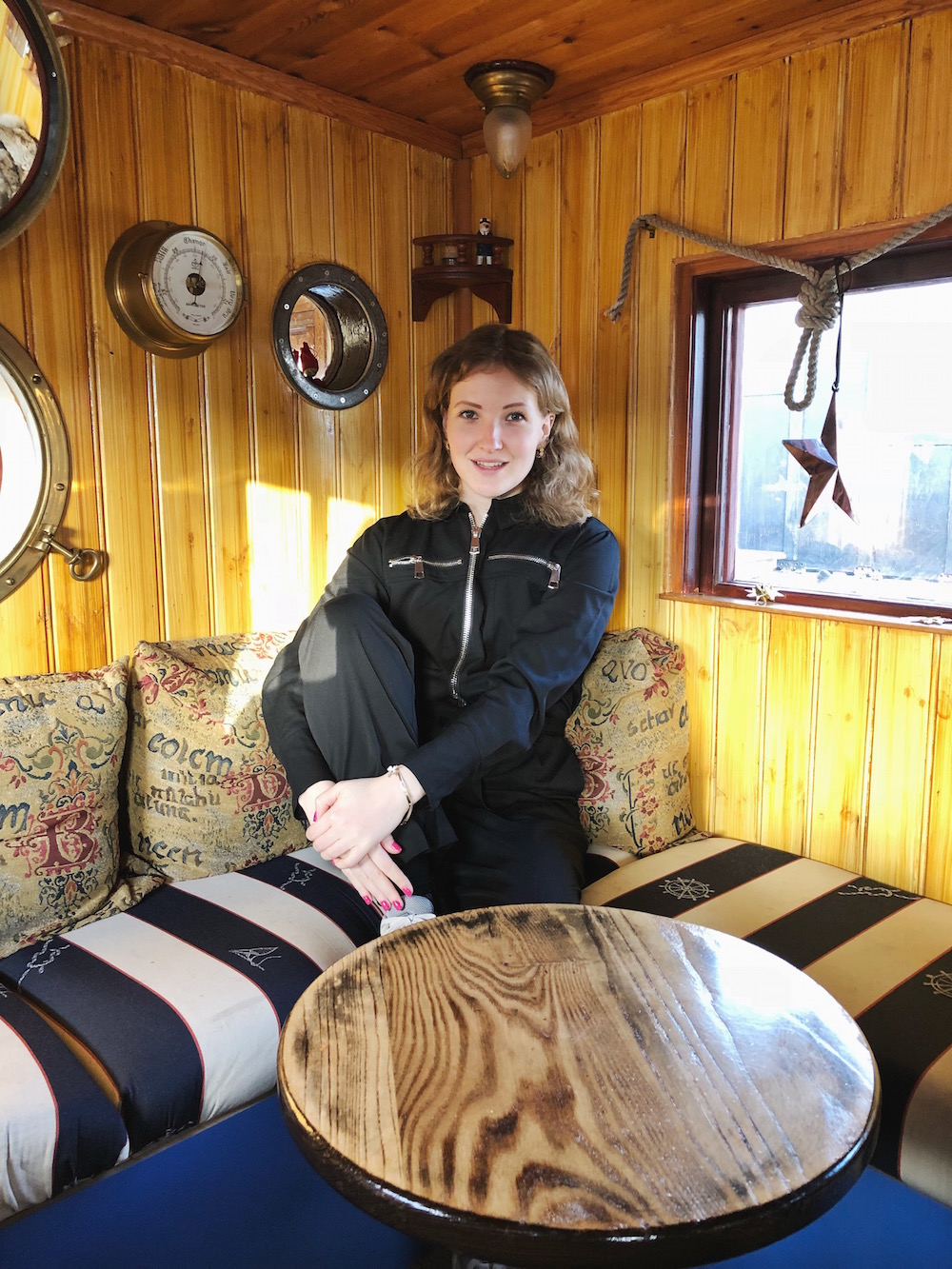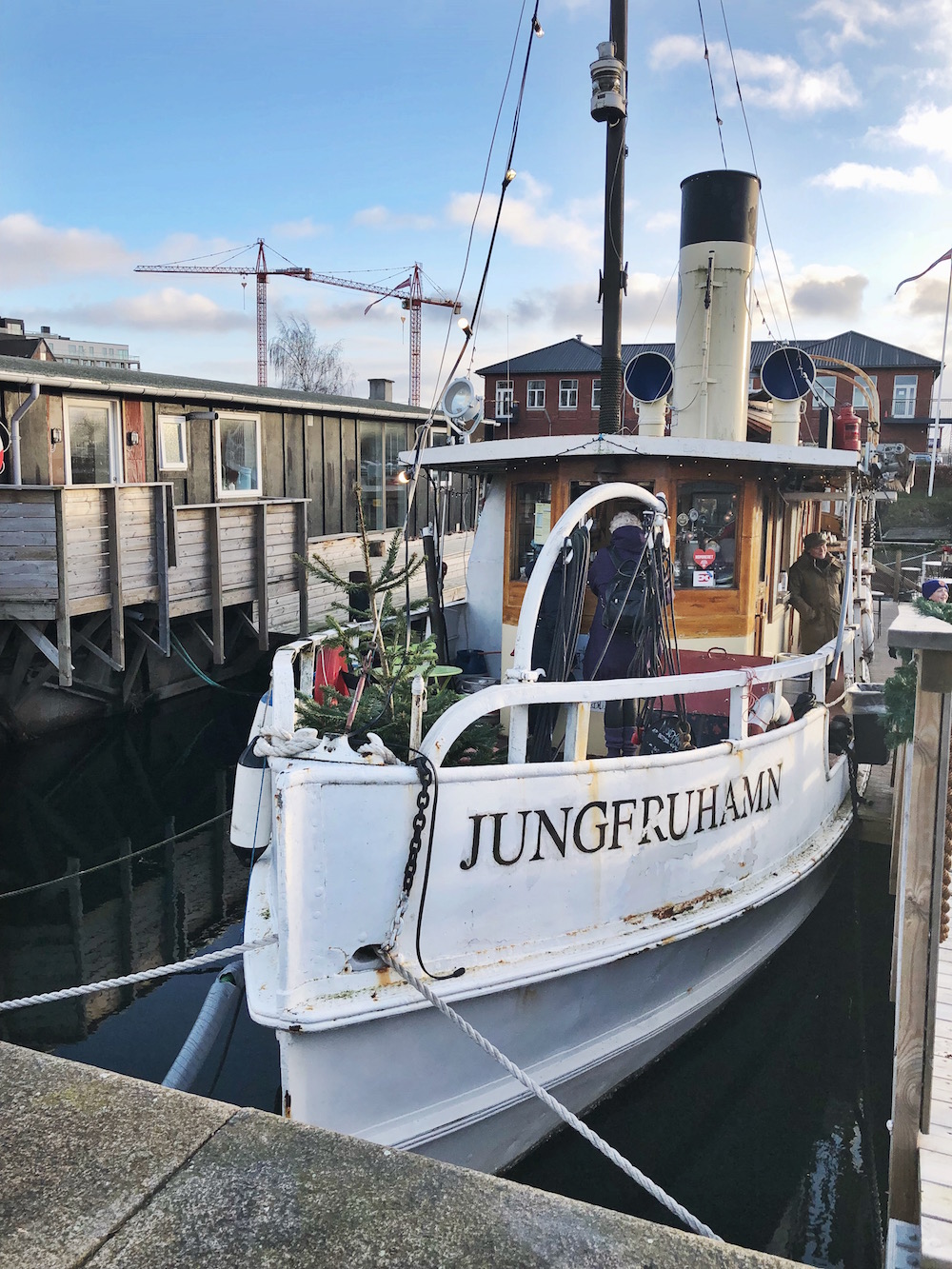 ENGLISH: One of the best things about living in a (fairly) big city, is that whenever you think, you've seen it all, there is more yet to explore. That is how I feel about Copenhagen. I was born here, lived here my whole life, besides from the three years I spent in Berlin. I feel like I know the city pretty well. Still, I stumble upon places I never knew even existed.
That was the case with Kahyt & Kaffe. Kahyt & Kaffe translates to Cabin & Coffee. Kahyt & Kaffe is located a 20-minute walk from my apartment in Vesterbro, and the coolest thing about it is that it is a cafe inside a boat. The coffee is ordered and made inside the wheelhouse and then you are free to sit and enjoy your coffee and croissant where ever you like. You can sit inside one of the two boat cabins that are kept in a boat-style with nice pillows and tables, or you can sit on the deck.
I enjoyed my coffee and delicious homemade croissant inside one of the two cozy cabins. It was so nice! But I can imagine how awesome the boat cafe deck will be this Summer. That's probably going to be one of the spots you can find me in a few months 😉
If you are looking for a different, fun and cozy cafe experience in Copenhagen, definitely check out Kahyt & Kaffe!
__________________________________________
DANSK: En af de bedste ting ved at bo i en by er, at når du tror, du har set og oplevet det hele, så dukker der et sejt spot op, du skal udforske! Sådan har jeg det med København. Jeg er født her og har boet her hele mit liv, bortset fra en tre-års afstikker til Berlin, Jeg føler, at jeg kender byen som min egen bukselomme. Alligevel er der pludselig et nyt (eller gammelt) sted, jeg aldrig har hørt om før.
Sådan var det med Kahyt & Kaffe, der ligger intet mindre end en tyveminutters gågang fra min lejlighed, i Sydhavn lige bag ved Fisketorvet. Kahyt & Kaffe er en café, men det seje og specielle ved den er, at den ligger i en båd! Styrehuset fungerer som køkken og det er også her, kaffen bliver brygget. Man bestiller gennem vinduet, og det er helt skønt. Cafeens gæster må sidde, lige hvor de vil. Der er to hyggelige kahytter, hvor man kan holde varmen. Så er der bygget et bro-dæk samt bagenden af båden; hækken, hvor man også kan sidde.
Med en cappuccino og en lækker, hjemmelavet croissant, nød jeg varmen i en af de hyggelige kahytter. Her er fyldt med bænke med bløde hynder og puder. Jeg forestiller mig, at båden vil være genial til sommer! Så kan man sidde udenfor og nyde solen. Og måske hoppe i vandet fra en af de tætliggende badebroer?
Hvis du besøger Kahyt & Kaffe, er det oplagt, at du kombinerer det med en gåtur rundt i den hyggelige Husbådehavn, Skibbroen. Her ligger de fineste, interimistiske husbåde, og man kan ikke undgå at drømme om at flytte ind i den. Husbådehavnen er også en sjov konstrast til alle de moderne lejligheder, der ellers findes bag Fisketorvet.
Lige et lille København-tip fra mig, som du forhåbentlig ikke kender til i forvejen <3