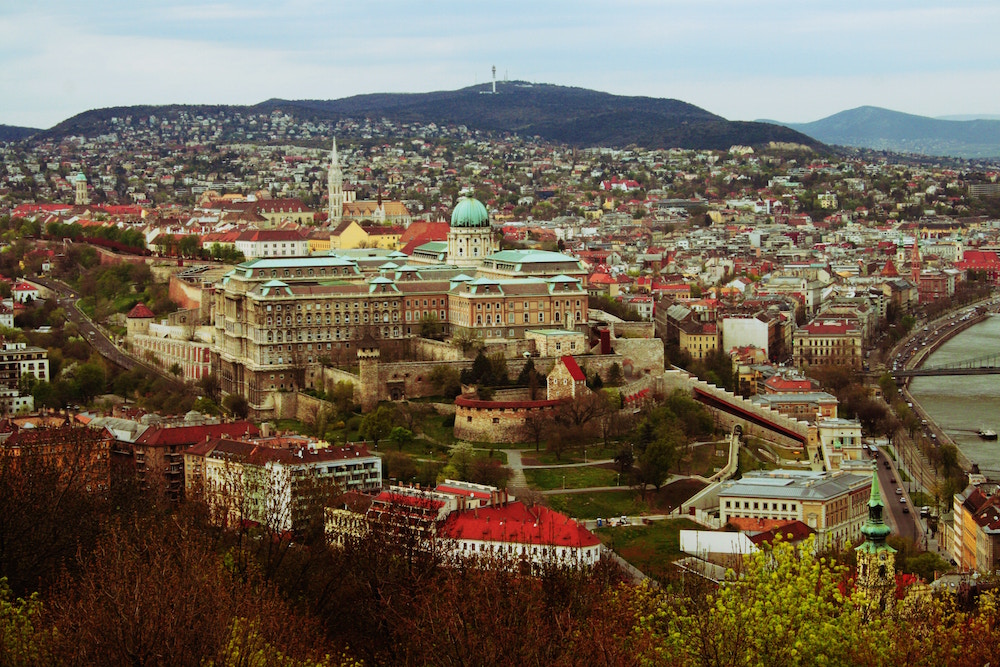 My parents are going to Budapest this weekend! And in connection to my promise of getting back to doing more travel guides in 2018, I thought it would be perfect timing to finally posting my hipster guide to Budapest.
Budapest is one of those up-and-coming European cities. It has the amazing architecture, they great food, and then the prices are still very low, which means going on a city trip won't break your bank.
In Spring last year, I spent four great days in the beautiful city of Budapest. In those days, I had plenty of good food and drinks in cool and beautiful locations.
These are now collected in this complete hipster guide to Budapest – where to eat & drink. 
I hope you like it!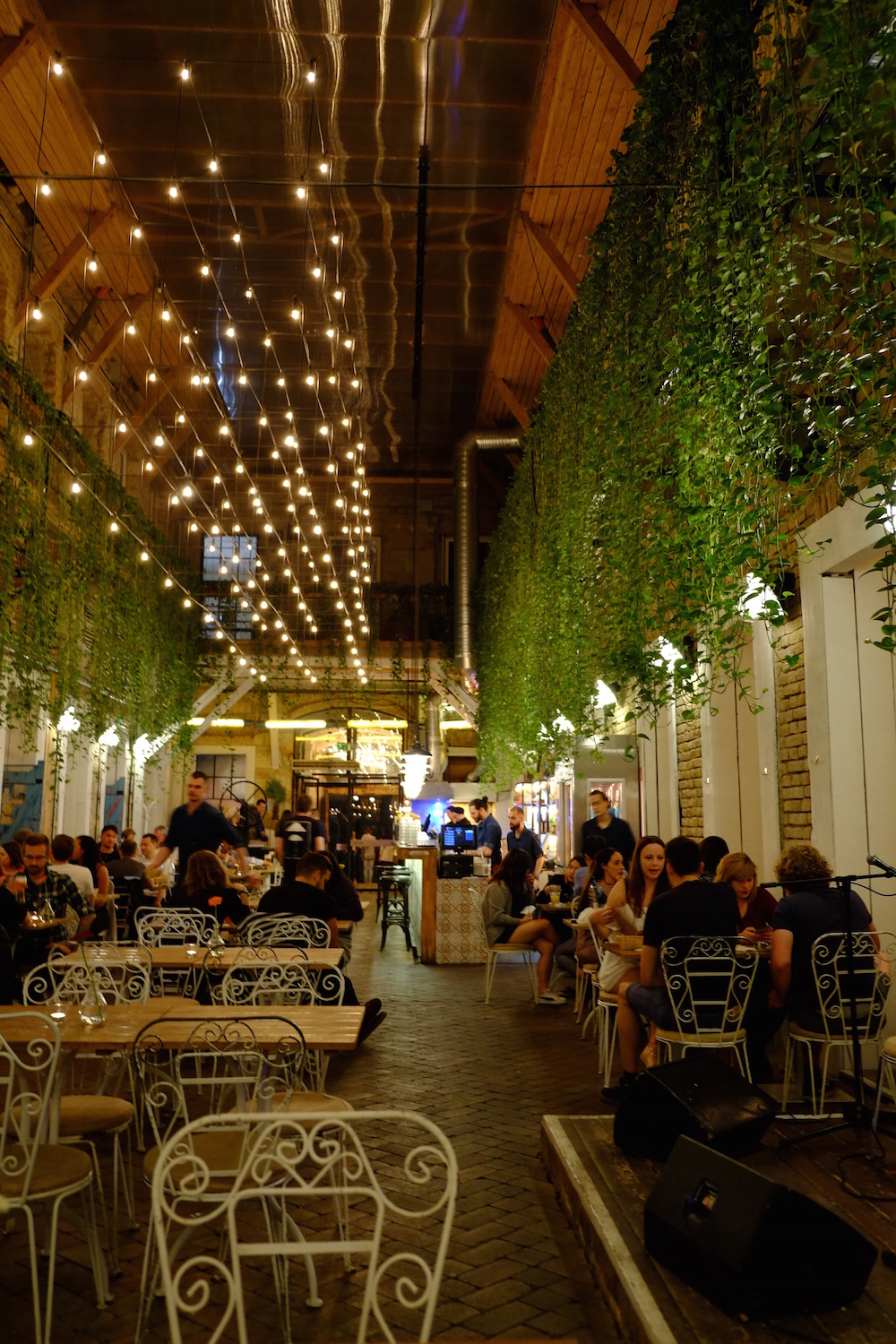 DINNER AT MAZEL TOV
I noticed that 99% of the Budapest guides I came across before going, featured this restaurant. I now understand why. Mazel Tov is located inside an old building and then connected to a covered courtyard. It is decorated with tons of lights, plants and everything cool and beautiful. The food style is Israeli with lots of hummus, shawarma, lentils, pomegranate and your favorite meat. The drinks are good too, and the vibe is perfect, cozy and hip. Perfect restaurant to go to warm up before a night out!
Mazel Tov, Akácfa u. 47, Budapest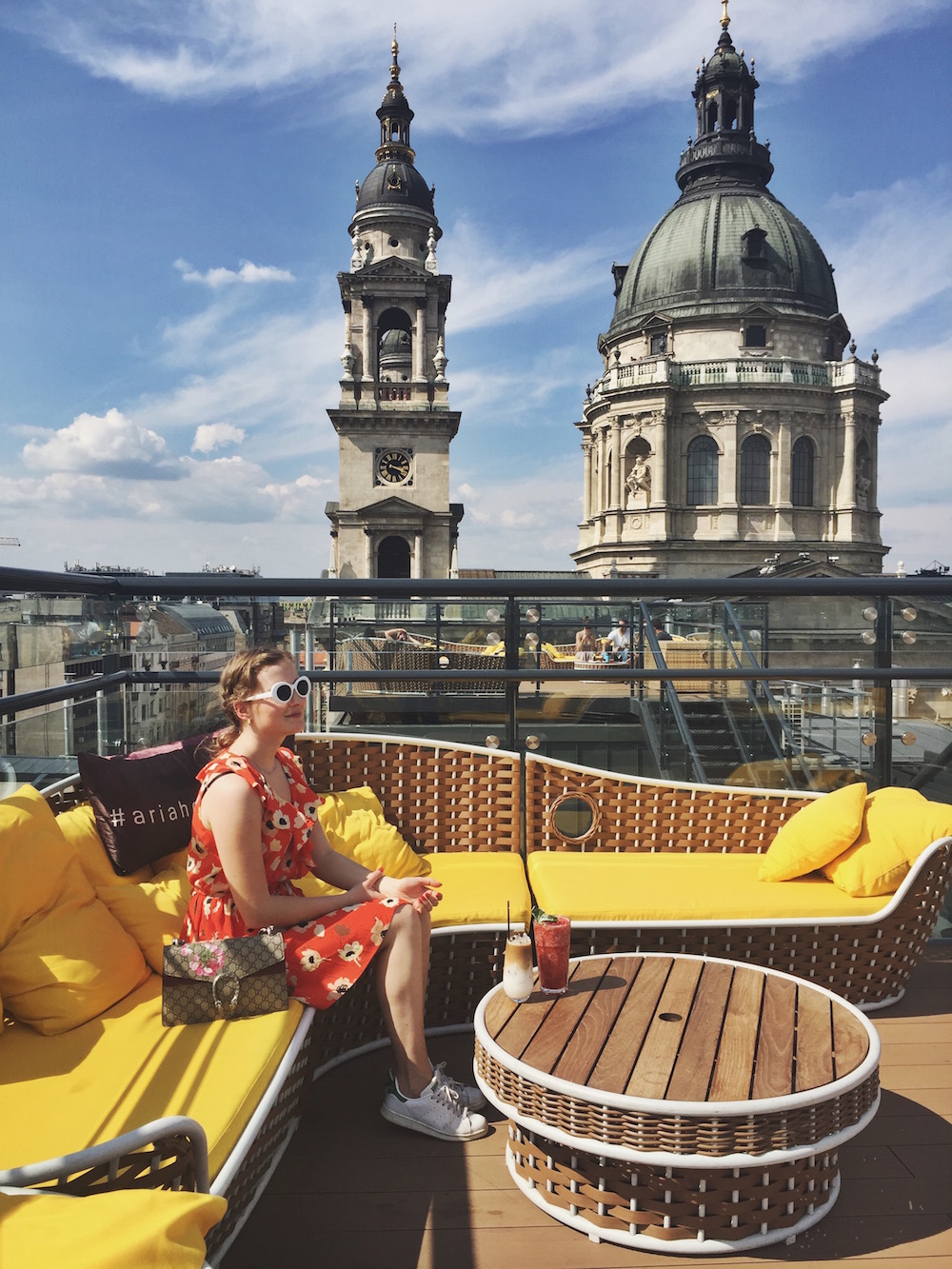 DRINKS OR COFFEE AT ARIA HIGH NOTE SKY BAR
You won't find a better view over the city and the Cathedral than from this sky bar. Everything here is perfect. The view. The soft lounge furniture. The drinks. And the secret: even if it looks fancy, it is still cheap!
Aria Hotel, Hercegprímás u. 5, Budapest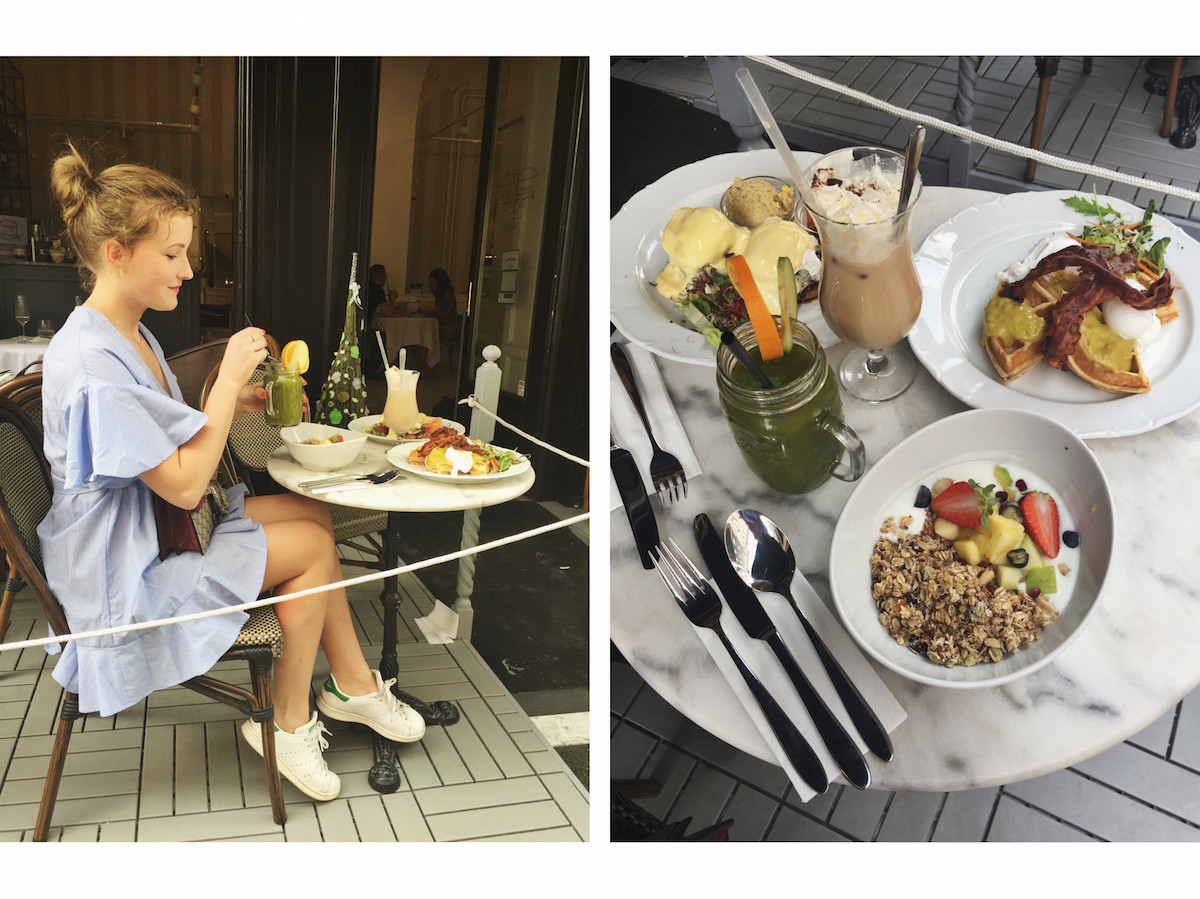 BRUNCH AT A LA MAISON GRAND
Did anyone say brunch? A La Maison Grand did, and they sure know what they are talking about. The brunch menu consists of at least five pages full of brunch options, so regardless if you prefer sweet or savory, bacon or avocado, waffles or pancakes, there will be just the right menu option for your liking. The place is overly cute, and the food and drinks are delicious and very perfect for Instagram pictures. Which is of course very important 😉
A La Maison Grand, Nádor u. 5, Budapest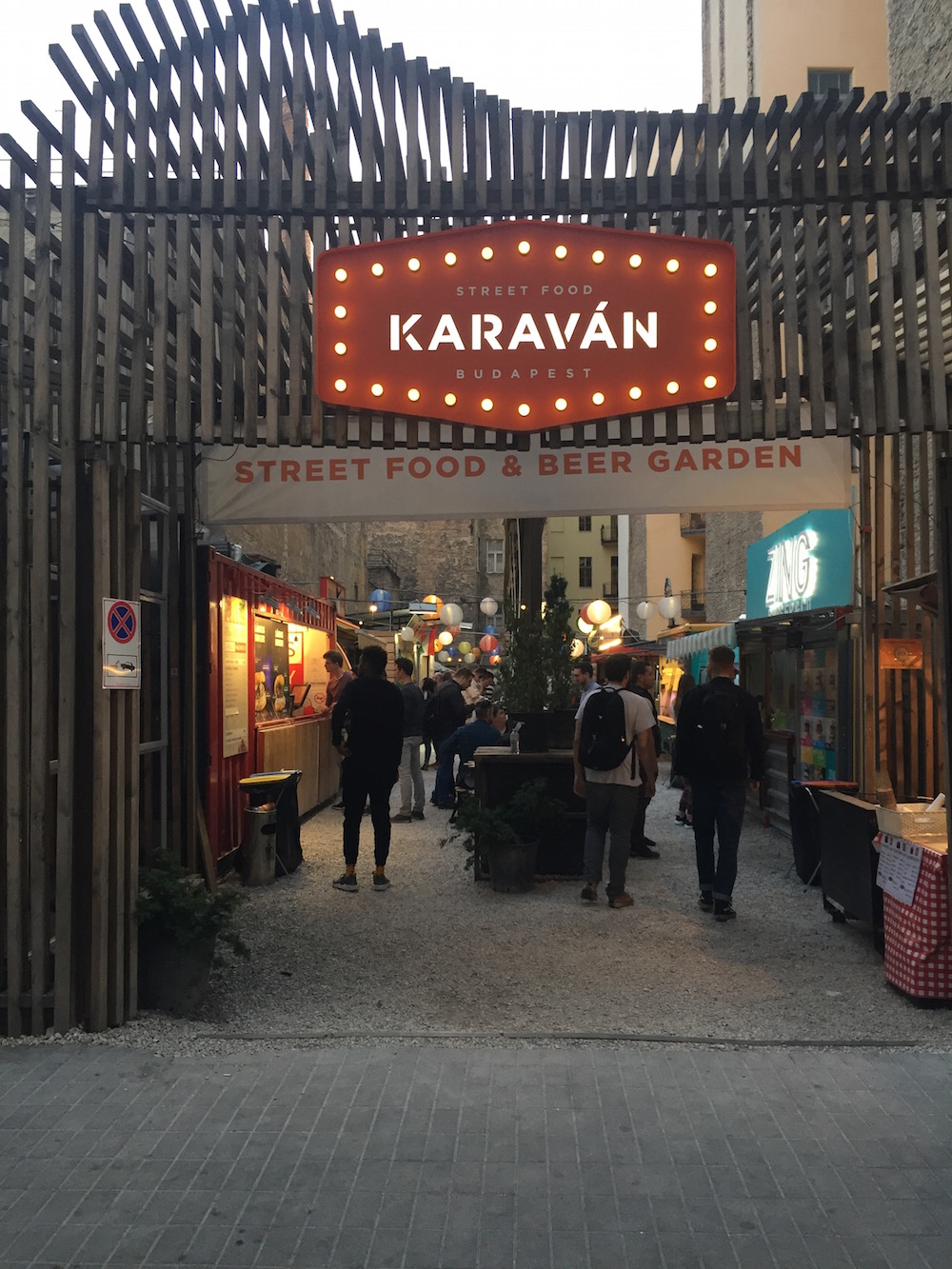 STREET FOOD AT KARAVAN STREET FOOD MARKET
This little garden offers a collection of different street food spots serving pasta, burgers, Hungarian classics or whatever else you could think of. The vibe is great, and it is a perfect spot to grab something to eat and drink, sit and chill in the garden before a night out.
Karavan, Kazinczy u. 18, Budapest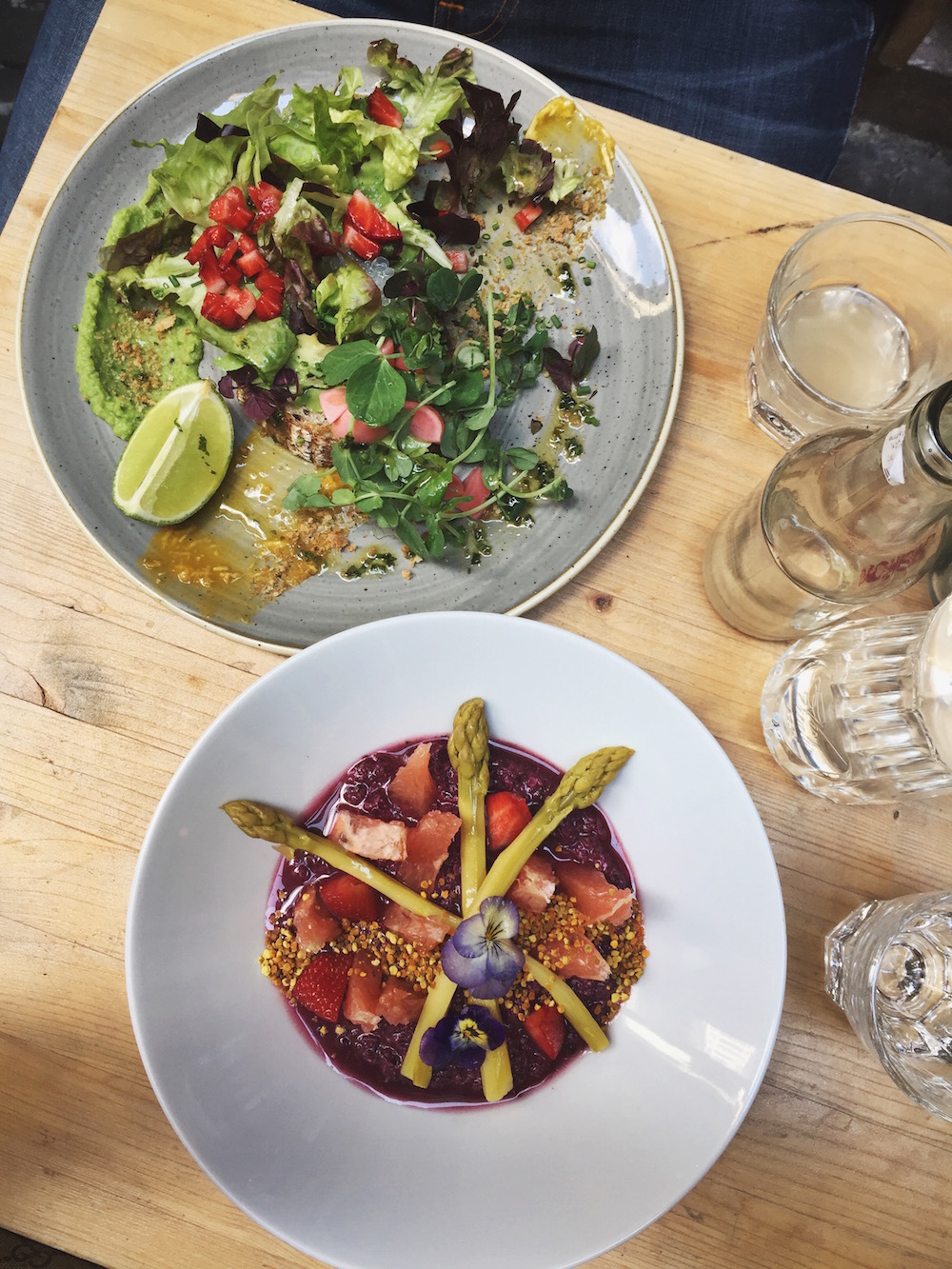 BRUNCH OR LUNCH AT SZIMPLY
If you think that pretty and Instagrammable food simply just tastes better, this is the spot for you. Szimply serves the most delicious (and photogenic) avocado toast as well as healthy acai bowls, however, made a bit more creative than the usual acai bowls. Definitely worth a try!
Szimply, Károly krt. 22, Budapest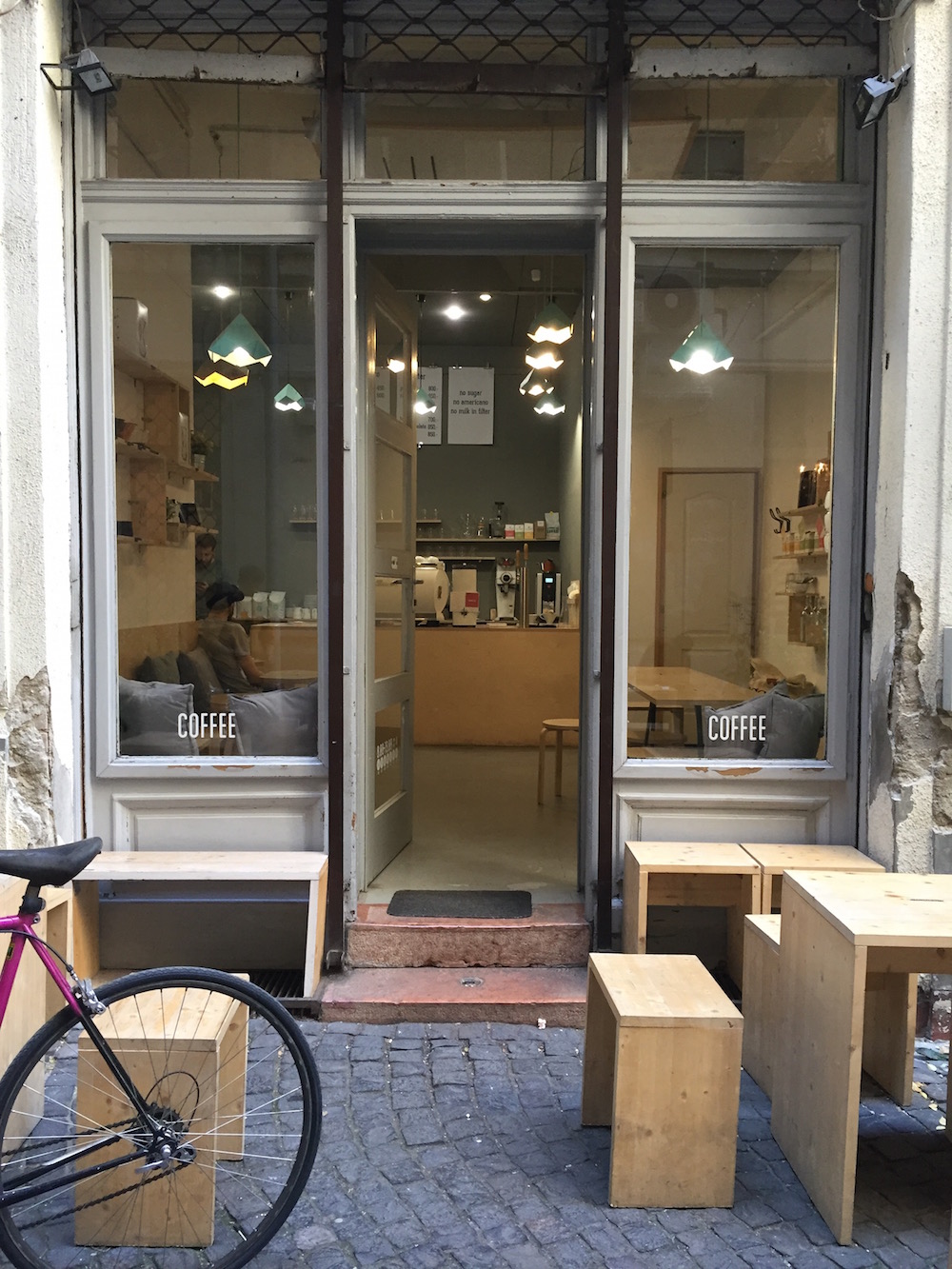 COFFEE AT KONTAKT COFFEE
After breakfast, brunch or lunch at Szimply, you can get your post-food coffee at Kontakt that brews a great cup. Kontakt is located right in front of Szimply.
Kontakt, Károly krt. 22, Budapest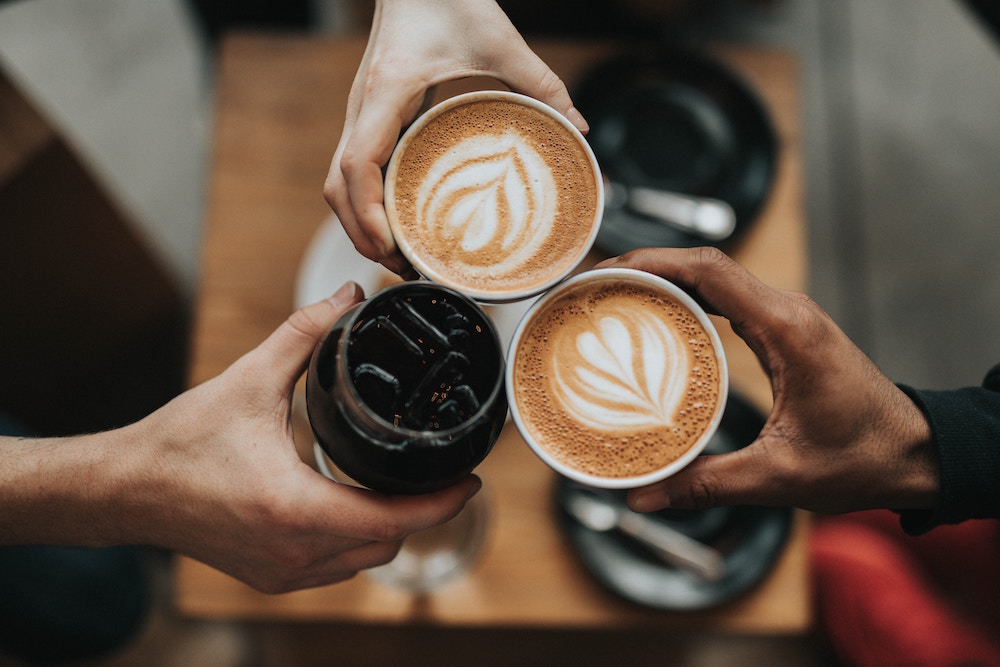 COFFEE AT MY LITTLE MELBOURNE
Another good coffee spot to get your coffee fix. Located in the Jewish quarter, they have outdoor seating and serve ice coffee which is perfect for a hot day in Budapest.
My Little Melbourne, Imre út 3, Budapest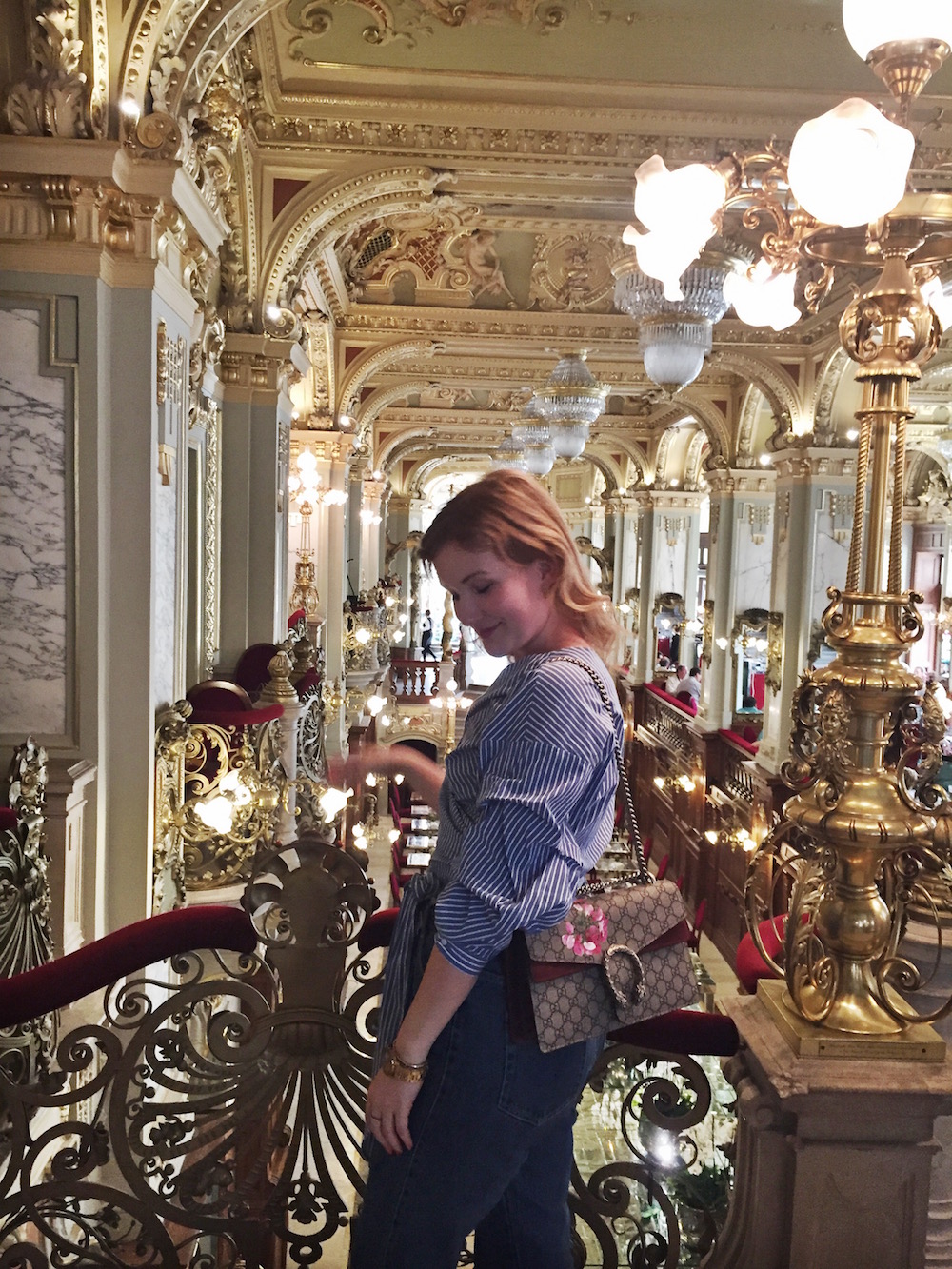 BRUNCH OR CAKE AT NEW YORK CAFE
This place is a must when in Budapest. Not necessarily for their food or drinks, but for the location itself. It is stunning! New York Cafe serves coffee, cakes, brunch buffet, lunch and dinner and the prices are high compared to other Budapest eateries.
New York Cafe, Erzsébet krt. 9-11, Budapest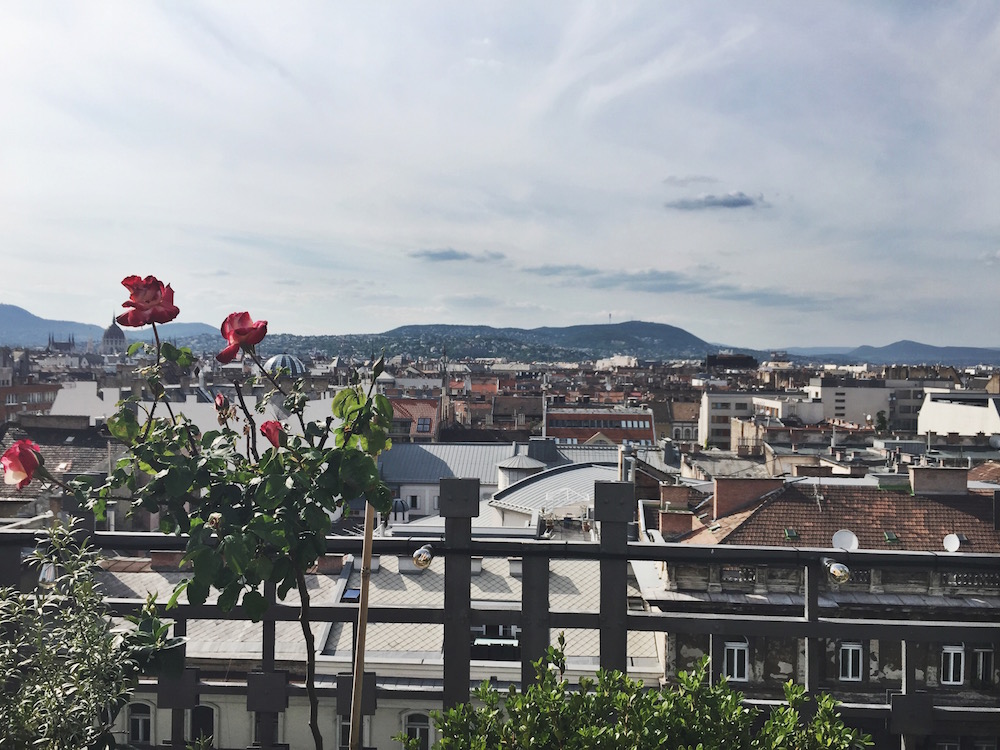 DRINKS AT 360 BAR
Another rooftop bar that serves ice cold, delicious (and cheap!) drinks that you can sip while enjoying a great view of Budapest.
360 Bar, Andrássy út 39, Budapest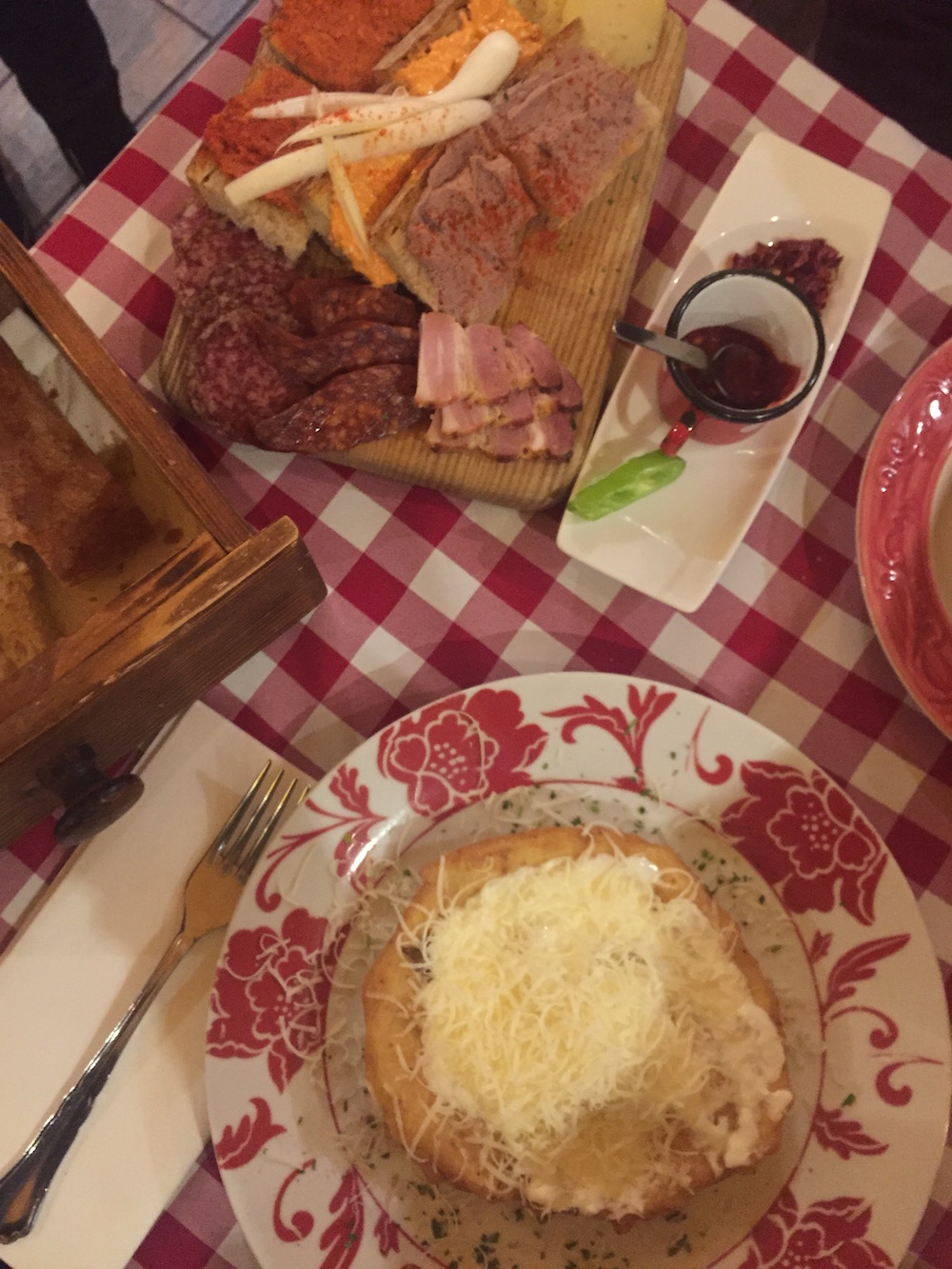 HUNGARIAN DINNER AT HUNGARIKUM BISTRO
If you want to try the Hungarian cuisine, there is one place to do it – at Hungarikum Bistro. So good, amazing service and great food. You must try their langos and Hungarian cheese and meat board. This was the best dining experience I had in Budapest!
Hungarikum Bistro, Steindl Imre u. 13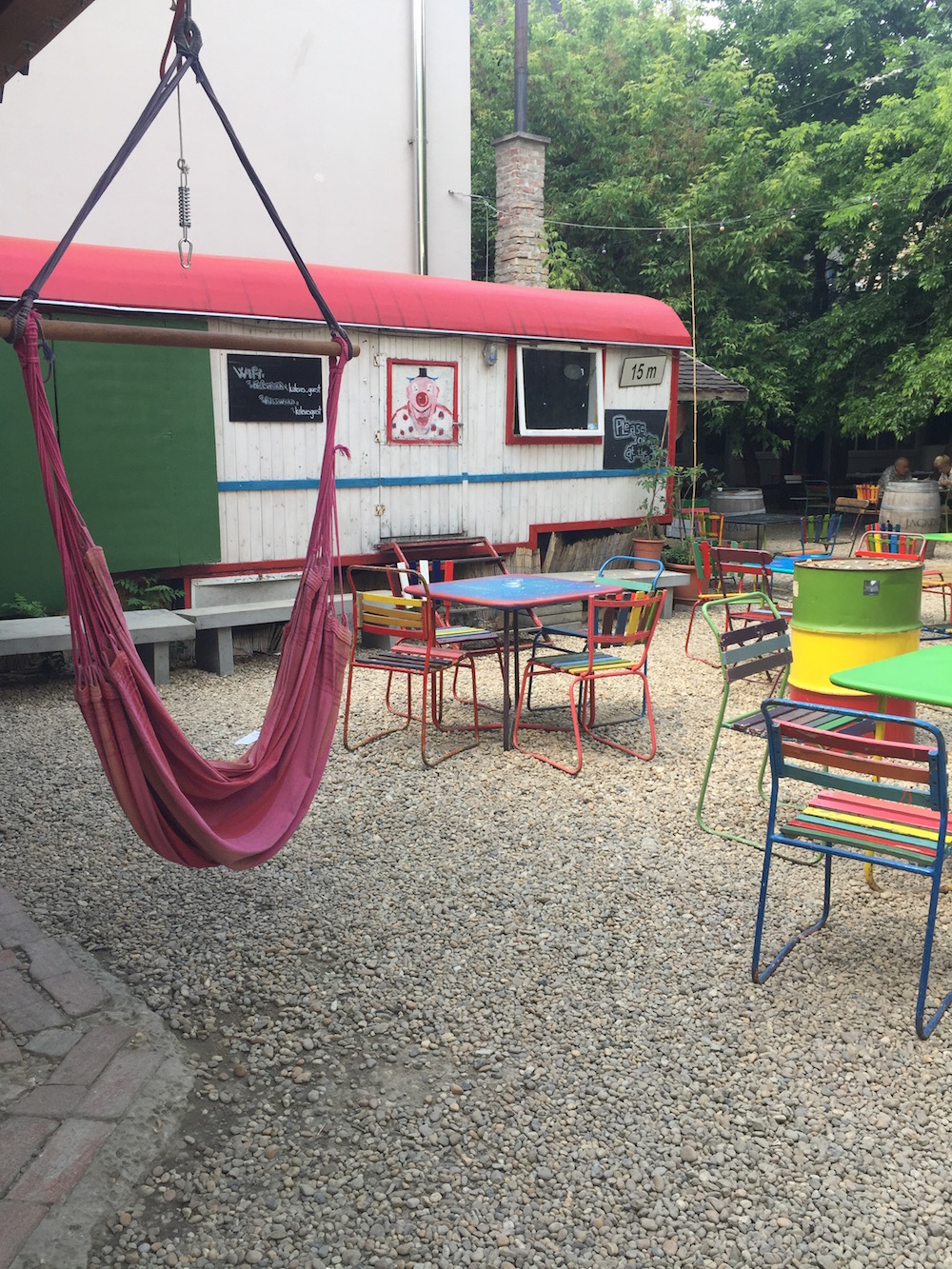 THE STREET KAZINCZY U.
Located in the Jewish neighborhood, this street is probably the coolest street in Budapest. Never have I ever seen that many hip, fun and cool Biergartens or garden bars on one street. It is the place for day drinking, snacking, eating, having fun and evening drinking. My favorite day (and night) outdoor clubs were Szimpla Kert, Kóleves Vendeglo, and Ellato Kert & Taqueria.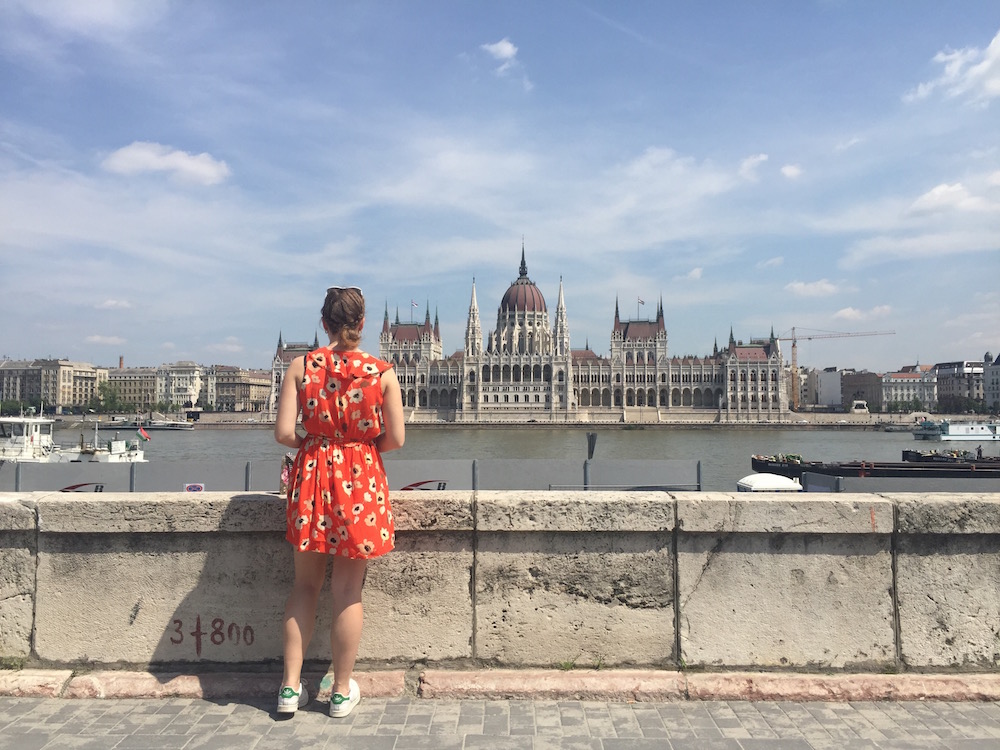 FIVE TOURISTIC SIGHTS YOU SHOULDN'T MISS IN BUDAPEST 
♥ The Parliament – the beautiful parliament building is the one I am looking at in the photo above. It can't be missed when in Budapest!
♥ Fisherman's Bastion – a quite impressive sight located on the hillside on the Buda side of the city. From here, you can wander the Bastion while seeing the great view of the river and the Pest side of the city.
♥ A walk across the Danube river on the Chain Bridge.
♥ A day trip to the Gellert or the Széchenyi Spa. Budapest is known for its beautiful spas and a visit to one of them is an absolute must.
♥ St. Stefan's Basilika. Not only is the Basilica beautiful, it also lets you go up the dome and enjoy the view over the city.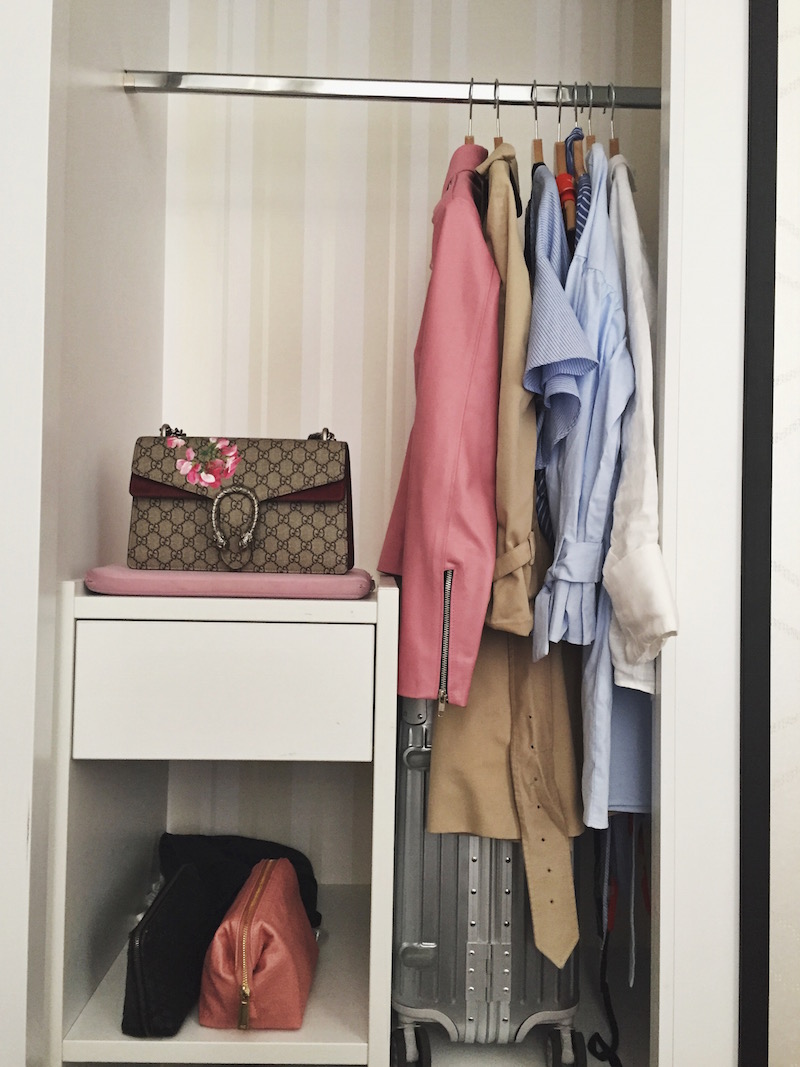 WHERE TO STAY 
Hotel Parlament has the perfect location right by the river and the Parliament as well as great-sized rooms with everything you need. Oh, yeah, and a perfect hotel breakfast buffet! (sponsored link)
This hipster Budapest guide should have you covered for a few days of eating and drinking in Budapest. Enjoy! And let me know what you think about these places. I know that Budapest is also big on Michelin restaurants and that they are very inexpensive to visit. I did not go to any, but you always need a reason to go back, right? I guess that will be my reason 😉