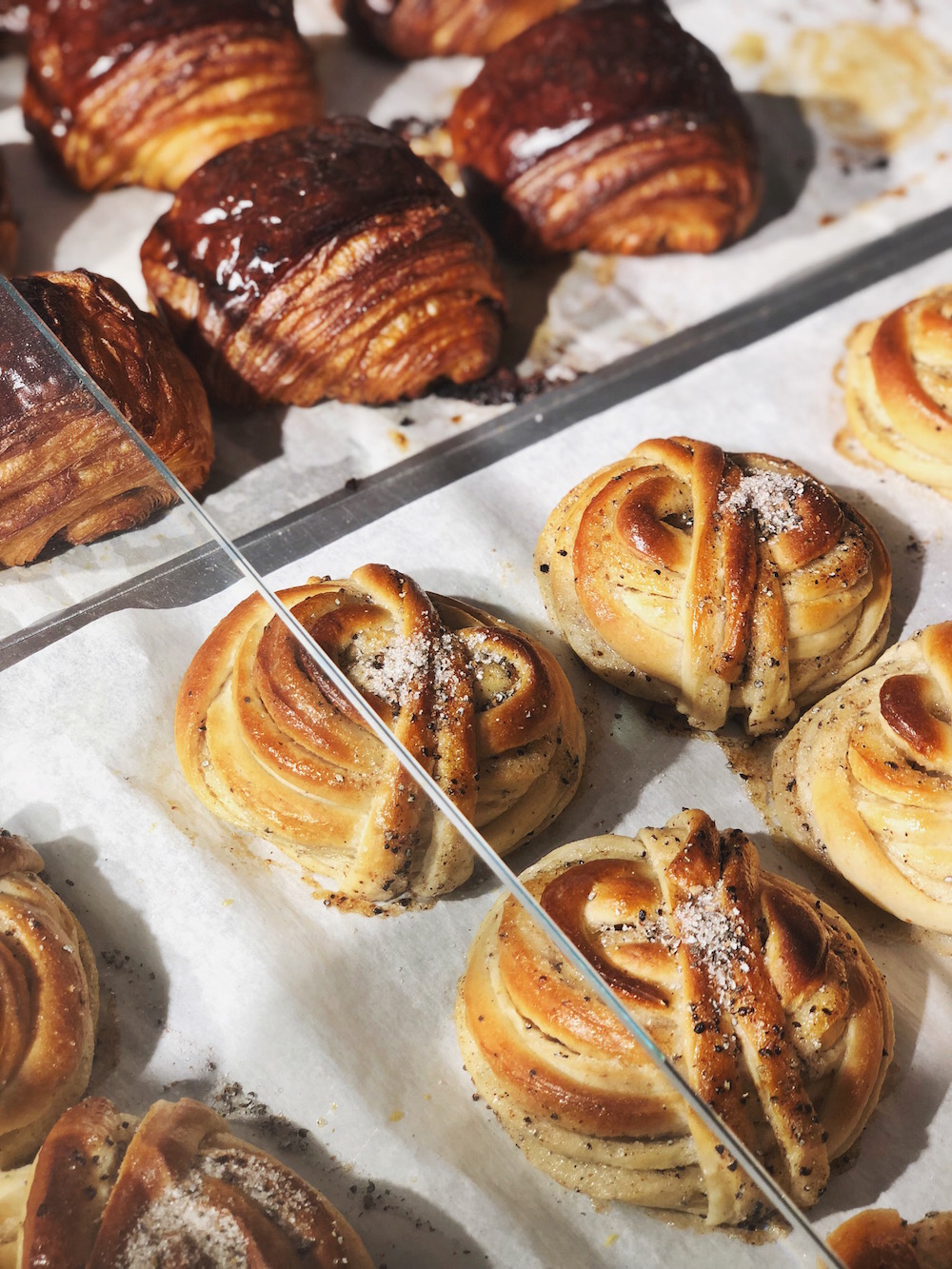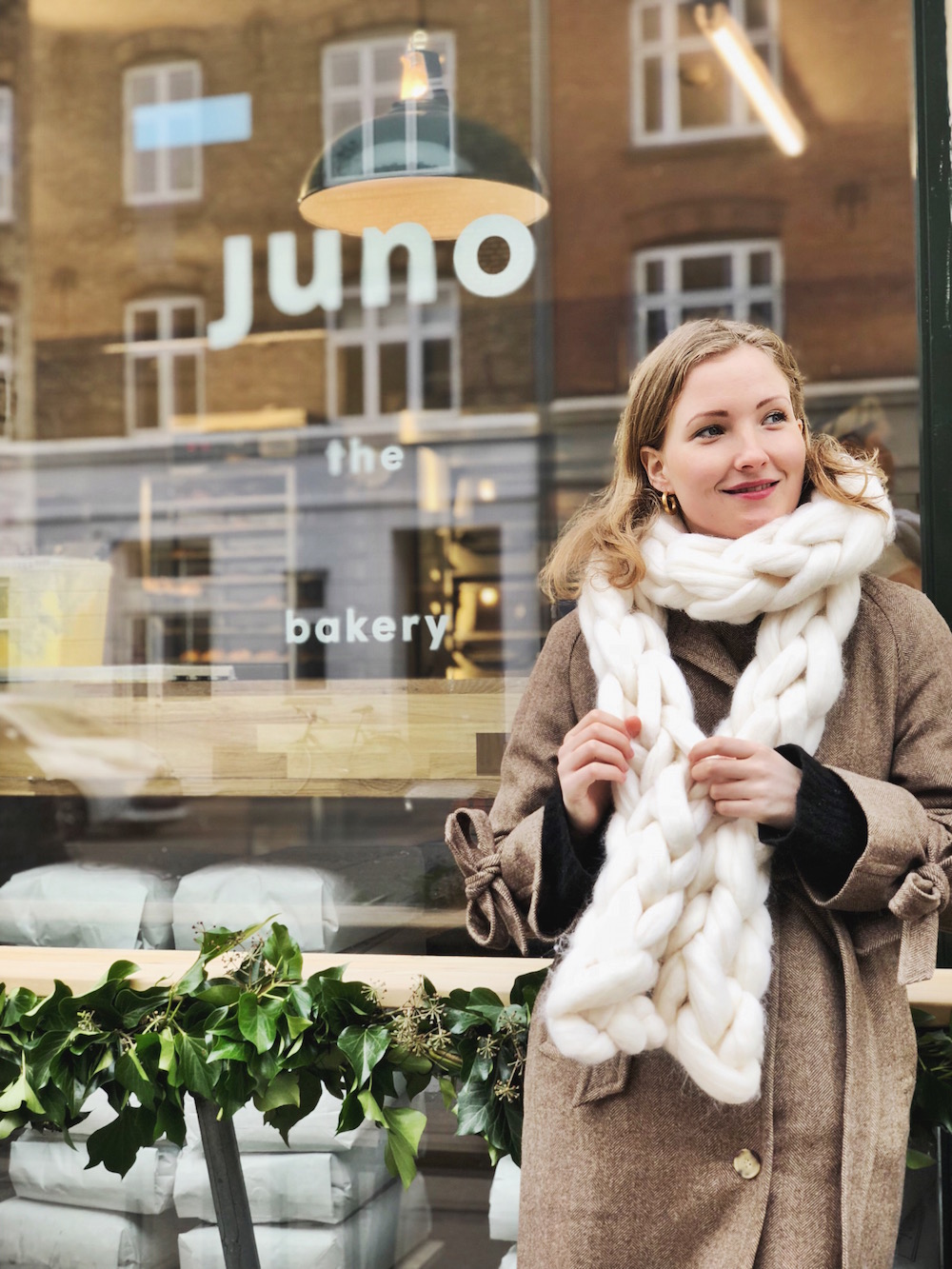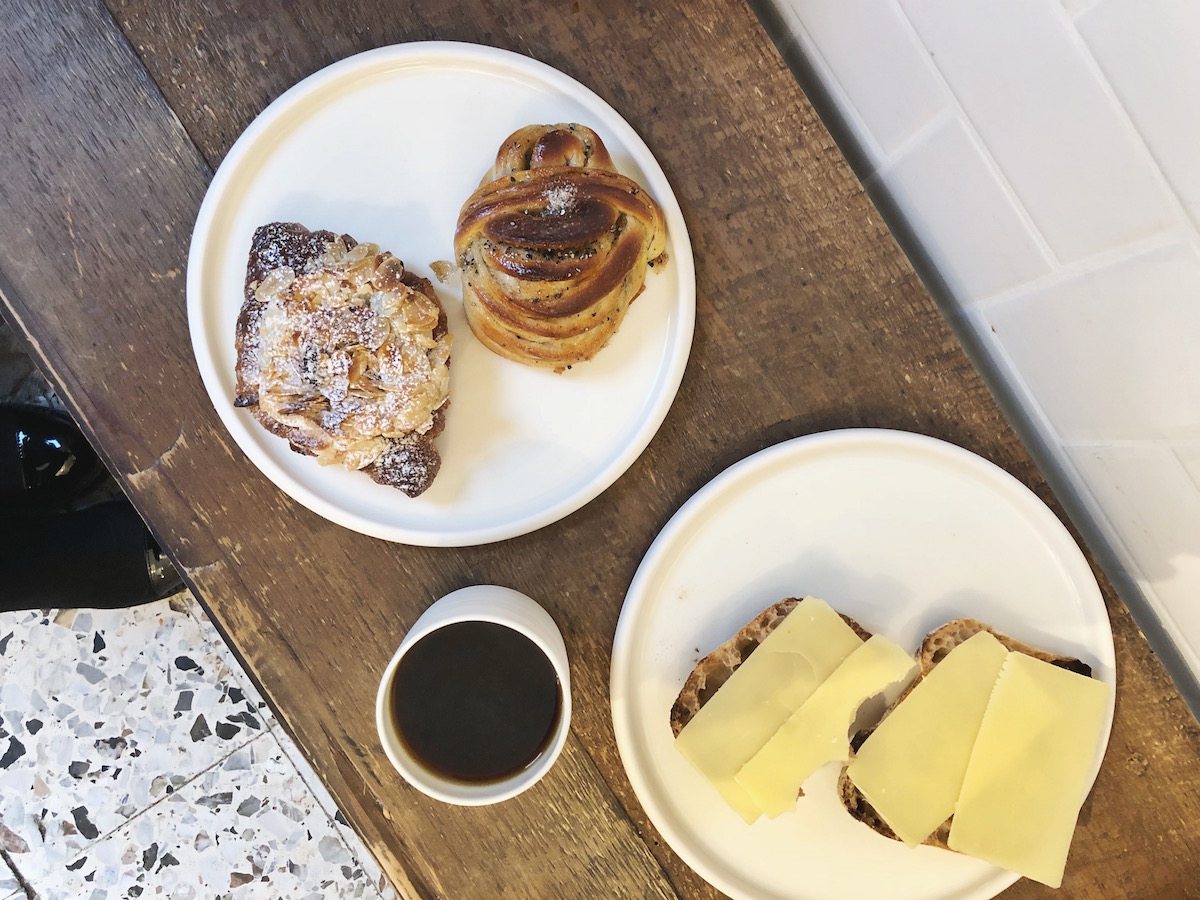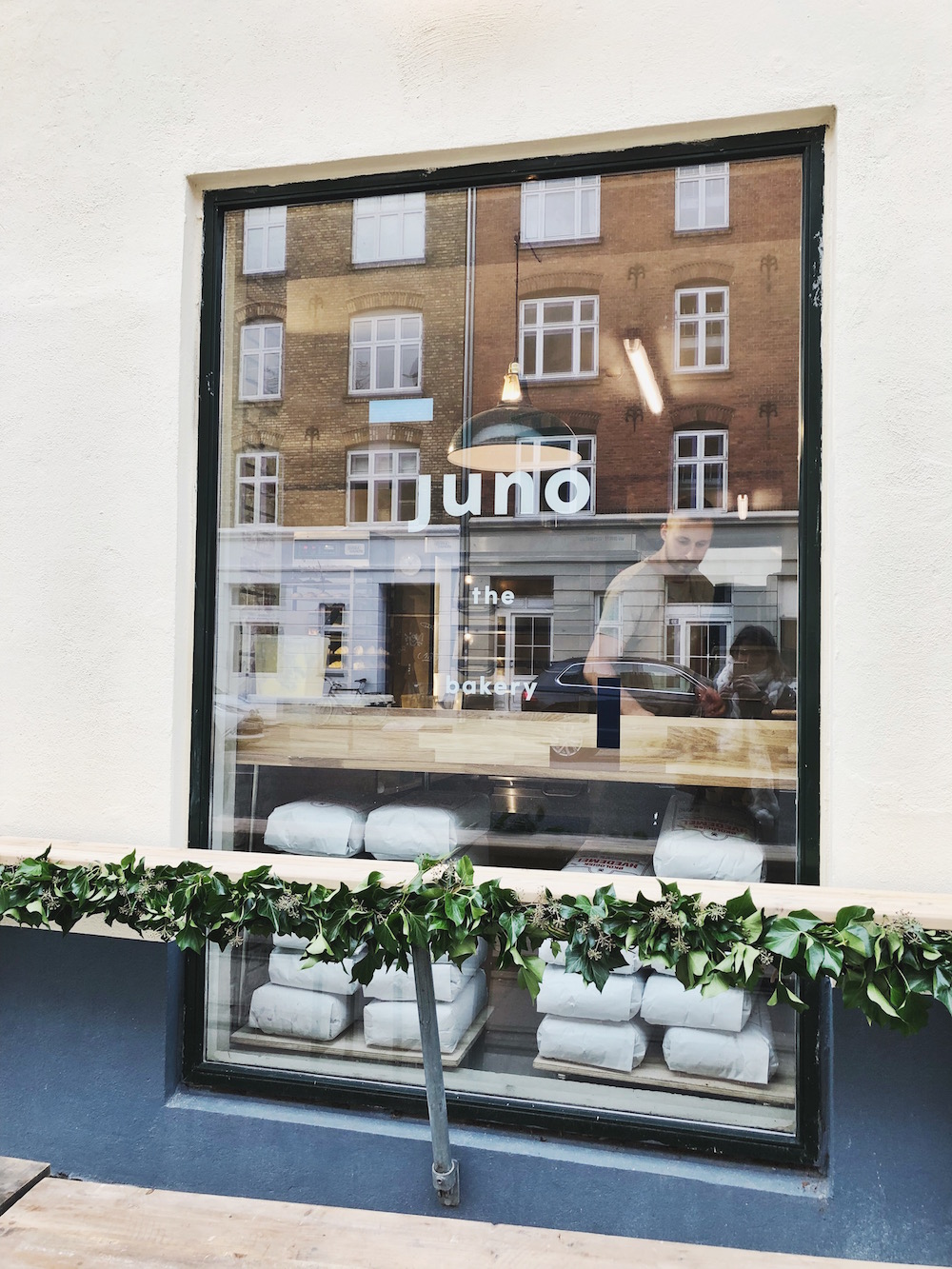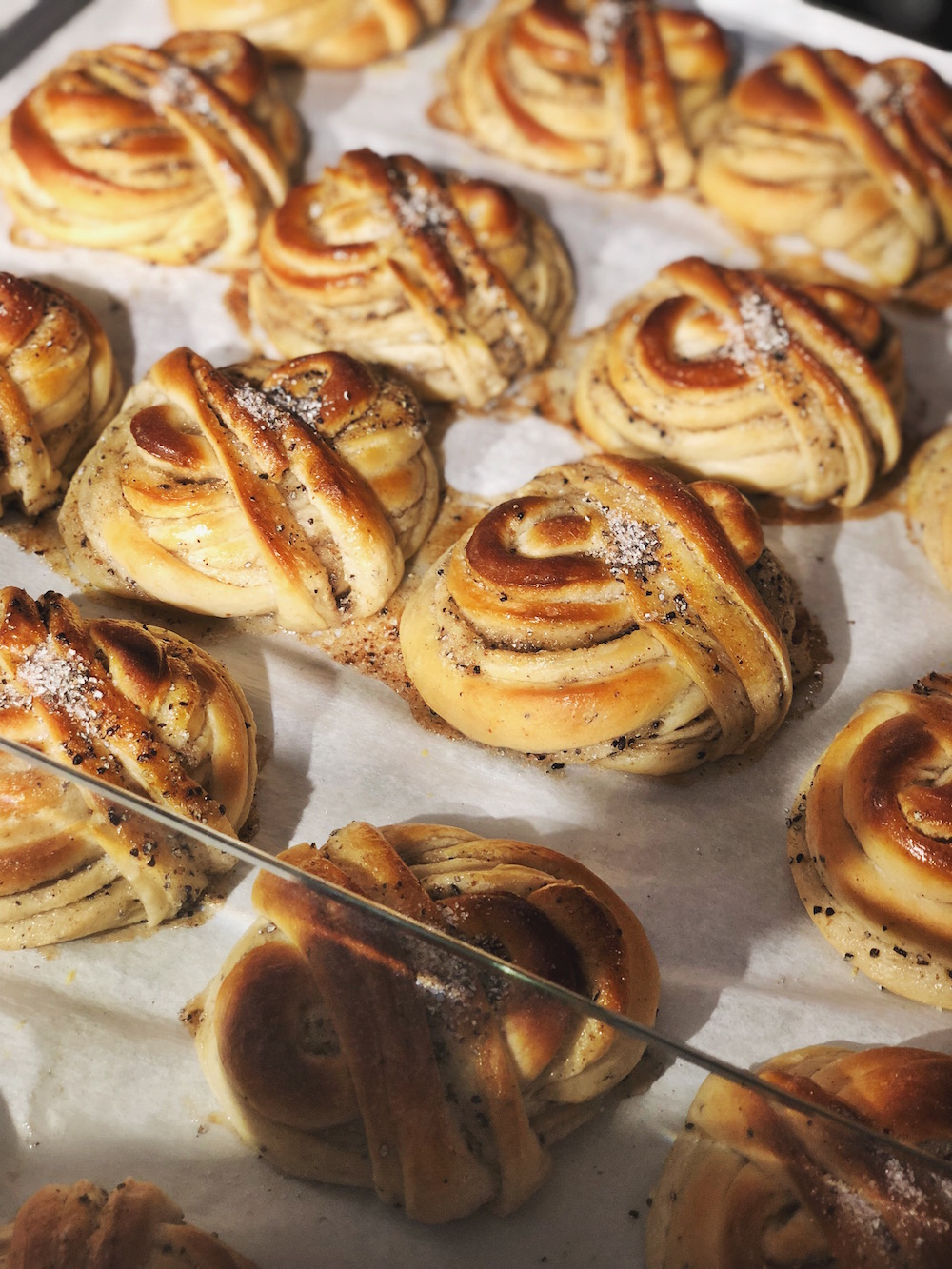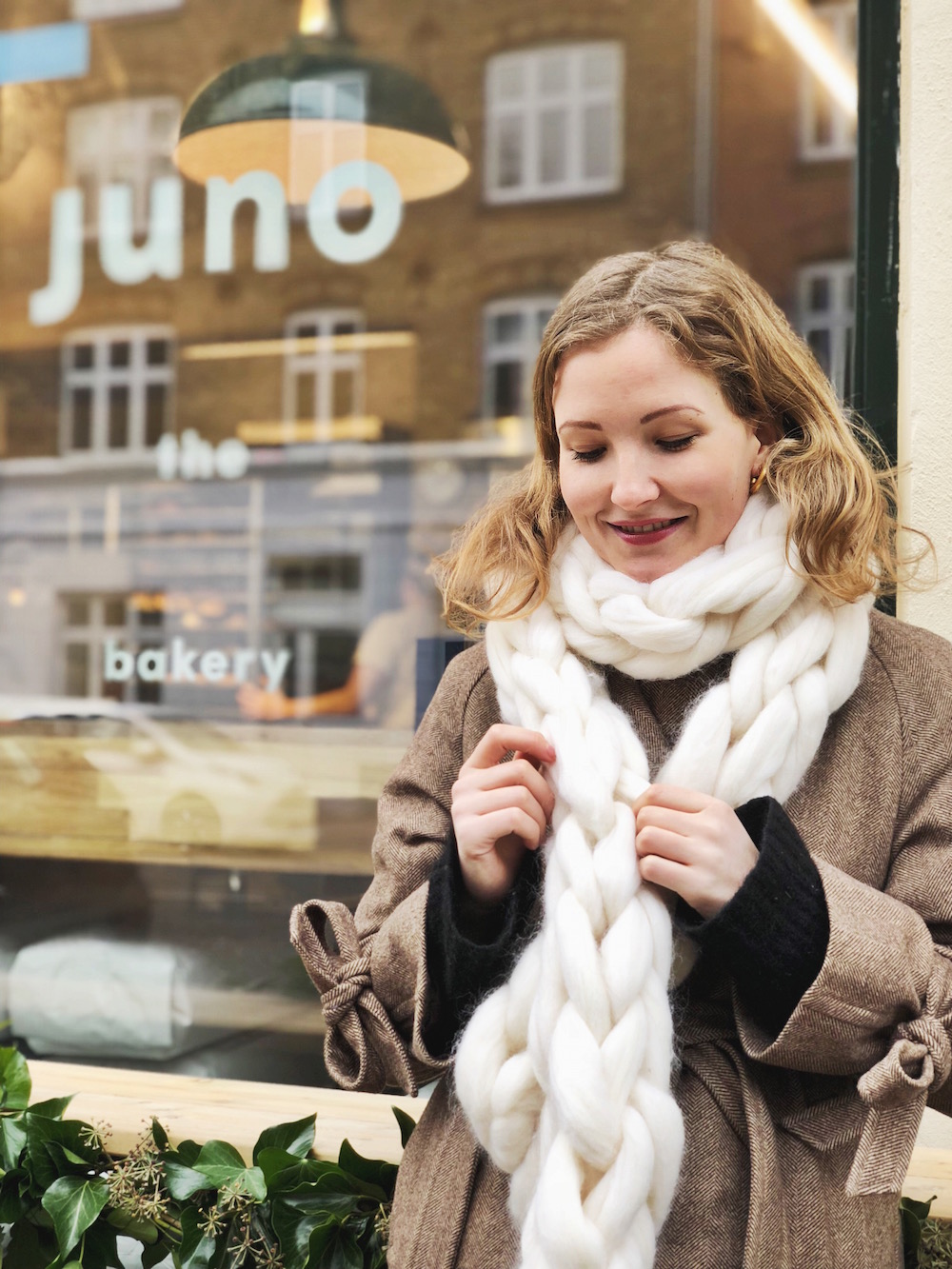 English: Denmark is known for good bread, pastries, and bakeries. Just think of 'a Danish'. Danish bakeries like Meyer's and Lagkagehuset are actual tourist attractions for people visiting the country, and now there is a new addition for tourists (and locals!) to visit. Juno the Bakery opened in November in the rather quiet but nice neighborhood of Copenhagen called Østerbro, where I grew up and where my parents still live. Though only having been open for a short amount of time, Juno the Bakery has already become extremely popular, even hyped, some would dare say.
I had to partake in the hype. Is there something to it? I'd been walking by the bakery a few times and seen the line that even continued out in the street. A line of people wanting to try Juno's bread, pastries, croissants, and in particular, their cardamom rolls.
And so I did. I went on a weekday morning hoping to avoid a long line. Who was I kidding? Of course, there was still a line, but as Juno only does black coffee and bread + pastries, the wait wasn't bad. I ordered a little bit of everything. A cardamom roll, an almond croissant, and a sourdough bun with comté cheese. A black coffee made with beans from Swedish coffee roasters Koppi.
Oh, the joy! The hype is well-earned because everything, in particular, the bun with cheese and the cardamom roll were just amazing. It does make sense that the quality of both the products and the serving is high, as the bakery is opened by a former noma chef.
The bakery offers seating for about four people inside as well as benches outside. Many people also seemed to buy bread from Juno to bring home. The prices are very fair. 12 dkk (approx. two dollars) for a sourdough bun and 24 dkk for a croissant.
When in Copenhagen, you can safely visit Juno and take a trip to the local, quiet neigbourhood of Østerbro instead of trying Lagkagehuset. Can't wait for my next visit to Juno!
Juno the Bakery
Århusgade 48
2100 Copenhagen
___________________________________
Dansk: Vi er ret gode til brød i Danmark. Det som vi kalder wienerbrød eller måske nærmere en spandauer, bliver på engelsk kaldt 'a danish'. Turister valfarter endda til Danmark for at prøve Lagkagehuset og Meyers. Og se bare, hvor godt det går sidstnævnte i USA, hvor han har sat "tebirkes" (udtalt byyrkiis på ærkeamerikansk) og "frosnapper" på menukortet i New York. Der er nu åbnet et nyt bageri, som jeg spår til at blive en ny attraktion inden for bagerkunsten. Både for turister såvel som lokale københavnere.
Det er Juno The Bakery i Århusgade på Østerbro, der åbnede i slut november i 2017. Allerede få måneder efter, er cafeen over-populær, nærmest hypet, ville nogen turde sige. Og hvem havde troet det? At Østerbro skulle tillokke kunder for hele byen, der står i kø ud på gaden for at købe brød? Jeg er født og har boet på Østerbro i knap 19 år, og mine forældre bor her stadig, og jeg kunne næsten ikke tro mine egne øjne. Flere gange kørte jeg forbi Juno, og der var altid kø.
Jeg måtte selvfølgelig undersøge sagen. Er Juno køen værd? Jeg besøgte bageriet, der har siddepladser til fire-fem personer samt bænke udenfor, på en hverdagsmorgen. Jeg troede, jeg på den måde ville undgå kø. Det gjorde jeg ikke, men til Junos forsvar gik køen hurtigt, netop fordi der bare skal langes brød og sort kaffe over disken.
Jeg bestilte lidt af hvert. Sort kaffe lavet på bønner fra det svenske kafferisteri, Koppi. En surdejsbølle med comté-ost, en mandelcroissant og en kardemommesnurre. Og så sang mine smagsløg ellers af fryd! Alt var fantastisk. Jeg var især vild med bollen og kardemommesnurren, og jeg glæder mig til at prøve deres klassiske croissant næste gang. For ja, der bliver helt sikkert en næste gang!
Hypen er altså velfortjent. Og med priser på 12 kroner for en bolle og 24 kroner for en croissant, vil jeg egentlig hellere besøge og støtte det lille fine bageri, hvor det er tydeligt, at der er kræset om kvalitet, passion og service, end jeg vil gå i 7Eleven eller Lagkahuset, hvor priserne er det samme.
Der er heller ikke noget at sige til, at Junos varer smager, så englene synger. Manden bag Juno er nemlig tidligere noma-kok. Så fik vi det på plads. Og så er det fedt, at Juno er med til at få Østerbro til at vågne lidt op. Der er nemlig ingen tvivl om, at et bageri med popularitet som Juno vil få flere til at kigge på Østerbro som en mulighed for at åbne café, restaurant eller butik. Og det mangler!
Juno the Bakery
Århusgade 48
2100 Copenhagen