(SCROLL DOWN FOR DANISH VERSION)
One of the most requested posts at the moment is a New York City guide, specifically for people that are visiting the Big Apple for the very first time. Your request is my demand, however, it does take some energy to sit down and do these kinds of guides as they have to be comprehensive and hence are time-demanding to write.
I've collected some of my personal favorite spots from shopping to restaurants as well as my favorite must-see sights, as this guide is particularly directed to people visiting NYC for the first time.
For an easy overview, I've divided all the spots into categories of neighborhoods. That means that shopping, sights, restaurants, and cafes are put together according to the neighborhood they are located in. For every place I mention, I've attached their Google link to make it easy for you to look up their address and opening hours. Hold on, because this is going to be a long guide. Feel free to bookmark it and save it for when you're heading to NYC <3
Williamsburg in Brooklyn
Some call it the hipster capital of the world, I call it vintage heaven! Oh, and coffee heaven – the number of cool cafes in Williamsburg is high. Williamsburg is a must if you're into hipster sh*t and cool vibes.
Shopping in Williamsburg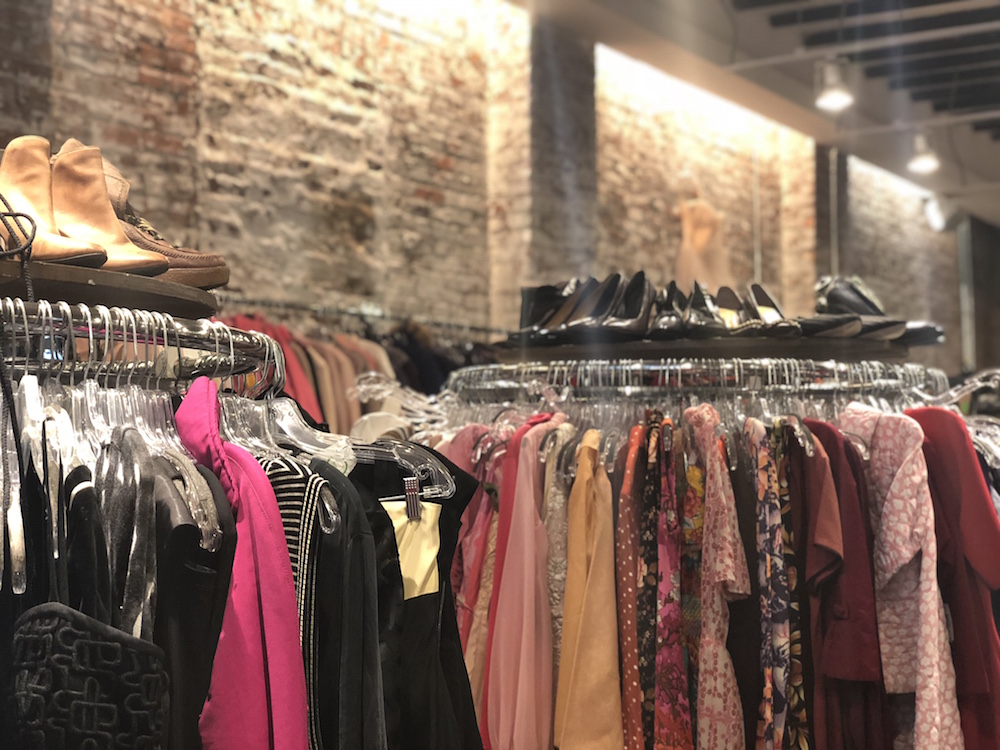 ♥ Beacon's Closet – a vintage/second-hand chain store, but I am pretty sure that their Greenpoint/Williamsburg location is the biggest of them all. It's enormous, and if you're a vintage hawk, you can easily spend hours here!
♥ Dobbin Street Vintage Co-op – vintage furniture (and clothes!) that makes you wish that you could fly back home with one of their vintage velvet couches.
♥ Feng Sway – great vintage finds from accessories to clothing, furniture, and plants.
♥ The Break – my personal numero uno vintage store in Williamsburg. They serve free rosé all day every day. Their clothing is handpicked yet sold at affordable prices.
♥ Stella Dallas –  yet another second-hand store. Huge assortment, well categorized and lots of great stuff.
♥ L Train Vintage – another second-hand chain located throughout NYC with a location in Williamsburg.
♥ Mirth – handpicked vintage on the more upscale end.
♥ McNally Jackson Books – book heaven. Dive into the huge selection of books and magazines from all over the world, and buy presents from the cool assortment of stationery and adorable notebooks.
To do + sights in Williamsburg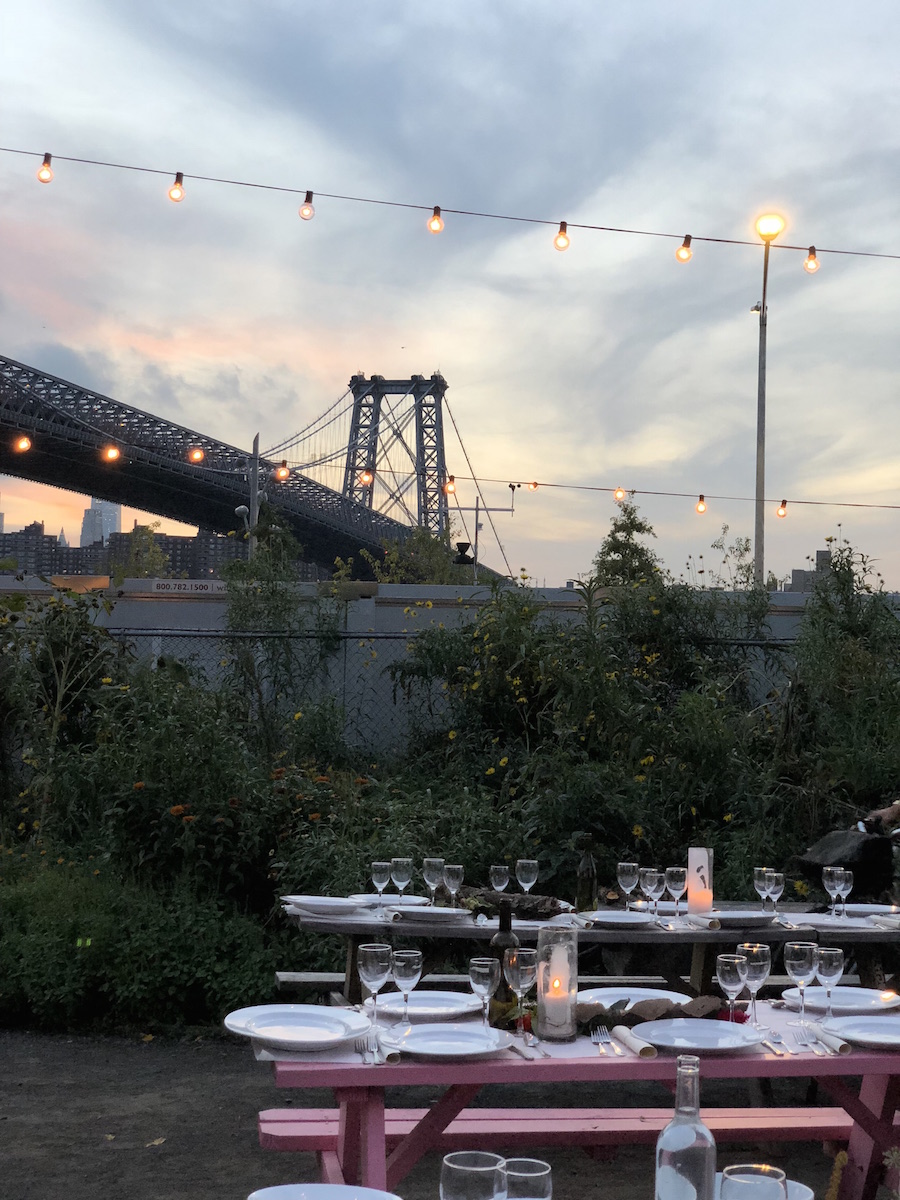 ♥ Take a walk down Lee Avenue that is home to the Hasidic Jewish population of New York. It's fascinating and actually a cultural study to observe how they live in their own world in the middle of bustling NYC.
♥ Walk up and down Bedford Avenue and visit all the cute independent shops and cafes. Then you'll know why people call Williamsburg the hipster capital of the world.
♥ Visit North Brooklyn Farms in the Southern part of Williamsburg. It's an urban garden and farm with magnificent views of the city and the Williamsburg Bridge. The farm hosts different events and parties every week such as free yoga. Stay updated on their website.
♥ Jump on the NYC Ferry from the South / North Williamsburg stop for a quick commute to other NYC neighborhoods. The ride will cost you $2.75 and can take you to Greenpoint, a more northern, lovely Brooklyn neighborhood, to Dumbo, Wallstreet or Midtown. The ferry is a great (and cheap!) way to see the city from the water, and it's incredibly fast.
♥ Walk/run/bike across the Williamsburg Bridge. Will serve you stunning city skyline views.
Restaurants + cafes in Williamsburg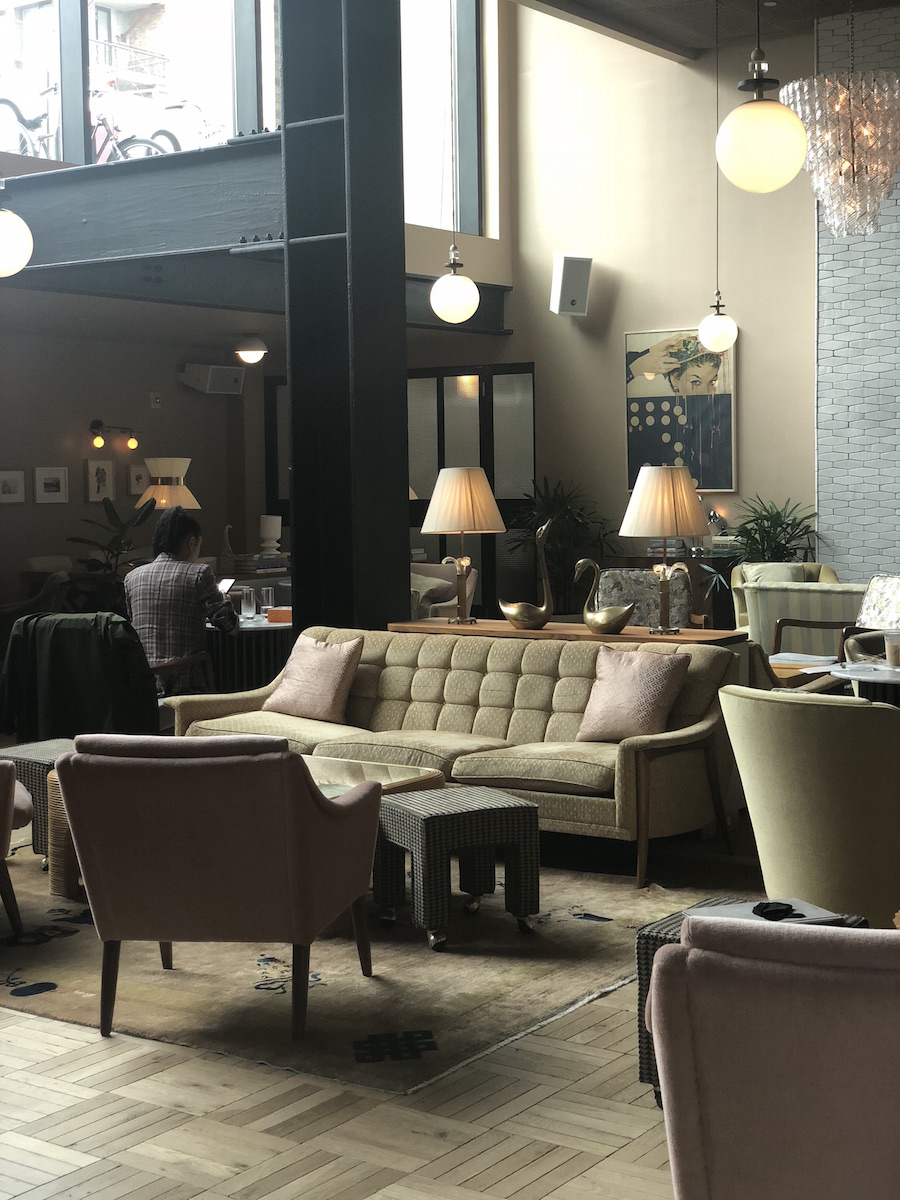 ♥ Norman – (technically located in Greenpoint, but located right next to all the vintage stores mentioned above). Restaurant with Danish influences, good coffee, breakfast, lunch, and dinner. Hospitality included. Go for their Monday prix fixe three-course menu for $35.
♥ King's County Imperial – a new take on Chinese food. Hip, fun and cool. Definitely try the 'Mok Eel' – and nope, it has nothing to do with eel.
♥ Diner – cool restaurant located right off the Williamsburg Bridge. Great, simple American food with a new menu every night. Your waiter will come down and write down the menu on the tablecloth while explaining what's on offer. Fun experience.
♥ Five Leaves – popular brunch spot especially for European tourists. Go for their pancakes and expect a wait, especially on weekends. (Go on a weekday if you can).
♥ The Hoxton – newly opened hotel with a selection of great food spots on-site. From the coffee bar to the restaurant, the rooftop, and the bar. Very chic, beautiful interior design and good food. Perfect for a break.
♥ Butler's Bake Shop – great coffee and cute cakes.
♥ Bakeri – cute, tiny cafe with coffee, baked goods, and a lovely garden.
♥ William Vale Hotel rooftop Westlight. Open from 4 pm and offers a spectacular view over Brooklyn and Manhattan. They serve drinks and food, and it's up to you whether you'll stay for a quick look or a full dinner.
Other Brooklyn spots to visit
Many tourists tend to focus on Manhattan when in NYC – huge mistake. Brooklyn is home to more than 2.6 million people and has so much to offer. If you're looking for a more authentic NYC experience, Brooklyn is the place to be. And Brooklyn is more than Williamsburg! Here are some more Brooklyn spots to visit on your NYC trip.
Dumbo + Brooklyn Bridge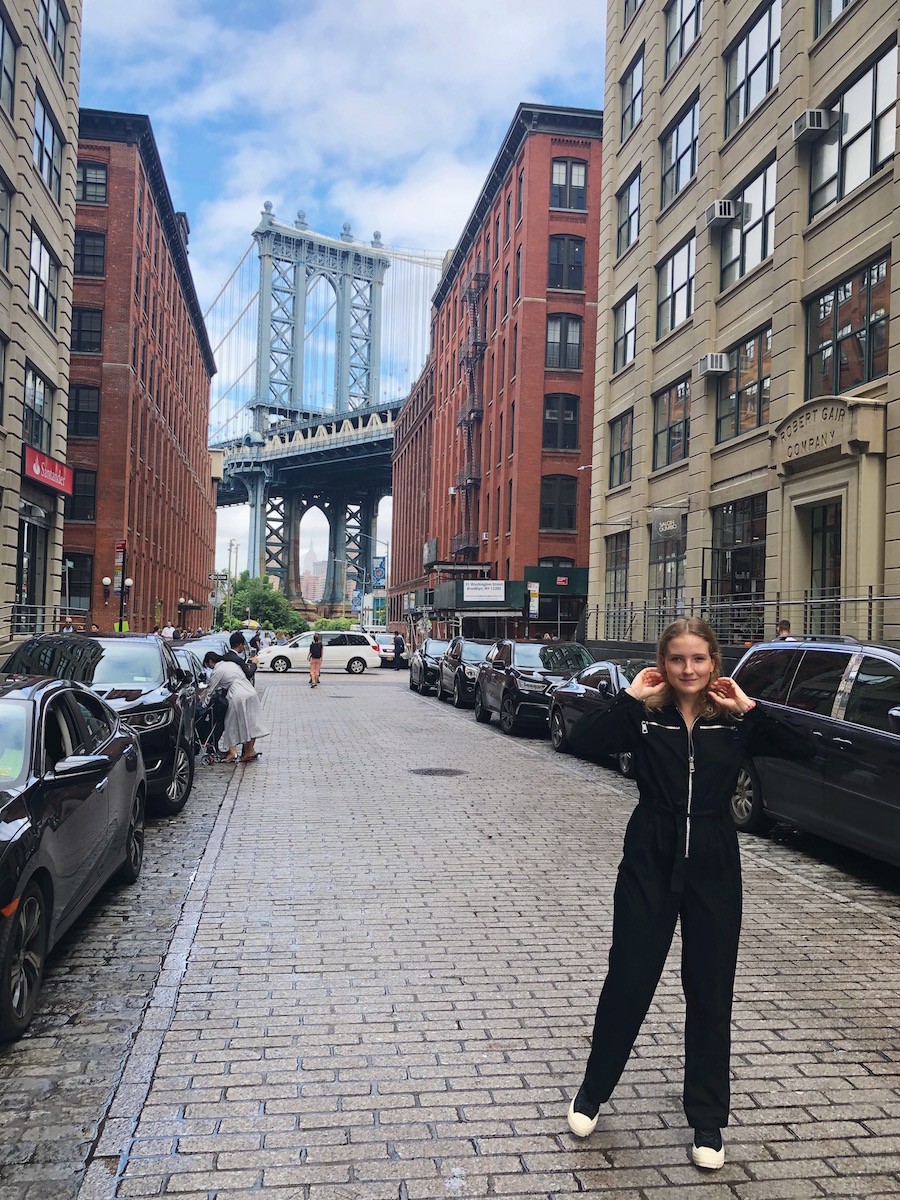 Take the NYC ferry from Williamsburg and get off at Brooklyn Bridge/Dumbo or walk the Brooklyn Bridge from Manhattan to Brooklyn, and you'll find yourself in Dumbo. Dumbo is a former industrial area that is today one of the most expensive places to live in all of NYC. Go to the crossing of Water Street / Washington Street to see how everyone lines up to get the perfect Instagram shot (you might even want a picture of your own?!). Have a break and go to Shake Shack for the best fast food burger, you'll ever have. In Spring, Summer and Fall, Brooklyn Flea Market takes place every Sunday and is a must to visit if you're into markets.
Bed-Stuy + Dumbo + Fort Greene + Clinton Hill in Brooklyn
All cute, local, authentic Brooklyn neighborhoods that give you the sense that people actually live here and it's not just one big tourist attraction. Here are some of my favorite restaurants in the area:
Restaurants + cafes in Brooklyn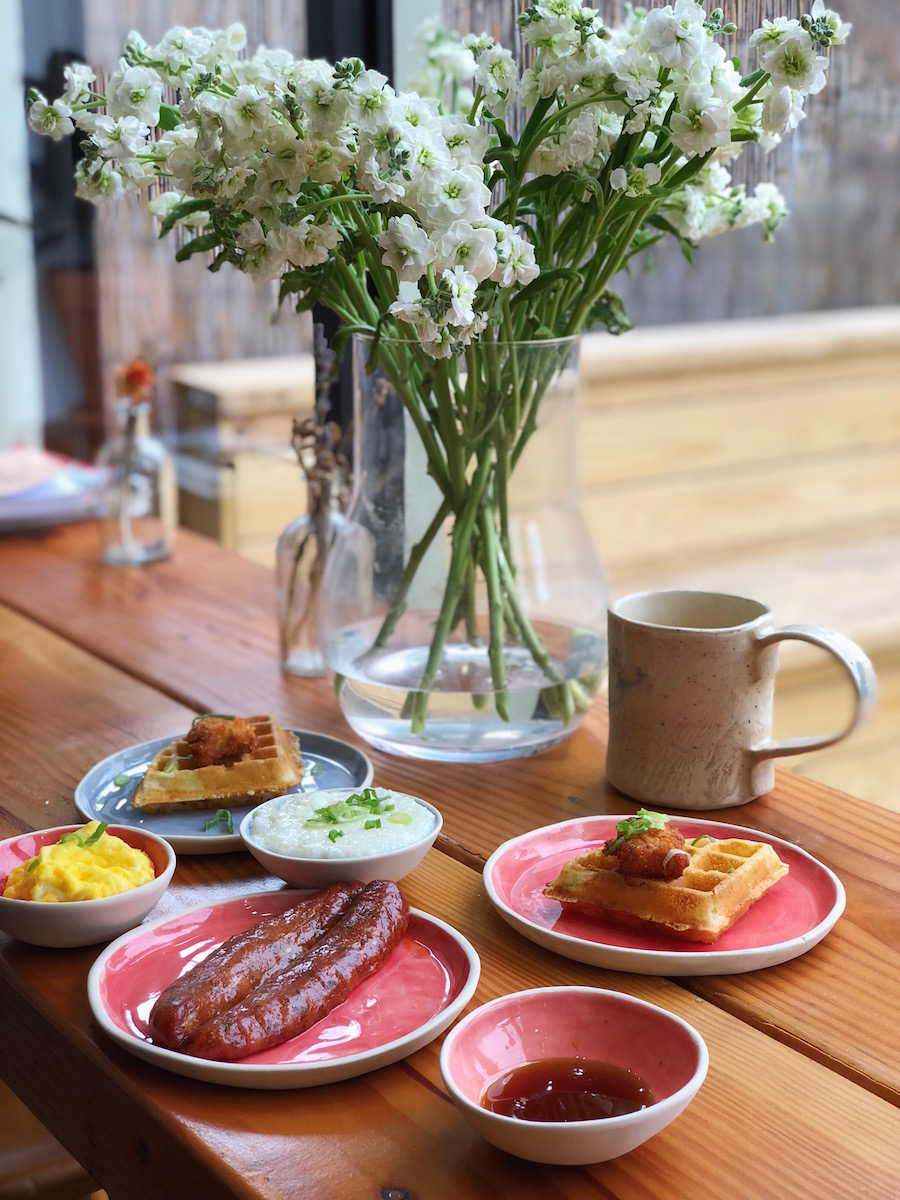 ♥ Stonefruit Espresso (Bed-Stuy) – lovely neighborhood café with plants, coffee and small breakfast and lunch plates. Laptop friendly.
♥ Golda (Bed-Stuy) – gorgeous interior design, great coffee, and breakfast. Try their Egg Sandwich.
♥ Glady's (Prospect) – Michelin-recommended low-key Caribbean food and great vibes. Oh, so good! Small plates great for sharing. Try their plantains, rice with beans, oxtail and bok choy.
♥ Otway (Clinton Hill) – dinner restaurant with good, simple food and beautiful interior design. You can't go wrong with an order of their Deviled Eggs.
♥ The Finch (Clinton Hill) – impeccable Brooklyn diner restaurant. Oh, and it has a Michelin-star!
♥ Mettā (Fort Greene) – possibly my favorite dining restaurant in Brooklyn. It's Michelin-recommended and is set to minimize its carbon footprint by incorporating different initiatives and becoming carbon-neutral. The food is vegetable-focused and everything is cooked by wood fire ovens and stoves. The menu changes all the time but everything is delicious.
Shopping in Brooklyn
♥ Marshalls and Century 21 – Looking to score good clothes from well-known brands at low prices? Check out Marshall's and Century 21. These stores purchase 'on sale' products – clothes, home stuff, and beauty products – from other stores and collect them in their store. That means you can find Missoni socks for $13, Levi's jeans for $15 and much more. There are several Marshall's and Century 21 locations all over NYC and the selection varies from store to store and season to season. I always go to the Century 21 on Albee Square (445 Albee Square W, Brooklyn) because it's nicer and less crowded than the Manhattan counterpart. For Marshalls, I go to the one by the Atlantic Center (625 Atlantic Ave, Brooklyn).
To do + sights in Brooklyn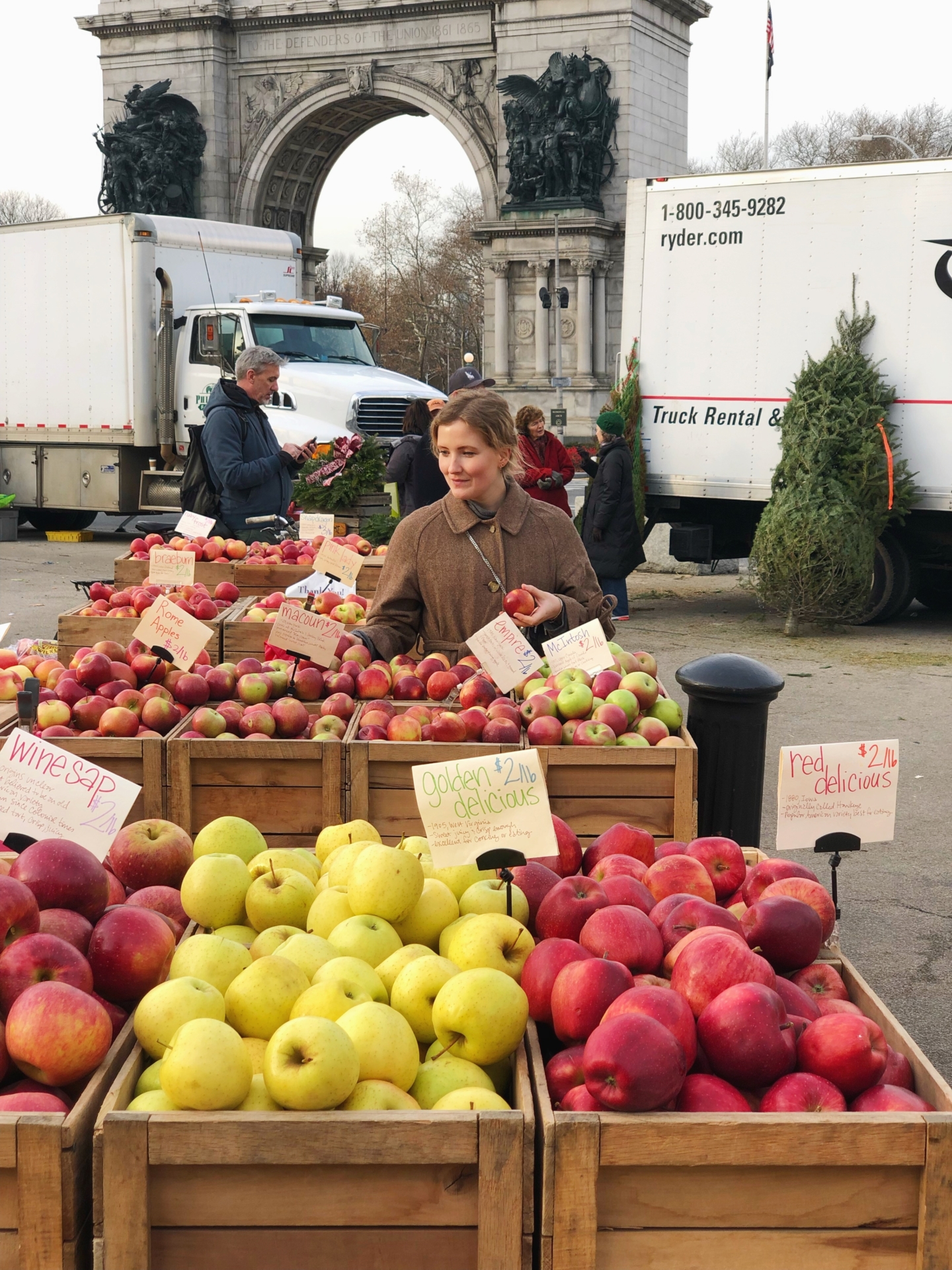 ♥ Prospect Park – go for a walk in Prospect Park, the Brooklyn equivalent to Central Park. A tad more local and very beautiful. Every Saturday, you'll find a lovely Farmer's Market in front of the park.
♥ Brooklyn Museum – right by Prospect Park, the Brooklyn Museum is located. Spectacular museum with great exhibitions – some permanent, some temporary. It's up to you what you pay to enter the museum, so you are not forced to pay the high fee of $25 that many other NYC museums charge.
Soho

Soho is what I imagine when someone says New York City. It's such a classic NYC neighborhood with the unique steel buildings, fire escapes and cobblestone streets lined with one flagship store after the other. Soho is NYC's shopping paradise, so bring your wallet because "get in loser, we're going shopping!" (Mean Girl reference in case you didn't catch it 😉
Shopping in Soho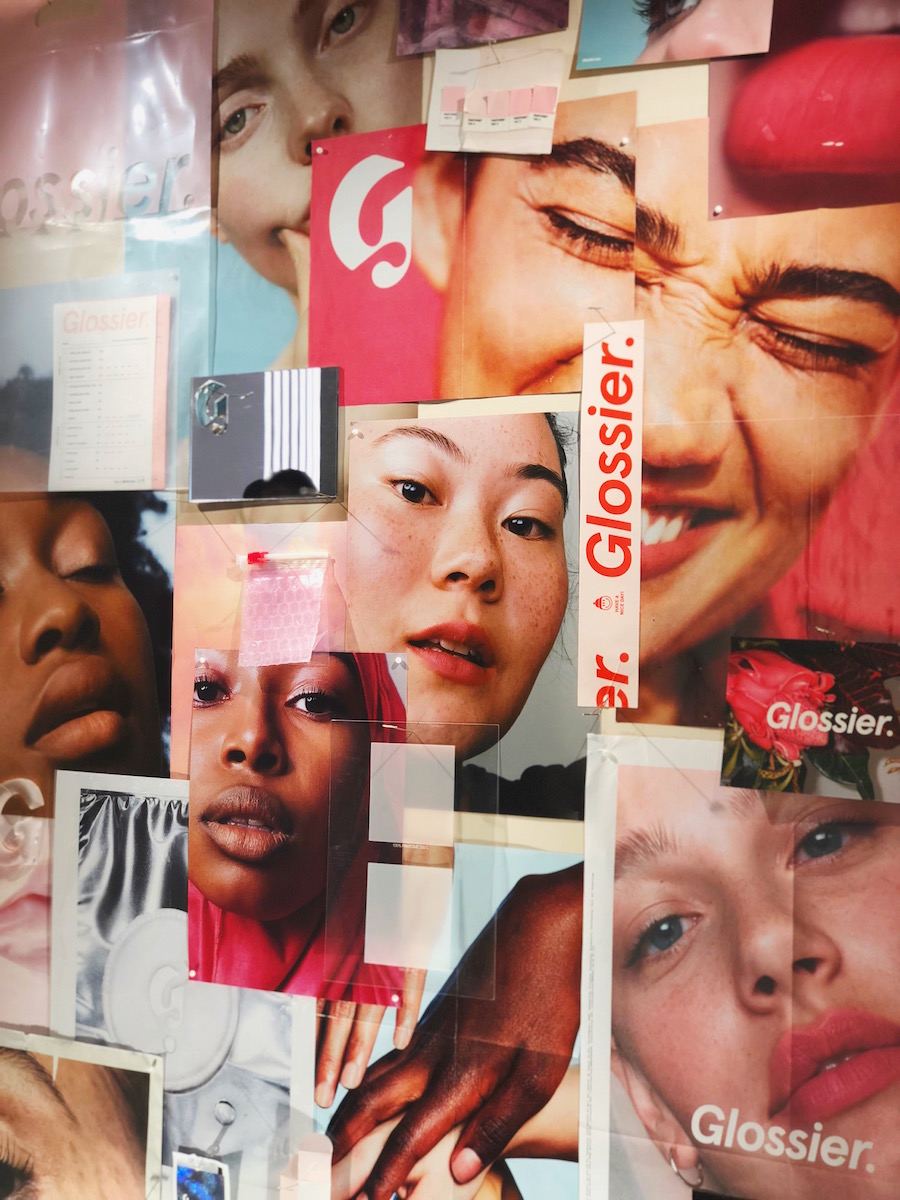 ♥ All the cool stores that you'll only find in Soho – Mansur Gavriel, Everlane, Glossier, Bulletin etc. I did a comprehensive Soho shopping guide that you can find right here.
♥ Kith – the ultimate sneaker and streetwear store.
♥ Broadway – (one of) the main shopping street in NYC. Find Uniqlo, Zara, H&M, Urban Outfitters – any high street store you can name is to find on Broadway.
Restaurants + cafes in Soho
♥ The Butcher's Daughter – Instagram spot no. 1 that serves a mean avocado toast.
♥ Black Seed Bagels – best bagels in NYC if you ask me! Baked on site in wood-fired ovens and located on my favorite street in Nolita (abbreviation for North of Little Italy), Elizabeth Street.
♥ Jack's Wife Freda – Israeli/American brunch all day spot. Hyped on Instagram. Expect a wait but go for great food, pretty surroundings, and bottomless coffee.
♥ Two Hands – Australian brunch café that does great eggs, great avocado and great coffee. Perfect combination. Try their banana bread topped with espresso mascarpone.
West Village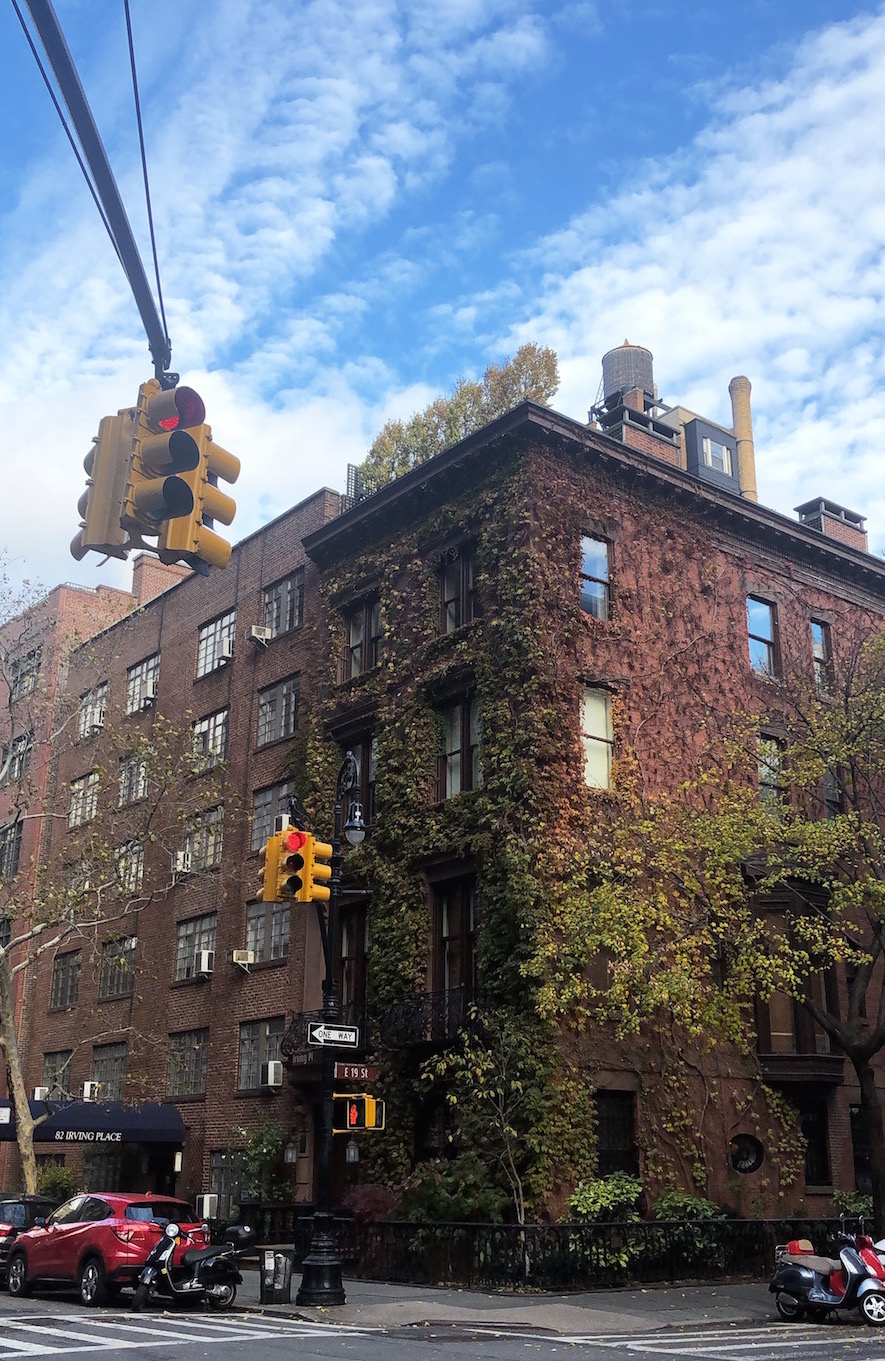 West Village is, unlike the rest of Manhattan, not a victim of the grid system with numbered straight streets and avenues. Instead, the streets have names, are crooked and a little trickier to navigate. West Village is home to some of the most gorgeous townhouses and connected to the highest real estate prices in NYC, and worth a visit simply to stare at some of these gorgeous townhouses.
Shopping in West Village
♥ Bleecker Street – home to iconic Magnolia Bakery (from Sex and the City and the bakery that made cupcakes ultra-popular), Marc Jacobs' bookstore, Bookmarc, The Daily Edited that makes the cutest customized travel accessories, and a lot of other cute stores.
To do + sights in West Village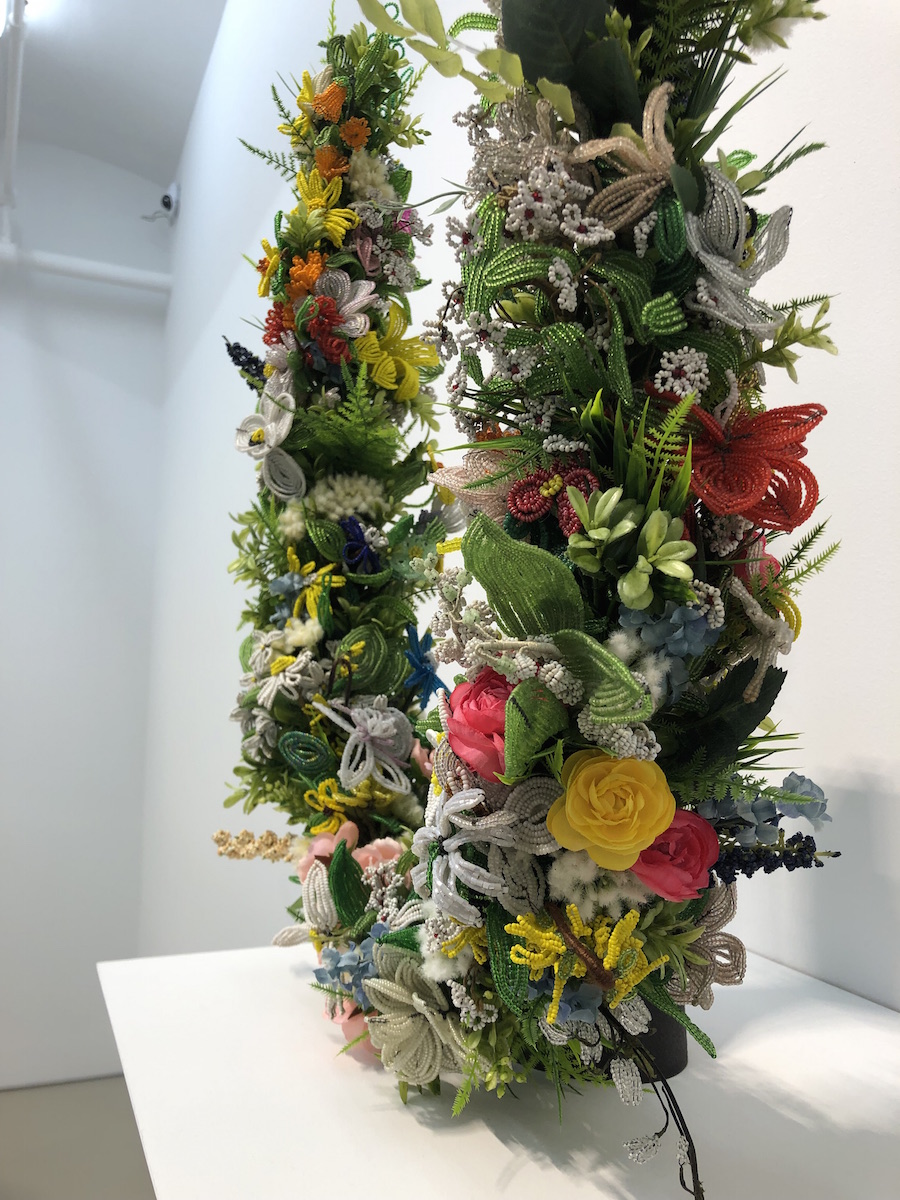 Some of these sights aren't technically located in the West Village but in other neighborhoods next to West Village. For a simpler overview, these are all mentioned here.
♥ The High Line – a former train track turned into a park. A different experience and a small break from the busy city.
♥ Whitney Museum of American Art – right off the High Line, the Whitney Museum is the place for all-American art. Start at the top floor, visit the rooftop for amazing views and work your way down as you take in the great collection of permanent and rotating art exhibitions.
♥ Carrie Bradshaw's apartment – Located on 64 Perry Street, the iconic apartment building that was the backdrop to many Sex and the City scenes. A must if you're a SATC fan.
♥ Gallery hopping in Chelsea – Ok, technically not in the West Village, but head to Chelsea north of West Village and go gallery hopping. It will cost you nothing as the galleries are free but let you experience amazing art. The streets W 18th Street- W 27th Street between 9th-12th Avenue are covered with great galleries with rotating featured artists. Great examples to visit are David Zwirner and Gagosian.
♥ Washington Square Park – iconic NYC spot. This little park right off the NYU is the ultimate spot for people-watching. Grab a coffee from one of the nearby cafes and sit down for a break and do some people-watching of great NYC personalities from dog-walkers to NYU-students and street artists playing music or doing art.
♥ Meatpacking District – the neighboring neighborhood to West Village filled with cobblestone streets and great shopping.
Chinatown
South of Soho and West Village, Chinatown is a must visit when in NYC. The neighborhood is amusing, as the name implies, it will have you feeling like you are not in NYC anymore but in China. And if you want more Asian feels, head to Flushing in Queens (but you might want to save that to your second NYC trip). Chinatown is as authentic as it gets and is worth a couple of hours of your tight NYC schedule where you just wander around and take in the vibe.
Shopping in Chinatown
♥ Canal Street – enter any colorful funny looking store and find Asian gems from colorful shoes, dresses, notebooks, stuff for your home and beauty products. Also, unlike many other stores in NYC, these won't break the bank.
Restaurants + cafes in Chinatown

♥ Deluxe Green Bo – a real Chinatown restaurant with Chinese speaking staff, fluorescent lights and a huge menu with cheap prices. Try their soup dumplings, scallion pancakes, General Tschao chicken and Chow fun noodles. It will be a restaurant experience to remember – and note: cash only!
♥ Taiyaki – possibly the coolest ice cream you'll ever eat.
Lower East Side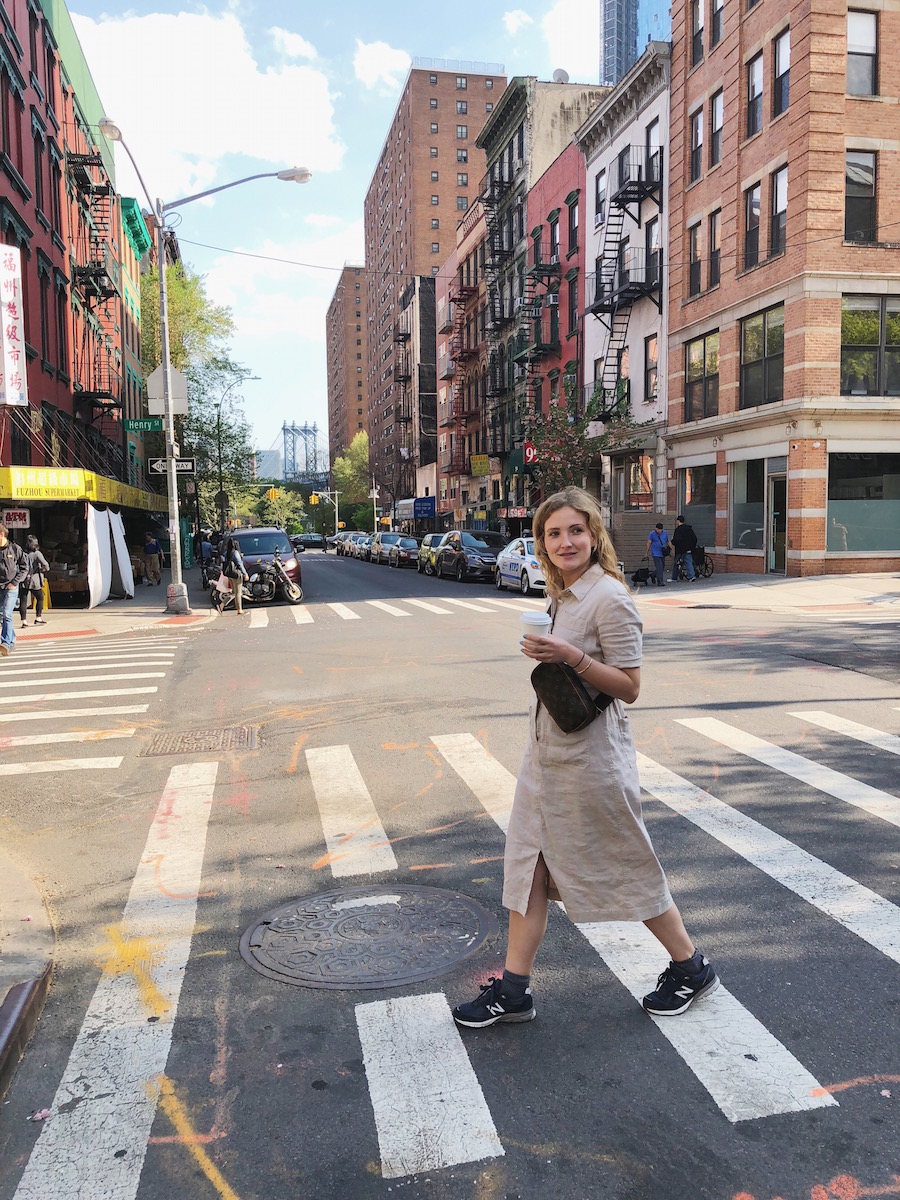 Gritty, hipster and a great mix of cultures. Lower East Side, Loisaida (as the Hispanic population popularly pronounces it) or LES. Lower East Side features urbanism, independent cool shops and is the perfect spot to take in inspiration for funky outfits.
Shopping in Lower East Side
♥ Frankie Shop – the perfect shop for any fashionista looking for items that can't be found in the global high street stores.
♥ Chillhouse – the cutest one-stop-shop for anything self-care. Sit down and chill with a turmeric latte, go aboard in the curated selection of self-care items or go all in and get yourself a manicure, pedicure or a massage.
Restaurants + cafes in Lower East Side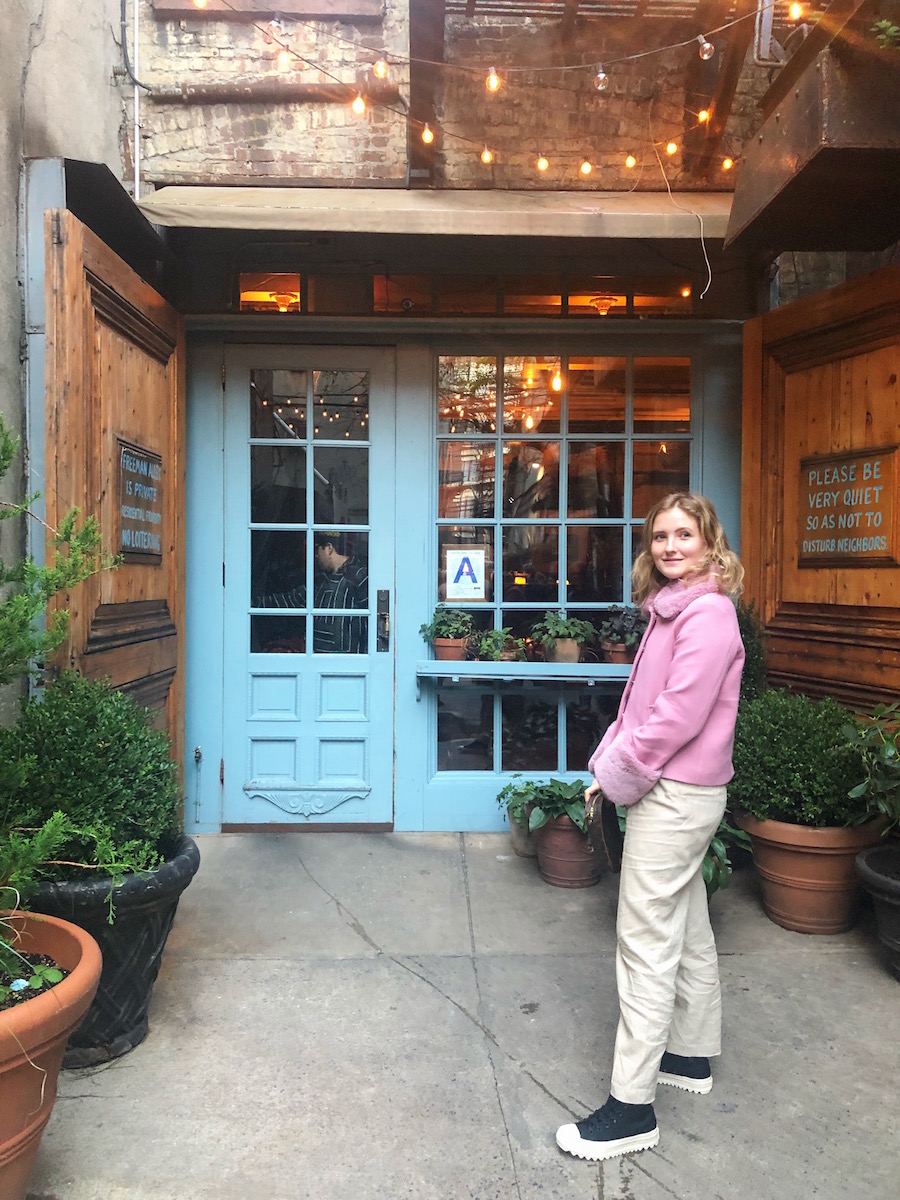 ♥ Freemans – restaurant hidden in a secret alleyway called Freeman Alley. Definitely a hidden gem serving modern American food. After dinner, visit the secret bar upstairs for a night cap.
♥ Una Pizza Napoletana – some call it the best pizza in NYC. Go try and decide for yourself!
♥ Supermoon Bakehouse – a serious bakery that takes pastries to the next level. Try their croissant filled with different deliciousness.
♥ Wildair – natural wine and small plates great for sharing. Hip to the fullest extent.
♥ The Flower Shop – lowkey food in great surroundings. Reservation needed.
To do + sights in Lower East Side
♥ Tenement Museum – experience NYC in the 1920s. Go on the website to book a tour where actors reenact personas from the 1920s how they lived their lives in authentic surroundings in a well-kept 1920's building in Lower East Side. An amazing experience!
The rest: Must see NYC sights on your first NYC trip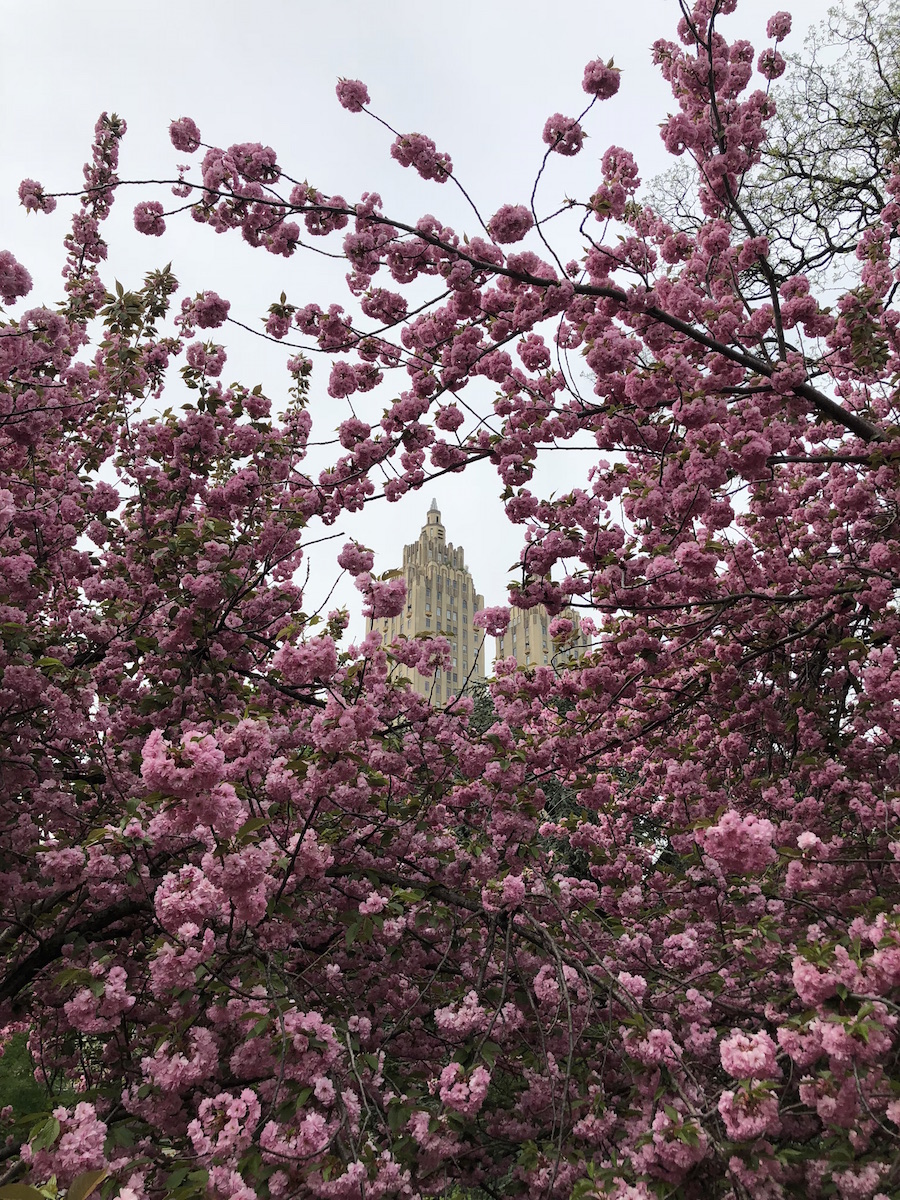 ♥ Central Park – one can't visit NYC without taking a walk in the iconic Central Park. There are so many things to see and do in this park. Strawberry Fields, the John Lennon memorial. The Ladies Pavillon by the lake. Ice skating in the winter. The Onassis Reservoir. And the list goes on. Bottom line – a walk in Central Park is a must!
♥ Fifth Avenue – for shopping and some of the biggest flagship stores you'll ever see.

♥ Flatiron building – possible one of the most iconic buildings in NYC.
♥ Staten Island Ferry – my favorite NYC hack. Go to the subway station Whitehall St, walk for one minute and hop on the ferry to Staten Island. It's completely free, takes 20 minutes and gives you beautiful views of the Manhattan Skyline, the bridges to Brooklyn and the Statue of Liberty. Bonus? You get to take it twice as you'll need to go back to Manhattan once you reach Staten Island.
♥ Museums: The Met, Guggenheim, MoMa, The Museum of National History. Pick your favorite and go! Lines might be long and tickets expensive, but a visit to one of them goes without saying when in NYC.
♥ Roosevelt Island – if you have extra time or are feeling extra adventurous, a trip to Roosevelt Island might do the trick. Roosevelt Island is the long baguette-shaped island between Manhattan and Queens and you get there with a tram from 60th street on The Upper East Side. It will cost you a regular subway ticket. On Roosevelt Island, take a walk out to Four Freedom's Park. If the weather allows it, you can even bring snacks to do your own picnic. A very unique experience!
♥ Great Northern Food Hall at the Grand Central Station – Proud Dane here representing her country. Go in the footsteps of Serena Van der Woodsen from Gossip Girl and visit the grand Grand Central Station. Feeling hungry or thirsty, visit the Great Northern Food Hall located inside the station for Danish specialties and great coffee.
Hopefully, you made it through my long, comprehensive guide to New York City. I tried to keep it short and simple, providing you an easy overview of the different neighborhoods with tips for what to do, see, and where to shop and eat. I wish you a great trip to NYC ♥
Mine yndlingssteder: En guide til din første tur til New York City
Hver uge bliver jeg spurgt, om jeg kan dele tips og tricks til New York, især til folk der skal af sted for første gang. Jeg har selvfølgelig delt alt muligt forskellig på bloggen, men hvad jeg mangler er en komplet guide til byen, dens områder, museer, restauranter og shopping. Og det kræver tilløb at skrive sådan en, for den er lang, og der er så mange steder, jeg vil have med.
Jeg har taget tilløb, og nu er den her langt om længe! Den komplette guide til New York, der især egner sig til dig, der skal af sted for første gang. Jeg har også tilføjet mange af mine personlige yndlingssteder- butikker og restauranter, så på den måde er guiden ikke helt klassisk, men mere til dig, der gerne vil opleve det autentiske New York, der også inkluderer Brooklyn og en masse skjulte perler. Jeg har linket til alle stedernes Google link, og herigennem kan du finde stedernes adresse og åbningstider.
Hold i og læs med, for guiden er lang. Og orker du ikke den hele, så gem den som bogmærke, så du altid kan vende tilbage. God læsning!
Tip! Jeg skriver hippe rejseguides til en masse destinationer rundt i verden
fra Bornholm til Berlin og New York,
der giver dig de bedste tips til hvor du skal spise,
hvad du skal opleve, og hvor du skal drikke kaffe. Find dem her.
Williamsburg i Brooklyn
Nogle kalder det hipsternes hovedstad, jeg kalder det for genbrugshimlen! Og nå ja, kaffehimlen, for det bugner med seje cafeer og genbrugsbutikker i bydelen Williamsburg. Williamsburg er et must, hvis du er vild med hipster-sh*t, eller hvis du bor på Vesterbro og Nørrebro.
Shopping i Williamsburg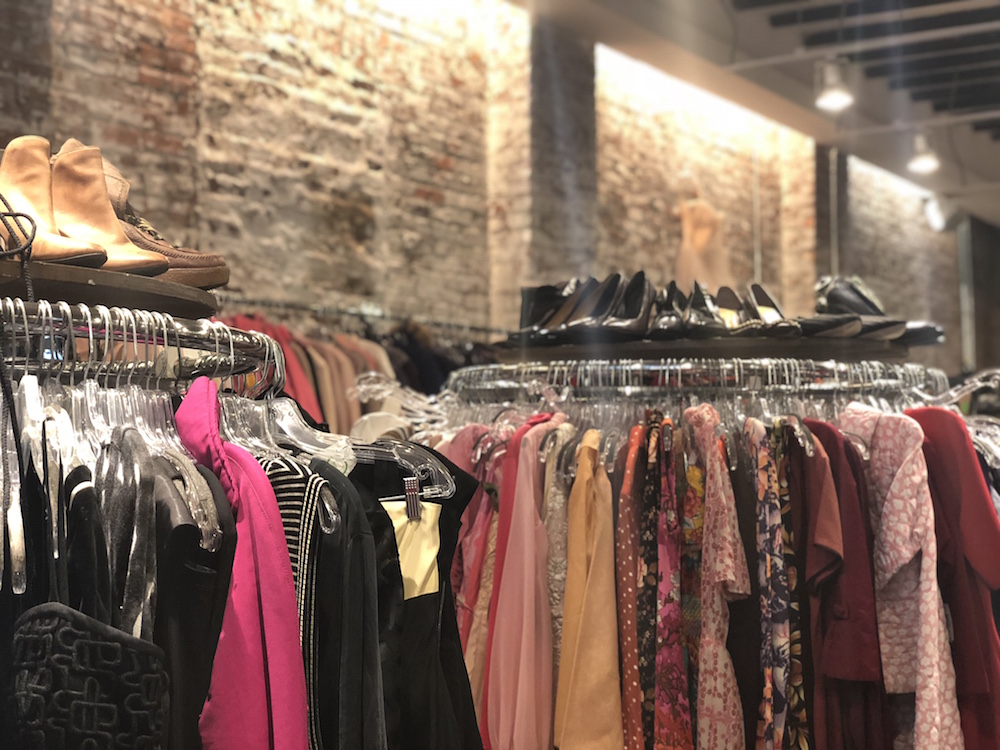 ♥ Beacon's Closet – genbrugshimlen. Her er overvældende meget tøj. Bevæbn dig med tålmodighed og hav tid til at gå en masse igennem, og du kan gøre nogle gode køb. Beacon's Closet er en kæde, men denne beliggenhed i Greenpoint/Williamsburg er den største.
♥ L Train Vintage – same stil som Beacon's Closet bare endnu billigere og lidt mindre. Også en kæde.
♥ Dobbin Street Vintage Co-op – en håndfuld venner ejer denne butik sammen, og de samler alle deres fund og sælger dem til gode priser. Her er lyserøde velour-sofaer, tøj og knick-knacks.
♥ Feng Sway – samme stil som Dobbin Street Vintage.
♥ The Break – den sejeste vintage af dem alle. De serverer altid rosé, og tøjet er håndplukket og stadig billigt.
♥ Stella Dallas – velassorteret genbrugsmekka og de skønneste tæpper.
♥ Mirth – fin vintage med lidt højere priser.
♥ McNally Jackson Books – verdens bedste bogforretning.
To do + sights i Williamsburg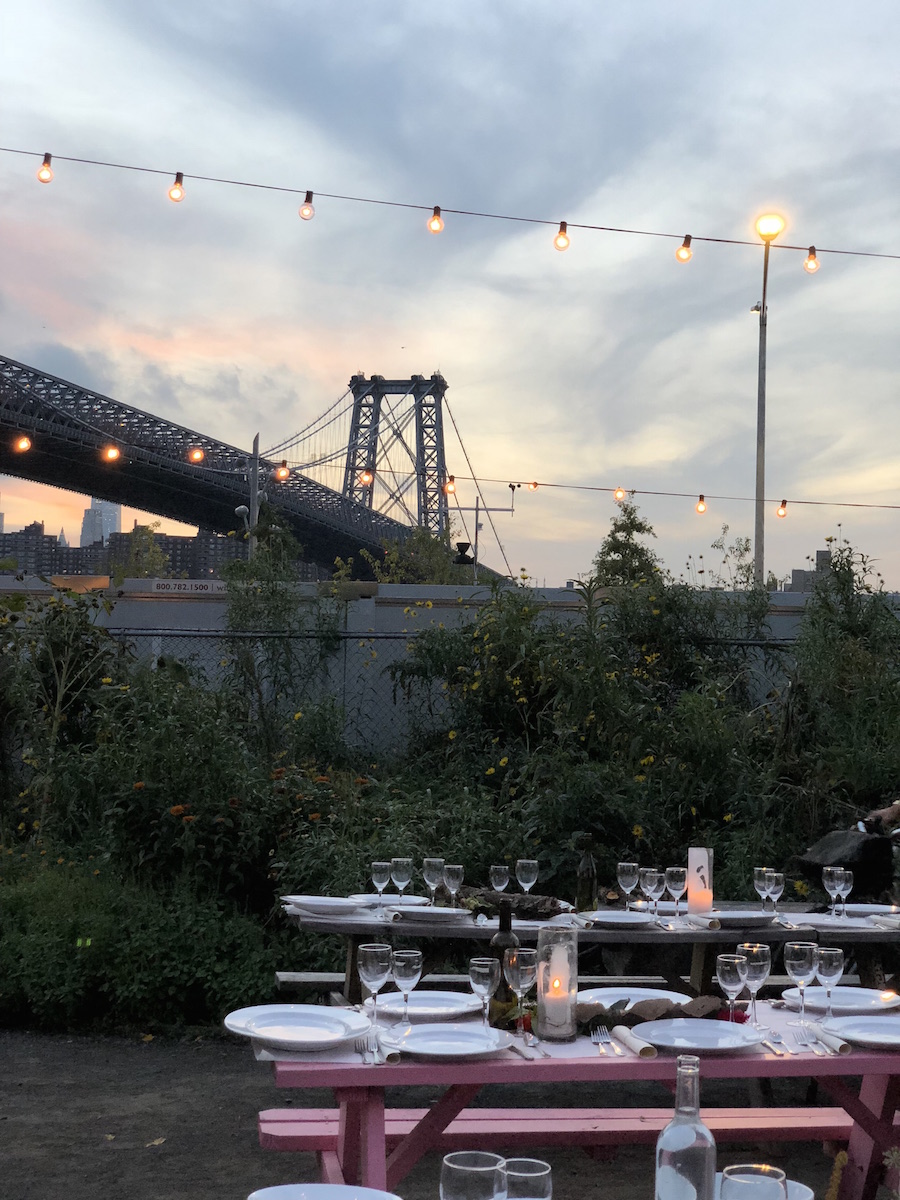 ♥ Gå en tur ned af Lee Avenue, hvor de ortodokse jøder bor. Det er fascinerende og et kulturstudie at iagtage, hvordan de nærmest har skabt deres egen verden i denne kæmpe by.
♥ En tur ned af Bedford Avenue – her ligger gode, fine, independent butikker side om side, og man forstår, hvorfor Williamsburg bliver kaldt 'the hipster capital of the world'.
♥ North Brooklyn Farms – i det sydlige Williamsburg ligger den smukkeste urban garden med fantastisk udsigt over Manhattans skyline. Her er events fra fællesspisning og gratis yoga, og du kan holde dig opdateret på deres hjemmeside.
♥ Tag NYC Ferry – fra South eller North Williamsburg stoppet for at komme på en hurtig tur til andre områder i NYC. Turen koster $2.75 og du kan komme til Greenpoint, et smukt, lokalt område der ligger nord for Williamsburg, eller du kan tage til Dumbo, hvor Brooklyn Bridge ligger. Færgen er en god og billig måde at opleve New York fra vandsiden. Og så er det en sjov oplevelse, for færgen sejler sindssygt stærkt.
♥ Gå/løb/cykl over Williamsburg Bridge. Den er lidt mere hip og 'underground' og ikke-turistet end Brooklyn Bridge.
Restauranter + caféer i Williamsburg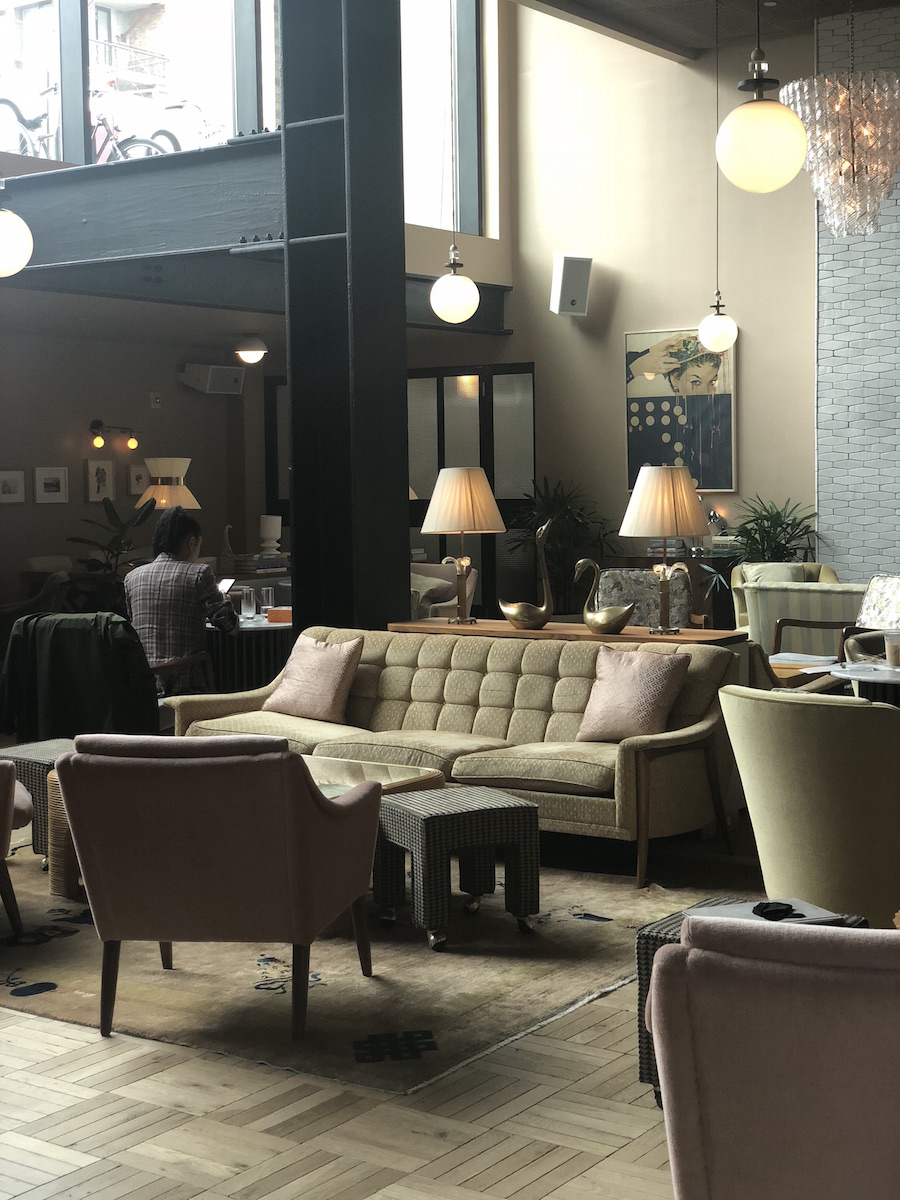 ♥ Norman –  en af Claus Meyers restauranter. Den her er hip, serverer "frosnappers" og er et godt sted at people-watche, for her kommer mange seje new yorkere. Om mandagen bliver der serveret tre-retters menu til $35.
♥ King's County Imperial – modern kinesisk mad i hippe omgivelser. Prøv 'Mok Eel', som intet har med ål at gøre.
♥ Diner – cool restaurant i en slags air streamer lige ved Williamsburg Bridge. Menueen skifter hver aften og bliver skrevet ned på din dug af tjeneren.
♥ Five Leaves – café ogrestaurant som Heath Ledger skød penge i. Stedet er kendt for deres pandekager men har også aftensmad og drinks. Forvent lidt kø, sæt dig udenfor i solen og kom på en hverdag, hvis du kan.
♥ The Hoxton – hotel fra Europa der netop er åbnet med den smukkeste indretning. Her er både café, bar, rooftop og restaurant, så du kan få alle dine behov stillet.
♥ Butler's Bake Shop – ligger også lige ved broen. Her er god kaffe og smukke kager.
♥ Bakeri – nuttet, mini café med god kaffe og bagværk. Den skønneste lille gårdhave.
♥ Rooftop og bar Westlight på William Vale Hotel. Her får du den skønneste udsigt, fordi der endnu ikke er særlig mange skyskrapere i Williamsburg, så du kan se 360 grader, både over Manhattan og over Brooklyn. En sjov kontrast. Rooftoppen åbner kl. 16, og der er kø. Hvis du bestiller tid, kan du komme direkte op.
Andre steder i Brooklyn der er værd at besøge
Mange turister fokuserer kun på Manhattan i New York – en stor fejl, hvis du spørger mig. I Brooklyn bor der mere end 2,6 millioner mennesker, og her er så meget at opleve, især hvis du er ude efter en oplevelse udover den, du kan finde i de klassiske guidebøger. Her er nogle af mine yndlingssteder og restauranter i Brooklyn.
Dumbo + Brooklyn Bridge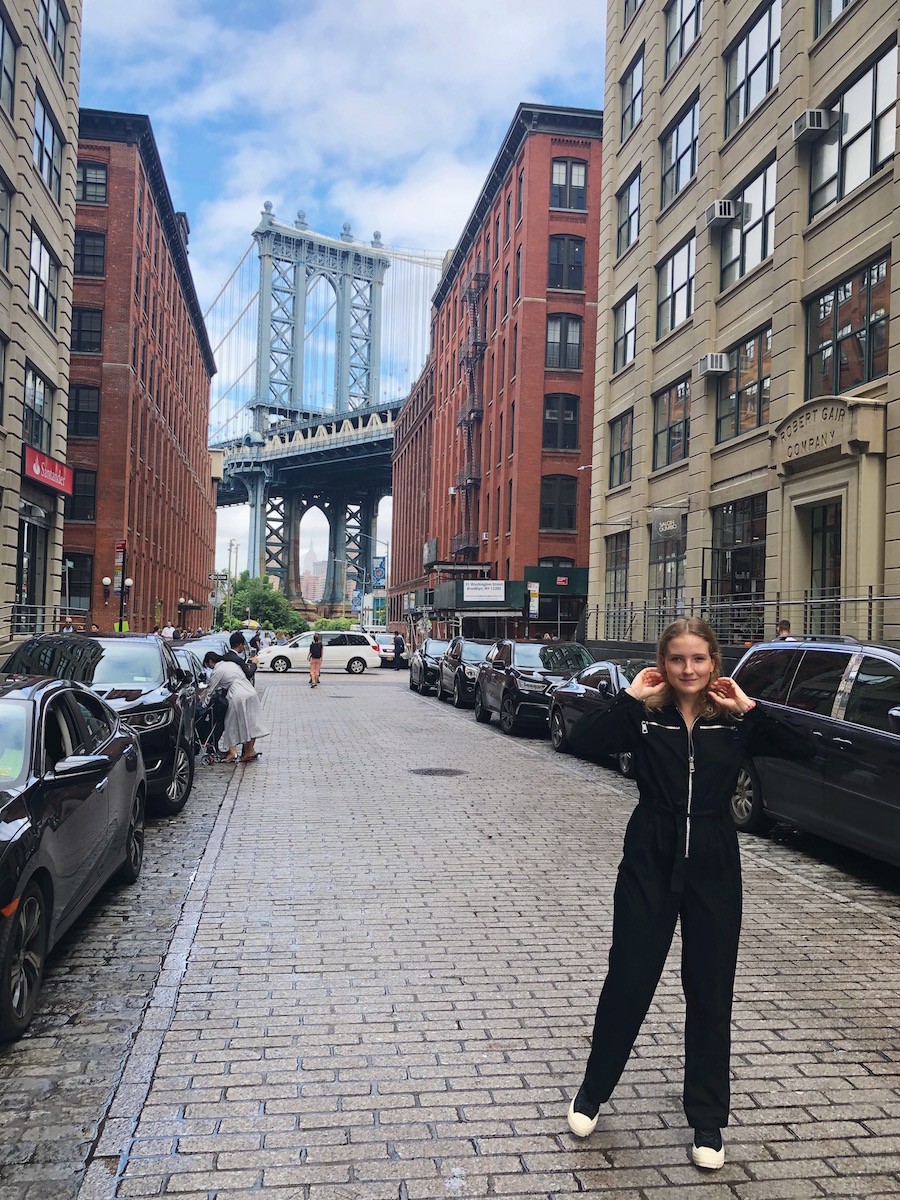 Tag NYC ferry-færgen fra Williamsburg og hop af på Brooklyn Bridge/Dumbo eller gå over Brooklyn Bridge, hvis du kommer fra Manhattan. Begge dele er et must. Dumbo plejede at være et øde, industrielt område, men nu er det hjem til nogle af de dyreste lejligheder i byen, og med den udsigt forstår man det godt. Gå til gaderne Water Street/Washington Street (og hvis du er Gossip Girl-fan, vil du kende det lige med det samme!). Se turister og bloggere skabe sig for at få det perfekte billede, og gør dem måske kunsten efter, for her er ret pænt! Tag en pause og nyd en burger fra Shake Shack – de er eminente. Hvis det er søndag og forår, sommer eller efterår, kan du gå på opdagelse på Brooklyn Flea, hvor du kan finde vintage-tøj, LP'er og andre godter.
Bed-Stuy + Dumbo + Fort Greene + Clinton Hill i Brooklyn
Ovenstående er smukke, lokale og autentiske nabolag i Brooklyn, hvor du får en fornemmelse af, at der rent faktisk bor mennesker i New York, og at det hele ikke bare er en stor turistattraktion. Her er nogle af mine yndlingsrestauranter- og caféer i de nævnte områder.
Restauranter + caféer i Brooklyn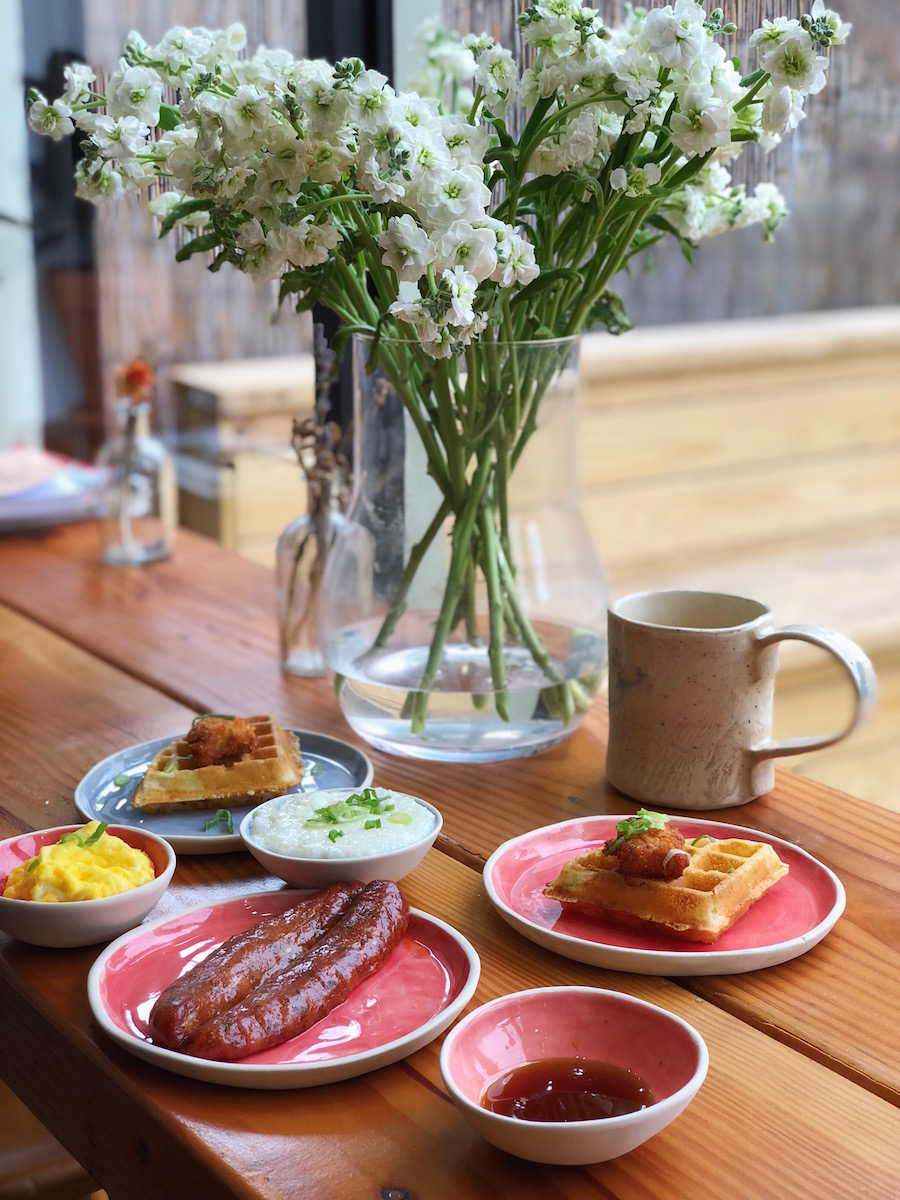 ♥ Stonefruit Espresso (Bed-Stuy) – skøn café med planter, kaffe og morgenmad- og frokosttallerkner.
♥ Golda (Bed-Stuy) – smukt indrettet, super kaffe og morgenmad. Prøv deres Egg Sandwich.
♥ Glady's (Prospect) – Michelin-anbefalet caribisk mad og god stemming. Prøv deres 'plantains', 'rice with beans', 'oxtail' and 'bok choy'.
♥ Otway (Clinton Hill) –  aftenrestaurant med god, simpel mad og smuk indretning. Du må ikke snyde dig selv for en omgang af deres 'Deviled Eggs'.
♥ The Finch (Clinton Hill) – upåklagelig Brooklyn aftenrestaurant. Og nå ja, den er Michelin-stjernet!
♥ Mettā (Fort Greene) – måske min absolute yndlingsrestaurant i Brooklyn! Den er Michelin-anbefalet og så går den lige skridtet ekstra i et forsøg på at minimere dens CO2-aftryk fuldstændig. Sid i baren, så du kan se kokkene brillere i det åbne køkken, hvor al maden bliver lavet på brændebåls-ovne. Menuen er grøntsagsbaseret, men du kan også få kød, og så skifter den efter sæson og råvarer.
Shopping in Brooklyn
♥ Marshalls og Century 21 – er du til dels taget til New York for at shoppe amok? Så skal du besøge disse to kæder! De opkøber tøj fra andre butikkers udsalg og sælge det til latterligt lave priser. Du kan være heldig og finde dyre mærker til næsten ingen penge, men det kræver, at du har tålmodighed til at lede. Find sportstøj fra Nike, sokker fra Missoni, skjorter fra Ralph Lauren og lækre skønhedsprodukter. Mit 'hemmelige' trick for at undgå andre turister, stress og jag, er at besøge Century 21 på adressen 445 Albee Square W, Brooklyn, og Marshalls ved 626 Atlantic Ave, Brooklyn eller den nyåbnede ved One World Trade Center.
To do + sights i Brooklyn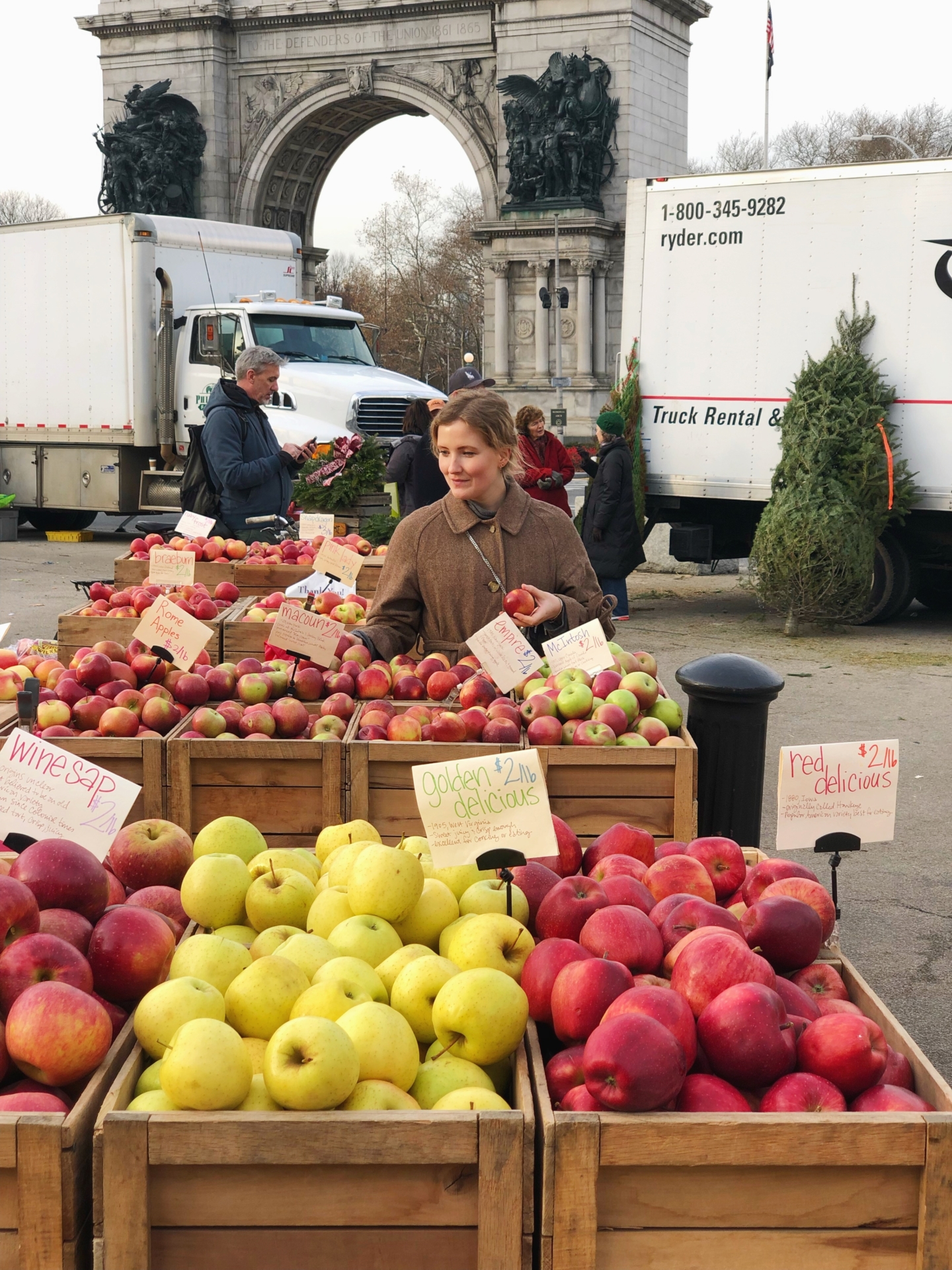 ♥ Prospect Park – gå en tur i den kæmpe, smukke Prospect Park, der er Brooklyns svar på Central Park, dog i en mere lokal udgave. Hver lørdag er der 'Farmer's Market' foran parken, hvor du kan købe æbler og andre godter fra farmere fra New York State.
♥ Brooklyn Museum – lige ved siden af Prospect Park ligger Brooklyn Museum, der er en fed oplevelse, hvis du er kunstinteresseret. Museet opfordrer til, at du selv vurderer, hvad du vil betale i indgang, så du er ikke tvunget til at lægge $25, som andre NYC-museer kræver.
Soho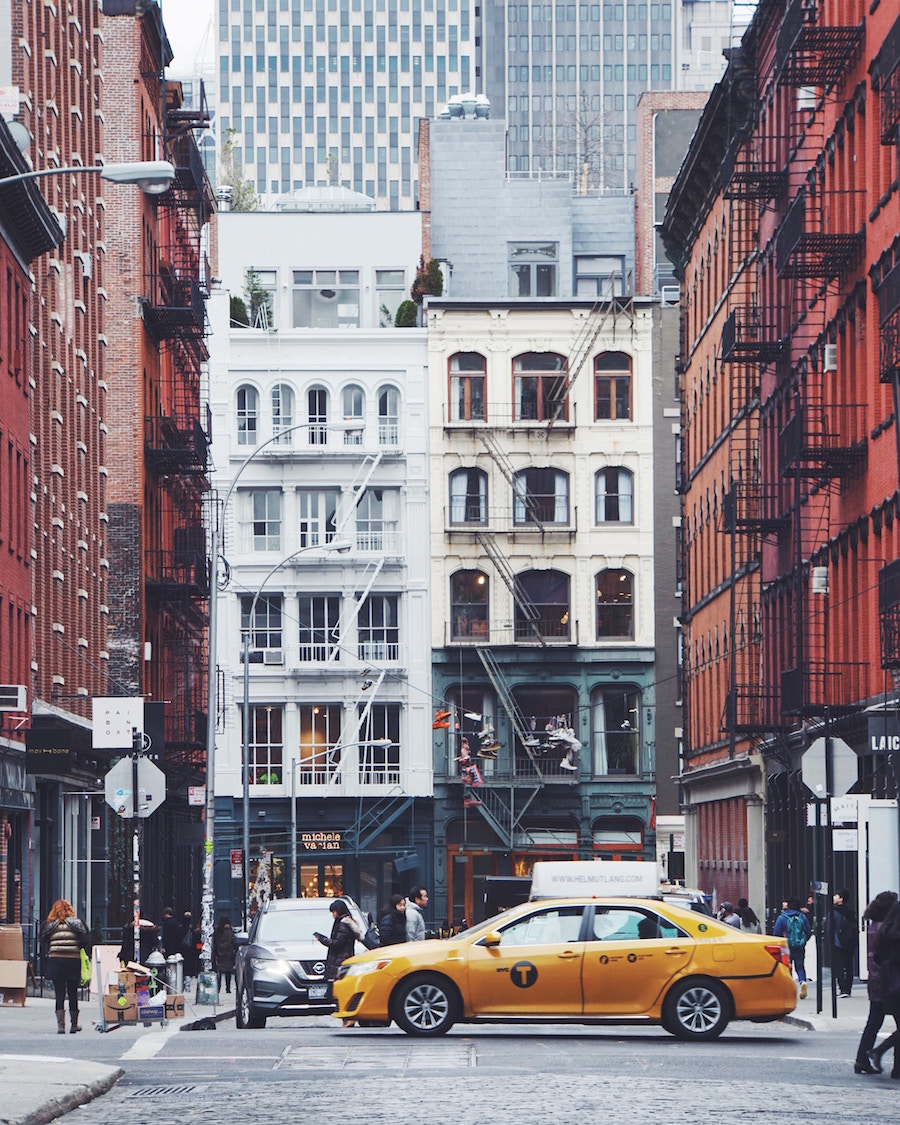 Så er vi nået til Manhattan, hvor Soho er et af mine yndlingsområder. Når jeg lukker øjnene og forestiller mig New York, så ser jeg en Soho-gade for mig. Det er et klassisk NYC område med de specielle stål-bygninger, brostens-gader, 'fire escapes' og ultimativ shopping! Så husk din pung for, "get in loser, we're going shopping!" (Mean Girls reference, hvis du ikke lige fangede den) 😉
Shopping in Soho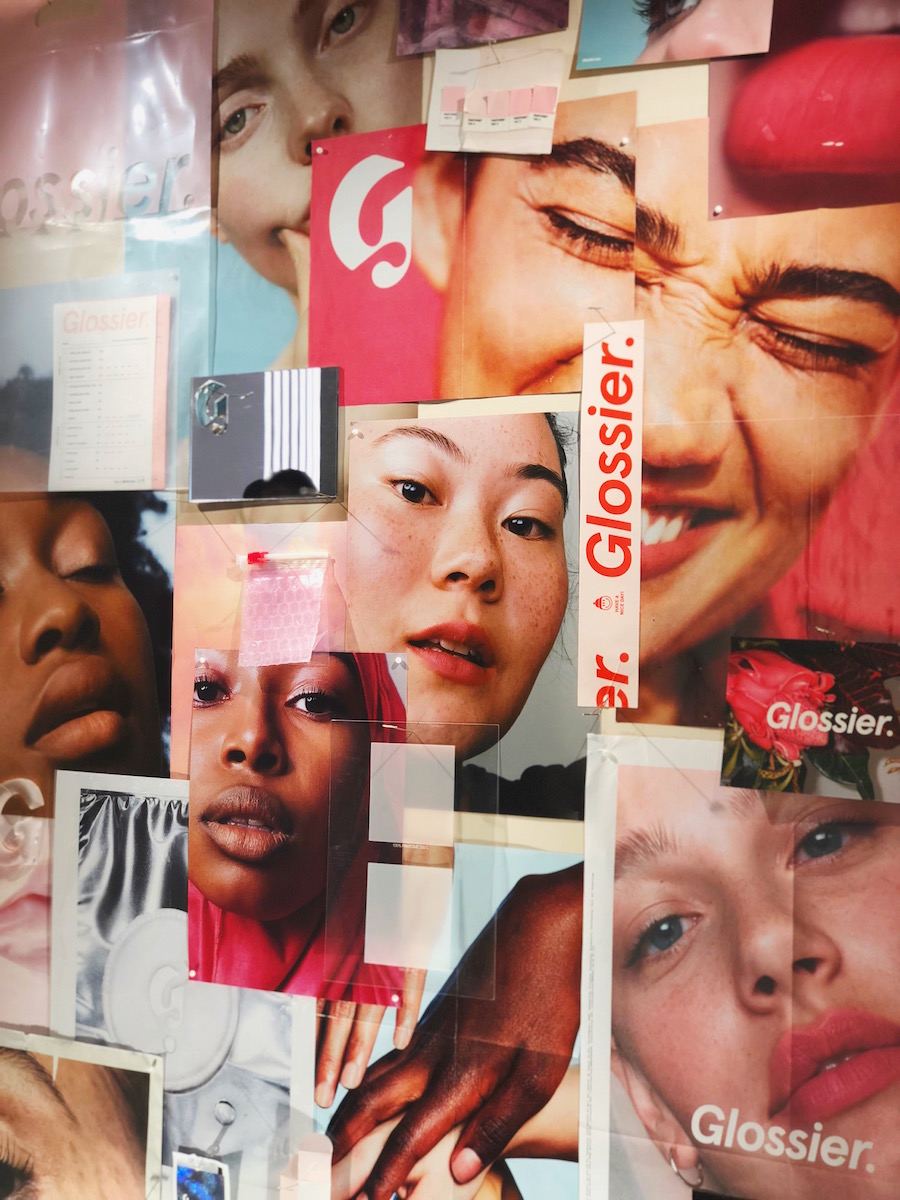 ♥ Du finder et hav af seje butikker i Soho, som vi slet ikke har i Danmark såsom Glossier, Mansur Gavriel og Everlane. Dem har jeg skrevet en udførlig guide til her.
♥ Kith – den ultimative sneaker og street-wear butik.
♥ Broadway – (en af) hoved-shoppinggaderne i NYC. Her finder du Uniqlo, Zara, H&M, Urban Outfitters – alle high street-kæder, og der er rig mulighed for at gå shop-amok.
Restaurants + cafes in Soho
♥ The Butcher's Daughter – Instagram spot nummer et. De serverer en mean avocado toast.
♥ Black Seed Bagels – de bedste bagels i New York, hvis du spørger mig. De bliver bagt i bagelforretningen på bål og ligger på en af de hyggeligste gader i Nolita, Elizabeth Street, et lille område ved siden af Soho.
♥ Jack's Wife Freda – israelsk/amerikansk brunch-all-day-café. Hypet på Instagram, så forvent lidt kø, men det er det værd, for du får skøn mad og bottomless kaffe serveret i pæne omgivelser.
♥ Two Hands – australsk brunch spot med stærkt ægge-avocado-kaffe-game. En perfekt kombination! Snyd ikke dig selv for deres banana bread med espresso mascarpone.
West Village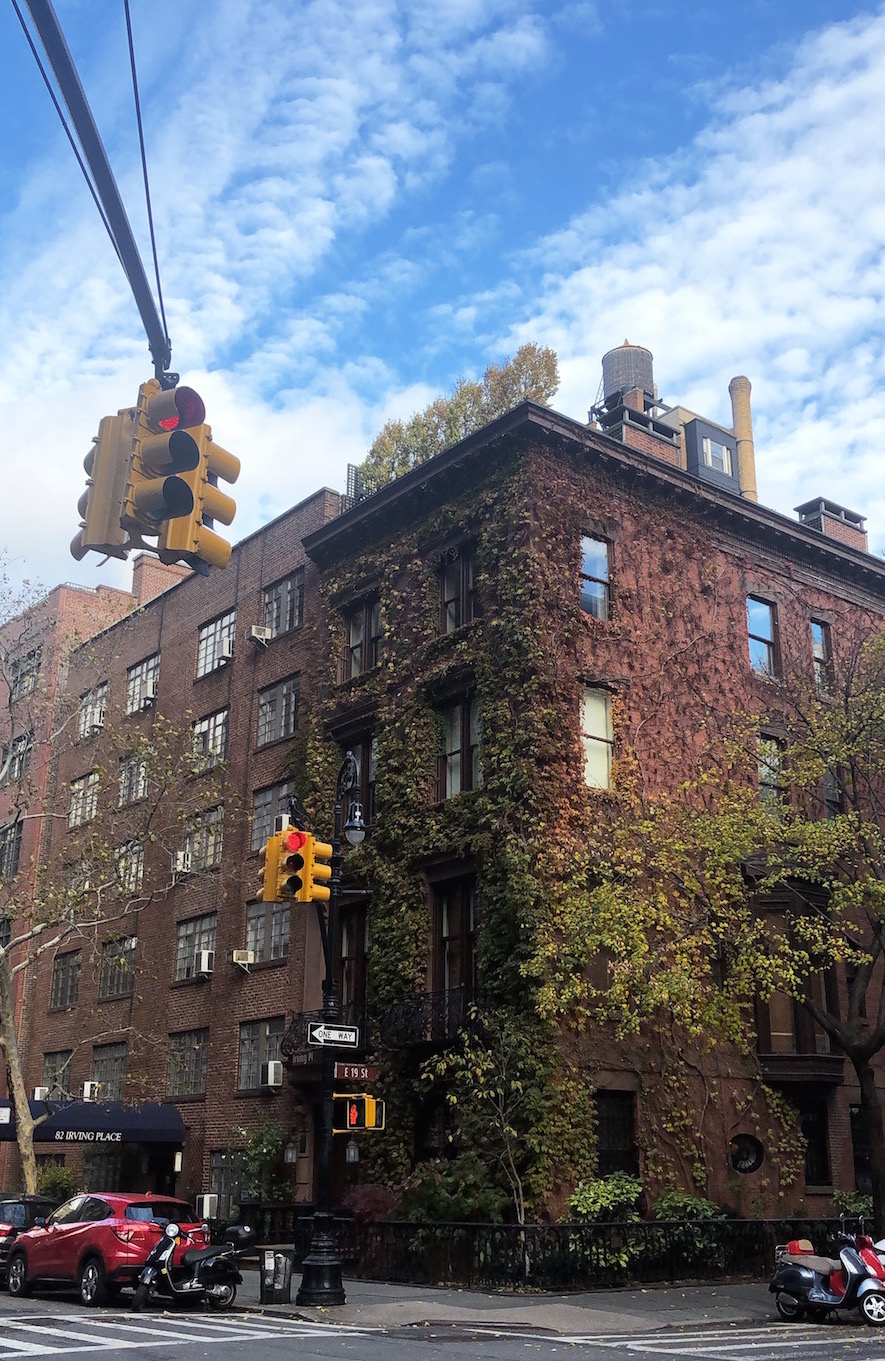 West Village er, ulig de andre områder på Manhattan, ikke offer for 'grid systemet' med de nummererede, lige gader og avenues. I stedet har gaderne navne og er små og skæve og lidt svære at navigere. West Village er New Yorks charmerende område med de smukkeste townhouses, og her kan man godt gå og savle lidt over, og drømme om, at man var ejer af sådan et hus (fun fact: det er Sarah Jessica Parker – og hvem ved, måske er du heldig at rende ind i hende?). Ikke nok med at hun bor her, så findes der også en håndfuld Sex and the City spots i West Village – læs om dem nedenfor.
Shopping i West Village
♥ Bleecker Street – den ultimative shoppe-gade i West Village. Gaden hvor det ikoniske Magnolia Bakery der serverer cupcakes ligger (hvis det ringer en klokke, så er det her, Carrie og Miranda spiser cupcakes i Sex and the City). Gå en tur ned langs Bleecker Street med en cupcake i hånden. Besøg blandt andet Marc Jacobs' bogforretning, Bookmarc og The Daily Edited der laver de fineste rejseaccessories med initialer på.
To do + sights i West Village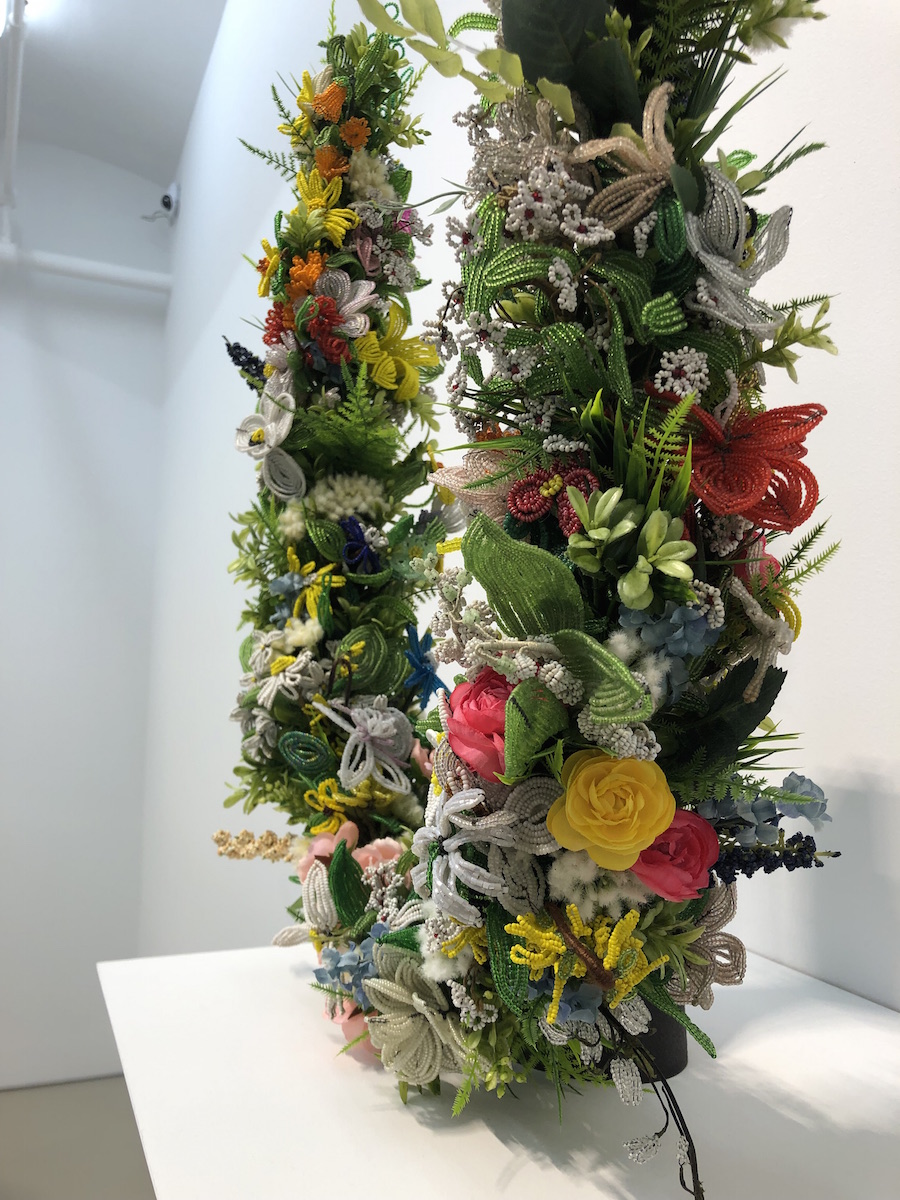 Et par af de nedenstående attraktioner ligger teknisk set ikke i West Village, men i de nærliggende nabolag. Men for at give et bedre overblik har jeg samlet dem her.
♥ The High Line – et tidligere togspor er blevet lavet til en park. Her går du mellem bygningerne, og det er en ret speciel oplevelse. Oplagt hvis du har brug for en kort pause fra storbyens stress og jag.
♥ Whitney Museum of American Art – lige ved siden af the High Line ligger the Whitney, som det bliver kaldt – et museum der udelukkende udstiller amerikansk kunst. Tag elevatoren op til den øverste etage, nyd udsigten fra museets rooftop og gennemgå hver etage oppefra og ned. Her er fantastiske udstillinger med kendte og mindre kendte amerikanske kunstnere såsom Andy Warhol og Basquiat.
♥ Carrie Bradshaws lejlighed – ja, ikke nok med, at Sarah Jessica Parker bor her i virkeligheden, så ligger den kendte lejlighedsbygning fra serien her også. På 64 Perry Street kan du opleve lejligheden og måske forevige det på et billede. Et must for enhver SATC-fan.
♥ Gallery hopping i Chelsea – Gå på The High Line og tag trappenedgangen ved 18th Street , hvor gallerierne ligger side om side på gaderne mellem W18th Street og W27th Street mellem 9th og 12th Avenue. Er du glad for kunst, er dette 'the place to be', og har du ikke overskud på bankkontoen til at opleve nogle af de dyre NYC-museer, kan du opleve det hele gratis på gallerierne. Besøg for eksempel David Zwirner, der tidligere har udstillet Yayoi Kusama og Gagosian.
♥ Washington Square Park – et ikonisk NYC spot. En lille park med en smuk bue, hvor det er oplagt, at du køber en kop to-go-kaffe og sætter dig ned på en bænk. Nyd kaffen og gør dig klar til en omgang seriøs 'people-watching'. Her finder du nemlig et hav af NYC-personligheder fra NYU-studerende til gademusikere og kunstnere, og ældre herrer der kæmper om titlen som vinder i et spil skak.
♥ Meatpacking District – Samanthas hjem i SATC og et festligt område med gode butikker, restauranter og ikoniske brosten-gader.
Chinatown
Syd for Soho og West Village ligger Chinatown. Her føler du pludselig, at du befinder dig i Kina – i hvert fald ikke længere i NYC. Og hvis du vil have det endnu mere asiatisk-autentisk, skal du en tur til Flushing i Queens, men det kan du måske gemme til næste gang du kommer til New York. Et par timer i Chinatown er perfekt for første-gang i New York. Sæt et par timer af til at vandre rundt og snuse alle indtrykkene ind.
Shopping i Chinatown
♥ Canal Street – Chinatowns 'hovedgade'. Gå indenfor i enhver farverig, plastik-fyldt Chinatown-butik du ser. Her gemmer sig guld. Find seje sko med kinesisk broderi, silkekjoler, yndige notesbøger, koreanske skønhedsprodukter og ting til dit hjem i lyserødt plastik.
Restauranter + caféer i Chinatown
♥ Deluxe Green Bo – en vaskeægte Chinatown restaurant med kinesiske tjenere, "lækkert" lystofrørs-lys og en kæmpe menu med mad til uhyggeligt lave priser. En autentisk oplevelse – prøv deres soup dumplings, scalion pancakes, Generla Tschao chicken og Chow fun noodles. Det bliver en restaurant-oplevelse, du sent vil glemme! Husk: cash only.
♥ Taiyaki – den sejeste is!
Lower East Side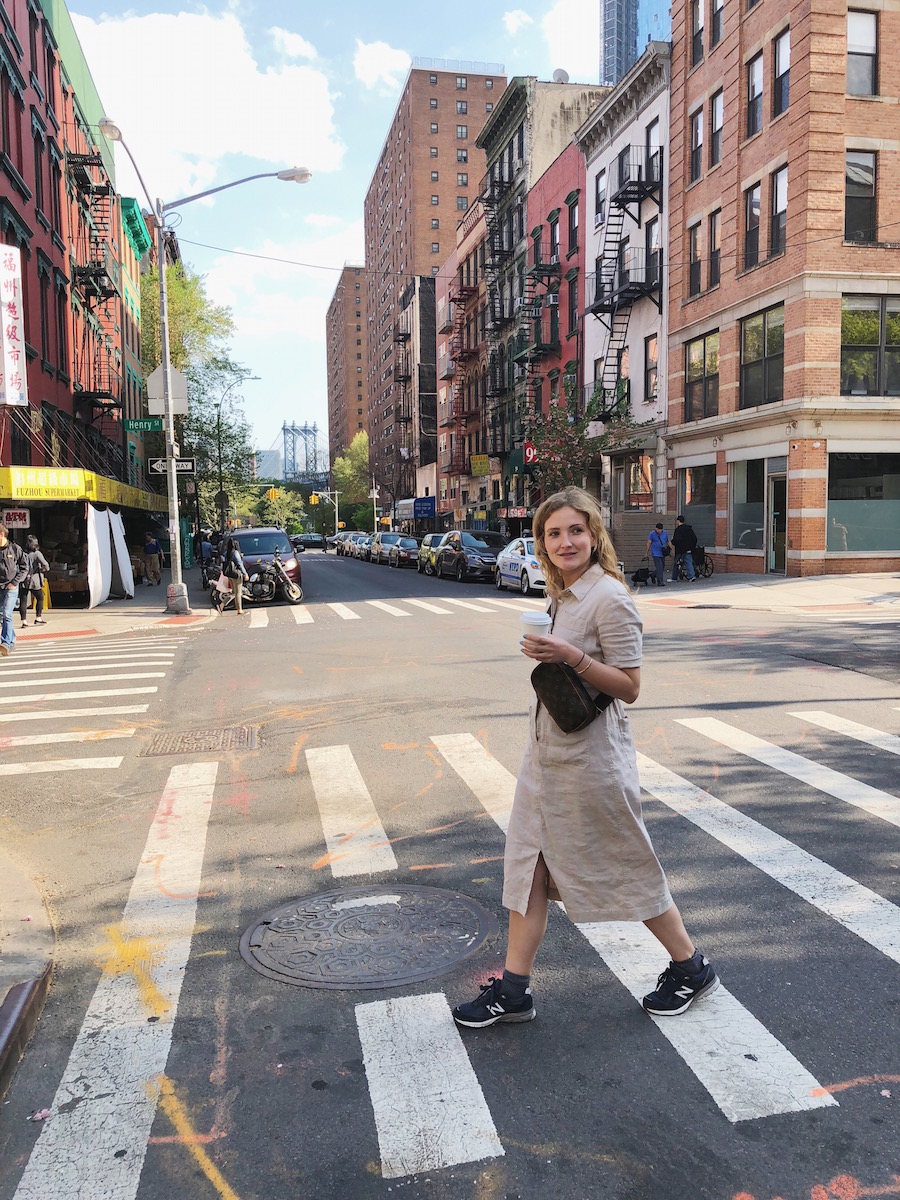 Beskidt på den fede måde, hipster og et skønt mix af alle mulige kulturer og mennesker. Lower East Side, Loisaida (som det populært bliver kaldt af den 'hispanic' befolkning eller bare forkortelsen LES. Mens Soho er den pæne storesøster med rene negle, er Lower East Side hendes sjove ballademager af en lillesøster. Her er urbant, seje, selvstændige butikker, fede restauranter og god inspiration, når det kommer til mode. Her kan du helt sikkert falde over folk i vilde outfits!
Shopping i Lower East Side
♥ Frankie Shop – er du vild med mode, så er Frankie Shop lige noget for dig! Flot tøj og et miks af vintage og seje, ukendte mærker fra hele verden.
♥ Chillhouse – den fineste one-stop-shop for alt self-care. Ny den pause og bestil en gurkemeje- eller matcha-latte. Gå ombord i udvalget af lækre self-care produkter eller gå all in og få en manicure, pedicure eller massage i Chillhouses lækre omgivelser.
Restauranter + caféer i Lower East Side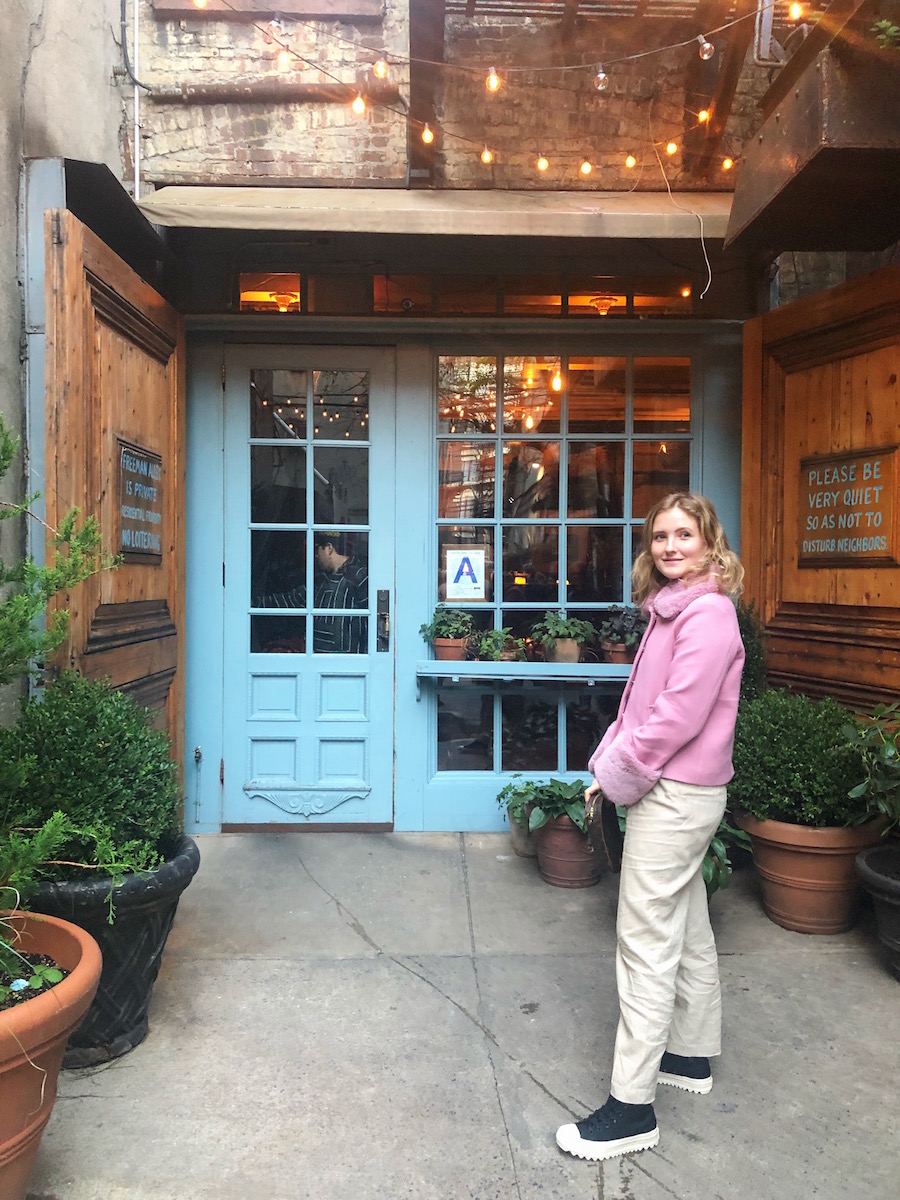 ♥ Freemans – fantastisk restaurant i et hus gemt bag den yndigste gyde, der hedder Freeman Alley. Klart en skjult perle, og når du har spist middag, så gå ovenpå og få en drink i speakeasy-baren på første sal.
♥ Una Pizza Napoletana – nogle kalder de NYCs bedste pizza – besøg, smag og bedøm selv, om restauranten er værdig til den titel.
♥ Supermoon Bakehouse – et seriøst bageri med vildt bagværk. Prøv deres smukke croissanter, der er fyldt med alt muligt lækkert.
♥ Wildair – naturvin og lækre, små retter der er oplagte til at dele. Mere hipt bliver det ikke!
♥ The Flower Shop – moderne, amerikansk mad og meget Lower East Side-agtigt. Det kan anbefales at reservere bord.
To do + sights i Lower East Side
♥ Tenement Museum – oplev New York i 1920'erne. I en velholdt lejlighedsbygning ligger Tenement Museum, der er et slags 'live museum'. På museets hjemmeside bestiller du en rundvisning, og du vælger selv hvilken slags rundvisning du vil have. Her kan du vælge en håndfuld forskellige oplevelser, hvor du vil se skuespillere genopføre New York i 1920'erne, fra den lille pige, der holder lejlighed, til fabriksarbejderen, der knokler. New Yorks svar på Frilandsmuseet – en fantastisk oplevelse!
Andre steder der er absolut 'must see' i NYC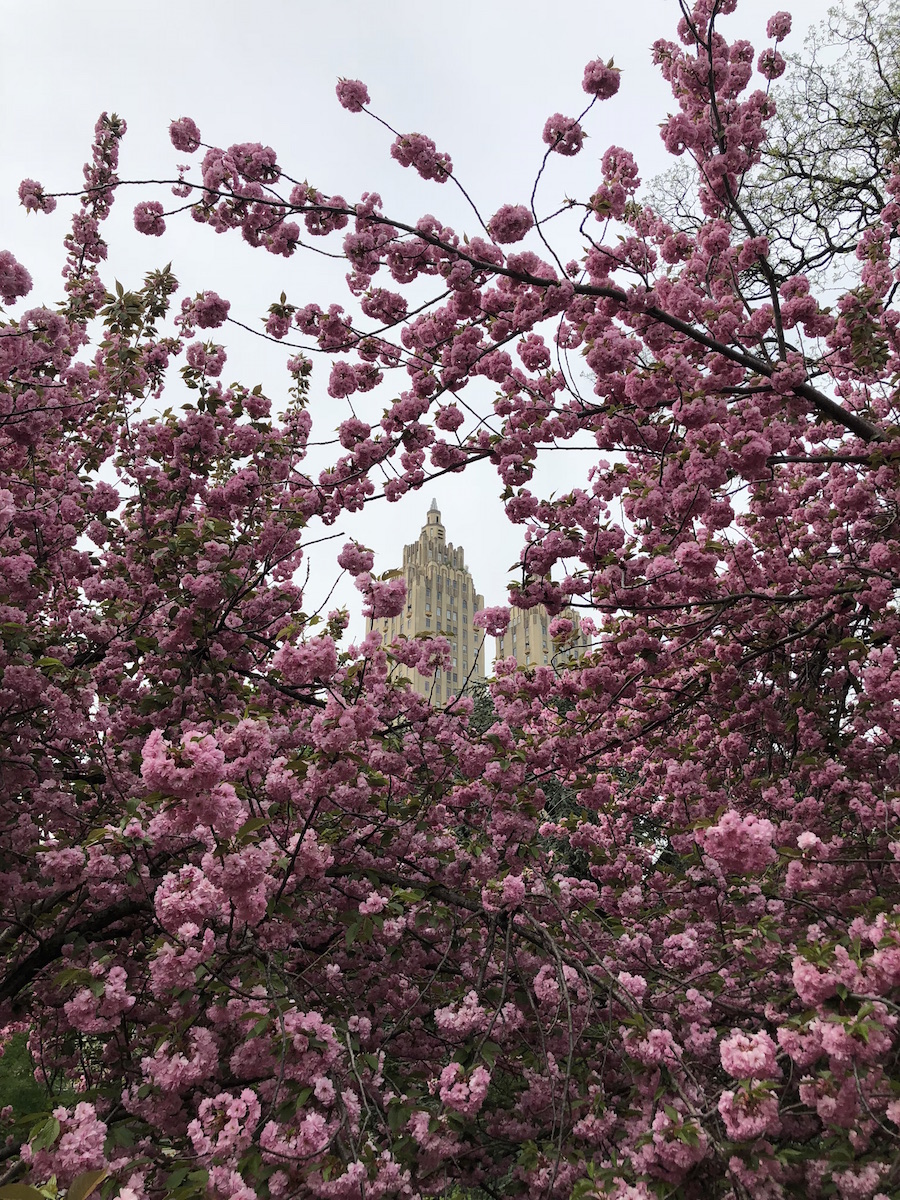 ♥ Central Park – man tager ikke til NYC uden at gå en tur i Central Park. Der er så mange steder at se i denne park, fra Strawberry Fields, John Lennons mindemærke til den yndige Ladies Pavillon ved søen, eller skøjtebanen om vinteren og en gåtur rundt om The Onassis Reservoir (der hvor Charlotte altid løbetræner i SATC).
♥ Fifth Avenue – shopping, shopping og atter shopping.

♥ Flatiron – også kendt som Strygejernet på dansk. Måske den sejeste bygning i NYC?
♥ Staten Island Ferry – mit personlige yndlings-turist-hack i NYC. Tag subwayen til Whitehall St, gå et minut og ankom til Staten Island Færgen. Hop ombord på den – det er gratis, og turen tager 20 minutter. Her får du fantastisk udsigt over Manhattans skyline og broerne til Brooklyn samt Frihedsgudinden. Og når du så er ankommet til Staten Island, får du bonussen, at du skal tilbage igen og kan nyde de 20 minutter med skøn udsigt retur.
♥ Museer: The Met, Guggenheim, MoMa, The Museum of National History. NYC er spækket med gode museer – vælg din favorit at besøge. Der kan være lange køer og indgangen er dyr, så det er om at vælge med omhu.
♥ Roosevelt Island – hvis du har ekstra tid eller føler dig sulten efter en speciel oplevelse, så skal du besøge Roosevelt Island, den baguette-formede ø, der ligger mellem Manhattan og Queens. For at komme herud tager du en kabinelift fra 60th Street på Upper East Side. Turen koster det samme som en tur med subwayen. På Roosevelt Island skal du gå ned til spidsen af øen og se Four Freedom's Park. Du kan endda medbringe lidt snacks og lave en picnic herude. En meget speciel oplevelse!
♥ Great Northern Food Hall på Grand Central Station – Gå i Serena Van der Woodsen fra Gossip Girls fodspor og oplev Grand Central Station. Besøg derfor Claus Meyers' Great Northern Food Hall. Min kæreste griner, for hvorfor vil danskere tage til New York for at spise Claus Meyer rugbrød? Jeg prøver at forklare ham, at vi vel har en stærk nationalfølelse, og at maden ikke er heeeeelt det samme som i DK. Nonetheless, Grand Central er fantastisk og Claus Meyers madhal er altså ret sej. Udvalget af danske specialiteter er stort her. Deres kaffe er også god. Klart et besøg værd.
Jeg håber, du er kommet helskindet igennem min lange NYC-guide, og at du kan bruge den. Hvis ikke, så gem den til en anden god gang og tag den med dig, når du skal til New York. Her håber jeg, at den bliver guld værd! ♥