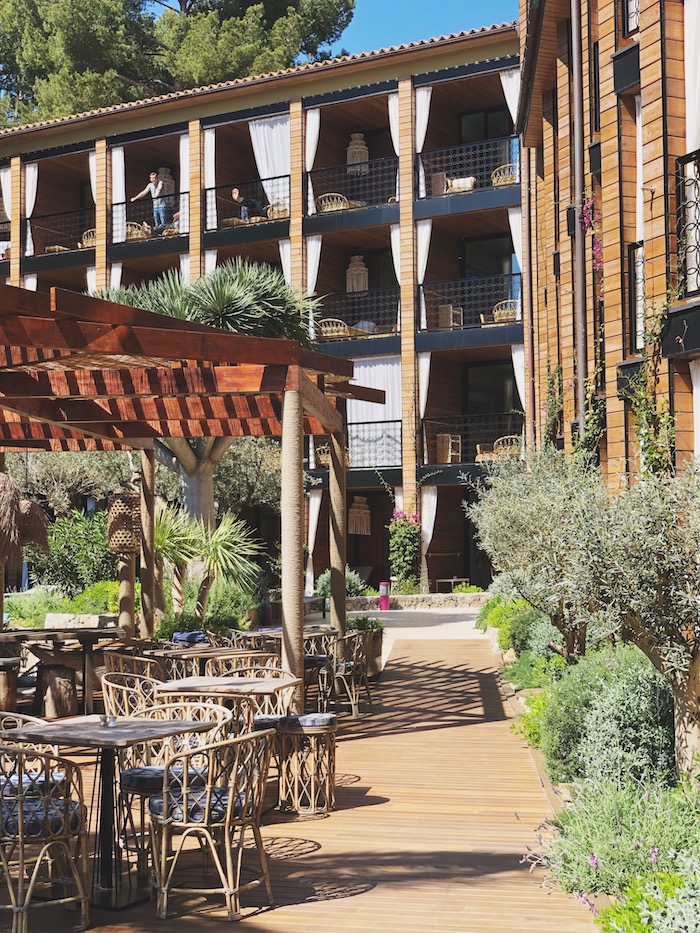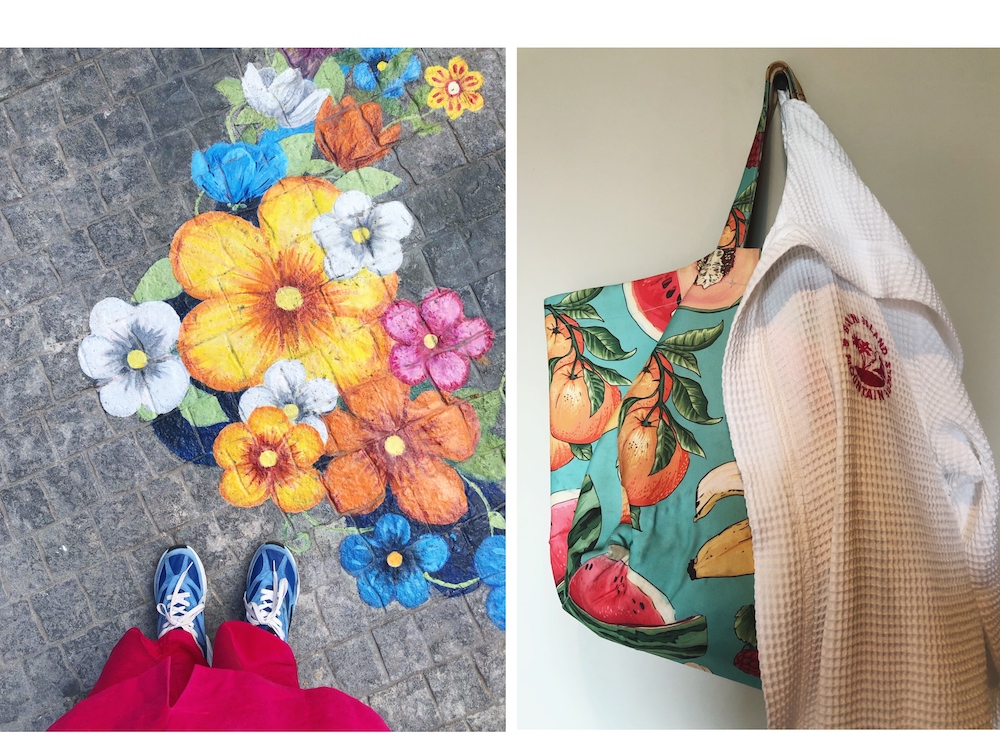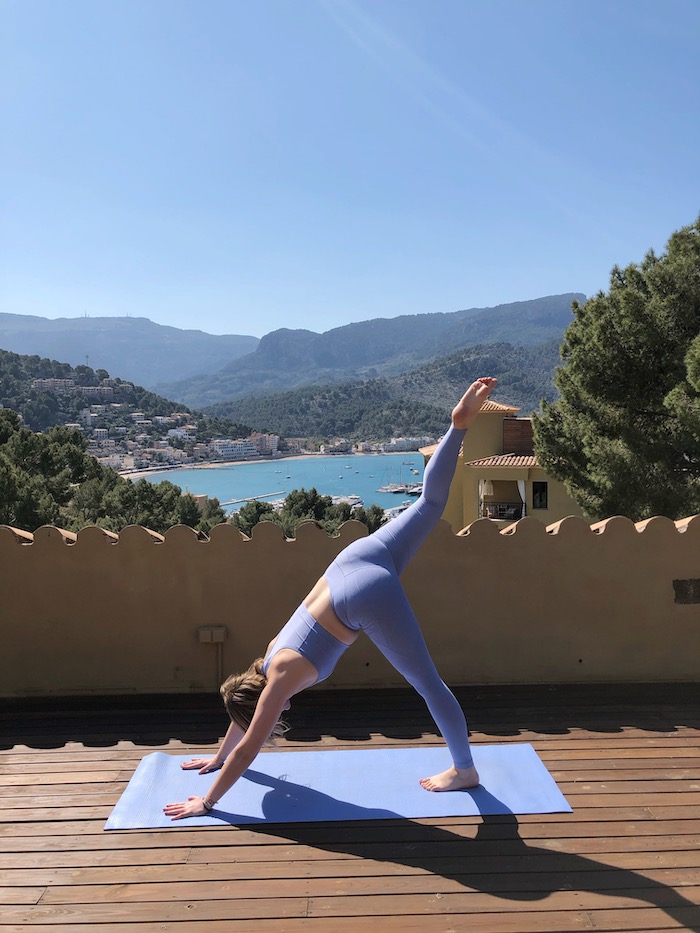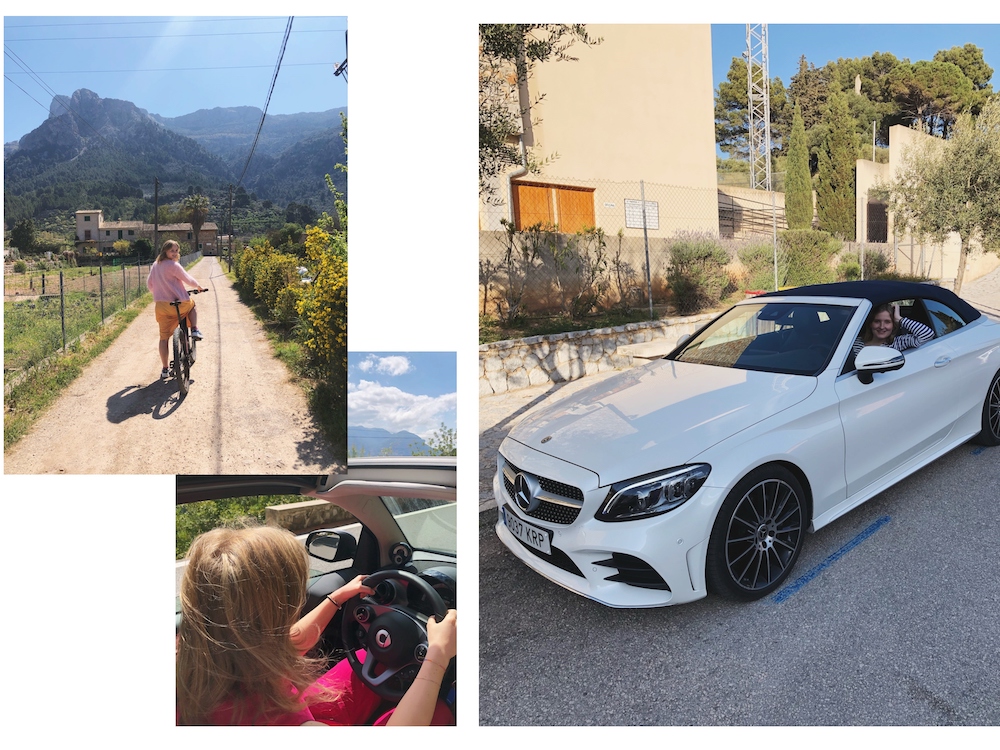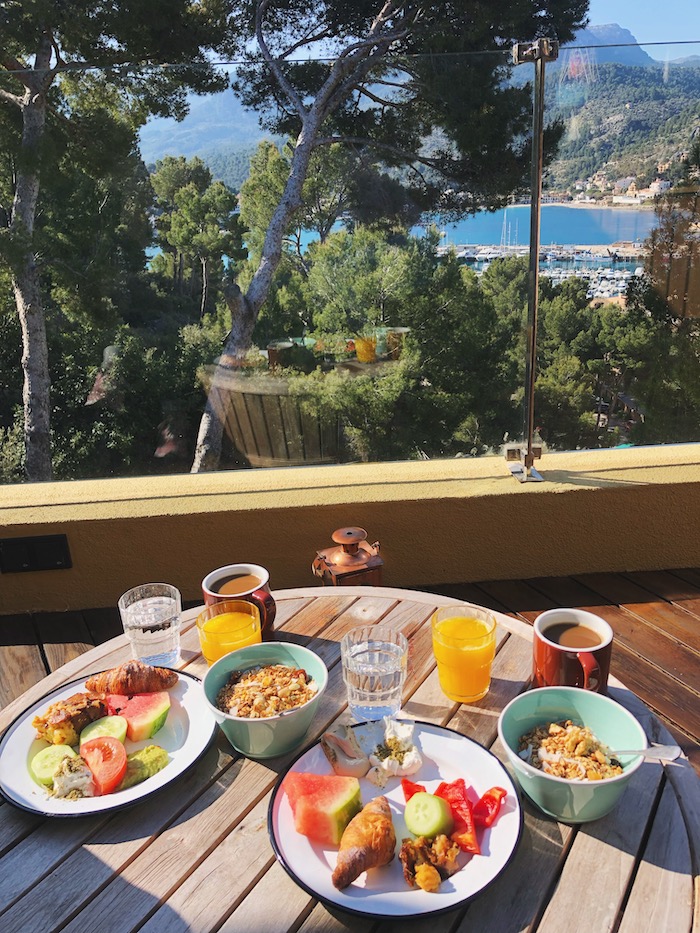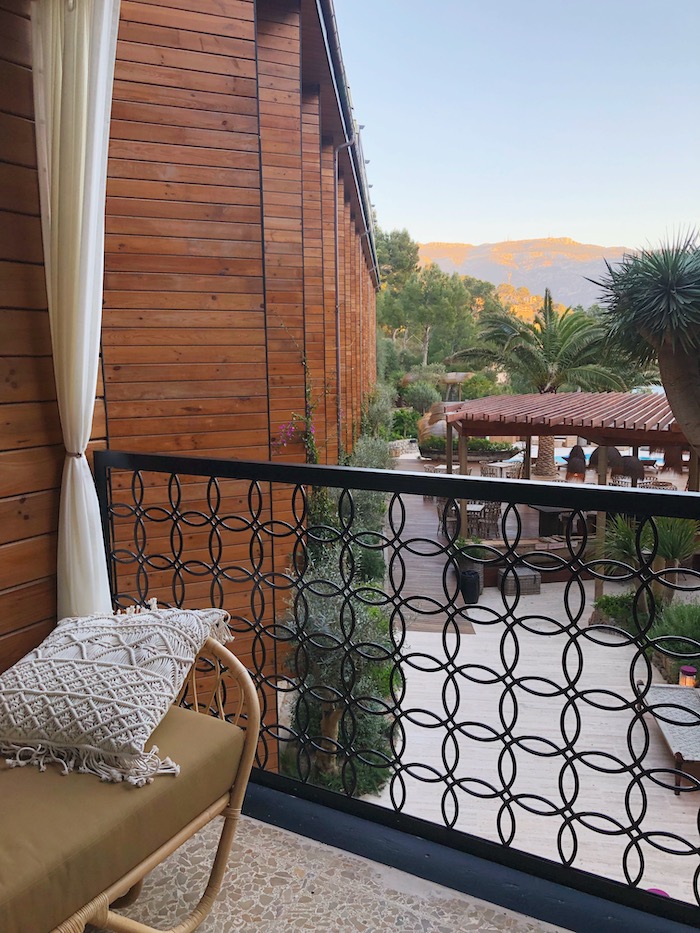 Ad: The stay was gifted by Bikini Island and Mountain Hotel.
Danish version below.



At the end of March, I jumped on a plane leaving grey skies and rain in Denmark, heading for sun, sangria, and tapas in Mallorca in the company of my best friend. Upon landing, we took a car from Palma Airport to Port de Sóller where wonderful Bikini Island is located, and to our big surprise, we found out that end-March beginning of April is the orange season in Mallorca. More about that later.
I had been head over heels excited for my trip to the Bikini Island and Mountain Hotel. Partly because I love Mallorca, and partly because I've previously worked with the people behind Bikini Island at their hotel in Hamburg, and seeing pictures of the newly opened hotel in Mallorca, I knew it would be amazing.
And it was. We spent five nights at Bikini Island, and I don't even know where to begin when explaining how lovely it was. Let me see; the view over the ocean, Port de Sóller, and mountains. The interior design of the hotel, setting the perfect holiday mood. The huge breakfast buffet containing everything from buttery croissants, great coffee, Mallorcan specialties, and freshly squeezed orange juice. The cozy rooms with a private balcony and soft duvets that invite to a good night's sleep.
And that's just the hotel itself. But besides from setting the best scene for your stay in Mallorca, Bikini Island also has plenty of amenities that will make the trip even more memorable. There is a great pool with lovely sunbeds that work great for chilling and taking the time to breathe and relax. The beach is a short walk away as well as plenty of restaurants and cafes. The hotel offers complimentary yoga on the rooftop twice a week. We did yoga, and the teacher was great and the rooftop view for yoga was to die for. There is also an outdoor gym with everything you need to stay in shape. And as the icing on the cake; Bikini Island provides free bikes, e-bikes, stand-up-paddle boards, AND cars; a SMART car and a Mercedes cabriolet that you can take out for four hours at a time, free of charge. It almost sounds like it's too good to be true (insert emoji with heart-shaped eyes).
We took advantage of almost all amenities. We took the e-bikes out on a bike trip to a gorgeous organic orange and lemon farm. Spent a quiet afternoon by the pool with a good book. Drove the SMART and the cabriolet for excursions around the island once a day. Attended two lovely yoga classes. Did a HIIT workout at the rooftop gym. Stayed in, enjoying chill time in our room and balcony. Had delicious breakfast at the hotel restaurant Neni every morning, and also enjoyed a lovely Israeli dinner at Neni. Watched the mesmerizing sunset on a view spot right next to the hotel. Ah, thinking back on all these memories, I am ready to board the next flight to Palma.
But before I do that, I'll stick with the great memories and keep my fingers crossed that I'll be back sooner than later. I am working on a small guide with five things to not miss if you're staying in the area.
Life is, in fact, better in bikini. You should try it!
PS. Pro tip – if you can't make it a hotel stay at Bikini Island and Mountain Hotel, you can always book a table at their restaurant, Neni, to get a taste of all the loveliness offered.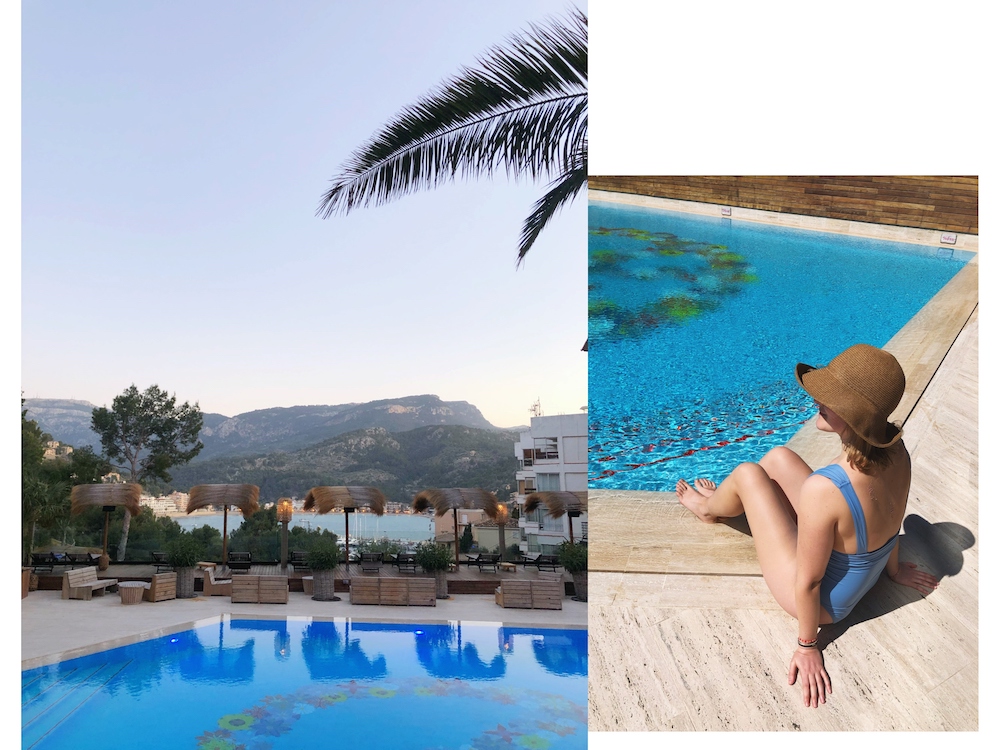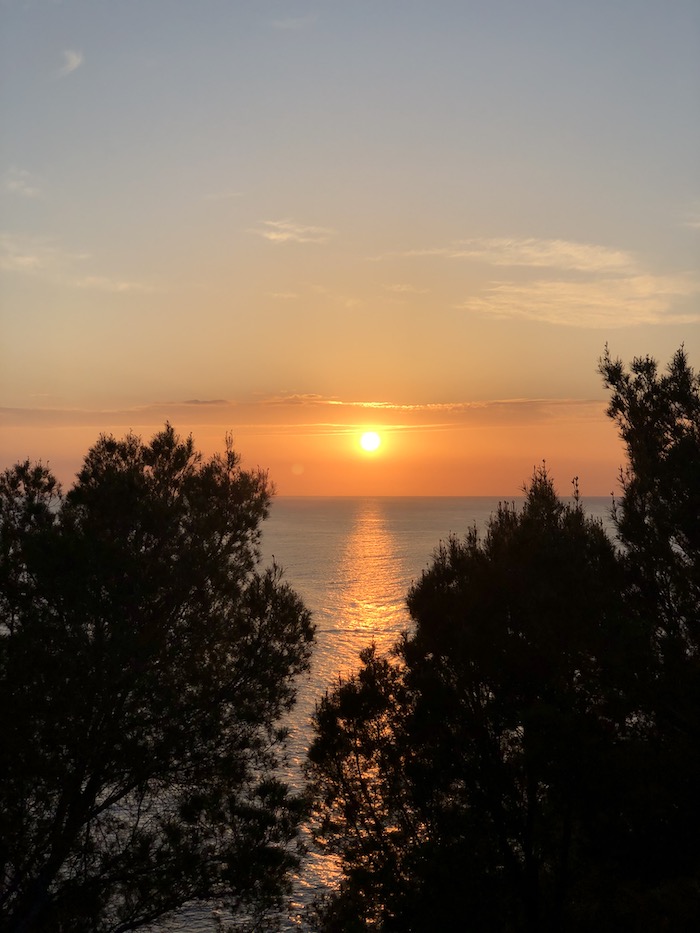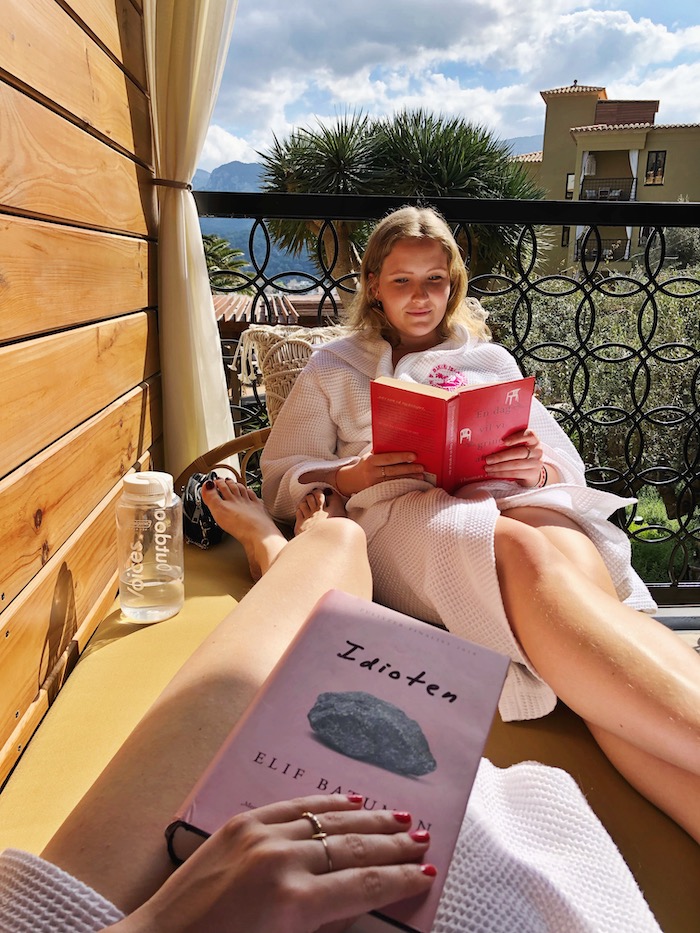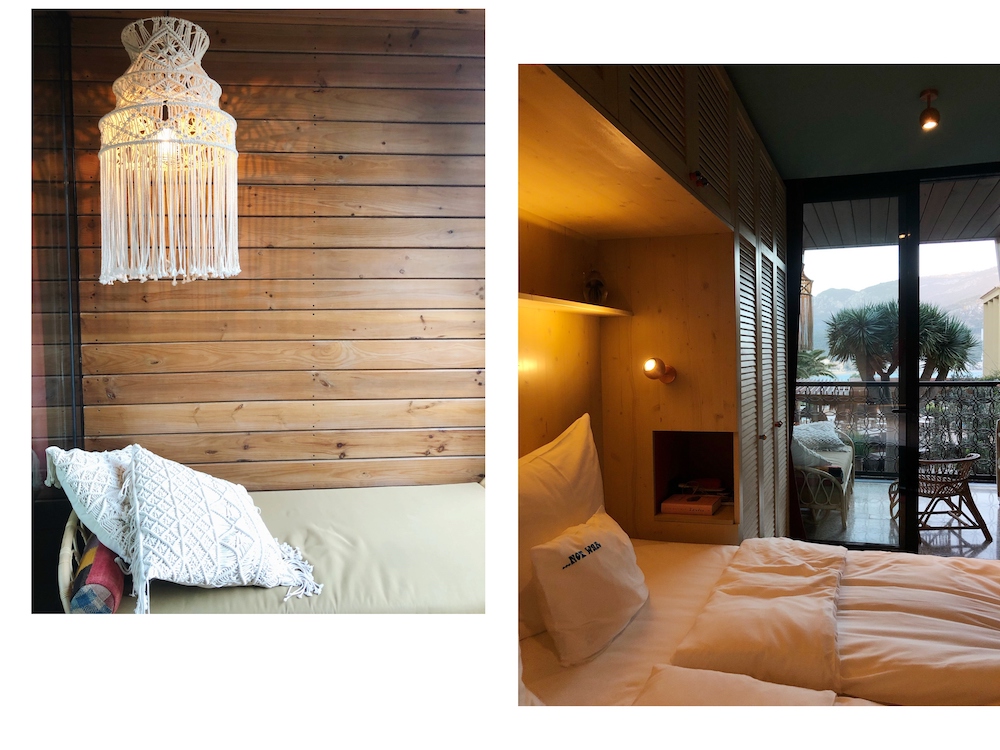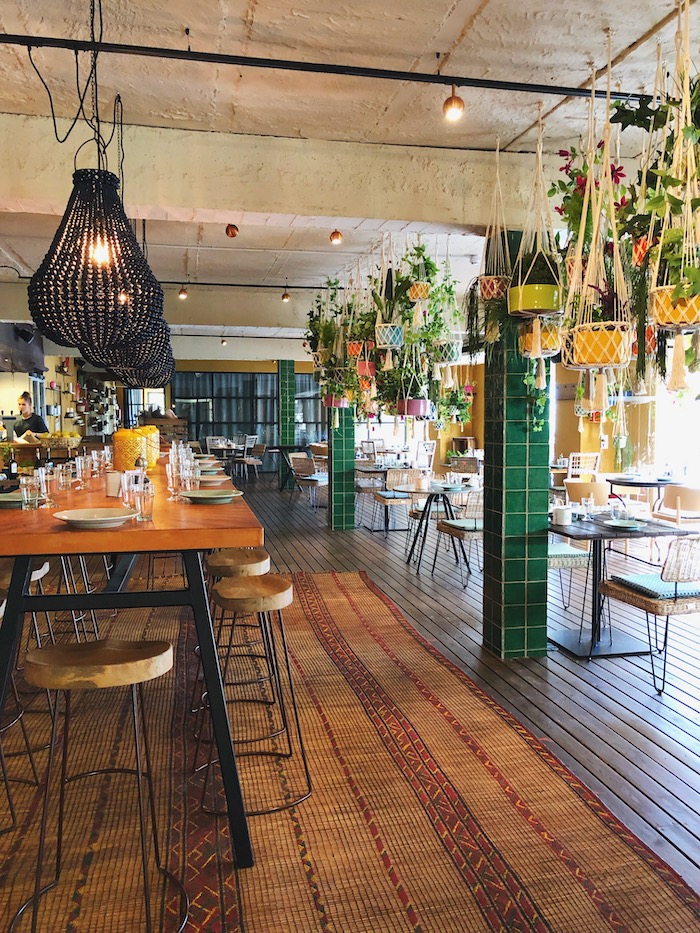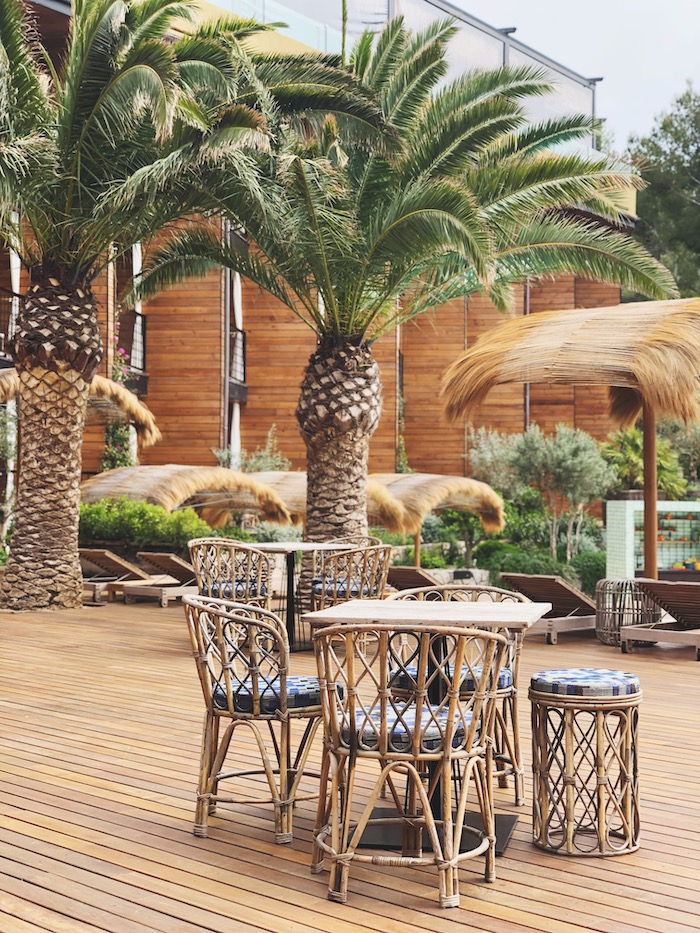 Det skønneste hotel på Mallorca
I slutningen af marts hoppede jeg på et fly med min bedste veninde i hånden og forlod gråvejr og regn i DK med snuden mod sol, sjov og sangria på Mallorca. Da vi landede, tog vi en taxa fra Palma lufthavn cirka 40 minutters kørsel til Port de Sóller med Bikini Island and Mountain Hotel som endedestination. Til vores overraskelse, fandt vi ud af den gode timing, at vi havde ramt Mallorca netop som appelsinsæsonen var skudt i gang.
Jeg havde glædet mig som en sindssyg til denne tur. Delvist fordi at jeg holder meget af Mallorca, og også fordi det var perfekt timing at swappe evig marts-regn, gråvejr og eksamensskrivning med et par dages afslapning og solskin. Derudover, fordi jeg var så spændt på at opleve Bikini Island and Mountain Resort, som så helt fantastisk ud. Jeg har allerede stiftet bekendtskab med hotellets søster, 25h Hotel i Hamburg, som jeg besøgte for nogle år siden. Desuden er jeg stor fan af hotellet i Berlin, der har en formidabel rooftop-bar og restaurant med udsigt over Berlins zoologiske have. Jeg havde derfor høje forventninger til Bikini Island.
Og dem fik jeg mere end indfriet! Vi havde fem nætter på Bikini Island, hvilket viste sig at være det helt perfekte antal. Og hvordan får jeg så ned på ord præcist hvor godt, vi havde det? Lad mig se… fra hotellets udsigt over bugten, Port de Sóller havet og bjergene. Hotellets fine indretning i med strå og rattan, der satte prikken over iet og gav den helt rigtige ferie-ø-stemning. Den overdrevne morgenmadsbuffet med friskpresset appelsinjuice, kaffe (og havremælk!!!), mallorcanske specialiteter og smør-bløde croissanter. Det hyggelige hotelværelse med bløde, skønne dyner og en smuk, privat altan, der da også havde havudsigt.
Og det var bare selve hotellet og rammen for den gode ferie. Så var der også alle aktiviteterne, som Bikini Island inviterede på, der var med til at gøre turen endnu mere mindeværdig. Den fine pool med skønne liggestole, der er oplagt til at bruge en stille stund med en bog i den ene hånd og en drink i den anden. At stranden og Port de Sóller med lækre caféer og restauranter kun er et par minutters gåtur væk. Udendørs yoga-timer med havudsigt to gange om ugen. Et udendørs træningscenter med alt man har brug for for at holde formen. Og prikken over i'et (i hvert fald hvis man spørger min bror, der vist sad i København og var en smule misundelig…). Bikini Island har nemlig en håndfuld biler, som man gratis kan låne og tage på tur med i op til fire timer, herunder en Mercedes Cabriolet samt en Smart, som vi virkelig synes var… smart! Udover bilerne, tilbyder Bikini Island også gratis cykler, elcykler og stand-up-paddle-boards. Er det for godt til at være sandt?
Nej – vi udnyttede alle goderne på vores fem dage. Vi startede hver dag med uovertruffen morgenmad i hotellets restaurant Neni. Vi klædte os på til begivenheden og sadlede op på elcyklerne og tog turen mod en økologisk appelsinplantage. En magisk oplevelse! Vi havde stille formiddage ved poolen med en god bog som selskab. Hver eftermiddag fik vi overdraget bilnøglerne til enten cabrioleten eller Smarten og tog på forskellige eksursioner rundt på øen. Dem skriver jeg mere om i en guide snarest! Vi nød begge udendørs yogatimer med den skønneste underviser. Det er i hvert fald den bedste udsigt, jeg nogensinde har haft til en yogatime. Vi fik også trænet en omgang HIIT på rooftoppen. Vi tog det stille og roligt og hyggede os på vores dejlige værelse med privat terasse uden noget på programmet. En aften spiste vi en skøn middag på hotellets restaurant med israelsk tema. Aftenen efter nød vi en magisk solnedgang på bjerget lige ved siden af hotellet. Åh, jeg får det helt niv-mig-i-armen-agtigt af at tænke tilbage på disse skønne minder, og jeg får mest af alt lyst til at hoppe på det næste fly mod Mallorca. Tag mig tilbage!
Men det er nok bedre, at jeg holder mig til de dejlige minder, og krydser fingre for, at jeg kan tage tilbage til dejlige Mallorca og ikke mindst Bikini Island Mountain Resort, en anden gang. I mellemtiden arbejder jeg på en lille guide til steder, man skal opleve, hvis man er i samme egn på Mallorca.
Ps. Et lille tip. Hvis du skal til Mallorca, men bor et andet sted end Bikini Island and Mountain Hotel, kan du altid  reservere bord på hotellets restaurant Neni og få en bid af denne perle.