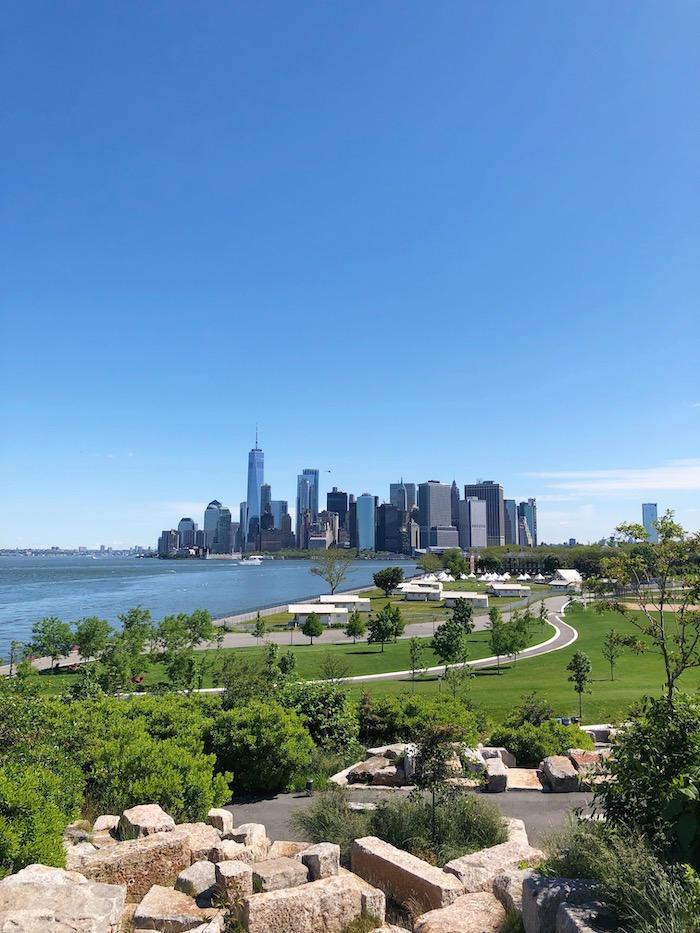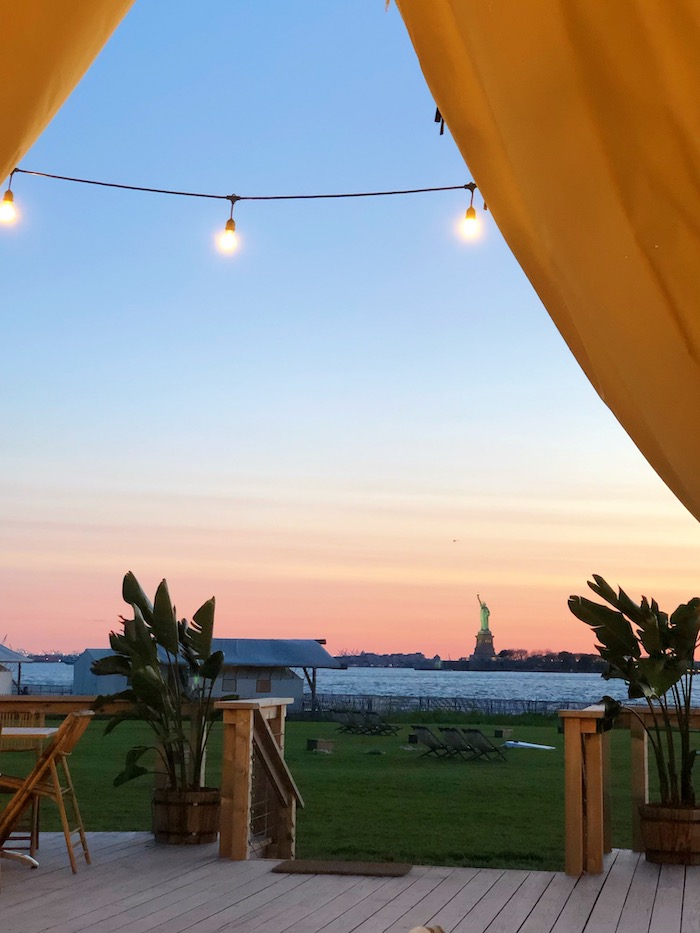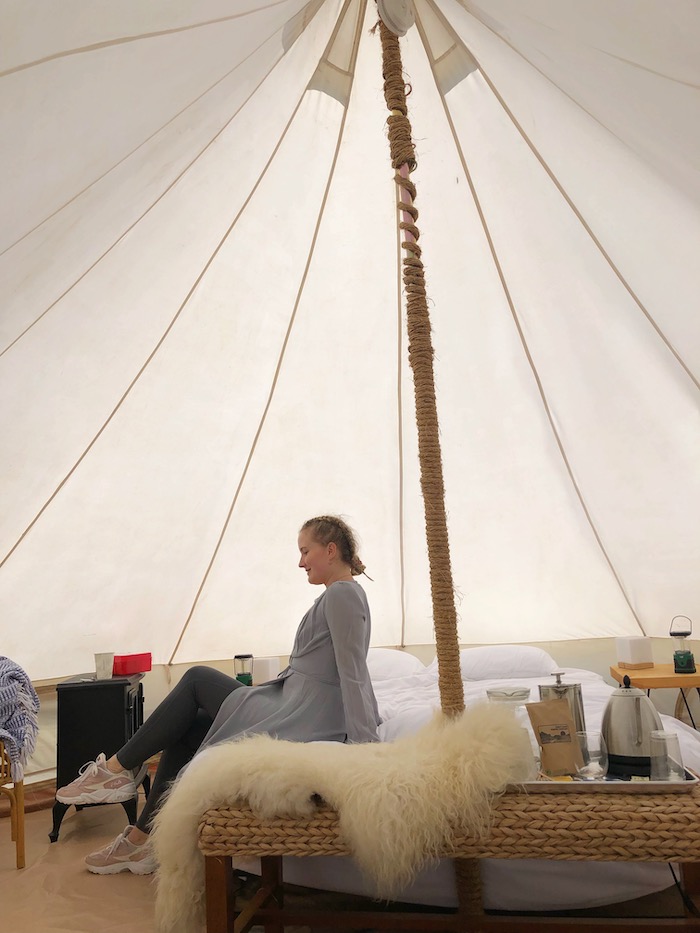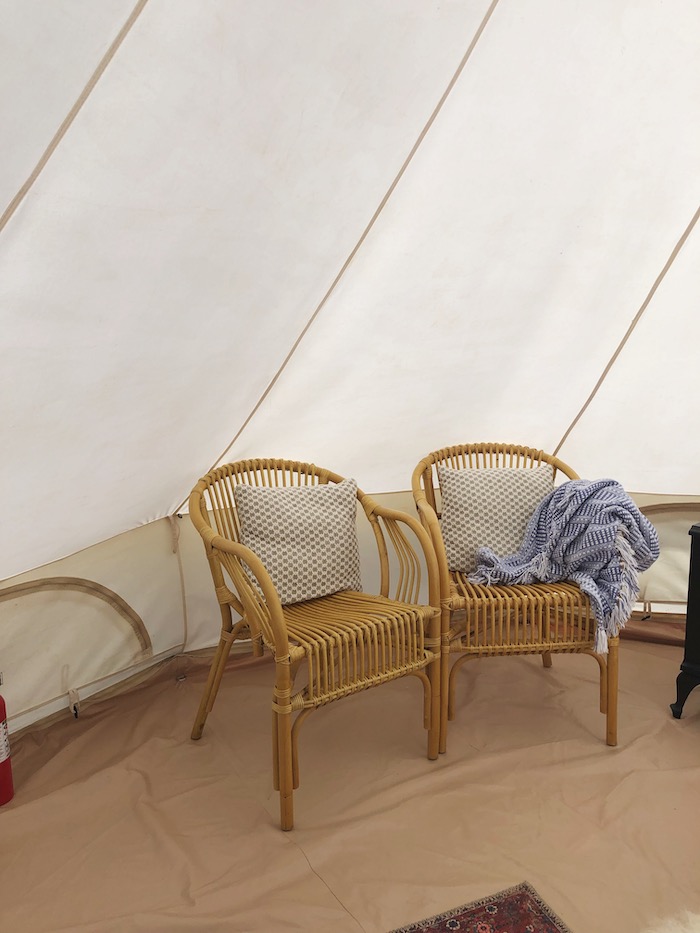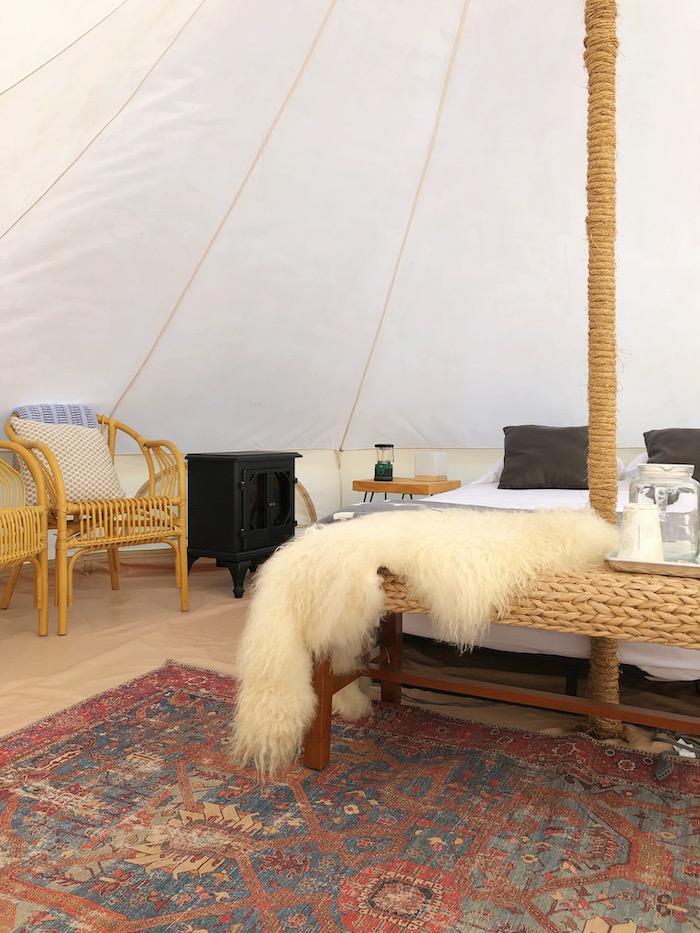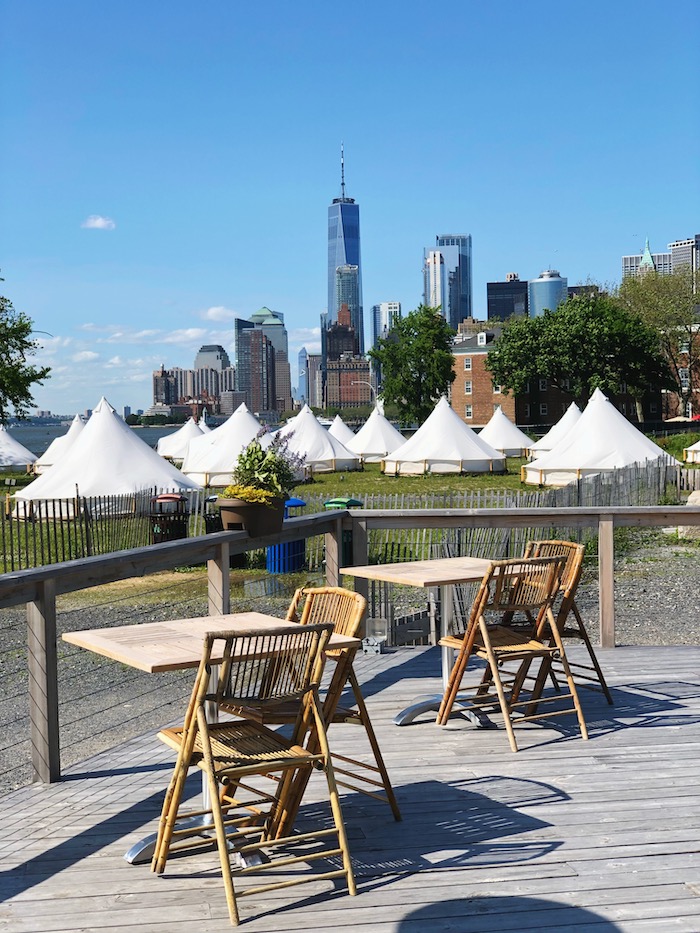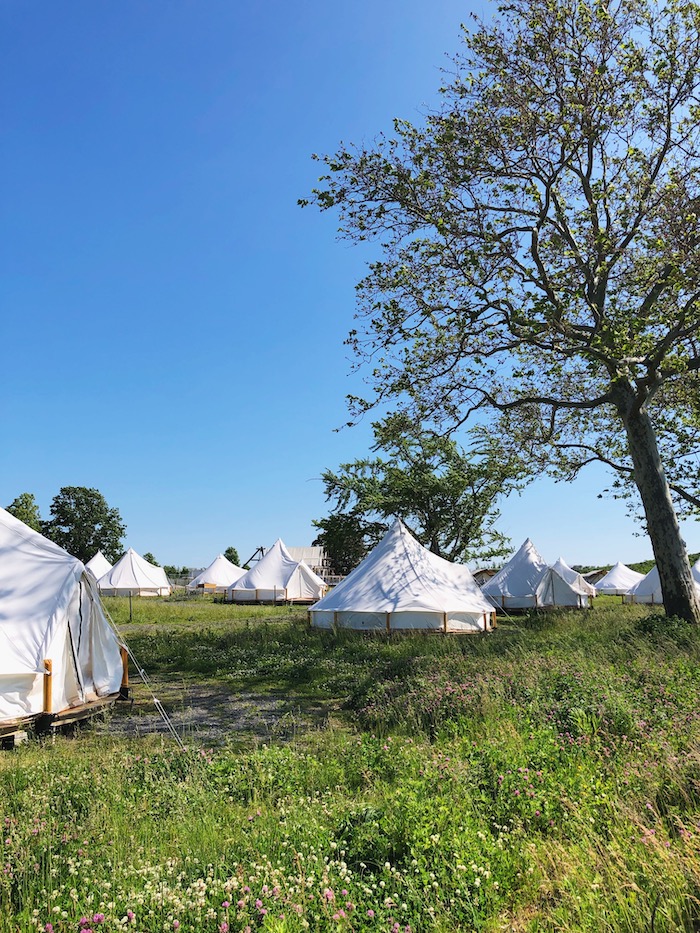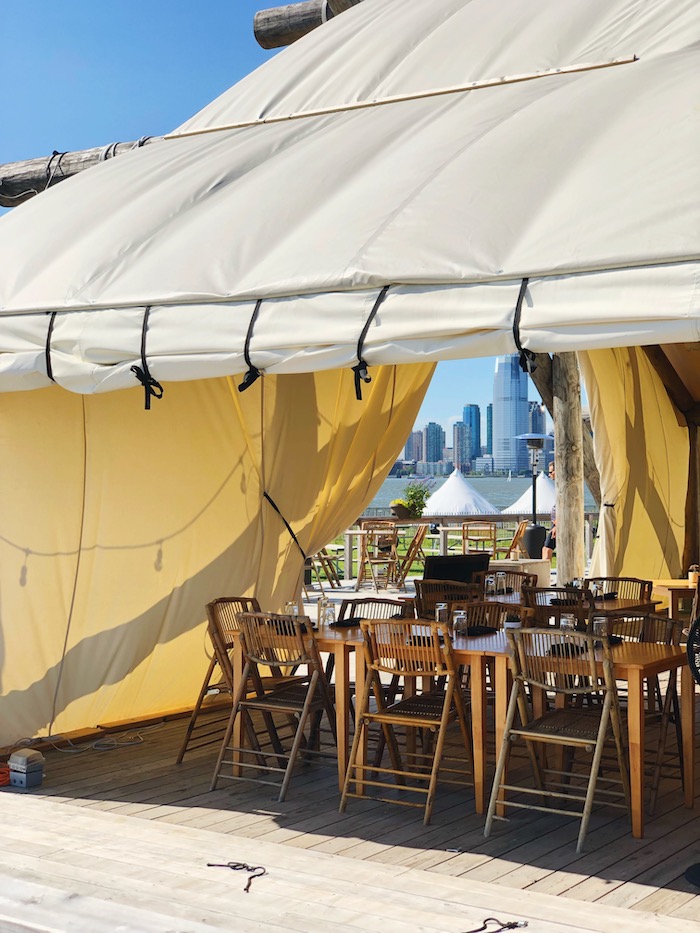 This week I had my first glamping experience with Jesus and it was just as fun as I'd imagined it to be. After having to reschedule our glamping trip from last week due to a thunderstorm, it was finally the day for our glamping trip.
Glamping with Collective Retreats takes place in NYC's Governors Island, a small man-made island, located an eight-minute ferry ride from downtown Manhattan. The ferry ride costs $3 for a return ticket, making it very budget-friendly and simple to enter the island.
After reaching the island, renting bikes and checking in at our glamping retreat, we headed for lunch at one of the island's food spots, Island Oyster. It was such a unique experience sitting by the ocean on a relaxed island, yet watching the skyline of Manhattan just across the East River.
After a nice lobster roll lunch, we headed back with our bikes to our tent. The beautiful tent offered a soft bed with silky soft sheets, a fireplace, chairs, towels – everything we needed. It was the perfect combination of an authentic experience yet adding glam into camping – no bugs, no survivor mode and no cooking at the fire. Perfect for someone like me who's always looking for fun, different activities yet not being the most outdoorsy person.
We had dinner at the glamping retreats restaurant, Three Peaks, overlooking the sunset behind the Statue of Liberty. It was magical.
After a good night's sleep in the soft bed in the tent, we woke up refreshed and ready to take on another day exploring Governors Island. First, breakfast served at the sites Three Peakes. We grabbed our bikes and did more biking around the island, before it was time to head back on the eight-minute ferry ride to the real world. It was a crazy experience, that so close to one of the biggest, busiest cities in the world, there is a small island that offers you such a different vibe.
I'd recommend, even if you don't do the glamping experience, that you take the ferry one day and go for lunch on the island. I'm working on a small guide on Governors Island, so stay tuned for that!

I denne uge havde jeg min første glamping-oplevelse. Glamping – hvad for noget? Sammentrækningen af glamourøs camping – en oplevelse under den åbne himmel i naturen, blot gjort luksuriøs. Der er ikke noget med das, trangia-sæt, myggenet og mudder. I stedet er der et smukt canvas-telt med ståhøjde, en blød, rigtig seng med silkebløde lagener til og rigtige badeværelser. Lige noget for mig, der godt kan lide ideen om at være en udendørs-type, men ikke rigtigt er det, når det kommer til stykket. I min barndom campede vi altid i Sydeuropa, og det har vel alligevel sat sine spor. Jeg husker tilbage på de ferier som ren magi.
For nogle måneder sidn fandt jeg frem til Collective Retreats, der tilbyder glamping på Governors Island i New York City. Det røg direkte på min to-do i New York-liste, og da jeg fik en mail med nogle gode tilbud, sprang jeg til. Det var perfekt timing, at Jesus og jeg kunne tage af sted og have en dejlig overnatning for at fejre, at jeg har afleveret min bachelor. Booket, betalt og klar. Men da dagen kom og vi skulle af sted , var vejrguderne ikke med os. Det udviklede sig til et vildt tordenvejr, og vi måtte aflyse. Heldigvis kunne vi rykke vores glamping til ugen efter.
Dagen oprandt, og vi kom af sted, og det var præcis så sjovt, som jeg havde forestillet mig det. Collective Retreats finder sted på den menneskeskabte ø og tidligere fort, Governors Island. Man tager en færge herud fra Manhattans downtown Financial District, og færgen tager ikke mere end otte minutter. Turen koster cirka 20 kroner for en returbillet, så det er både nemt, billigt og hurtigt at nå frem til Governors Island.
Vi checkede ind, lejede cykler, så vi nemt kunne komme rundt på øen, og så spiste vi frokost med sublim udsigt over Manhattans skyline, på den udendørs restaurant Island Oyster, der netop havde åbnet for sæsonen.
Tilbage til vores telt og tage en velfortjent siesta. Det smukke telt var fint indrettet med den blødeste seng og lagener. Det var en vild oplevelse, at vi var så tæt på Manhattan, en af verdens største og travleste byer, og blot otte minutter væk findes der en stille og rolig, nærmest tom ø med store græsplæner og uden trafik og tumult.
Vi spiste skøn middag på glampingens restaurant med udsigt til Frihedsgudinden og solnedgangen bag hende, og det var helt vidunderligt. Efter middagen, var der lagt op til bål og s'mores, skumfiduser, chokolade og kiks i en perfekt blanding på ægte amerikansk. Så sengetid, og jeg sov som en prinsesse!
Dagen efter stod jeg op til et skønt bad, morgenmad med friske bær og stadig med den gode udsigt til Frihedsgudinden. Derefter cyklede vi hele øen rundt, tog et hav af billeder, for alt blev ved med at være pænt, og tidlig eftermiddag kaldte den virkelige verden atter på os.
Besøget på Governors Island var helt fantastisk – med eller uden glamping. Det er klart et sted, jeg i fremtiden vil tage mine venner med hen, når de besøger mig. En færgetur på et par minutter, frokost på Island Oyster eller en af øens andre spisesteder, en gåtur rundt på øen og så snuden mod Manhattan igen? Perfekt!
Derfor arbejder jeg også på en lille guide til øen. Stay tuned! <3  Og i mellemtiden glæder jeg mig til min næste glamping-oplevelse.