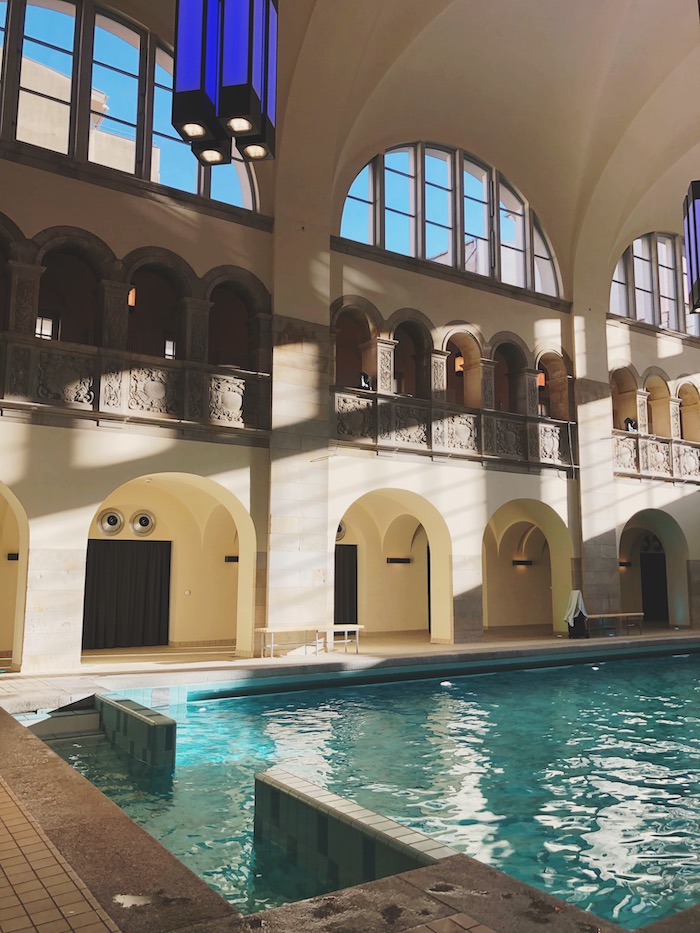 This blog post is sponsored by Urban Sports Club
Scroll down for the English version

Hele august måned tilbragte jeg i skønne Berlin. Jeg var så heldig at være medlem af Urban Sports Club, et fitnessmedlemskab der giver adgang til hundrede forskellige træningsstudios og aktiviteter i Berlin. Du betaler for dit medlemskab hver måned og har så mulighed for at træne i hele byen. Jeg er mega fan, og på den måde brugte jeg en god del af min måned i Berlin på at opsøge og afprøve et hav af forskellige træninger og aktiviteter, og det var så sjovt og et genialt koncept. Nu her i New York, savner jeg allerede mit Urban Sports medlemsskab.
Her er således 15 af de aktiviteter, jeg synes var fedest. Læs med og afprøv nogle af de forskellige træninger og studios selv.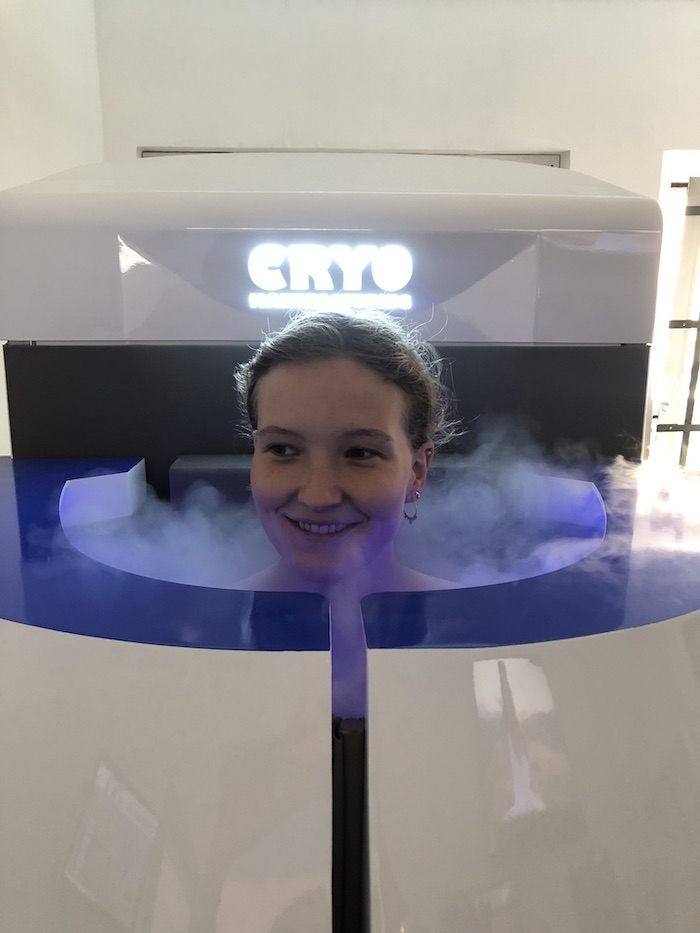 Hos Cryopoint skal du egentlig ikke træne. I stedet skal du smide tøjet og stille dig ind i en kapsel i to minutter. Her bliver der sprøjtet nitrogen på dig, og i løbet af de to minutter når du ned på -120 grader. Det føles koldt ja, men det er til at holde ud. Cryoterapi har mange fordele – det er muskelafslappende, kan hjælpe mod hovedpine, giver et dopaminboost, og desuden siger stedet selv, at du kan forbrænde op mod 800 kalorier på de få minutter, oplevelsen finder sted. Det er ikke officielt bevist, men ikke desto mindre synes jeg, at det var sjovt at prøve. At få cryoterapi er en populær Hollywood-beskæftigelse og normalt koster en behandling op mod mange tusinde kroner. Derfor er det et kæmpe plus, at du kan prøve kuldeterapien som del af dit Urban Sports-medlemsskab.
Jeg har været kunde og elsket Yogibar siden 2014. Her er smukt, ro, mange yoga-hold hver eneste dag, hvilket gør det nemt at finde et hold og tidspunkt, der passer ind i din hverdag. Min perfekte lørdag morgen og formiddag består af et morgenhold på Yogibar med min veninde og en tur på Boxhagener Platz Wochenmarkt bagefter. Den kombination må du gerne gøre mig efter, for den er noget så skøn.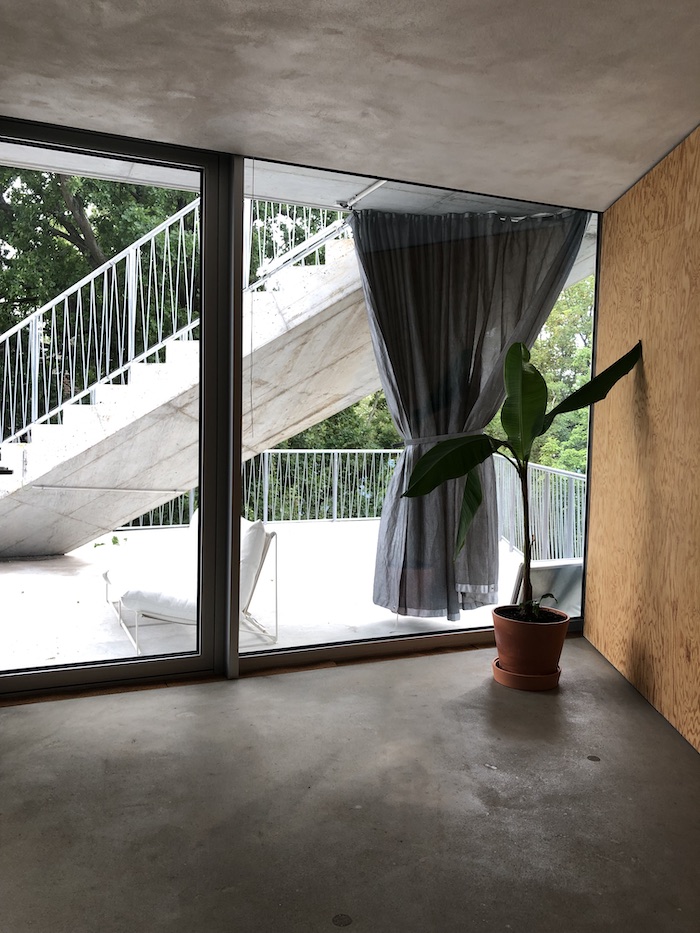 Endnu et yoga-spot men på mange måder anderledes end Yogibar. Tilfælles har de dog, at de byder på smuk indretning. Lobe Block er en ny betonbygning i Wedding. Her kan du være med til Jivamukti yoga (og mange andre stilarter, som yogastudioet også byder på). Jivamukti yoga er en dynamisk yogaform, der giver sved på panden.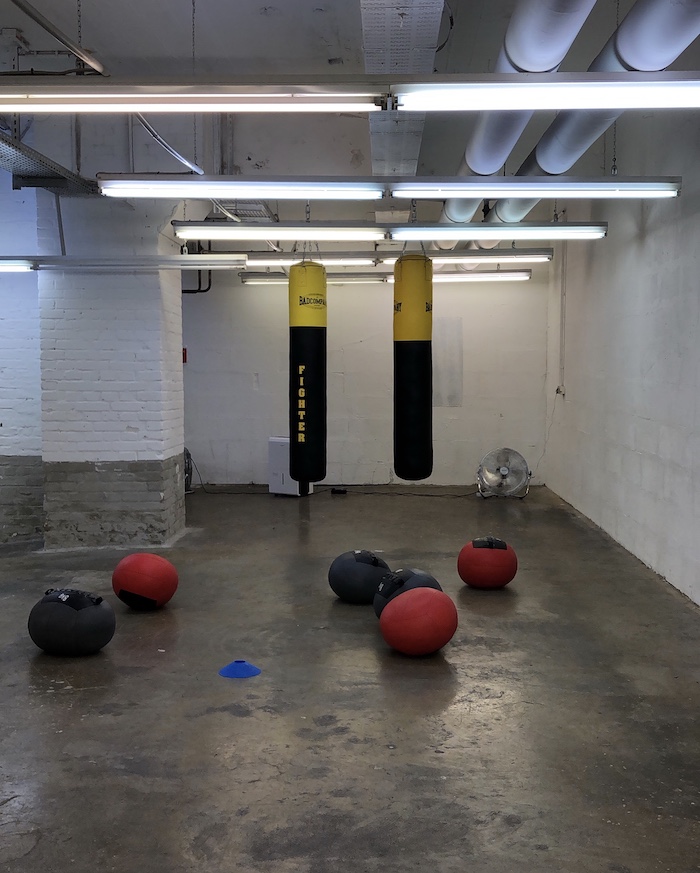 Skal du have pulsen op? Er du vild med data og tracking? Ja – så er Beat 81 det helt rigtig spot. Først og fremmest findes Beat 81 over hele byen, og jeg har været til hold i både Friedrichshain og Mitte. Træningen er forskellige former af HIIT – high intensity interval training. Du får en sensor på hjertet, der i løbet af timen måler, hvor høj en procent af din makspuls, du når, samt hvor meget du forbrænder. Det fungerer oplagt som et middel til at træne lidt hårdere, fordi dataen giver dig god grund til at konkurrere med dig selv og de andre på holdet. Alle kan være med, og træningen er tilpas hård og sjov.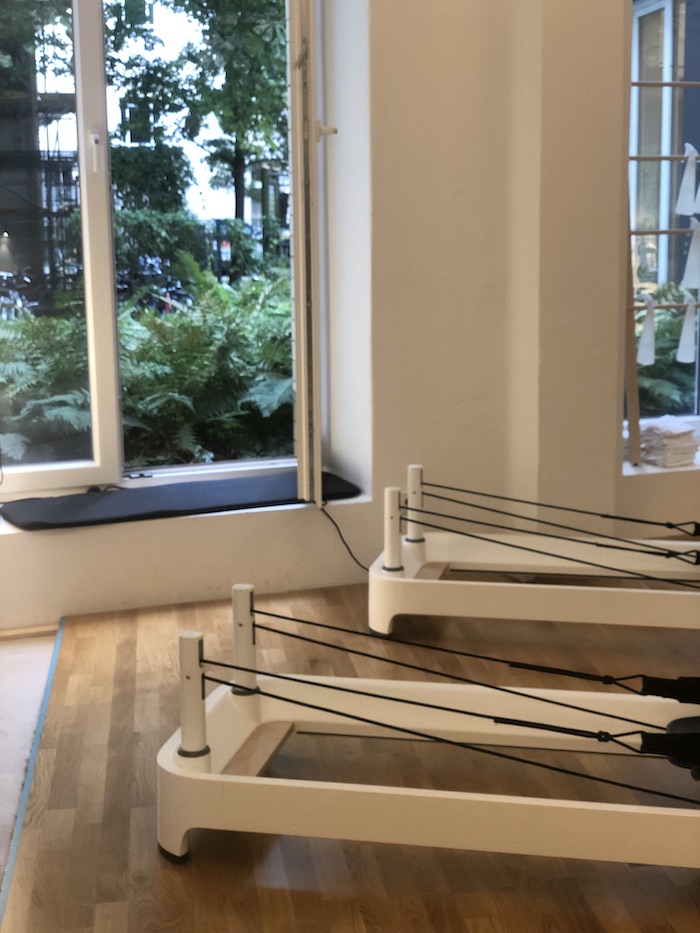 Pilates på en reformerbænk. Effektiv træning, dog i et roligere tempo, der ikke efterlader dig gennemblødt af sved, når timen er overstået. Du bliver guidet igennem flere øvelser på reformeren, hvor du både skal ligge på den, stå på den og stå ved siden af den. Træningsformen er især god for dig, hvis du døjer med ryg- og nakkeproblemer. Alle kan være med.
Her er der tale om effektiv, hård og sjov træning. Ride BLN er først og fremmest et smukt studio, hvor du skal betale ekstra 5€ for at være med. Du får dog meget for pengene – et par spinning-sko, håndklæder, en flaske vand og adgang til deres smukke omklædningsrum og bad, hvor der er lækre produkter, føntørrer og glattejern til fri afbenyttelse. Det er en vaskeægte boutique fitness experience. Nu til træningen – siddende på en spinning-cykel i et mørklagt lokale, der mere ligner et diskotek end et spinningrum, bliver du guidet igennem spinningtræning og armøvelser på 50 minutter. Du vil få pulsen op, og træningen er intens men så sjov. Alle kan være med, fordi du har mulighed for at tilpasse intensiviteten på cyklen og desuden kan tage pauser, når du har brug for det.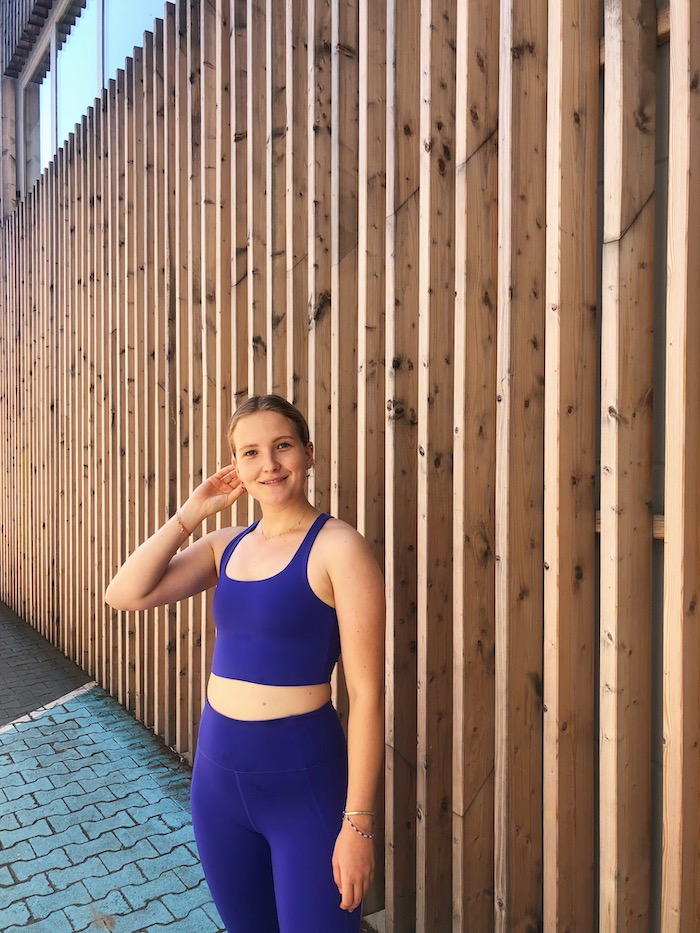 Holmes Place er et klassisk fitnesscenter, dog i en lidt lækrere udgave. De fleste Holmes Place rundt i Berlin byder også på spa og pool, så hvis du er til selvforkælelse og svømning, er du kommet til det rigtige sted. Desuden byder Holmes Place både på en lang række træningshold, eller du kan træne for dig selv på maskiner, løbebånd eller med frivægte.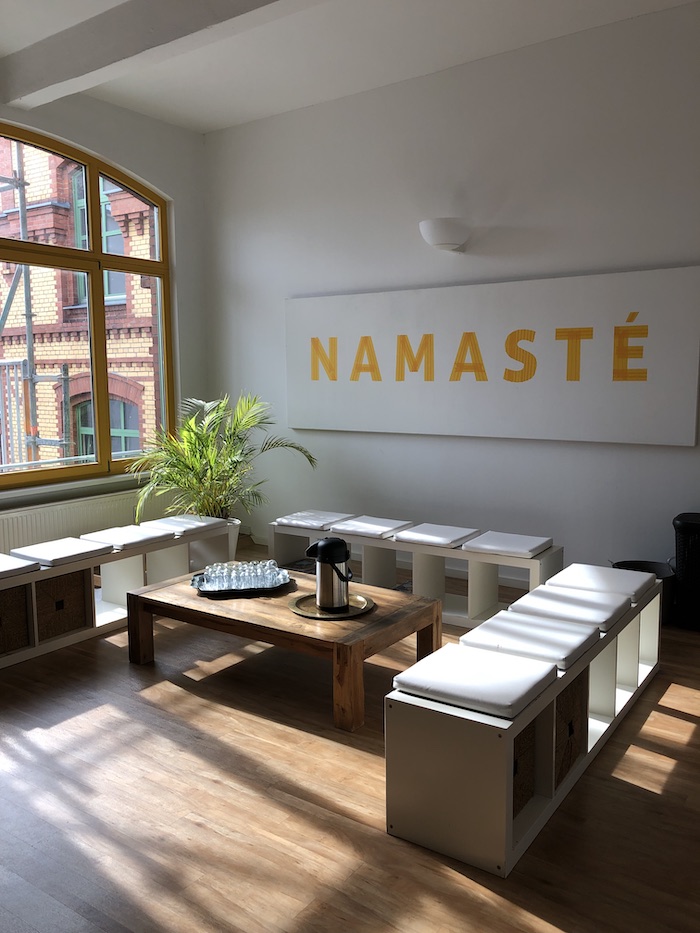 Her havde jeg min første hot yoga time nogensinde. Det var en vild oplevelse. I yogalokalet bliver der skruet på til 40 grader, og så går yoga-timen på 90 minutter ellers i gang. Tre ting du skal vide: 1. Du kommer til at svede mere, end du troede var muligt. 2. Tag gerne to liter vand med. You're gonna need it. 3. Tag to håndklæder med. 4. Hold ud – du skal nok overleve. Jeg må indrømme, at jeg synes, det var lidt vildt at svede så meget, men da det var overstået, var jeg lidt stolt af mig selv. En sjov oplevelse!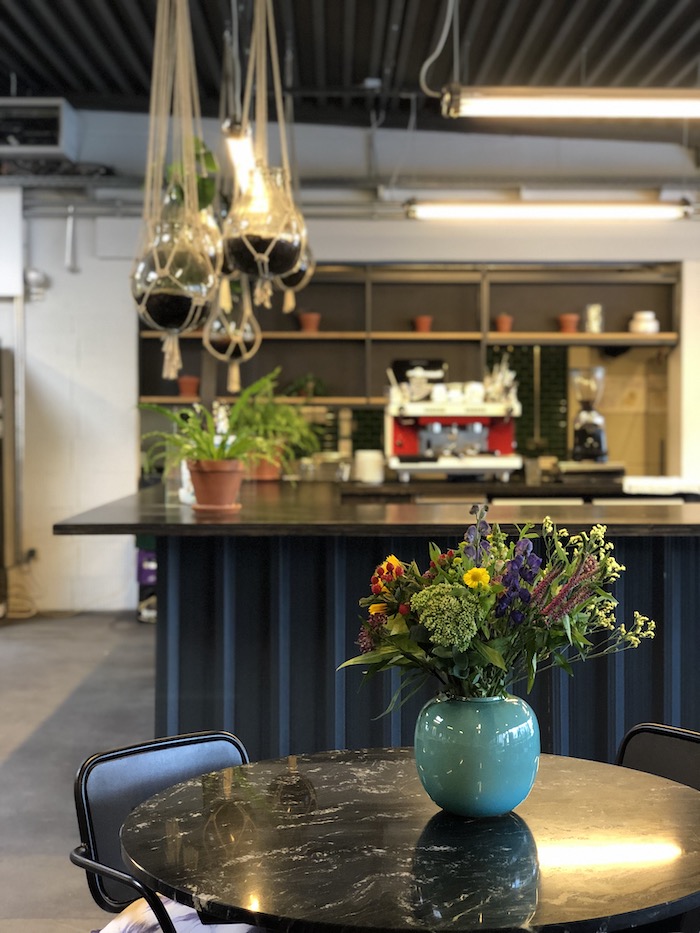 Mit yndlingstræningssted i hele Berlin. Adidas står bag Runbase, der er nabo til Freischwimmer. Her kan du tage træningshold fra yoga til boksning til HIIT, og det er dygtige, seje og kompetente holdtrænere, der underviser. Når du er færdig, kan du opfylde depoterne og nyde morgenmad, snack eller frokost på Lab Kitchen. Her er så sejt, og jeg bliver så motiveret af at se de seje trænere.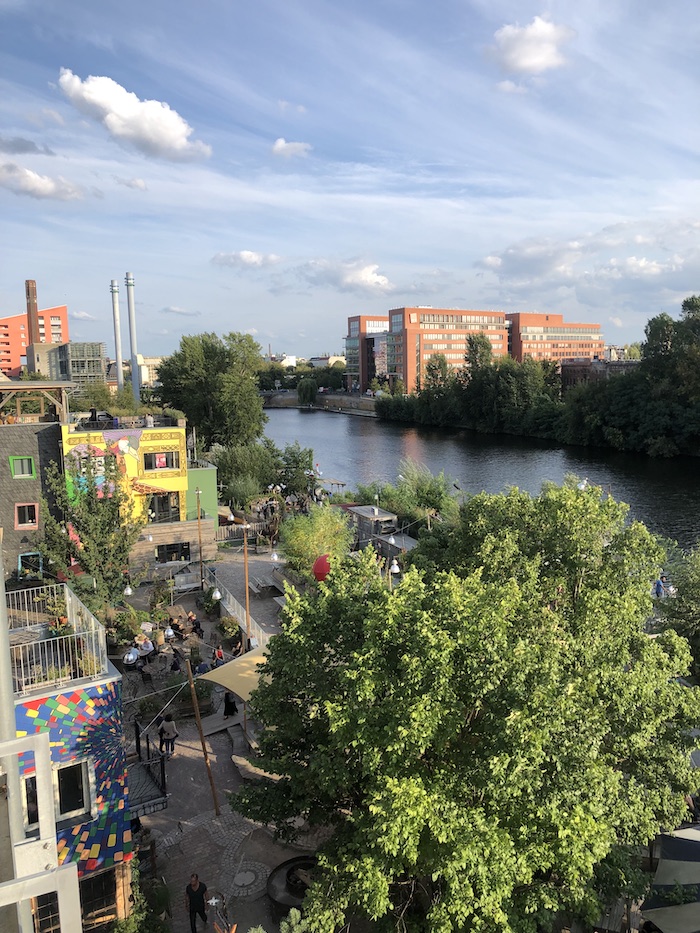 Dette træningshold 'popper op' forskellige steder rundt i byen såsom ved poolen Haubentaucher i RAW eller ved Holzmarkt 25. På et forholdsvis lille hold bliver du guidet gennem en times HIIT-øvelser. Stemningen er god, trænerne er enormt søde og træningen er effektiv.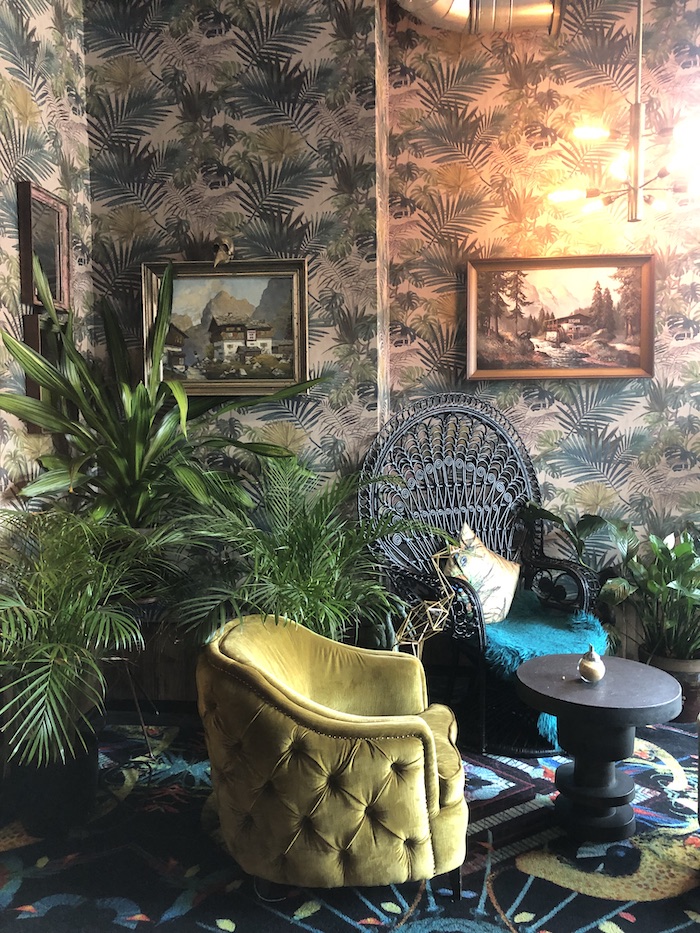 Boutique fitness for alle pengene, her er tjekket og lækkert, gode bade, produkter, håndkæder og vand. Til et John & Jane-hold, bliver gruppen opdelt i to hold. Det første hold skal igennem 10 minutters guidede intervaller på løbebåndet, mens det andet hold laver gulvøvelser. Og sådan skifter holdende frem og tilbage i løbet af den time, træningen tager. Det er mega effektivt, mega hårdt og også mega sjovt.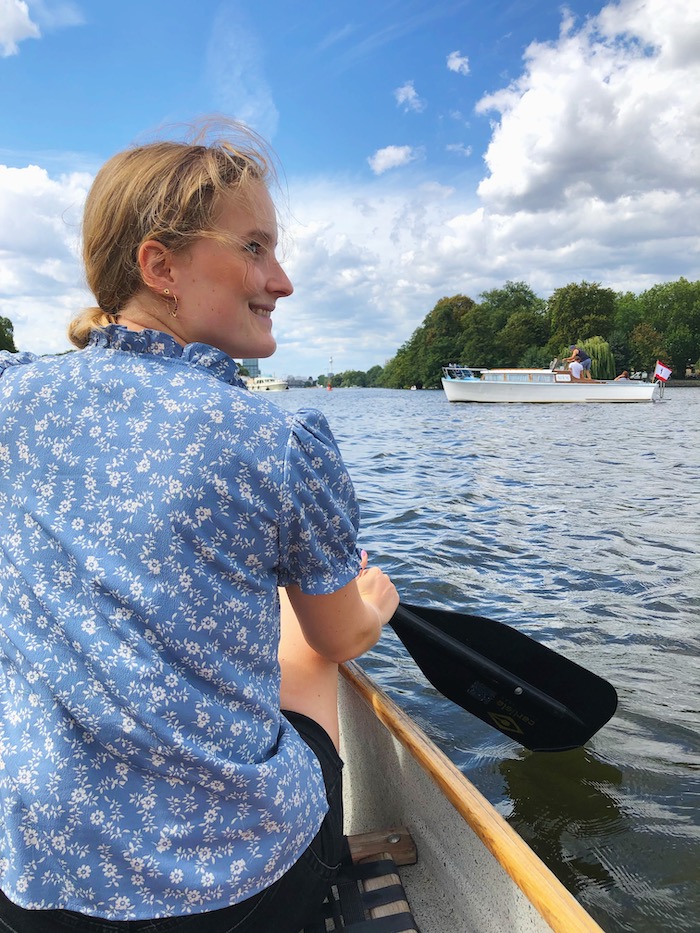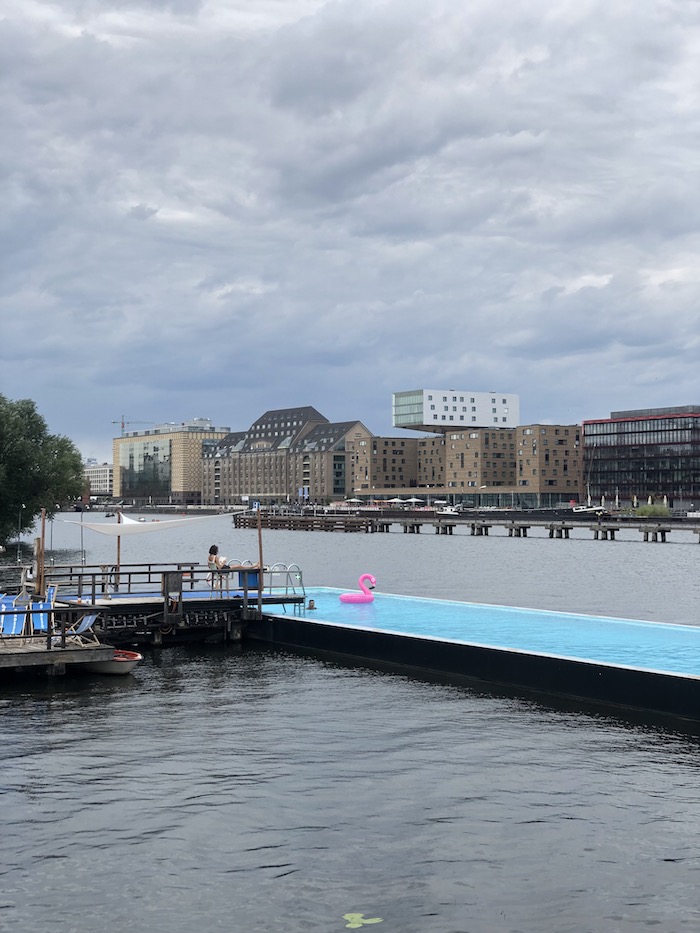 Desuden giver Urban Sports Club også adgang til en lang række aktiviteter. Jeg lejede blandt andet end kano ved Insel Der Jugend, var til 30 minutters massage, en tur i Badeschiff og i poolen og spa på smukke Hotel Oderberger. Jeg ville også gerne ud at klatre, men det bliver en anden god gang. Urban Sports Club er altså meget mere end blot træning, og mulighederne for sjove oplevelser og aktiviteter er næsten uendelig.


In the month of August that I spent in Berlin, I was lucky enough to test the concept Urban Sports Club. It's a membership that allows you to do workouts at multiple hundred different studios and activities around Berlin. You pay a monthly membership fee which allows you to try tons of different workouts and activities in locations that fit you. I'm such a fan and after using the concept for a month, I grew accustomed to it and miss it dearly now that I'm in NYC.
Here are 15 out of the tons of workouts that Urban Sports Club offer that I've tried and loved. I hope you'll be inspired to try some of them yourself.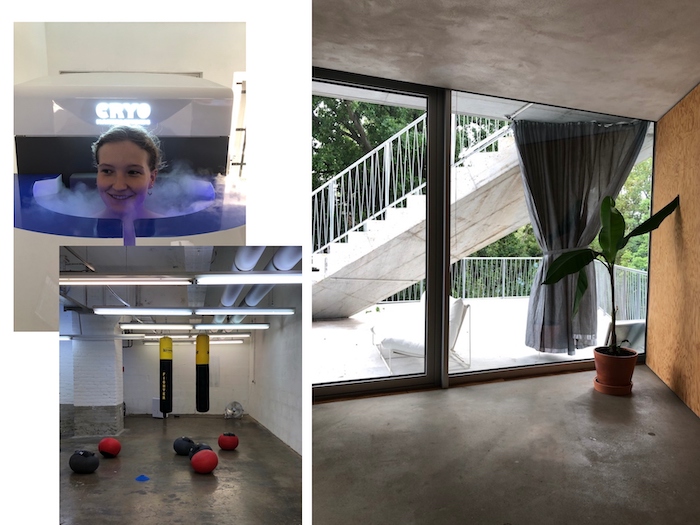 Cryopoint isn't exactly a workout, at least not your regular one. Instead, you undress, put on socks and gloves and step into a capsule for two minutes, while nitrogen sprays out cold air. In the two minutes, it's running, you'll reach -120 Celcius degrees. It's cold yes, but doesn't feel as -120 degrees, apparently because our brain doesn't know how to sense anything that cold. There are multiple benefits to cryotherapy. It boosts your health, is relaxing for your muscles, boosts your dopamine levels and metabolism. They even claim that you can burn up to 800 categories, however, this hasn't been officially researched or confirmed. Nonetheless, it's so much fun to try. It's a beloved activity for Hollywood stars who gladly bay several hundred dollars for two minutes in the capsule. I love the fact that isn't simply included in the Urban Sports membership.
My favorite Berlin yoga studio since 2014. Yogibar is quiet, calming, beautiful and offers a wide variety of yoga classes at different times every day. Whether you're an early bird or a night owl, there's a class to fit your schedule. My favorite class is Saturday morning, followed by a lap around the farmer's market at Boxhagener Platz. A recommended combination of activities for a great Saturday.
Another great yoga spot at the newly built concrete building Lobe Block. The schedule offers a multitude of different yoga arts. I tried a jivamukti class which is a more dynamic art of yoga that had me sweating. The teacher was competent and so were the other students.
A workout that gets your pulse to work and makes you sweat? You got it. Beat81 is the answer. Prior to the class, you put on a heart rate monitor that tracks your complete workout. The goal is to get into the "red field" where you're using 80-90+ % of your maximum heart rate and once the class is over, you'll be able to see how many calories you've burned and get an overall assessment of your workout. The workout is for everyone and most of them feature a variety of HIIT exercises – seven different exercises done in four rounds. The monitoring makes it a competitive class because you want to beat yourself (and possibly the other team members too!).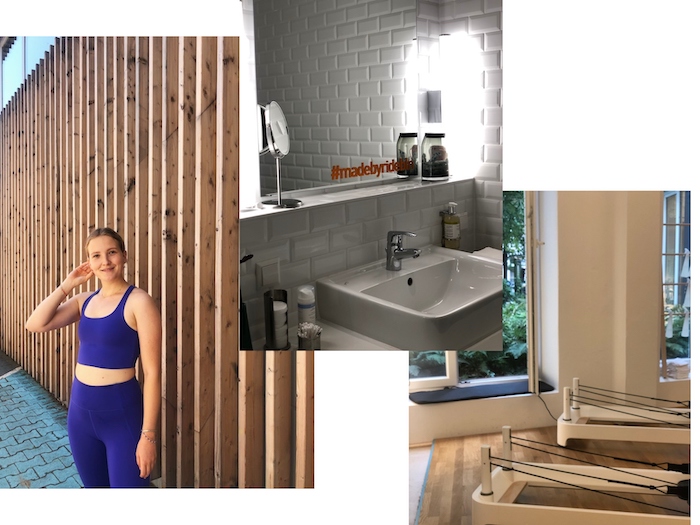 Pilates on a reformer bench. This class was my first time trying the reformer, and although pilates is not my favorite kind of workout (I prefer more fast-paced ones), I really enjoyed it. It's at a calm pace yet the exercises are very effective and had me sort of sore the day after.
Do you like it at a fast, intensive pace? Ride BLN's got you covered. First of all, Ride BLN offers a gorgeous boutique studio with nice showers, great products, soft towels, and water bottles. However, you need to bring 5 euros for spinning shoe rental, towels, and water, which is totally worth it. The class itself is a 50-minute spinning class with arm exercises. On Saturdays, they offer a techno ride class which is just so Berlin and so much fun. Spinning and doing exercises at the same time can be a little intimidating, but give it a chance and by your second workout, you'll feel right at home. You're able to set your own intensity resistance level and take breaks whenever you need it.
Holmes is a classic gym but in a nicer, wellness version. Most of the Holmes Place locations around Berlin even offer a spa and a pool, so if you like self-care and pool time, you'll feel right at home. Holmes Place also offers a wide variety of different classes from Zumba to body combat (my favorite). And if you like to just go to the gym on your own, you can use the machines and free weights offered at the gym.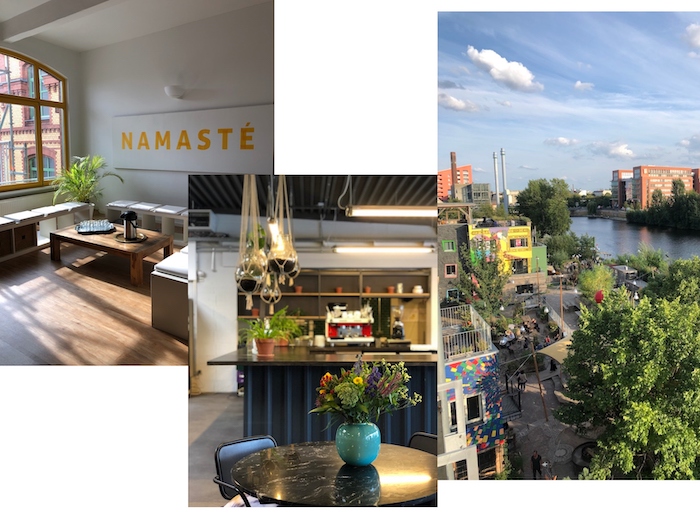 This place was the host of my first hot yoga class ever, a wild experience. They turn up the heat to around 40 degrees Celcius and the 90-minute yoga class commences. 3 things you need to know before going: 1. you will sweat more than you thought is possible. 2. Do yourself a favor and bring a two liter bottle of water. 3. Bring two towels. 4. Know that you will survive! I must admit that sweating so much and feeling so hot was a tiny bit overwhelming because it was my first time and I didn't really know what to expect. Once the class was over, I felt slightly proud of myself. Next time I go, it has to be winter cold outside.
My ultimate favorite workout spot in Berlin. Runbase is run by Adidas and is a combined workout/workshop/cafe spot that offers all the above. I usually go for the daily workouts which include classes from yoga to boxing and HIIT. The classes are done by competent coaches that are so motivating. After the class and a nice shower, I head to the compound's Lab Kitchen for lunch or a smoothie. The food is great and the spot is perfect to stay at and hang out in even if you're not working out.
This HIIT workout class pops up at different locations around Berlin such as by the Haubentaucher pool at RAW or by Holzmarkt 25. The coach guides the small class through different exercises. Great vibes, an effective workout, and friendly coaches.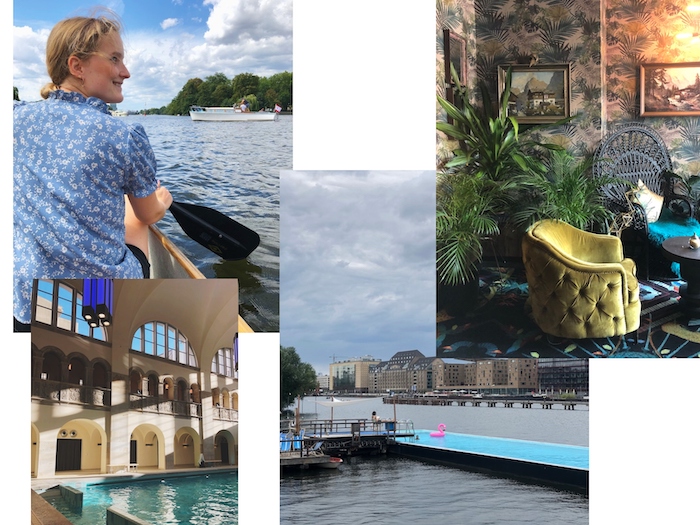 A full-on boutique fitness experience featuring nice showers, products, towels and water. A John & Jane's Power Base class is sort of similar to the Barry's Bootcamp. The class is divided into two teams. The first time gets on the treadmill for 10 minutes of different intervals, while the other part of the class is on the floor doing different exercises. In the 60-minute class, the two teams take part in doing 3 x floor exercises and 3 x treadmill. It's a crazy, intensive but super fun workout.
Besides tons of great workouts, Urban Sports Club also offers a long list of activities that members can join from sailing to paddle boarding, massages, spas, and pools. I went to Insel Der Jugend and was able to rent a canoe, go to a 30-minute massage, jump into Badeschiff and visit the wonderful pool and spa at Hotel Oderberger. I also wanted to go bouldering but that will be my next time in Berlin.
What workout is your favorite?