Your guide to the best brunches in Berlin
Is there anything better than sleeping in and starting the day slow with a nice and hearty brunch accompanied by a great cup of coffee? I think not. Throughout my years of living in Berlin, I have spent a decent amount of time searching for Berlin's best brunch spots. As a result, I have collected the best brunches in Berlin in this guide. Enjoy!
Ps. Always make sure you check the spots' current opening hours, for example on Google Maps or on the cafes' websites.
Make sure you check out my other travel guides and Instagram for more Berlin tips here.
Best brunches in Berlin
(click on the title to go directly to the spot)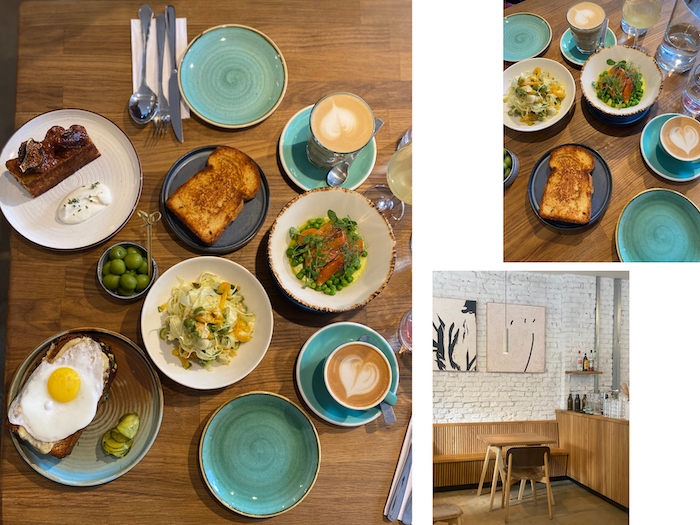 A more recent player on the Berlin brunch scene, Sorrel combines all the things that lots of brunch-hungry people love. A selection of mouthwatering brunch dishes that go beyond the regular brunch dishes. The menu focused on local, seasonal produce accompanied by great coffee or even natural wine if that's your thing. The menu consists of snacks and sharing plates from burrata to fried potato with whipped cheese, which makes it the perfect spot if you want to try a bit of everything. If larger plates are more your thing, their Croque Madame is something I dream about in my sleep. The atmosphere at Sorrel is relaxed, and the staff is kind, which makes you want to hang out here all day. On Thursday and Friday evenings, Sorrel turns into a dinner restaurant.
Sorrel, Pannierstraße 40, 12047 Berlin (Neukölln)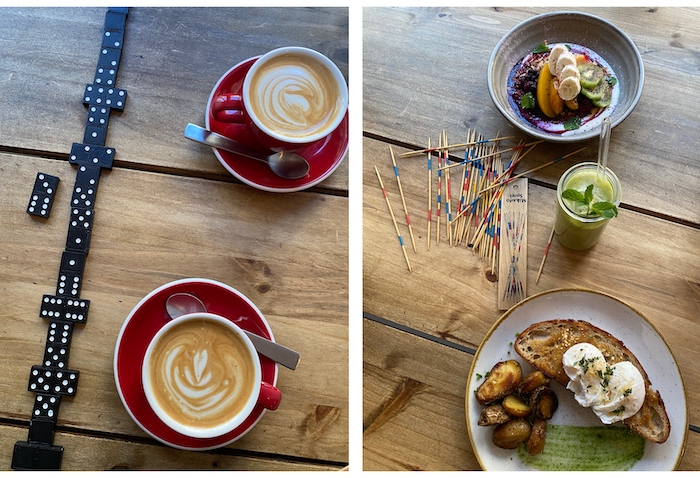 In 2013, Silo opened in Friedrichshain, and the neighborhood went wild. Specialty coffee and brunch were already a thing in Berlin, yet lacking in the Friedrichshain neighborhood. Silo changed that. And now, multiple years later, Silo is still one of Berlin's best spots for coffee and brunch. Silo serves Australian-style brunch. Think hearty sourdough topped with avocado, perfectly scrambled eggs and a multitude of ways that you can customize the brunch so you get it your way. Their baked pancakes are a must as well. Baked in a cast iron skillet, they are crisp on the outside, soft on the inside, and topped with cardamom cinnamon syrup, cookie crumbs and other goodies. Silo offers outdoor seating in a cute, tree-lined street if the weather allows it.
Silo, Gabriel-Max-Straße 4, 10245 Berlin (Friedrichshain)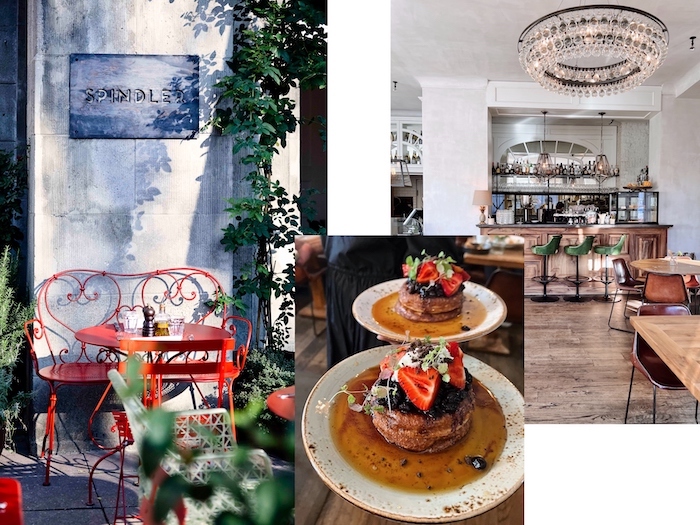 Along the beautiful Paul-Lincke-Ufer, the canal where Kreuzberg and Neukölln meet, Spindler is located. Here, everything is gorgeous. From the view to the canal, where you can have a seat in the romantic chairs, to the decoration and the food. With inspiration from French cuisine, the large menu spans from flaky French pastries to eggs in a variety of ways to Croque Monsieur or Madame. One of Spindler's popular items is their baked croissant pain perdu (also known as the best version of a french toast). It has the buttery flavor of croissant, a crisp caramel crust and is topped with blueberry compote, fresh blueberries, honey and chantilly créme. Another favorite is the Egg Royale with salmon, hollandaise and spinach. Yum!
Tip! If you're at Spindler on a Tuesday, Friday or Saturday, head to the farmers and flea market across the canal after the hearty brunch.
Spindler, Paul-Lincke-Ufer 42/43, 10999 Berlin (Kreuzberg)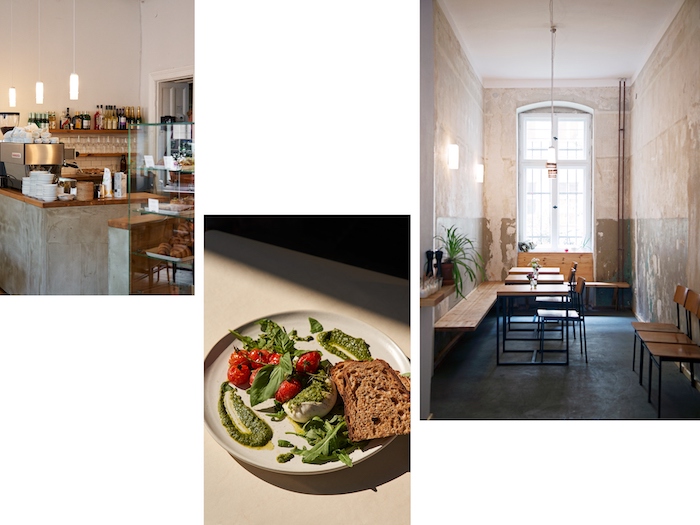 A local neighborhood favorite, Neumanns is the place to go for large, simple and clean brunch dishes inspired by the German farmer cuisine. Think great sourdough from Neumanns' own bakery, topped with egg, goat cheese, and other favorite ingredients, always with a side of green salad. It feels like a great, hearty way to start the day. The cafe has a clean and simple aesthetic with wooden tables and chairs spruced up with bare walls in true Berlin fashion. The coffee is some of Berlin's best. By the bar, you will find it hard to resist treating yourself to a slice of one of the delicious cakes that Neumanns offers.
Tip! Neumanns recently expanded and opened a to-go cafe and bakery 'um die ecke'. This literally translates to 'right around the corner'. Here, you can get your hands on Neumanns delicious coffee and yummy baked goods.
Gabriel-Max-Straße 18, 10245 Berlin (Friedrichshain)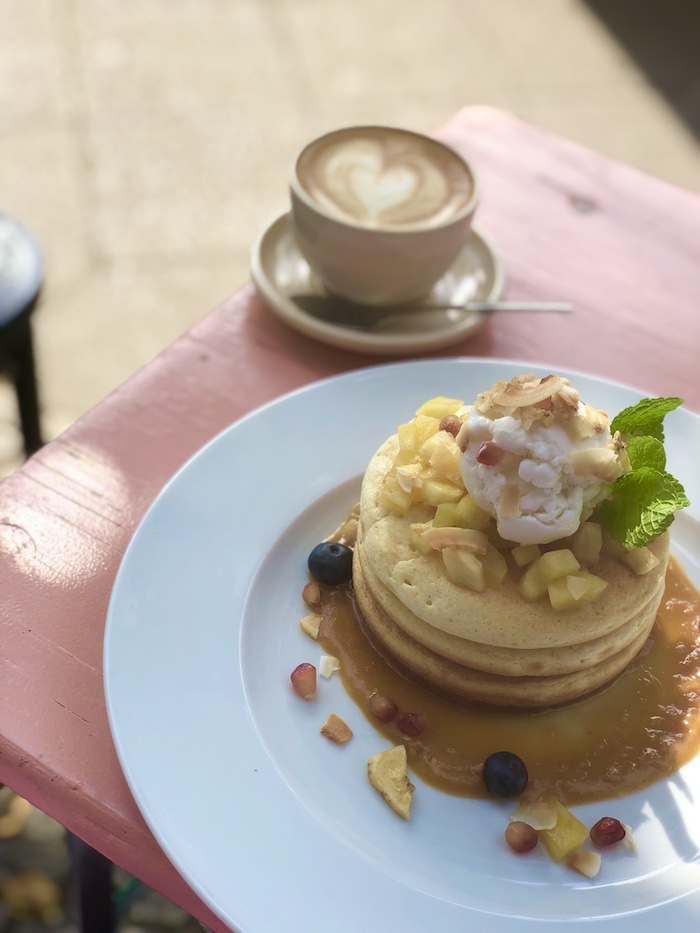 A brunch restaurant opened by two sisters who inherited their love for food and cooking from their mother, YaMe NumNums offers a new take on brunch. The menu consists of brunch classics combined with and influenced by flavors and ingredients from Thailand, Vietnam, Korea and Japan. That means you can enjoy savory French toast with kimchi, a fried egg and brioche. Or dig into okonomiyaki, a Japanese classic, a pancake with cabbage, egg and bonito flakes. Or try the coconut pancake with caramelized fruit sauce and homemade coconut sorbet. The flavors blend delightfully and the dishes are a sight for sore eyes. The love for cooking and good food is also seen in the effort to make homemade food, from home-baked brioche to homemade kimchi.
Tip: YaMe NumNums is located right around the corner from Tempelhof, the former airport turned park. Go here for a nice walk after brunch.
Flughafenstraße 46, 12053 Berlin (Neukölln)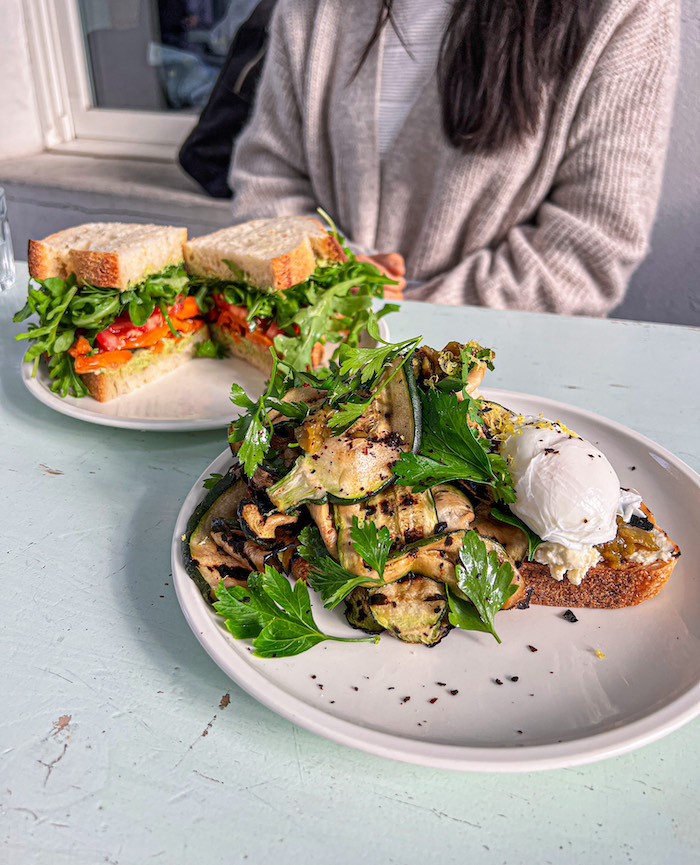 Another powerhouse sister pair are cooking up amazing, flavorful dishes inspired by their love of cooking inherited from and taught by their mom inspired by the Middle Eastern cuisine and Iranian-German heritage as well as the brunch and coffee tradition from Australia, where the sisters also resided. As one of Schöneberg's hotspots, guests flock here on Saturdays and Sundays to try Rocket + Basil's brunch which includes dishes such as zucchini on toast with grilled zucchini, ricotta, poached eggs topped with garlic. Don't miss their aubergine and garlic turmeric spiced eggs. After a delicious brunch dish, it is a must to try one of the sweet choices such as the pistachio rosewater cake or the tahini halva brownie.
Lützowstraße 22, 10785 Berlin (Schöneberg)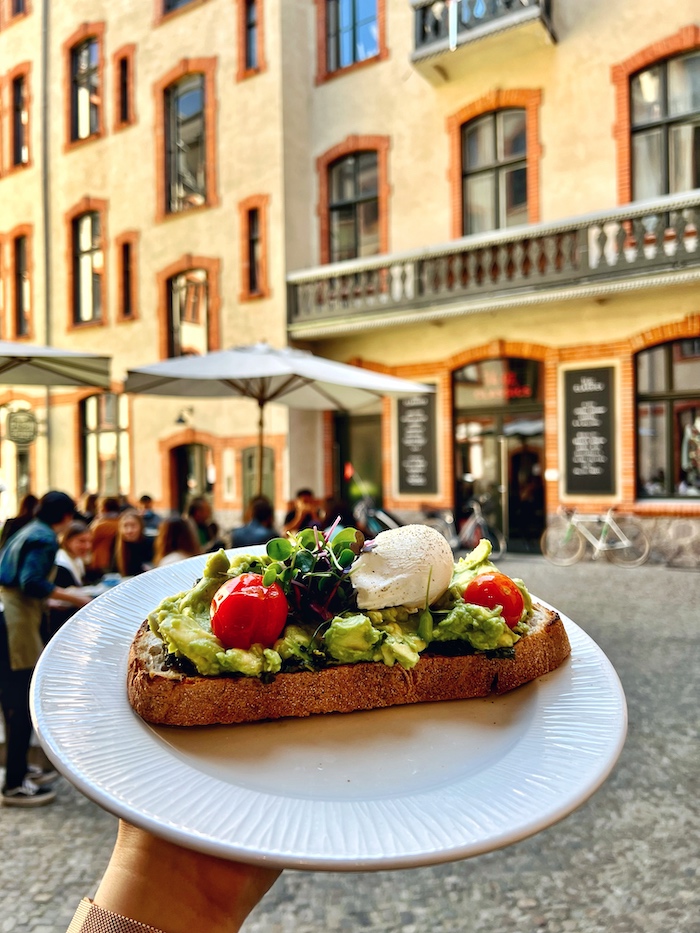 As you're wandering around Mitte's hip shopping districts, Father Carpenter is a well-hidden gem for coffee and one best brunches in Berlin. The cafe and restaurant is tucked away in a classic, charming Berlin courtyard with gorgeous details. The unique location makes it a perfect spot to fuel up on caffeine and food before getting some shopping done in one of Berlin's best shopping areas. The coffee is immaculate, roasted by Fjord, a Berlin-based coffee roasting business. The same goes for the brunch, with a menu that includes favorites such as Father Carpenter's famous vegan banana bread. The eggs royale dish is a no-brainer or you can go for the benedict version with hollandaise and sourdough.
Münzstraße 21, 10178 Berlin (Mitte)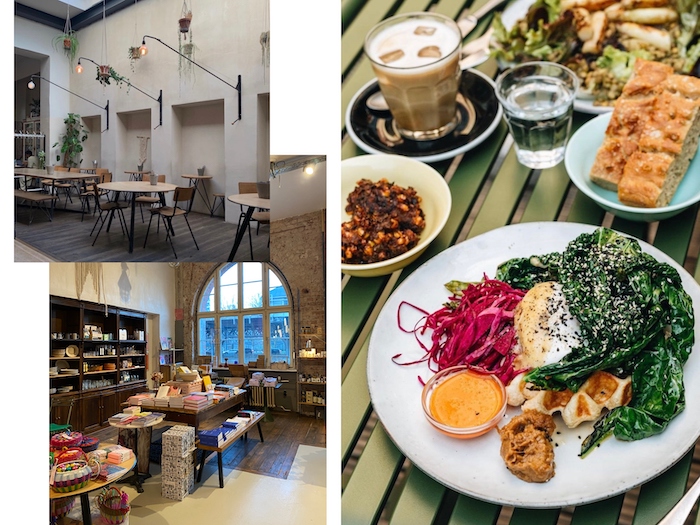 Photo credit – Savannah Van der Niet + Atc.information
Hallesches Haus is one of those places that does it all – your one-stop-shop for shopping, brunch and coffee. The store, cafe and restaurant is located inside a gorgeous huge space. Think vaulted archways and a private garden, where you can enjoy your brunch if the weather allows it. The all-day brunch menu changes seasonally and consists of items such as waffles with seasonal fruit or a lovely plate with deliciousness such as poached eggs, sourdough and your selection of sides. The concept space is divided into a cafe area with a pretty interior and good vibes and a general store section with great items for the home. Find soft sheep's wool slippers, cute candles, trendy teapots and pretty puzzles. If you want to have a look at what the store offers, you can explore their online shop in advance here.
Tempelhofer Ufer 1, 10961 Berlin (Kreuzberg)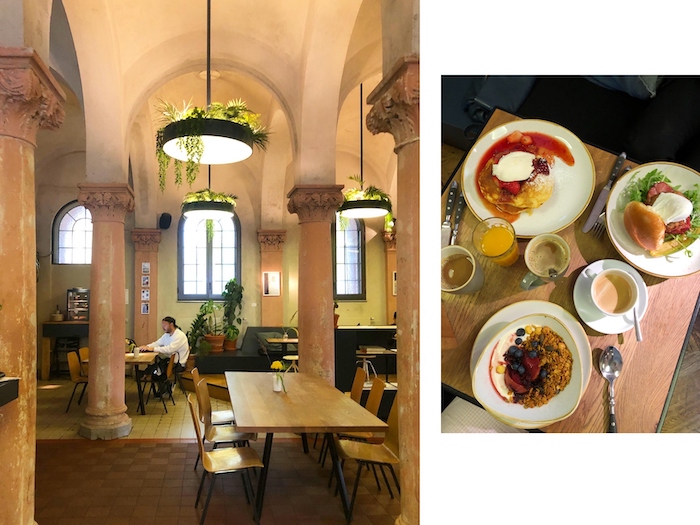 21 grams is located in a former funeral chapel at a cemetery in the heart of Neukölln. The beautiful chapel features ancient columns, ornamented ceilings and gorgeous windows. This creates a wonderful backdrop to enjoy delicious all-day brunch. You can get an insane breakfast burger with potato rösti, fluffy pancakes with toppings and coconut yogurt with homemade turmeric granola. That means there is something for both those suffering from a hangover and those who want something fresh and healthy. If the weather permits, there is a beautiful garden that belongs to the restaurant that invites hour-long hangouts.
Tip! When you're done eating brunch at 21 gramm, you can finish off your food with a walk in the former airport, Tempelhof, which is located right next door.
Hermannstraße 179, 12049 Berlin (Neukölln)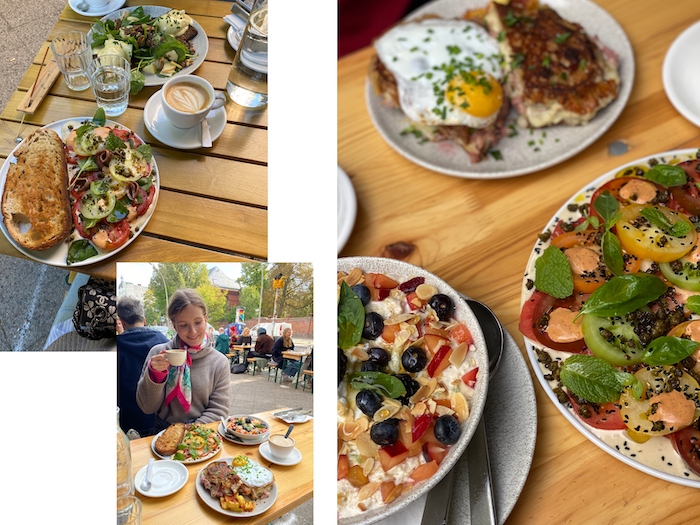 Opened in the height of covid-times, Two Trick Pony has managed to quickly establish itself as one of the best brunches in Berlin. Berliners and visitors flock here to get a seat outside, overlooking the Hasenheide park. The menu consists of around 10 carefully selected brunch dishes that change with the season. They are new takes on classic brunch dishes from the German-style bircher müsli (overnight oats), or the seasonal tomato tonnato that comes with gorgeous heirloom tomatoes. The dishes have a health focus as most of them feature vegetables that make them look delightful.
Bergmannstraße 52, 10961 Berlin (Kreuzberg)
Thank you for reading about the best brunches in Berlin.
Enjoy eating your way around the best brunches in Berlin!