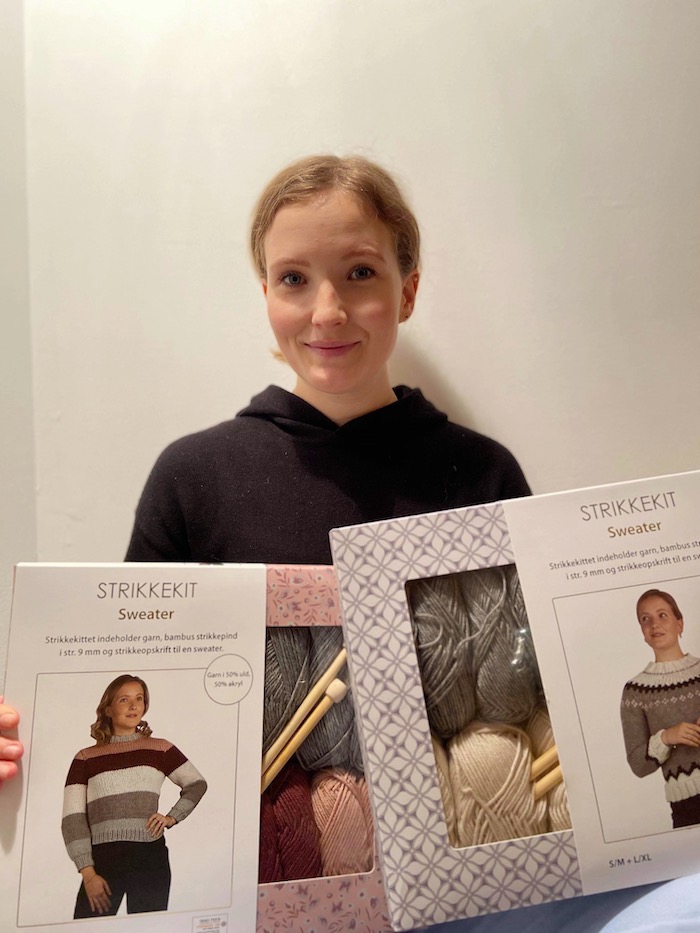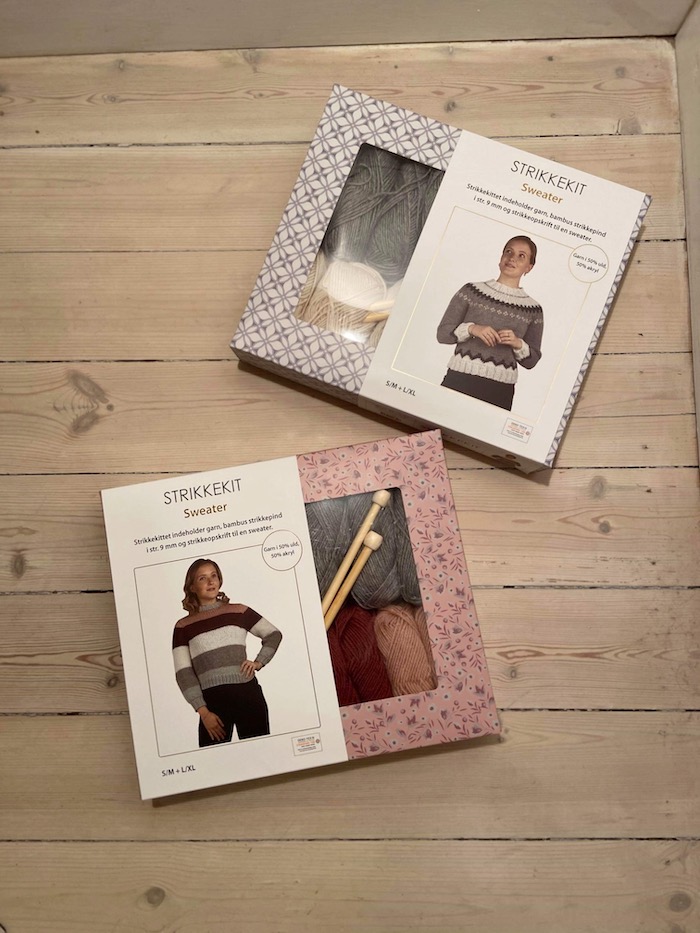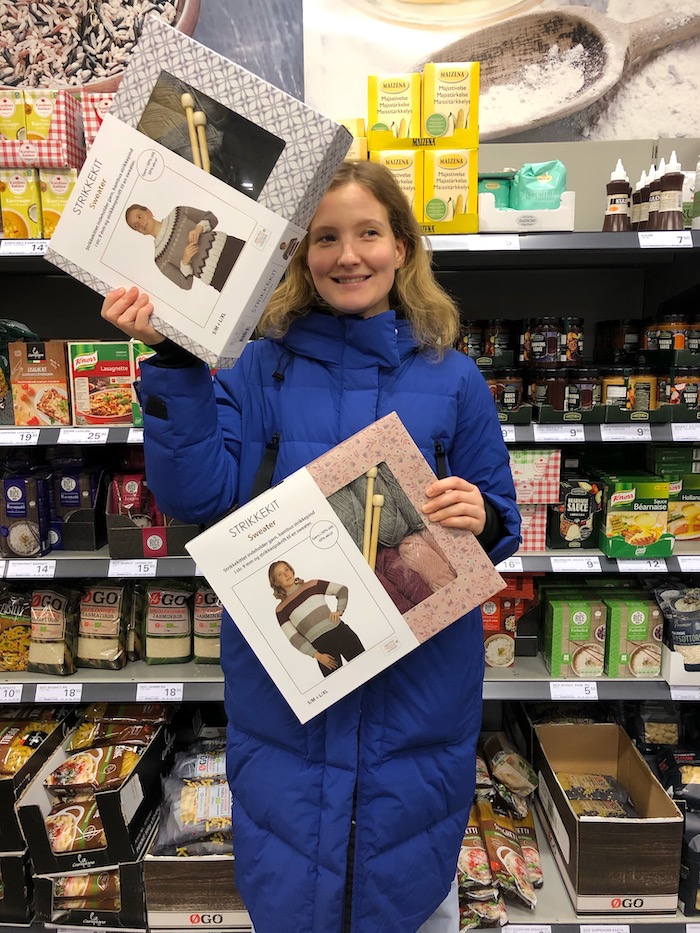 My own knit kit is sold in the largest supermarket chain in Denmark

Halløj derude fra en ellers rimelig grå og uinteressant dag. Min dag er dog blevet lyst op af højdepunktet, at jeg nu er at finde i Netto landet over! I sommer 2019 blev jeg kontaktet af en virksomhed, der laver produkter til Netto. De havde set min strikkeopskrift og ville høre, om jeg mon var interesseret i at lave to strikkeopskrifter til dem, som skulle udkomme vinter 2020.
Sandheden er jo, at det er min mor, der er hjernen bag alt, der har med strik at gøre her på domænet. Hun udtænker designs, skriver mønstre og strikker. Hun var heldigvis frisk på Netto-projektet.
Lang historie kort, så startede vi projektet i juli. Virksomheden havde nogle ideer til udseende og farver, og ellers var det op til os. I fællesskab udtænkte min mor og jeg designs til to sweatre – en stribet og en nordisk-inspireret. Min mor strikkede prøver og tjekkede størrelser.
I oktober var jeg til photoshoot iført sweatrene og fik taget billeder til produktet. Og nu, tre måneder efter, er de to sweatre at finde på Nettos hylder. I aften gik jeg tur med mine forældre til en Netto for at se produkterne ligge på hylden, og det var en rimelig vild oplevelse. At stå i mit lokale supermarked og finde mig selv på hylderne!
Vil du i gang med at strikke?
Sweatrene bliver solgt i en æske, der indeholder alt, du skal bruge. Mønster, strikkepinde og garn. Æskerne koster den nette sum af 149 kr., så det er en oplagt lille investering, hvis du drømmer om at kaste dig ud i et strikkeprojekt. Jeg håber, at produkterne bliver taget godt imod, og at vi kan være med til at udbrede strikkeglæde, kreativitet og hjemmelavede projekter.
Hvis du strikker, vil jeg blive lykkelig for, at du tagger mig i billedet, så jeg kan se resultatet <3 Og stay tuned på bloggen og Instagram, for min mor og jeg er ikke færdige med kreative projekter og strik. Derfor har vi sat os for at starte en Instagram specifikt med strik.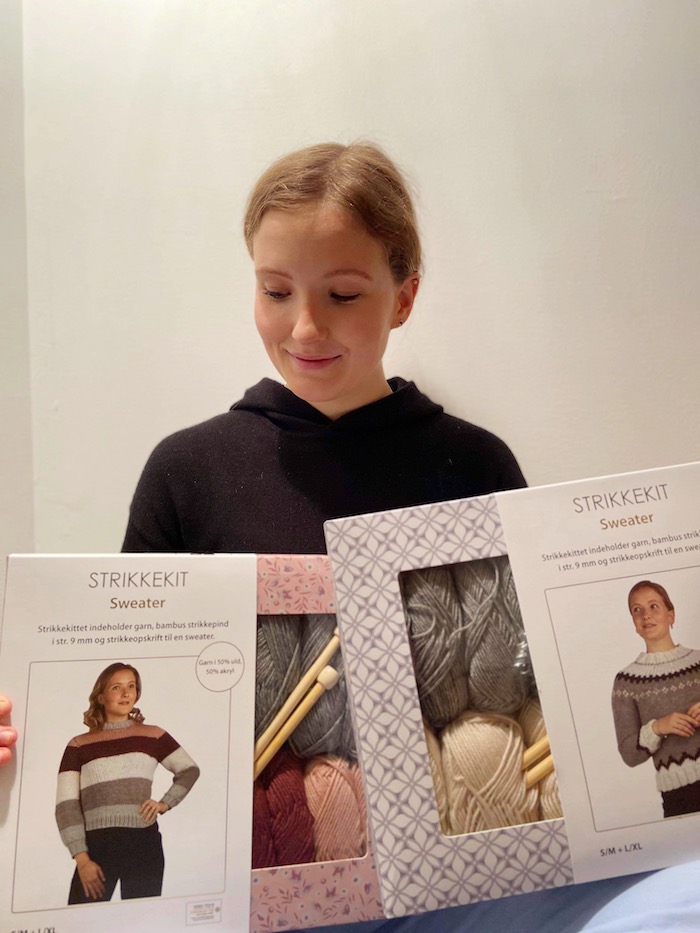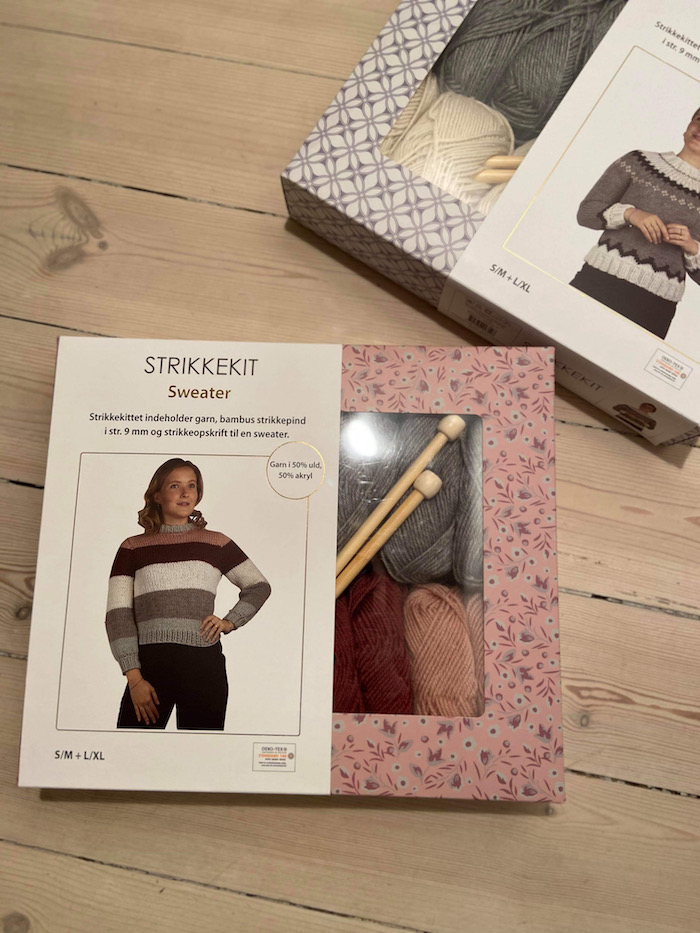 My own knit kit in the largest Danish supermarket chain
Last summer I was contacted by a company that creates products for the largest supermarket chain in Denmark, Netto. They had seen my knitting pattern and wanted me to design to knits for them. It is no secret that my mom is the brain and hard work behind everything knit in my universe. She is the ultimate creator – she sews, knits and does her own designs. Luckily, she was up for the task and agreed to create two knit designs and develop the pattern.
Long story short, we designed and created, in October, I did the photoshoot for the finished product, and now, half a year later, the products are available in store! The box provides you with the pattern, knitting needles, and yarn. It's a great way to dive into knitting without investing too much.
I went to my local supermarket today to see the two products on the shelves and it was quite surreal. I hope that people will love it! My mom and I have decided to do more knits and will start an Instagram with our knitwear and patterns very soon. I hope you'll like it <3