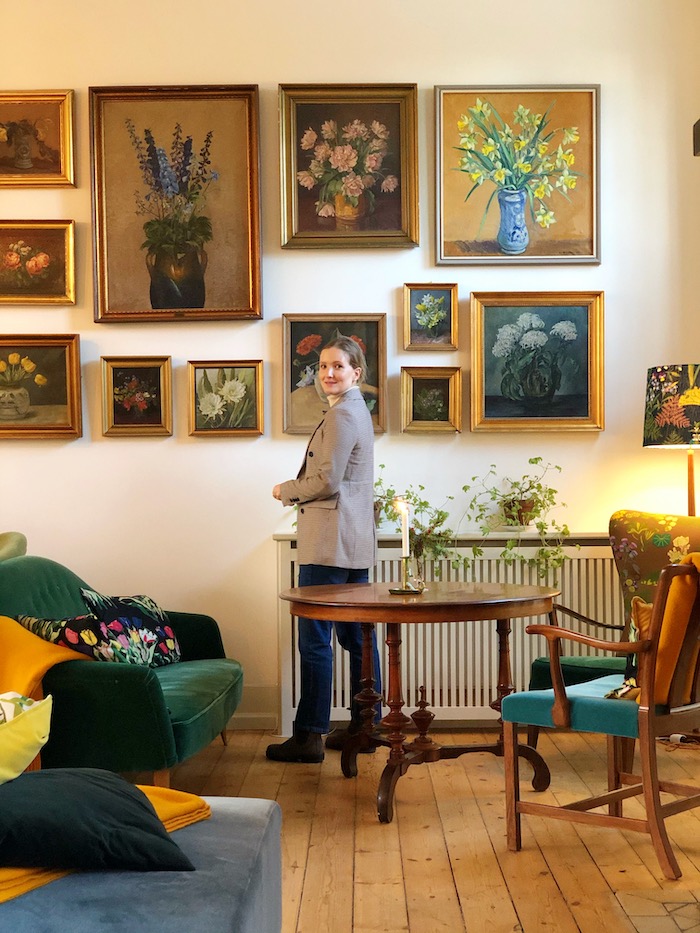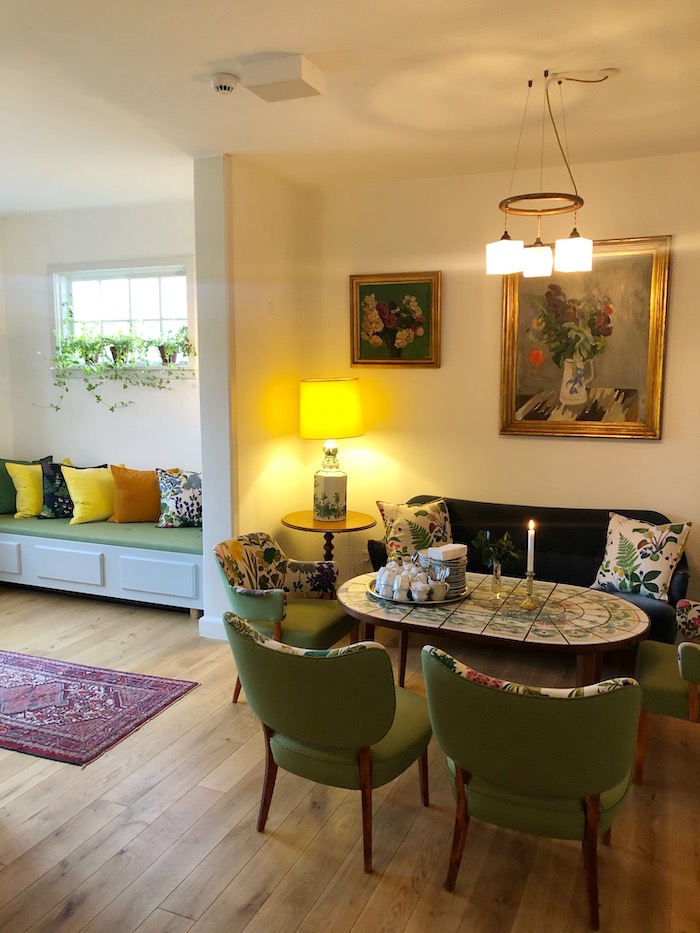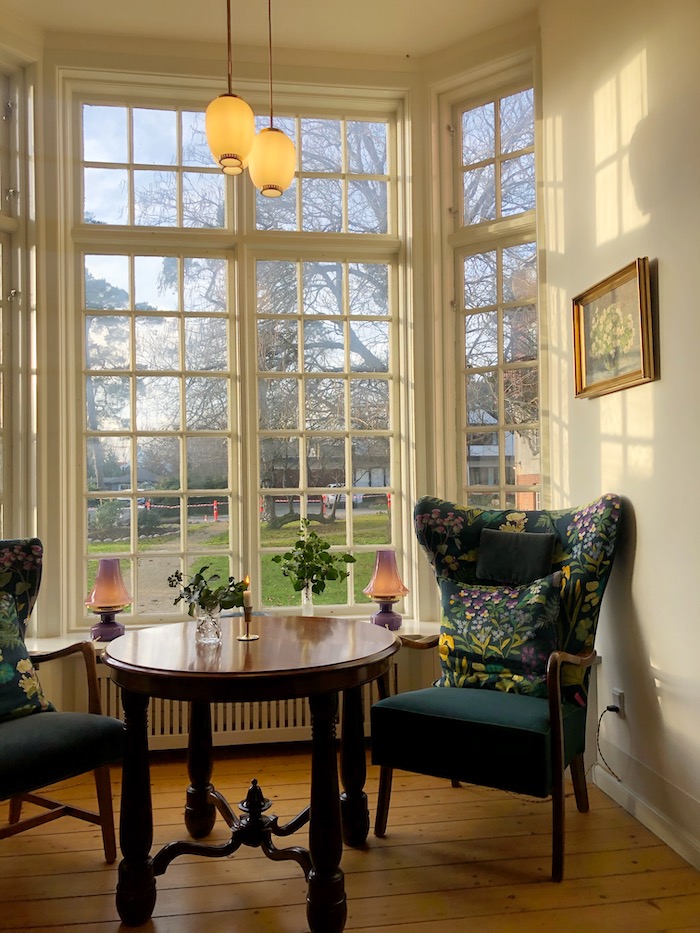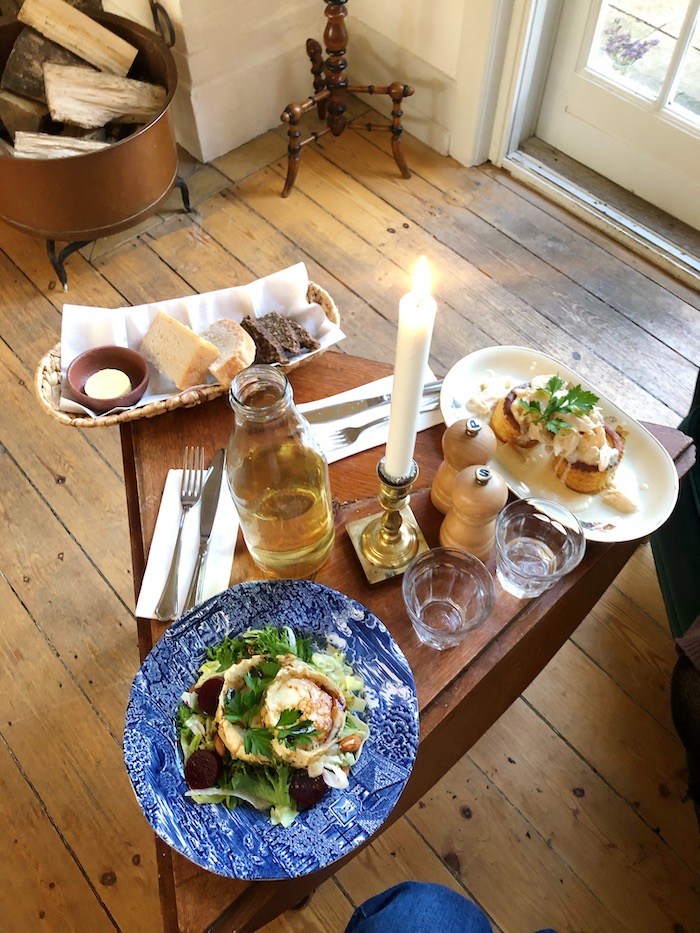 I dag på en skøn, december-kold men solrig lørdag, havde min veninde og jeg planlagt en dag fyldt med dejlige planer. Vi var klar til at gribe dagen! En smuk køretur 40 minutter nordpå, på genbrugsjagt, frokost på Hotel Hornbækhus og så slutte af med julemarked på Fuglebjerggård. Humøret var højt og lige så var forventningerne.
Da vi nåede frem til Hornbækhus, trådte vi inden for, og allerede i entreen med blomstertapet på væggene var der yndigt. Vi blev ført igennem hotellets lobby, middagsrestaurant og køkken og nåede frem til pejsestuen. Her var magisk! Pejsen var tændt, varmen strømmede ud af den og indbød på ren julehygge. På væggene hang der de smukkeste malerier af blomsterbuketter og de bløde sofamøbler og lænestole var betrukket i velour og svensk blomsterstof i de fineste farver.
Skøn frokost på Hotel Hornbækhus
Vi bestilte hotellets frokost og kunne vælge mellem fire muligheder, der alle kostede 100 kroner. God pris! Jeg fik Chevre Chaud – salat med varm gedeost og godt brød, og min veninde fik hjemmelavede tarteletter. Vi delte en kande hyldeblomstsaft til. Det var sådan en skøn oplevelse, at jeg røg durk hjem og delte det på både min Instagram og på bloggen.
Næste gang jeg besøger Hornbækhus (og ja, det helt sikkert bliver en næste gang!) vil jeg enten til deres søndagskagebord eller booke en overnatning med morgenmad her. Værelserne ser nemlig også skønne ud.
En lille anbefaling fra mig til dig – Hotel Hornbækhus skal helt sikkert opleves!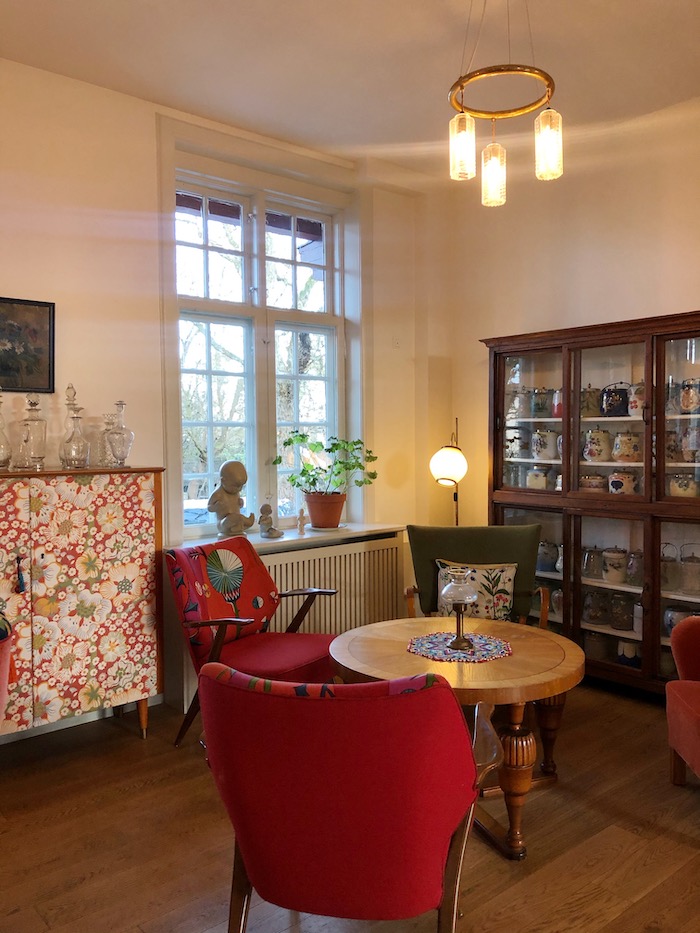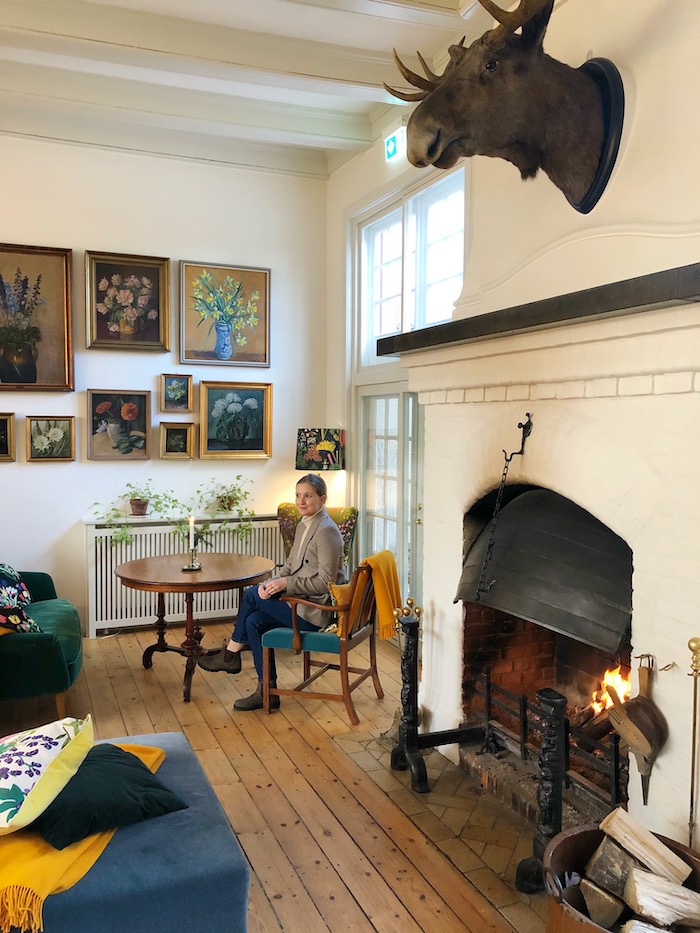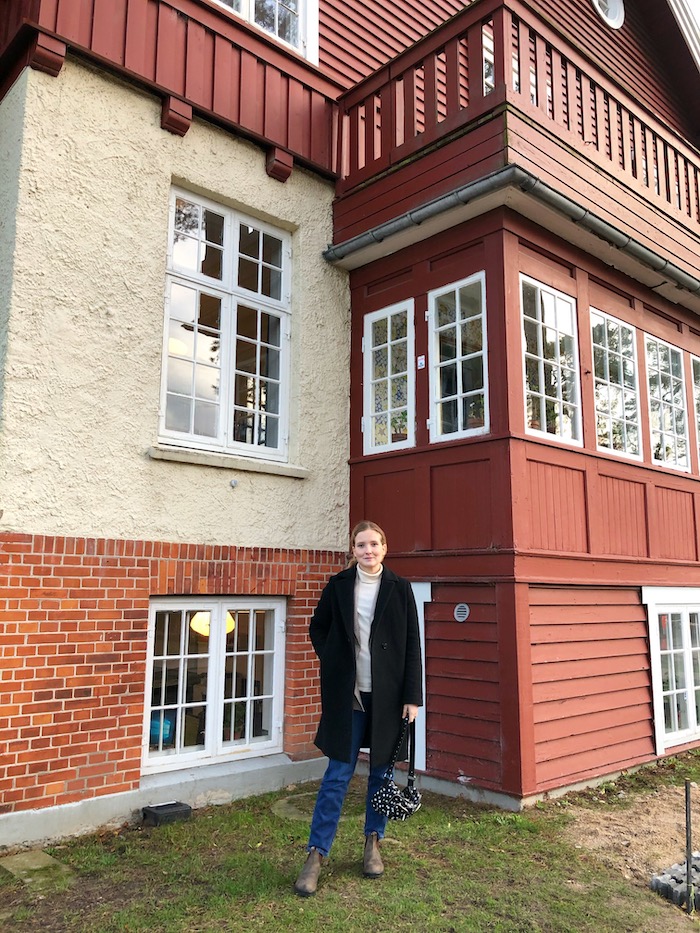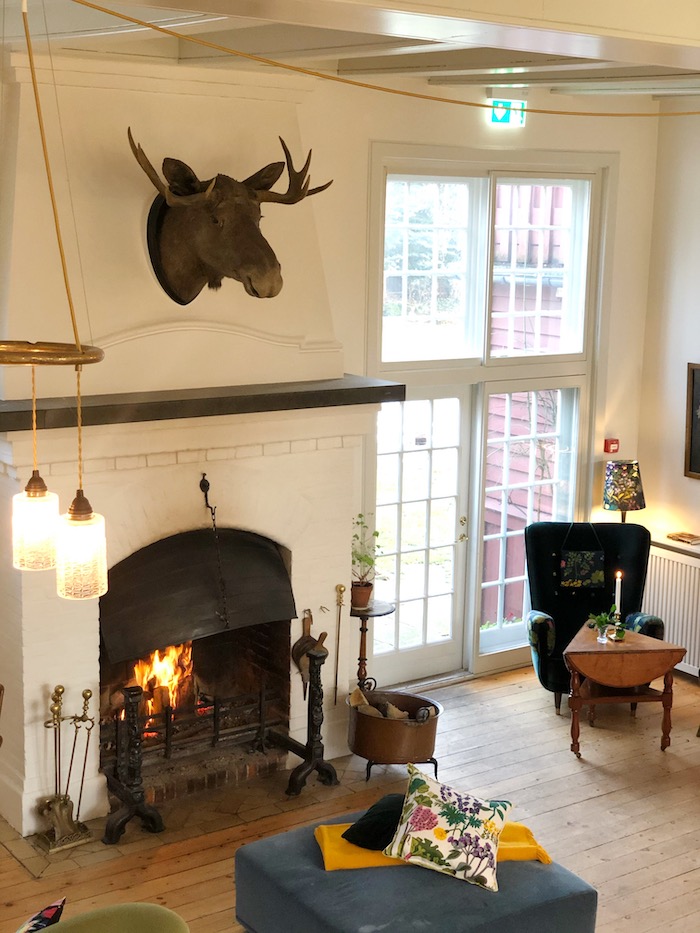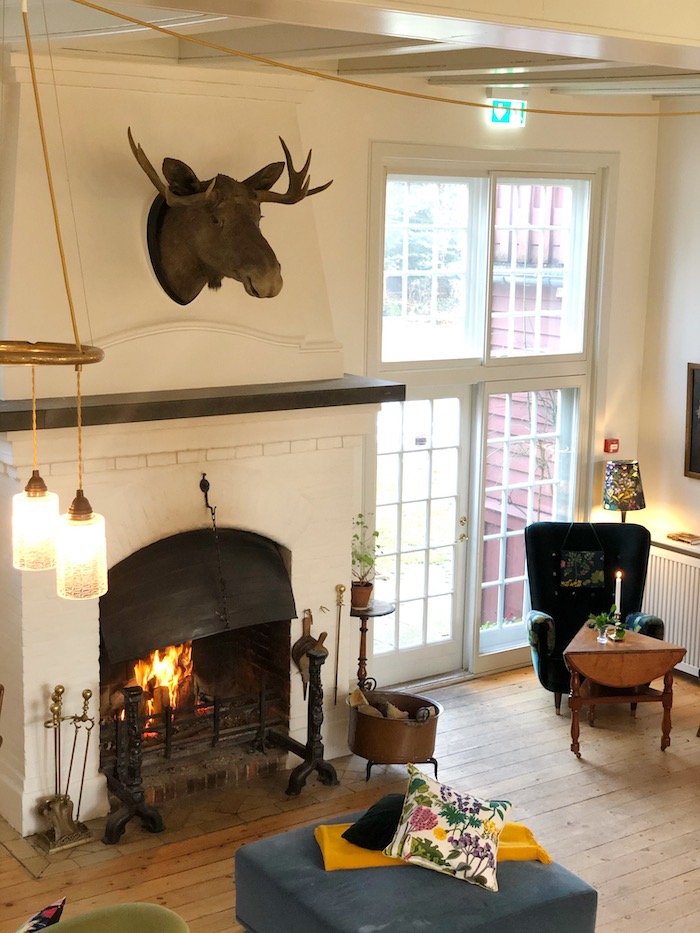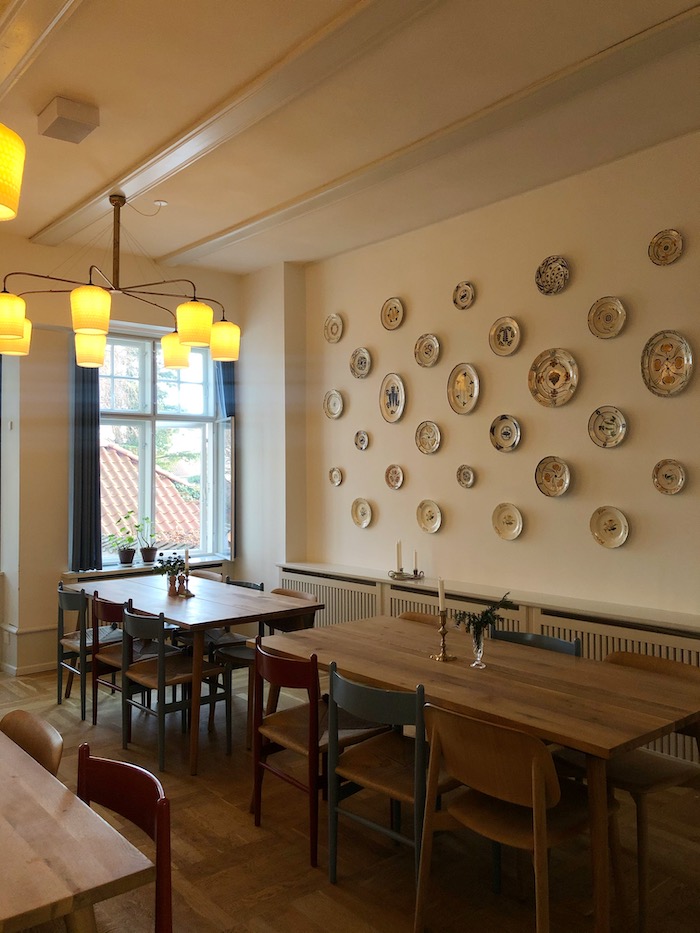 On a cold but beautiful Saturday in December with clear skies and sun, my friend and I were ready to seize the day. We had made plans to take a 45-minute drive up north from Copenhagen to the small beach town of Hornbæk. Our plans were to do vintage shopping, have lunch at Hornbækhus and then visit a Christmas market on a farm.
As we reached Hornbækhus, we entered and were greeted by the nicest staff in the beautiful hallway with flower wallpaper on the walls. We were lead through the lobby, the kitchen, and the social dinner dining room. Everything was gorgeous. But we hadn't seen the best yet – the grand living room with an open fireplace! We could feel the heat from the fire. On the falls hung a grand collection of tasteful flower paintings complemented by all the soft furniture – couches and armchairs in velvet and flowery fabric from Sweden.
Impeccable lunch at Hotel Hornbækhus
We ordered two out of the hotel's four lunch options – all at 100 dkk. I had Chevre Chaud – salat with warm goat cheese and it was delicious. Lunching by the fire in this gorgeously decorated hotel was such a nice experience.
Next time (and yes, there will definitely be a next time!) I will visit on a Sunday where the hotel invites for coffee and cakes, or I will book a night here. The rooms look just as nice as the rest of the hotel. A little recommendation from me to you. You can take public transportation to Hornbæk as well, and the hotel is located right by the beach. A must experience!